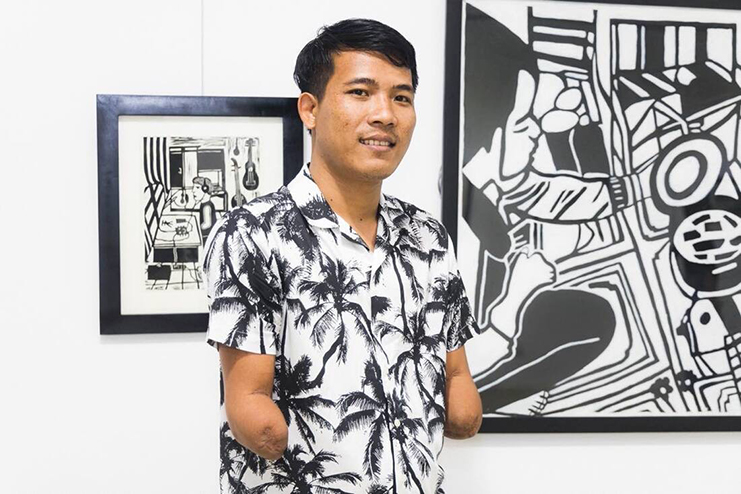 Lauren Iida is building bridges, primarily between Seattle and Siem Reap, with broader goals of connecting Cambodia and western countries through the work of the Cambodian artists of Open Studio Cambodia, whom she is highlighting in a new exhibit this month at The Vestibule's new location.
In 2008, Iida began to mentor artists and do other social entrepreneurship projects in Cambodia. "The more I became familiar with artists in Cambodia, mostly through organizing contemporary art tours for international guests, the more I realized their basic needs were often not being met," Iida shared. "Things like studio space, dry storage for finished artwork, basic quality art-making supplies, picture frames, and social media presence were not available."
The language barrier was a big factor. "Most people who are able to purchase fine art in Cambodia do not speak Khmer and most of the artists I was working with only speak it," Iida said. "I am bilingual enough that I am able to bridge that gap for the artists of Open Studio Cambodia and give them access to an entire market they would otherwise not be able to be active in."
Some of the artists with physical disabilities need special materials and workspaces. "I also work with a Khmer Rouge genocide survivor and an artist who was trafficked into forced labor internationally," Iida elaborated. "Both of these artists make work about extremely sensitive, personal topics and have unique needs related to their past traumas which I do my best to accommodate."
As an artist, Iida balances her priorities between her own work and of Open Studio Cambodia. "The artists of Open Studio Cambodia collectively work together, supporting each other through their artistic journeys and professional development in a unique and collaborative way," she said. "It is a joy to grow together with these artists, and something I am extremely grateful for."
All of this arose from the thirteen years that Iida spent living with other artists in Cambodia before the Covid-19 pandemic, which required a transition to working remotely and led to Iida's move back to Seattle. "Now, the artists all work from their homes in Siem Reap and Battambang and with the support of Open Studio Cambodia, we still exhibit our artwork in person, and sell online," she reported. "In 2022, we have exhibited in Denver, Colorado at the McNichols Civic Center, in Phnom Penh at Sra'Art Gallery, Raffles Hotel, Factory Phnom Penh, at Galerie Lee in Paris, and now at The Vestibule."
Iida has been connected to The Vestibule since 2018. "This exhibition is the first time we have exhibited Open Studio Cambodia artwork in the US since before the pandemic and we are so excited to share what we have been working on throughout the last several years," she said. "The artwork traveled with friends and volunteers from Cambodia over the last year, and piece by piece, I have curated this exhibition to showcase the best new work from Morn Chear (printmaking), Kim San (oil paint), Ye Ranue (printmaking and drawing), Hom Rith (watercolor) and my own paper cutaway pieces."
Supporting this exhibit is a new film, Made in Cambodia, created by Iida and designer and illustrator Koji Minami. "We met when Koji decided to volunteer with my project in 2014, The Antipodes Collective, which was creating bilingual illustrated children's books for Cambodian children and teaching art and English language in a remote, rural part of the country," Iida said. "Koji and I both have backgrounds in videography and just before the pandemic, on a trip he took to visit in Cambodia again after living there years before, we decided to document some of the incredible artists I was working with on my contemporary art tour and through Open Studio Cambodia."
Minami was compelled by the open-ended exploration required of the documentary film project. "One of the main inspirations behind this film was my own ongoing love and curiosity for Cambodia and its culture," he said. "Making Made In Cambodia was an opportunity to take a deeper dive into Khmer culture, and to hear the artists' experiences from a personal perspective."
He describes the film as a labor of love. "It was self-funded on a shoe-string budget, and shot in a scrappy run-and-gun style," he said, "so by necessity I wore a lot of hats, director, cinematographer, sound recordist, editor, and producer."
Made in Cambodia is intended to be another bridge for the Cambodian artists, including those who aren't participating in The Vestibule's exhibit. "I think that it's important to show the creativity, vibrance and genius exploding in today's Cambodian art scene to an international audience," Minami said. "Through interviewing the artists, I discovered that art offers a window into so many things: social issues, politics, history, personal expression."
Iida shared some background about each of the artists in the exhibit. "Morn Chear is a printmaker and painter who lost both of his arms due to an electrical shock accident when he was a young man," she said. "He completed his first public art project earlier this year in Denver, Colorado and works out of his home studio in Siem Reap. Morn Chear's upbeat, bold style of artmaking celebrates scenes of daily life, family, and Cambodian tradition in a fun and playful way."
Hom Rith, Iida said, is a watercolorist and acrylic painter. "He learned how to paint from watching traditional Buddhist pagoda painters as a boy and painting the ancient temples of Angkor Wat for years in Siem Reap, where he now resides," she said. "In this exhibition, Hom Rith presents four still lifes of favorite Cambodian foods, as cuisine is very important to the Cambodian people."
In contrast, Kim San fled the horrors of Pol Pot's Khmer Rouge genocide in the 1970s as a child after most of his family perished. "Because of a disability, he was not recruited into the military, giving him the opportunity to hone his masterful oil painting skills by studying with volunteers from humanitarian organizations in the Khao-I-Dang refugee camp for Khmer Rouge survivors in Thailand, where he spent most of his youth," Iida shared. "Kim San's paintings are truly commanding and finely crafted and evoke the poignant and powerful stories of post-genocide life in the refugee camp which much of the Khmer diaspora can personally relate to. This is the first time his work has been shown in the United States."
Van Chhovorn is a graduate of Phare Ponleu Selpak art school, where he had the opportunity to study painting for free in Battambang, where he now resides. "Chhovorn was trafficked across the Thai border and sold into slavery when he was a young man and spent two and a half long years doing forced labor on a fishing vessel in the Gulf of Thailand," Iida said. "He narrowly escaped and now passionately devotes his art career to creating work about his harrowing experiences at sea."
As the youngest member of Open Studio Cambodia, Ye Ranue is originally from a very remote rural area in eastern Cambodia. "He is currently a high school student in Siem Reap and I've been caring for him since 2018," Iida said. "His work is strongly influenced by his love of nature and interest in Cambodian wildlife as well as traditional farm life as he grew up tending cattle and water buffalo and farming rice with his father."
Minami finds all of the Open Studio Cambodia artists inspiring. "The way Theanly's series Surviving shines a spotlight on the overlooked beauty and magic found in everyday life," Minami ventured. "The way that both Channy and Neak Sophal's work raises issues, challenges norms, and inspires change. Meas Sokhorn's mission to push himself to find new ways to look at things, to show us a different angle on reality. Chear and Kanha's stories show us the transformative, healing power of art."
But Iida declares that this exhibit and film are just the beginning for these artists. "Open Studio Cambodia has been invited by the Royal Cambodian Embassy of France to exhibit our artwork in a new exhibition in March 2023 in Paris with four Cambodian artists in attendance," Iida said. "We are currently raising money by donation and through the sale of our artwork at The Vestibule and online to be able to cover the cost of travel for these four artists, Morn Chear, Hom Rith, Van Chhovorn, and Ye Ranue. We are extremely honored and excited for this opportunity."
Starting to Work Again: Contemporary Cambodian Art runs from December 1 to 17 at The Vestibule, 5919 Fifteenth Avenue Northwest, Seattle. Reception on December 3 and film screening on December 11.