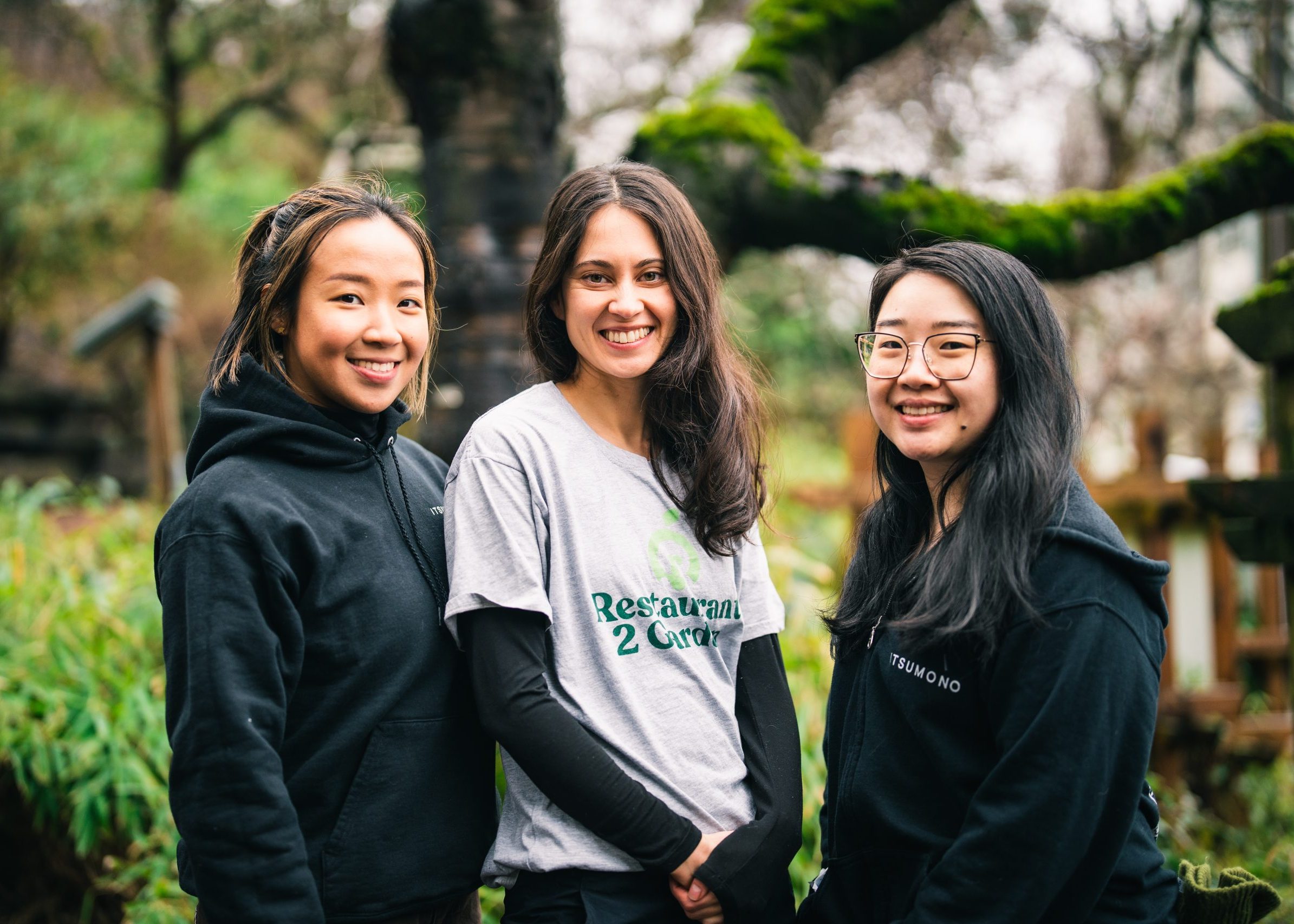 Sustainability and community are two concepts critical to the Chinatown International District (CID). Without the neighborhood's dedication and thoughtfulness for the coming years, policy regarding the district may spiral outside of it rather than remain within. 
Those two concepts are invariably linked for the members of Restaurant 2 Garden (R2G), a community composting organization dedicated to reimagining food waste management within the CID.
"We're cutting out the middle man, in a sense," said Lizzy Baskerville, co-founder and former R2G Operations Manager. "By keeping our resources local, we also are trying to prevent restaurants from having to pay the waste hauler to take away their food scraps, and then preventing the gardeners from paying to buy that compost back."
Three members of R2G, Joycelyn Chui, Baskerville, and Jennifer Cheung, are the recipients of the International Examiner's Leadership in Community award, a part of 2023's Community Voice Awards. The mantle of "community leaders" is a hard one to accept, yet the trio takes it with pride.
"We're grateful," Chui said. "We're honored. I would say it adds a layer of accountability on our end and a sense of responsibility that our name is getting recognized in the community. … so we should keep going in the right direction."
The leadership of R2G comes from a multitude of backgrounds. Chui, development and admin manager, was drawn to environmentalism through her time at the University of Washington.
"I figured out I [didn't] want to live my life in the lab," Chui said. "So I figured there [had] to be somewhere that can use my language skills and bridge the … communications between science and people."
Chui and Baskerville co-founded R2G, the latter bringing experience from her work with InterIm CDA and the local elders from the Danny Woo Community Garden. While no longer the operations manager of R2G, as she now has a full-time position with the Department of Ecology, an agency contracted with R2G, Baskerville continues to assist the organization in an advisory capacity.
"There was this need to have more compost because we're working with contaminated urban soils, clay soils, and we're trying to intensively grow food for the gardeners," Baskerville said. "And then they, in turn, give that food to their friends and their community."
Volunteers also play a crucial role in the organization. Cheung, community engagement manager of R2G, began her time with the organization as a volunteer before Chui and Baskerville noticed their work.
"We're relatively small compared to the rest of some of the [local] organizations," Cheung said. "Since we started hands-on operations, we've had so many volunteers, and I think that also brings validation to the power of community coming together … volunteers are the heart of what we do these days."
One of R2G's goals is to transform food waste management in the CID into a regenerative, circular system. Both the compost and the knowledge behind it can stay local and continue to benefit the community — lessons learned through training they received from the People's Economy Lab, an organization dedicated to reducing extractive business practices in Seattle.
"The current system is very linear … more extractive," Chui said. "One of the things [the People's Economy Lab] talks about is keeping resources local."
Restaurant 2 Garden was eventually accepted into an accelerator program called NextCycle Washington. Here, they learned to expand the scope and direction of their efforts with help from mentorship, access to resources, and career expertise.
"It help[ed] us build a business plan, and it really changed our trajectory in doing so," Cheung said. "We looked at our future and saw that we wanted to serve not just a few restaurants, but our entire community, if possible, and that led us to see what kind of fundraising we needed to do, what the next few years of our organization would look like."
The group credits the lessons learned from their time with local nonprofits & organizations, as well as the support of their friends and family, as massive contributing factors to their success.
"That's how we were able to build Restaurant 2 Garden," Chui said. "It's because we learned from already existing [organizations] — They were the pioneers in this regard."
Restaurant 2 Garden has recently been in talks with the Washington State Department of Transportation and the Chinese Southern Baptist Church to convert the nearby unused lot into an additional composting site, increasing their capacity.
Currently, R2G serves two businesses: Itsumono and Panama Hotel Tea & Coffee House. All current staff members of R2G are still only part-time, but the group has long-term goals to expand their reach across the CID.
"We're hoping to serve the whole neighborhood with new technology as we expand," said Baskerville. "It'd be exciting to have this hub where everyone has their food waste coming to this place, and we're able to create a ton of compost for the neighborhood and beyond with it." 
This year's Community Voice Awards benefit dinner will be at the Joyale Seafood Restaurant Oct. 26, 2023. Tickets, both in-person and virtual, can be purchased online: https://cva.maxgiving.bid/about-us