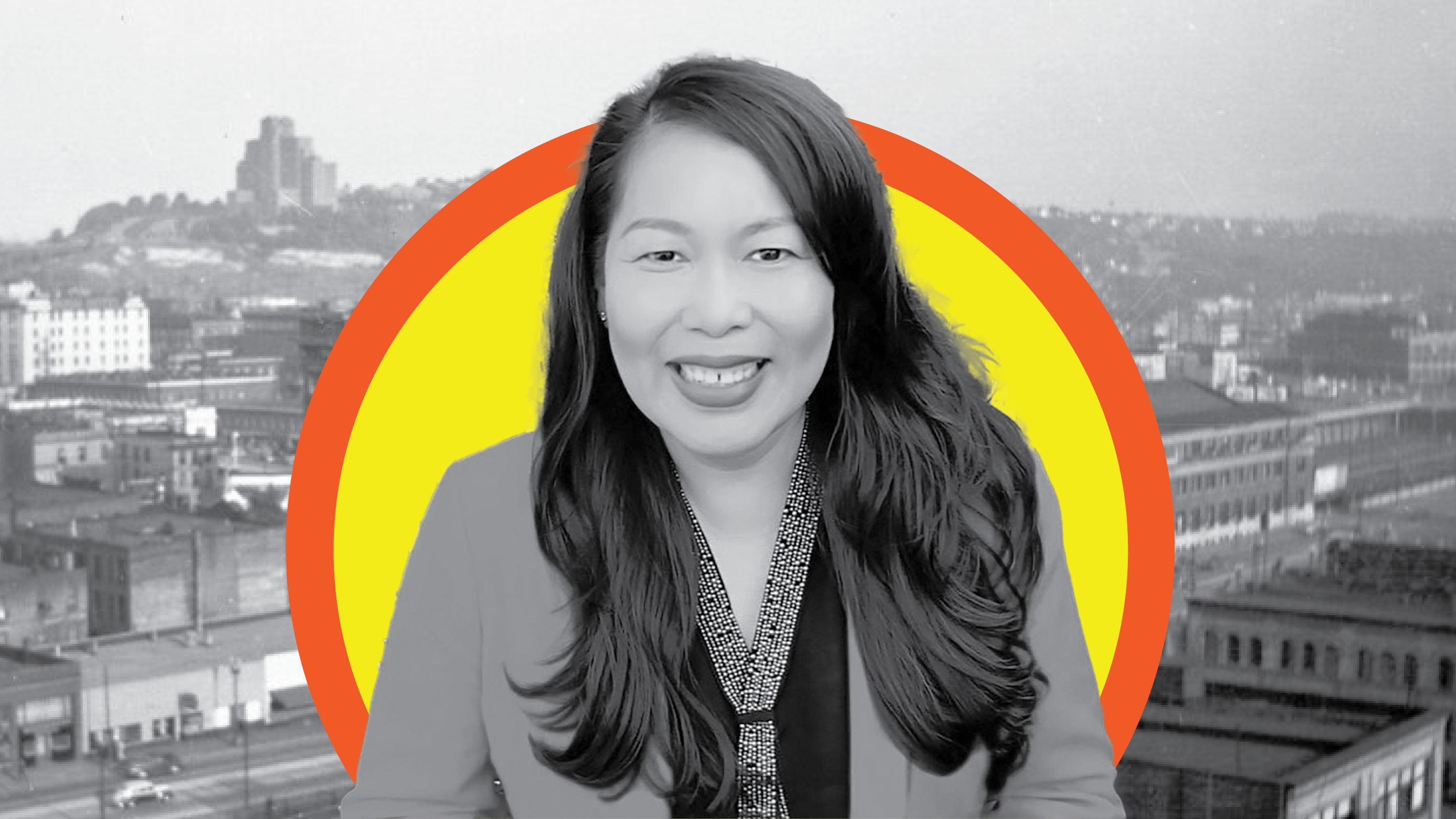 At the International Examiner's upcoming 2023 Community Voice Awards on Thursday, October 26, Huong Vu will be this year's CVA honoree for 'Leadership in the Arts.' For almost 30 years, Vu has directed grant, philanthropy, and community engagement programs for organizations as diverse as Boeing, Vulcan, the Association of Performing Arts Professionals, and currently, the Bill & Melinda Gates Foundation.
After completing her education in Business Administration and Art, and winning an arts administration fellowship at the National Endowment for the Arts, Vu held a role as Director of Grants Programs for the Association of Performing Arts Professionals.
"Those experiences launched my career in philanthropy, and I learned the art and science of grantmaking," said Vu. "My mentors taught me the importance of centering community and service in the work and that has served me well throughout my career."
Vu then served for seven years at the Paul G. Allen Family Foundation and nine years at Boeing. While there, her greatest accomplishment was partnering with Ron Chew to secure a seven-figure grant for the Wing Luke Museum's capital campaign.
"It is far and away the most meaningful grant of my career because The Wing shines a light on the important and untold stories of API communities so that we can learn from the past and envision a bolder collective future," she said.
Alongside founding her own consulting firm, Spark Philanthropic, where she guides high net worth individuals toward maximum social impact, Vu also serves on the Board of Directors of local writer's retreat Hedgebrook. Founded by philanthropist Nancy Nordhoff and located on Whidbey Island, Hedgebrook proves residencies to between 70 to 85 writers per granting cycle, at no cost to the writers.
This includes the radical hospitality of a private cottage, daily farm-to-table meals, and plenty of firewood for the wood stove, as well as communal dinners during which the writers can convene and share their experiences. As a board member, Vu helps continue the tradition that Nordhoff started, giving countless women writers a voice.
"Huong raises the bar of creativity, wisdom, and humanity in every room she enters," fellow board member Judy Belk said. "We are so fortunate to have her at the Hedgebrook board table. She exemplifies the very best of our Hedgebrook radical hospitality mission."
Hedgebrook Board Vice Chair Rinku Sen agrees. "Huong presents a powerhouse combination of connections, ideas, creativity and practicality to every challenge," said Sen. "Her mild demeanor covers a passion for the work that is unmatched."
Vu's service to the arts also includes work on the Seattle Art Museum Board of Trustees, and Board Chair Constance Rice was thrilled to learn of Vu's selection for the 2023 Community Voice Award.
"Thank you for honoring Huong, a super-star member of the SAM Board of Trustees and a strong voice for community access to the arts," said Rice. "She is deeply respected for her decades of leadership in our region and across the country, including at Boeing and the Bill & Melinda Gates Foundation. We are looking forward to the celebration!"
Throughout these endeavors, Vu considers herself a champion and translator for communities of color. She has served on 10 arts, public space, and philanthropy boards with both local and national constituencies, learning from "remarkable thinkers who challenged the field to behave more equitably and share power."
To that end, Vu strives to personally live this power-sharing model.
"When I turned 40, I intentionally declined professional opportunities in order to make space for the next generation of leaders," she said. "We each possess the power to contribute, in large and small ways, through our resources, voice, and allyship."
Vu's journey toward philanthropy started much earlier when on April 30, 1975, when Saigon fell, she, her parents, and her eight siblings escaped Vietnam by boat. They arrived in the U.S., she said, benefitting from the kindness of strangers who donated their time and resources to help the family start a new life.
"After a family tragedy, my teacher gave me a set of art supplies and encouraged my creativity," Vu remembered. "I was eight at the time and didn't speak English, so art gave me a way to express myself and build my confidence."
With this foundation, Vu has long been recognized for her work in philanthropy. In 2016, Vu received the Mayor's Arts Award, primarily for her work at Boeing and for her teaching service at Seattle University.
IE board member and former Editor-in-Chief Ron Chew has considered Vu a leader for decades.
"I met Huong in the early 2000s when she was a young program officer at the Paul G. Allen Foundation for the Arts," said Chew. "She helped advocate for a $1.75 million grant to support the Wing Luke Museum's capital campaign to restore the historic East Kong Yick Building and create a new museum home."
Chew is impressed with Vu's institutional work as well as her informal work alongside other Asian American women at charitable foundations across the country who are pushing for funding equity. "In both this philanthropic role, as well as her work as an independent arts consultant, she has had a huge influence in nurturing and sustaining non-profit community-based organizations in communities of color. She moves resources into the right places," said Chew.
Vu has sustained this energy over the long haul, and Chew regards her as a quiet, thoughtful, and consistent force for social justice. "[Vu] is such a great listener and does her homework," Chew explained. "She thrives outside the limelight, but has had a much greater impact than those who receive much more recognition."
Most recently, Vu has served as Senior Program Officer for Community Engagement at the Bill & Melinda Gates Foundation for over three years. Her career aspirations are simple, but not easy. She works in service of communities, she explained, connecting non-profits to capital so they "have fuel to deliver their missions."
And while she's helping to fund creativity equitably, she's also carving out time to revisit her artistic roots.
"After a 20-year hiatus, I am finally back in the clay art studio on the weekends," she said. "Eventually, I'd like to create art every day."
This year's Community Voice Awards benefit dinner will be at the Joyale Seafood Restaurant Oct. 26, 2023. Tickets, both in-person and virtual, can be purchased online: https://cva.maxgiving.bid/about-us