Thank you for joining us in Oct. and Nov. for our Community Voice Award series! 
Thank you for your support! We raised over $50,000 to support community based journalism!
Thursday, Oct. 29:  "Art & Journalism: Speaking Truth to Power" featuring

CVA Art & Culture  Awardee Erin Shigaki

and

CVA Journalism Awardee Naomi Ishisaka

.

Thursday, Nov. 5:  "CID COVID Response: Love In Action" sharing the story of community collaboration and mobilization featuring CVA Community Building Group Awardees.

Thursday, Nov. 12: "My Unforgotten Seattle: Our Community Stories", an evening with IE Board President, former editor and author Ron Chew and others who are featured in his newly released memoir, My Unforgotten Seattle, published by the IE this month.
***
Celebrating Asian Pacific American Leaders
Each year, as the oldest-running nonprofit pan-Asian Pacific American newspaper in the United States, we publicly honor exceptional leaders who inspire and provide incredible service to our communities. In 2020, we honored:
Naomi Ishisaka: Seattle Times Social Justice Writer
A conversation with Naomi Ishisaka, The Seattle Times social justice columnist
Erin Shigaki: Artist
Community rallies around artist Erin Shigaki's "Never Again is Now" at Bellevue College
From outrage to apology: Japanese Americans' passion and push for understanding Black Lives Matter on display in the CID
Opinion: Whitewashed – A statement by Erin Shigaki
CID Community Response to COVID-19
COVID-19 response coverage
Join us for an evening of celebrating our awardees, 47 years of the International Examiner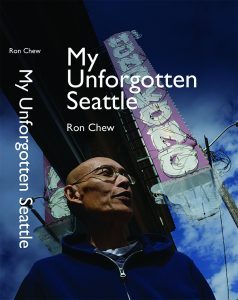 and a program including Ron Chew reading from his highly anticipated memoir, My Unforgotten Seattle.
The International Examiner is currently selling My Unforgotten Seattle! All proceeds go toward supporting the International Examiner. Purchase online or in person, more details here.
Thank you to our 2020 CVA sponsors!
Premier Level
InterIm CDA Parking Lot
Partner Level
Carolyn Kelly

Joan Yoshitomi
Community
Chew Communications
CISC
EJ Kim Accounting
Hourglass Industries
SCIDPDA
Tai Tung
---
Past CVA Honorees
1991 CVA Honorees: Ruth Chinn, Dorothy Cordova, Quynh T. Nguyen, Frank Fujii
1992 CVA Honorees: Shigeko Uno, Van Sar, Sid Ko, Dan Ko, Frank Irigon
1993 CVA Honorees: Emiliano Francisco, Faye Hong, Phuong-Giang Nguyen, Reverend Jean Kim
1994 CVA Honorees: Ngy Hul, Ron Chew, Sue Taoka, Khamsene Thavseth
1995 CVA Honorees: Lea Armstrong, Nemesio Domingo, Jr., Ray Chinn, Emmanuelle Chi Dang
1996 CVA Honorees: Glenn Chinn Rachel Hidaka, Lua Pritchard, Dolores Sibonga
1997 CVA Honorees: Ben Woo, Ruth Woo, Ron Consego, Lysette Consego, Ick Wan Lee, Tazue Kiyono Sasaki
1998 CVA Honorees: Betty Lau, Soya Jung, Ellen Abellera, Jeffrey Hattori, Wang Yung, Ethnic Studies Students Association of the University of Washington
1999 CVA Honorees: Bob Santos, Bea Kiyohara, Alan Lau, Martha Choe
2000 CVA Honorees: Cindy Domingo, Alice Ito, Rocky Kim, Petty Patu, Sam Solberg, First Hill Lions Club
2001 CVA Honorees: Emma Catague, Doug Chin, Anne Xuan Clark, Larry Gossett, Nisei Veterans Committee (NVC)
2002 CVA Honorees: Sutapa Basu, Tony Ishisaka, Paul Mar, Lori Matsukawa, Northwest Labor Employment Law Office (LELO)
2003 CVA Honorees: David Della, Diane Narasaki, Tuyet Nguyen, Cheryl Lee, International District Housing Alliance (IDHA)
2004 CVA Honorees: Mayumi Tsutakawa, Maria Batayola, John Pai, Greg Tuai, Uwajimaya, State Farm, Asia-Pacific Economic Cooperation (APEC)
2005 CVA Honorees: Habib Habib, Jan Kumasaka, Washington Mutual, Minority Executive Directors Coalition (MEDC)
2006 CVA Honorees: Ruthann Kurose, Tony Lee, Sili Suvasa, Marpac Construction, Center for Career Alternatives
2007 CVA Honorees: Kip Tokuda, Mai Nguyen, Neighborhood House, Muckleshoot Indian Tribe, Ehren Watada
2008 CVA Honorees: Velma Veloria, Roger Shimomura, Manny Uch, Asian Pacific American Labor Alliance (APALA)
2009: No CVA.
2010 CVA Honorees: Sharon Maeda, Cassie Chin, Vu Le, Asian Pacific Islander Community Leadership Foundation (ACLF)
2011 CVA Honorees: Tosh Okamoto, Albert Shen, George "Geo" Quibuyen, Mary Nguyen, ArtsXchange Gallery
2012 CVA Honorees: Pramila Jayapal, Gloria Lung Wakayama, Dean Wong, Julie Pham, Blaine Memorial Methodist Church
2013 CVA Honorees: Pat Norikane Logerwell, Carina del Rosario, Tim Wang, Heidi Park, Executive Development Institute (EDI)
2014 CVA Honorees: Ron Chew
2015 CVA Honorees: Kathy Hsieh, Debadutta Dash, Tony Vo, Connie So, Ticiang Diangson, Vulcan Inc.
2016 CVA Honorees: Gail Nomura, Steve Sumida, Tetsuden Kashima, Jill Mangaliman, Dr. Jasmit Singh, Jamie Lee, Asia Pacific Cultural Center (APCC), Viet Wah
2017 CVA Honorees: Rita Meher, Lynette Finau, Sameth Mell, Joan Yoshitomi, Diem Ly, Amerigroup Washington
2018 CVA Honorees: Ruby de Luna, Mike Fong, Key Bank, I-Miun Liu, Quyen Pham, Phnom Penh Restaurant, Tanya Woo
2019 CVA Honorees: Chera Amlag, Shannon Gee, Lori Matusukawa, Sue Taoka