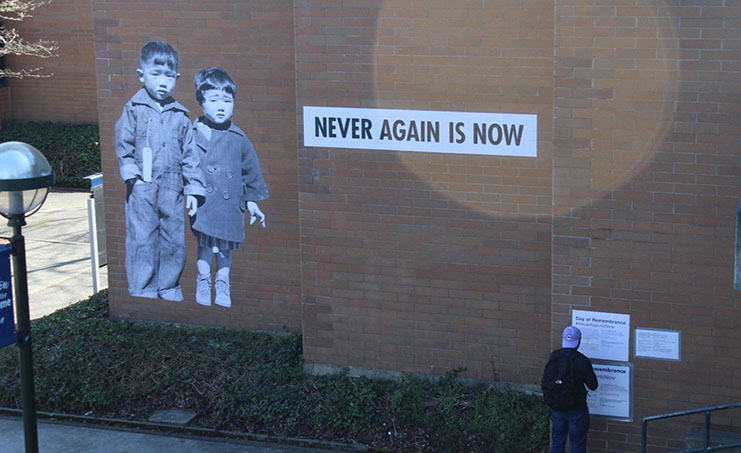 February in the Pacific Northwest is a season of ghosts.
On a small college campus, in a snug, green corner of the Eastside, two figures loom out from a brick wall. They are black and white, larger than life: a boy, wary, maybe four years old; a girl, smaller, forlorn, her shoulder slipped behind his. The boy wears a complicated ID tag on a string, safety-pinned to his clothes. The girl's fingers are a complex arrangement of tuck and curl, some private sign language of childish anxiety.
Beside them, black letters on a white background read "NEVER AGAIN IS NOW."
From the day the children appeared on a building at Bellevue College, strange things began to happen. Words on the wall disappeared, then appeared again. People took unexpected actions, and found themselves transformed. In a matter of days, the college was under new leadership. 
Finally, on a cold, gray afternoon, a solemn crowd gathered before the children's images to hold a brief ceremony. Erin Shigaki, the artist who put their picture on the wall, read the names of concentration camps where children like them were incarcerated. A bell was rung for each site. People called out the names of loved ones. Then they embraced and went home. 
Whether this is the story's end remains to be seen.
History behind the white out
Maybe you heard about it, two weeks ago, before the COVID-19 crisis split your year into a before and after. After a dramatic controversy over the censorship of public art, Bellevue College abruptly parted ways with its president and its vice president of advancement. How did this happen?
The artwork, marking the Day of Remembrance for Japanese American incarceration, was defaced, a portion of its accompanying text crudely whited-out by hand. The VP herself took responsibility. Later, a student literally cut-and-pasted the offending sentence back into place.
It read: "After decades of anti-Japanese agitation, led by Eastside businessman Miller Freeman and others, the mass incarceration of Japanese Americans included the 60 families (300 individuals) who farmed Bellevue." Miller Freeman is widely considered the father of modern Bellevue. His grandson, Kemper Freeman Jr., heads one of the richest and most powerful families in the region.
Oh.
As it happens, the artist, Erin Shigaki, has had similar references censored before. As she recently explained in these pages, the text for her contribution to the City of Bellevue's fall 2019 Bellwether Festival was changed without her knowledge, and another artist was also forced to remove the Freeman name.
Ah.
The first time Shigaki learned she was being censored, she was overcome by emotion. When Japanese Americans say "never again is now," we mean that the past was never over, and that to erase our history is to repeat it. We also mean that now is the time to stand up, and refuse to let history be repeated. 
So, the second time Shigaki was censored, what changed?
A community rallies
Erin Shigaki's local roots run deep. Her Nisei grandparents owned a house at 16th and King before the war, on the same block as St. Peter's. Her father was born in Minidoka, delivered by a horse veterinarian. She grew up walking down the hill with her grandmother on errands.
Although she only returned five years ago, she stayed connected. She went on her first Minidoka Pilgrimage in 2013, did graphic design for them in 2014, and a year later, she says, she "became a full-time volunteer for life." She's worked with the Wing Luke, done a residency with Densho, and is a product of the Seattle Arts & Cultures Public Arts Boot Camp, and her art has been displayed prominently throughout historic Nihonmachi.
So when Shigaki was first censored, she turned to leaders in local Nikkei organizations, who mediated on her behalf with the city of Bellevue. Although that incident left her dissatisfied, when it happened again, she was ready.
This time, the community was already activated. On Feb. 23rd, Densho, Seattle JACL, and Tsuru for Solidarity held a Day of Remembrance/Day of Action with La Resistencia at the Northwest Detention Center in Tacoma. In the spirit of "Never Again Is Now," the groups called for the closing of the privately run facility, and an end to all migrant detention. Shigaki was in attendance, and word of the Bellevue incident spread quickly.
Soon, Japanese American social media was spreading the story, and the determined activism of BC students, faculty, and staff drew local and national coverage. Faculty invited Shigaki to restore her piece, and Stan Shikuma, Seattle JACL president and Tsuru for Solidarity organizer, suggested a remembrance ceremony to mark the occasion.
Several hundred people turned out, including camp survivors Homer Yasui, Paul Tomita, and James Arima, as well as La Resistencia's Maru Mora, who carried the sign when NWDC was named alongside the historical camps. In his remarks, Shikuma cited Tomita's comments in a Tsuru for Solidarity video about their successful efforts to shut down detention at Fort Sill, Oklahoma, noting, "The names and the faces and the colors might change, but as Paul says, it's the same old… stuff." 
 "'Stuff'?" Tomita shouted from the crowd, to laughter. "I didn't say 'stuff'!"
As she looked out from the podium, Shigaki told me, "My heart just burst with love."
"I never felt alone in this process," she added.
A college apologizes
Recently, a letter of apology was sent to Shigaki and local Nikkei organizations, signed by acting BC president Kristen Jones and Richard Fukutaki, the chair of the board of trustees, whose family also experienced incarceration. It wasn't BC's first attempt at an apology, but the tone was properly contrite. 
It also promised, in a general way, a "recommitment to diversity, equity, and inclusion" and to "expanding opportunities" for teaching ethnic studies and local AAPI history.
Faculty, staff, and students who organized to defend Shigaki's work will have no trouble suggesting how to concretize these commitments. Prof. Leslie Lum suggested a permanent college/city exhibit, and endorsed Shigaki's proposal of a scholarship fund for students whose histories include racialized incarceration and migrant detention. Counselor Belle Nishioka suggested providing funding to attend the Minidoka Pilgrimage, and mentioned David Neiwert, author of Strawberry Days, the definitive history of the Japanese American farm community that made Bellevue possible.
Strawberry Days might be a good fit for BC's one-book program, which has featured novels by Jamie Ford and Julie Otsuka. Sadly, Neiwert's book is not currently available in paperback.
Never Again Is Now
If Bellevue ever gets around to reckoning with its history, Shigaki's art will deserve credit. For now, it has been doing its work, giving form to the area's ghosts, and occasioning new forms of solidarity. The response of other communities of color gave Lum hope, she said. "It touched a nerve which resonated throughout the country."
Prof. Nan Ma was also moved by this support, which dovetailed with the organizers' goals for the installation. "Asian Americans have been historically pitted against other communities of color," she said, but this also means "Asian Americans occupy a unique position to do solidarity work."
This solidarity was always the point of Shigaki's work. "Never Again Is Now" means that, as in 1942, political and economic interests are profiting from xenophobia in 2020. In light of COVID-19, La Resistencia is sounding the alarm over the GEO Group's dismal record of outbreaks at NWDC, calling for the immediate release of all detainees.
Shigaki's mural was not designed to be permanent, but its story won't be over until all the camps are closed. Now is the time.