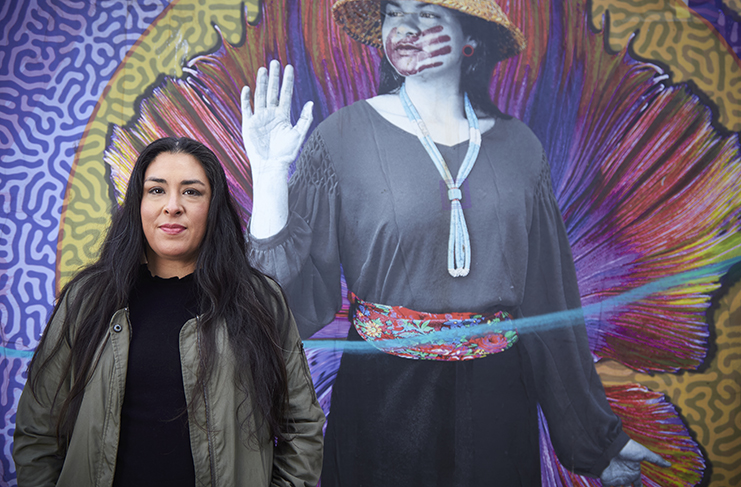 Colleen Echohawk, executive director of the Chief Seattle Club, announced her campaign for mayor of Seattle on January 25. 
Echohawk also co-founded the Coalition to End Urban Indigenous Homelessness, and has spent her career working to help Native people experiencing homelessness in the Seattle area. 
While Native Americans make up one percent of King County's population, they are 10 percent of the homeless population here. The Chief Seattle Club serves low-income and homeless urban Native people in Seattle with a day Center in Pioneer Square, rapid rehousing services and affordable housing projects. 
Echohawk has never held elected office before. She serves on the Community Police Commission and on the boards for the Downtown Seattle Association and All Home King County.
An enrolled member of the Kithehaki Band of the Pawnee Nation and a member of the Upper Athabascan people of Mentasta Lake, Echohawk would be Seattle's first Native American mayor.
In an interview with the International Examiner, Echohawk said she was inspired to run from the conviction that Seattle should do more to help vulnerable people during the COVID-19 pandemic.
Echohawk recalled a moment at Chief Seattle Club day center near the beginning of the COVID-19 pandemic, when she ran into a grandmother she knew, along with the woman's son and her six-year-old granddaughter who suffered from lung problems. The family said they had been staying in a congregate shelter, but were so afraid of catching coronavirus that they started living outside in a two-person tent.
"My heart just sank looking at her," Echohawk said. "This is so inhumane that in a city like Seattle where we have so much wealth, so much goodness, so many wonderful people, and yet somehow our system has missed this grandparent and her grand daughter and they are at risk of death."
During the pandemic, the homeless community is at particular risk, but with libraries and community centers closed, people had few days to wash their hands and stay safe. Echohawk remembered thinking, "we have to do more — I have to do more, our city has to do more."
The Chief Seattle Club was able to get the family into a hotel room, where they still live, Echohawk said.
Echohawk is running for mayor promising a "people first" approach. Her top priority is helping Seattle recover from the COVID-19 pandemic, followed by public safety. She also stressed the need to support the homeless community, small businesses, and build more affordable housing.
Echohawk is the third person to announce a campaign for mayor after Mayor Jenny Durkan opted out of running for re-election. The other two candidates are architect and housing advocate Andrew Grant Houston, and Lance Randall, interim director of SEED Seattle.
Echohawk supports re-envisioning the work of the Seattle Police Department, including moving functions such as traffic control and homelessness outreach into other departments, creating a Public Safety Department staffed with mental health specialists and neighborhood liaisons.
Echohawk doesn't necessarily support the 50 percent cut to the department that seven out of nine City Council members pledged to carry out in summer 2020 following the demands of activists from Decriminalize Seattle, the King County Equity Now and others. Council cut the department by closer to 18 percent in the final 2021 budget.
Echohawk wants to work with multiple stakeholders — City Council, community groups, the Police Officers Guild and the Police Chief — to determine the size and staffing of the department. 
"We have an ongoing historical and racist system that we have to figure out how to deal," she said of the police. "It takes a lot of time and thought and consideration to think about dismantling some of those very negative and hard things about policing."
Echohawk supports building more affordable housing as a solution to homelessness as well as gentrification.
She supports efforts to build affordable housing in the Chinatown International District (CID), and the city's Community Preference policy in high displacement areas. "The gentrification of the city is really disheartening and it's something that I really care about," she said. "I believe it would be a disaster for us if we had more of our Asian community moving out of our city because they can't afford to live here."
She credits CID advocates for helping change her mind about the importance of building the streetcar line from Westlake to Pioneer Square a few years ago. At first, she thought it shouldn't be a high priority. When she heard that the CID and its businesses were disrupted by streetcar construction, she agreed it wouldn't be fair to leave the line unfinished. "I believe that when government promises to community, that they have to follow through," she said. 
Echohawk considers herself a social democrat and a "pragmatic realist."
"I get things done," she said. "Sometimes you have to make compromises, you have to hear from the neighborhoods, and there will be perspectives you just didn't realize."
During her campaign, she hopes to visit neighborhoods all over the city and connect with voters. "I think we're at a point in time where there's a ton of momentum for change," she said.