"Dad is a Nisei (second generation Japanese American), who served honorably in the U.S. Army, and has been a resident at Keiro for almost a decade, for that we are forever grateful. His mother, two sisters, and brother were residents at Keiro. Now, at the end stage of Dad's life, again, to be 'forcibly removed' to relocate because Keiro is closing is shameful, and a slap in the face to our family and everyone else who had helped to build Kerio from a dream to become a reality."
This letter was written by a family member of a Keiro Northwest resident and read at the Anti-Displacement/Support Our Seniors Rally held by the Chinatown-International District (CID) Coalition, Seattle Artist Coalition for Equitable Development, Seattle Asians for Black Lives, and Pacific Rim Solidarity Network (Parisol).
The rally was held on Thursday, August 1st, in Hing Hay Park, to protest the displacement of elders, small businesses and other residents vulnerable to gentrification. A march followed, making stops at Bush Garden, Nikkei Manor/Uwajimaya, and the KODA Condominiums Sales Gallery.
Keiro Northwest, a senior care facility providing culturally appropriate care for Asian and Pacific Islander (API) elders for the last 40 years, announced that it will be closing its facility on Yesler and 16th after a decade of financial decline this past May. The closure forces some 120 senior residents to be removed and over 200 healthcare workers to lose their jobs.
Since the May announcement, the future of Nikkei Manor, a Keiro Northwest assisted living community located in the Chinatown-International District is also in doubt. Some residents have already moved out after hearing rumors that the facility may close, and approximately 50 elders are waiting to hear if they will be displaced as well.
Keiro assets include its flagship nursing home facility, Nikkei Manor and Washington Medical Clinic (across the street from Keiro on 16th and Washington). The Washington Medical Clinic were donated to Keiro by Dr. Ruby Inouye Shu in order to support Keiro's mission of serving Japanese American and API elders.
The current Keiro board is looking to sell the Washington Medical Clinic to cover some of their debts.
Transforming Age, a non-profit dedicated to enhancing the lives of older adults, offered Keiro Northwest the opportunity to affiliate in order to save the nursing home and jobs earlier this year. But the Keiro Northwest board of directors decided in a narrow 7 to 5 vote to close the facility rather than pursue partnership. Moriguchi is opposed to affiliating with Transforming Age because he stated he believes in keeping Keiro's assets "in the Japanese community."
In contrast, the Keiro NW community, a group comprised of patient family members and staff, have asked the board to reconsider. The community has held two rallies prior to the August 1st action and is currently circulating a petition demanding that Keiro affiliate with Transforming Age to save the operations and prevent transfer trauma – which industry experts say occurs when elderly patients are forced to relocate and typically has a 25-30 percent mortality rate. In an interview with Northwest Asian Weekly, Keiro CEO Bridgette Takeuchi said five residents have passed away since the closure of Keiro was announced.
"Pau Pau needs a place to live. Lola needs a place to live. Baachan needs a place to live."
The march ended at Da Li's KODA Condominium Sales Gallery, where the KODA developer hosted an exhibit as part of Pioneer Square's First Thursday Art Walk. At 17 stories, KODA Condominiums will be the first luxury high rise in Chinatown-International District. Units are priced as high as $1.4 million and $75,000 for a parking spot, but the median family income for those living in the CID is less than one-third of the citywide median income – $35,547 compared to $115,414. According to Da Li, 80 percent of current pre-owned units have been sold to non-CID residents.
Marchers voiced fears that luxury development like KODA will lead to more displacement of CID seniors by driving up rents for elderly residents and squeezing out the small businesses and social service providers they depend on. People aged 55 and over make up the largest share of CID residents at 37.7 percent. Among elderly residents, 68.6 per cent are foreign born, many of whom are limited-English proficient and are on a fixed income.
Another common denominator between the KODA Condominiums and the closure of Keiro Northwest is Moriguchi. Despite receiving several offers from local non-profits to build affordable housing, Moriguchi sold the land to Da Li Development Co. Ltd. in hopes of attracting higher income tenants "with disposable income to spend at Uwajimaya and other neighborhood businesses."
Seattle Artist Coalition for Equitable Development awarded real estate developer Da-Li/KODA Condominium their first Artwashing Achievement Award for using artists – none of them representative of the CID and all but one of them white – to "smooth and gloss over exclusionary development practices."
"KODA Condominiums is expected to trigger a chain of displacement of longtime residents, small businesses, cultural institutions, and community organizations from the historically redlined neighborhood," said Julie Chang Schulman, Seattle Artist Coalition for Equitable Development member.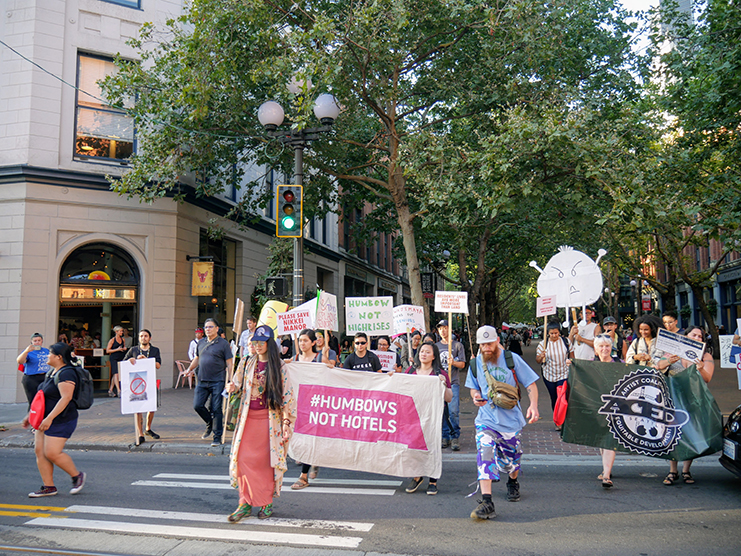 She continued, "Though a more inclusive, community-led planning process could greatly mitigate the damage KODA is already causing to the delicate cultural fabric of the CID, Da Li Development has repeatedly refused to hear the solutions that neighborhood anti-displacement advocates present. Instead, Da Li, whose chairman recently called the CID 'old, dirty, and poor,' is relying on façade décor and superficial gestures such as participating in the Pioneer Square Art Walk and sponsoring the CID Block Party – to garner public support for their soon-to-be outsized presence in historic Japantown."
KODA representatives refused to accept the Artwashing Achievement Award, incensed by the intergenerational group of protestors who disrupted their art show.
Protestors lined against the entrance and doorway, chanting and singing, "On a quiet day, I can hear her breathing. I have not come here alone. We are rising like flowers out the concrete."