Whether it is mentally, physically or financially, people across the world are struggling in ways that they never have before, which has highlighted the dire need for community support. Many API-owned businesses in Chinatown-International District and Seattle are working tirelessly to harbor a sense of camaraderie and unity during a time when everyone is encouraged to limit social interaction and stay at home as much as possible.
By collaborating with other businesses in new and unique ways, business owners as well as consumers are reaping benefits. One of the many projects taking place within API owned businesses is a collaboration between Young Tea, a bubble tea cafe in the CID, and Macadons, a macaron shop in White Center, to create new tea-flavored ice cream macarons.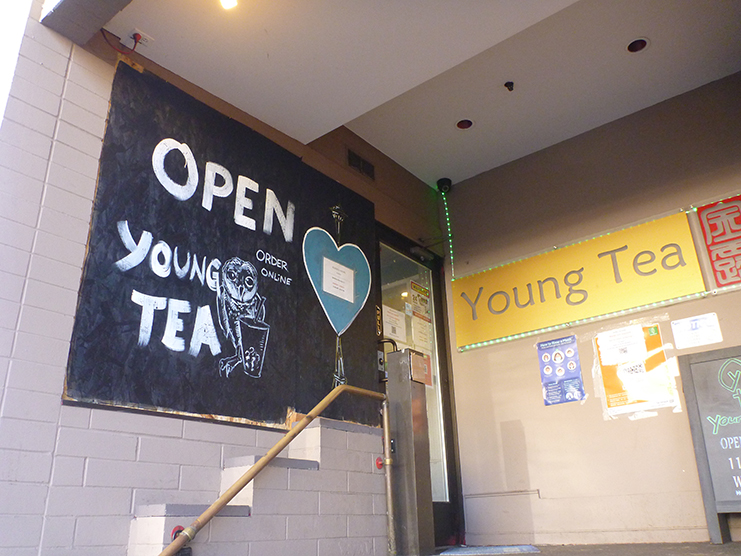 Young Tea is a milk tea shop that focuses on the health benefits of tea through the use of all natural, high-quality ingredients. Macadons is a macaron and ice cream business with a unique Asian touch. Both of these shops have found that their products complement each other nicely, making it a great combination for the two of them to work together to boost business.
"We are trying to incorporate our tea with their products, so I provided several teas for them to try. They made a Jasmine green tea ice cream that was really good," said Caroline Lee, Young Tea owner. "We're still working on it. We did one tea tasting to pair up the tea and the macarons together, so that was fun."
Coming together in ways like this can be a booster for both business and morale. Finding joy as the pandemic and necessity to social distance continue is one way that business owners are coping with the difficulties that have arisen this year — as well as giving each other more exposure to one another's customer base during what is normally a lucrative time of year. While the circumstances are undesirable, collaborating with one another has provided a reason for business owners to grow and develop new ideas and methods of selling products that they may not have thought of beforehand. 
"We are trying our best. We rolled out a new product, we tried to invent more drinks or put in more effort to attract customers to come out, while following all protocols," said Lee.
It is small changes like these that have the ability to attract customers and create a sense of excitement and joy in the lives of business owners and loyal customers and give customers a unique experience to gift to others in the form of gift cards. 
In addition to general quarantine and social distancing, the holiday season poses new challenges for both business owners and consumers. Young Tea and Macadons have already considered ways that customers can use their products to spend quality time with their close family members that they live with or are in quarantine with this year. 
"We wanted to do a package for Thanksgiving. Due to the restrictions, we can't invite friends over, so with just a small family gathering they can do the same thing, pair tea and macarons, but we haven't worked it out yet," said Lee. 
Through reaching out to other businesses and brainstorming new ways to improve and function, there is hope that the financial side of things will improve and not be impacted too hard by a decrease in regular sales. 
"Businesses should help each other, because it's really difficult, we used to be very busy all week long, but now just the weekends," said Lee. "The weekdays are really quiet. I hate to say it's like a ghost town, especially when the weather is really bad, raining and windy, it's really hard."
Another API-owned business collaboration that has taken off is the partnership between Hood Famous and local Filipinx American and BIPOC artists.
"Given the COVID pandemic, we decided to pivot our space, and with that we wanted to highlight local artists that also happen to be POC and Filipino American. So everything you see in here has a connection to our owners, the city of Seattle, and this district," said Anton Coleman, manager of Hood Famous.
Hood Famous is a bake shop and cafe that strives to honor the food traditions that stretch from the Phillipines to the Pacific Northwest. They also recognize the importance of providing a platform for artists who are working hard to stay financially stable during times where financial hardship has become a common experience for people globally. 
"You will see artists that frequent our space, so they're normal customers, or they're something that our owners really loved, or something that someone actually came in and said we would love to see this in your space," said Coleman. "We are just wanting to support people financially during these times too and have a space for people to showcase their stuff, especially when a lot of places are not open."
With a strong emphasis on support and representation, the featured artists are able to be seen and promoted while customers are able to feel a sense of comfort upon entering Hood Famous and seeing depictions of who they are. 
With art showcasing traditional Filipino foods, familial roles, native Filipino groups and languages that have been lost, the sense of cultural pride and appreciation is alive and present in the shop. 
"It is really depictions of culture," said Coleman. "This is a space for a lot of people when they come in here. It's like, oh, I see myself reflected, and that is the intent with the artists that are here, for when people come in, to see themselves reflected in the space."
Optimism is key yet difficult to maintain during times that are overshadowed with unpredictability and fear. With power in numbers and the strong sense of support that many API owned businesses are finding within one another, there is hope for the future and for the perseverance of small business owners, and staff members and artists.
***
For more information on Young Tea and to support their online store, visit https://www.youngteaglobal.com. Hours of operation according to their website are 11:30 AM – 8:30 PM.  Instagram: @youngteaseattle
For more information on Macodons, visit https://macadons.com. Macadons delivers locally and ships nation wide. Instagram: @macadonswc
For more information on Hood Famous Bakeshop in the CID, visit hoodfamousbakeshop.com. According to their website,  the cafe in Chinatown-International District is now open for walk-ins; no pre-order appointment is necessary. Walk-in hours are Thursday-Saturday 11 AM – 4 PM. All health and safety guidelines in the cafe are still required and enforced. By-appointment Wednesdays will resume December 2nd. Instagram: @hoodfamousbakeshop