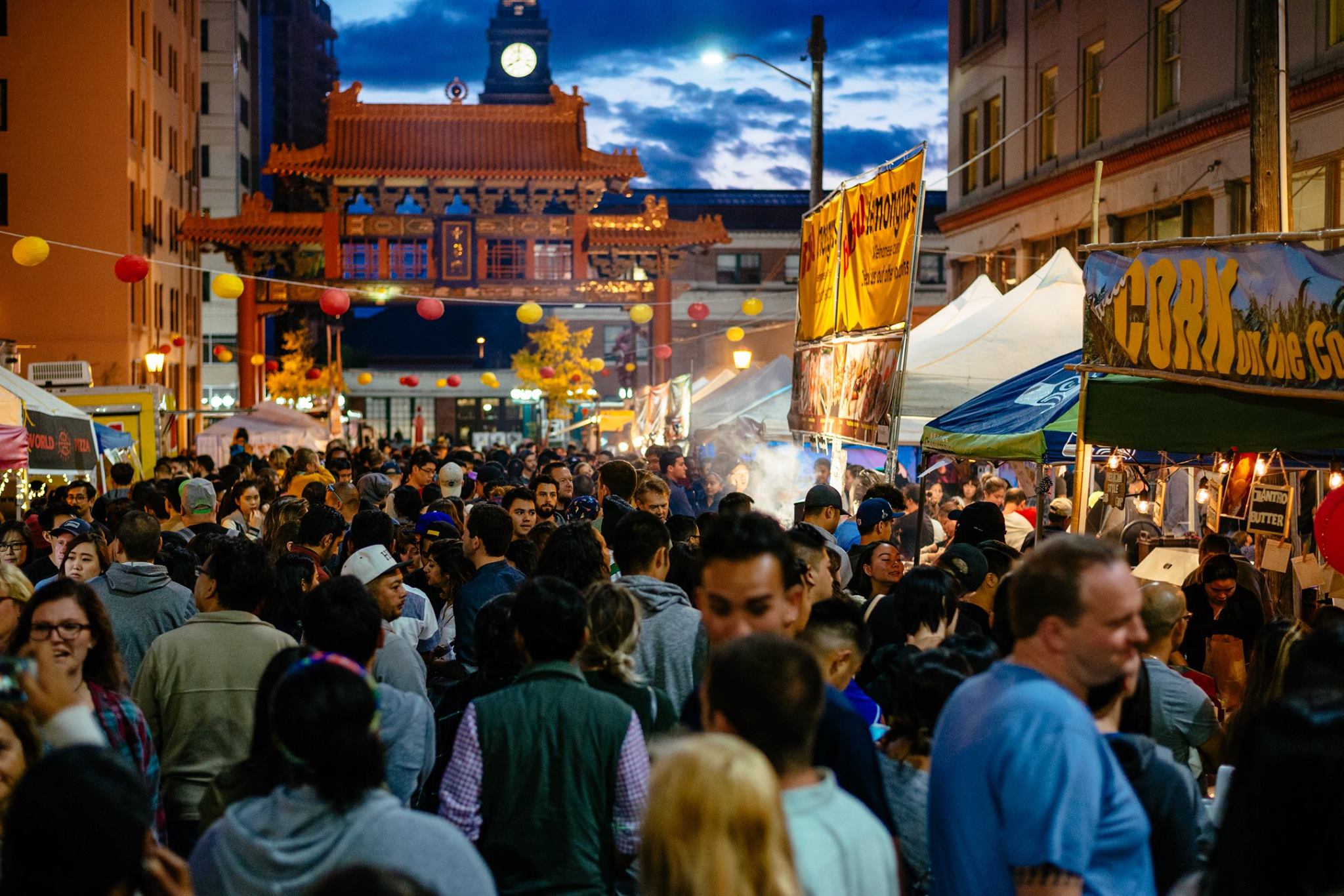 The Chinatown International District Business Improvement Area (CIDBIA) held the Night Market for its 10th year. The Sept. 8 festivities drew over 30,000 attendees to the Asian bazaar along King Street, stretching from 5th to Maynard Avenues.
The annual street market is one of the hallmark events in the ID. It started as a way to counter the ID's negative safety image, but has grown to become a conduit to boost local business and community. The predominantly Asian neighborhood's Night Market offers an experience that comes from the traditional Taiwanese night markets.
"Night markets are an Asian thing, so it is ingrained more in this community than in other communities," says Monisha Singh, CIDBIA's director of communications. "Anyone can have a street festival at night, but ours is specifically focused on Asian vendors and people of color."
The smells and sounds from the market could be heard many streets over, from the sweet smell of fried sugar and condensed milk to the cooking of spiced meats.
Start at the historic Chinatown gate and find a variety of Asian street food from the Korean fried chicken truck to Mike's Shave Ice. CIDBIA estimated that the event hosted 65 vendors, including usual favorites like Lemongrass.
Following the Hollywood success of Crazy Rich Asians, some of the movie's cultural elements came to life at Night Market, especially through foods like satays. The movie's scene of the Newton Food Center in Singapore offered a similar feel to Night Market – outdoor vendors offering some of the best Asian cuisine around.
It's easy to see parallels with the movie by picking up your favorites from various stalls and settling down in Hing Hay Park to eat and chat with your group of friends. Additionally, you could catch Capoeira performances from Mestre Silvinho and his students, who were performing in the park for most of the event night.
The market ran from 4:00 p.m. until midnight on Saturday, Sept. 8. Businesses prepared for the festivities, including extending operating hours to draw in more traffic. Other businesses offered raffle prizes and discounts. Oasis Tea Zone had a prize give-away on a Nintendo Switch.
The market was more family-friendly in the early hours: kids playing connect four and cornhole while the adults munched on sweet and savory foods. The energy changed at sunset as the crowd grew and vendors began switching on the golden lights around 8 p.m.
Festival-goers start to skew toward 20 and early-30 year olds as the night progresses. A nearby Mariners game brings an additional wave of attendees to the market.
Aside from offering these crowds wildly popular and unique Asian foods, the largest night market in Seattle boasted craft sales and live performances throughout the night. A decorative set-up of lights and colorful stall tops draped the neighborhood's festivities.
CIDBIA curated this event toward young adults by offering beer gardens and stage performances that brought DJs, rappers, and breakdancers from across the Northwest and Canada.
Focusing on people of color and Asian diversity, stage performances included Cambodian DJs and Chinese Yo-Yo. The market hosted a break-dancing competition later in the night that drew local and international performers too.Along with popular performances and foods, the market offered tons of shopping opportunities, including handmade local goods like glow-stick apparel.
CIDBIA offered the annual market as a way to raise funds and draw attention to businesses and culture in the neighborhood. Local business owners and residents valued the chance to show off their product and culture.
Lydia Lin, owner of Seattle's Best Tea, had been a vendor at the market for the last two years. "We like to do this," says Lin. "It gives people a chance to learn about Chinatown and its food."
Daniel Chong, part of the Three Twenty Below and Ibajella's Ice Cream Cane stalls, emphasized Night Market's cultural value. "We are Asian. We know people here," says Chong. "It's a nice event for Asians to come and experience their community."
Despite the market's long-running popularity and size in Seattle, many still did not know about the annual festival. Tran, a new attendee and Seattle native, had never heard about the market before this year. A Chinatown poster drew her attention to the festivities a week earlier.
Emma Vielbig, another Seattle native, also heard about it for the first time. She was with Ernesto Gorjón, a resident of ID. Gorjón had been a regular market-goer for the last three years. Both were drawn to the stage performances as well as my cup of liquid nitrogen dessert.
The host and vendors saw the market as an opportunity to reach new audiences through Instagram. Many of the festival's food and performance-options are designed to be "Instagram-able."
Del Mundo said that his most popular menu item, the Halo-Halo, came from trying to make something "Instagram-able." Del Mundo had over 200 customers in 2017 and expects to beat that number this year as well. "It's definitely one of the biggest events we've done."
Last year was an especially good year for the Night Market, said Singh. And while CIDBIA did not make as much this year, it still gathered enough funds to hold many events moving forward.