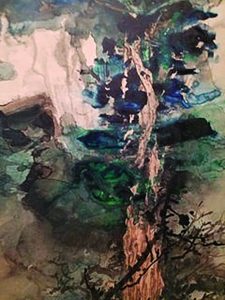 Chang Dai-chien (1899-1983) is considered one the most accomplished and important Chinese artists of the 20th century and some say the greatest artist of the last 200 years. He was the master of every genre of Chinese painting, calligraphy, landscape, bird and flower and figure. He technically mastered every style from the gongbi meticulous to the xieyi expressive, sometimes utilizing both styles in a single painting. Chang Dai-chien: Painting from Heart to Hand is now on view at the San Francisco Asian Art Museum through April 26, 2020. This exhibition marks the 120th anniversary of the birth of the artist.
Chang Dai-chien, with a magnificent full beard, was an imposing figure in the art world. He always wore the long silk robes of a Chinese scholar and carried a gnarled walking stick and sometimes wore a Su Dongpo hat. He resembled a figure from a classical Song dynasty painting. Like a modern celebrity Chang moved around with an entourage of students, family and groupies. He was famously a gourmet and loved to cook, but he also employed the services of full-time chefs, many who went on to open restaurants. He hosted famous dinner parties and often illustrated his invitations and menus and gave them to his guests. Chang was by all accounts an affable person who enjoyed the limelight — like the Andy Warhol of the Chinese art world.
The exhibition explores three themes that trace Chang Dai-chien's artistic development: 'Pursuing the Past', 'Learning from Nature' and 'Inspiration from Within'. Drawing mainly from the collection of the Asian Art Museum, many of the large scale works were gifts from the artist as well as loans from local collectors and friends of the artist. Artworks from every decade of the artist's productive long life from the 1920s through the 70s are featured.
In Chang Dai-chien's early work, he looked to the 17th century artists Shi Tao and Badashanren for inspiration. During the 1940s he went further back in the past to the Dunhuang caves to study and preserve the ancient Buddhist cave murals of the 5th century. He brought this colorful antique style of rich mineral colors to modern Chinese painting. His exhibitions and research created a sensation and renewed interest in the early history of Chinese art at time of war and political chaos.
After leaving China in 1949, Chang Dai-chien lived a peripatetic life, moving to Hong Kong, Darjeeling, Argentina, Brazil, California before finally settling in Taiwan. In all his homes he built gardens, digging ponds, raising up stones and pavilions. In these gardens he recreated sites and memories of the famous scenery he had visited. He gave his gardens names 'The Garden of Eight Virtues' for Mogi, Brazil, Huanbian; 'The Garden in the Sticks' in Pebble Beach, California; and lastly 'The Abode of Illusions' at his final home near the National Palace Museum, Taiwan.  Like the Yuan and Ming dynasty masters he admired he lived in self imposed exile and he refused to have anything to do with the Communist rulers of China which was going through the worst of the Cultural Revolution.
Some viewers of Chang Dai-chien's later works may interpret and see Western influences of impressionism, cubism and abstraction in his paintings, but Chang cited references to Mi Fu's 11th century pointillistic dot technique as Chinese impressionism of the Yuan dynasty or pomo splashed ink painting of the Tang dynasty 618-907 as pre-abstraction. These aesthetic principles guided his painting practice in his years abroad. He famously met the cubist master Picasso in 1956 and gave him a set of Chinese brushes, take a look at Picasso's brush paintings of bullfighters and you can see his usage of brush. For Chang Dai-chien Modernism in Western art was Chinese.
Painting from Heart to Hand includes a magnificent 'Mountains in Summer Clouds' 1970 a large format, a tour de force balancing act of tossed ink and chaotic brush. 'Divine Redwood Trees In Taiwan' 1970 combines the blue green coloring of the Tang dynasty, pools of splashed color and ink bring fresh vitality to the classic theme of ancient misty trees. I am a big fan of Chang Dai-chien's gongbi or meticulous brush technique 'Woman Holding a Flower' 1948 shows how the artist instilled new life to the well loved meiren beautiful lady genre with bright and dazzling mineral colors and refined brush work.
Painting from Heart to Hand is a phrase that the artist had carved into a seal in 1971. This phrase serves as a glimpse into the artist's thoughts that at age of 71, he is able to act and respond directly to his own artistic impulses without restraint.
This exhibition is a small jewel with 33 paintings, drawings and photographs. Incongruously included is one painting by his brother, Chang Shan-tze, and a work by a longtime student. The exhibition seems spacious in part and then quite crammed and shoehorned, especially in the narrow gallery usually devoted to the Lingnan master Zhao Shao'ang. Beautiful vitrines show small works, but the lighting is inadequate. The shadow of the viewer falls on the paintings, spoiling the experience. This exhibition only made me want to see more, and really deserved to be expanded downstairs in the more spacious special exhibition galleries.
With Chang Dai-chien's master works routinely selling at auctions in the range of millions in US dollars, it may be difficult to organize exhibitions like this. Still Chang Dai-chien is the most famous and celebrated Chinese artist of the 20th century whose work and artistic accomplishments bring the great thousand year old brush painting tradition to our modern times.
The exhibition is accompanied by an informative and well illustrated catalog with entries by curators Mark Johnson and Zhang Fan Jeremy.
Chang Dai-chien: Painting from Heart to Hand is now on view at the San Francisco Asian Art Museum through April 26, 2020.