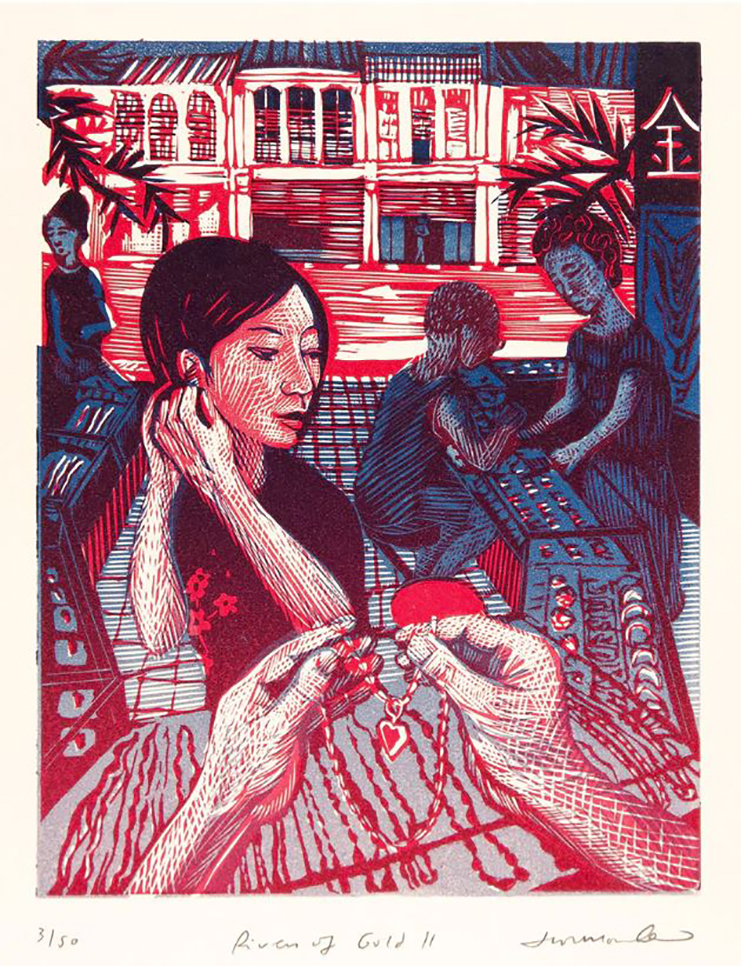 British printmaker Wuon-Gean Ho creates emotive images of people and animals, and this autumn, her work will travel across the Atlantic to be displayed at Seattle's Davidson Galleries in an exhibit entitled Right Here, Right Now: Stories from These Times.
Ho is excited for this exhibit, which was curated by Paige McCray and Sam Davidson. "The images span the past few years, from just before lockdown up to the first intense period of isolation," Ho explained. "The title, Right Here, Right Now, is from one of the prints which I made in 2019."
The show's title is meant to reflect the absurdity and humor of everyday experiences. "I had a new job as a researcher in the University of West of England," she said. "Living in London meant a long commute. The bus was packed full of the usual suspects, loud talkers, snack food eaters, and me with my half-open laptop crushed by a reclining seat."
Of the other pieces in the exhibit, Ho is particularly fond of Hamster Love. "It's about a real story," she said. "We had just been shown how to use the fancy new ultrasound scanner at work, and then a hamster came in with a worrying lump."
With her first degree in veterinary medicine, all of Ho's senses came to life in that examination office. "I found myself sitting in a dark room, trying to see something that my fingers had already sensed was not normal," she described, "with two people whose prayers I could practically feel in the air."
The orange tint of the image shows three faces focused on the little hamster. "The picture is a bit like a nativity scene, where the light focuses on this tiny being and the adoration and hope that surrounds it," Ho said. "It's also an accurate description of how awkward it is to sit in front of a bulky machine with loops of wires over your shoulder, twisted sideways in the darkness, all the while trying to project calmness and professionalism."
Hamster Love combines Ho's two interests. "I grew up in Oxford England, next door to the family-run veterinary practice, and it was always assumed I'd be a vet when I grew up," Ho recalled. "One summer when I was about nine, I was given a sketchbook, which I filled with wonky drawings of my sisters and the cats. I remember the joy of being able to make something that slightly resembled something tangible in the world."
Then a friend invited Ho to Art in Action, an annual outdoor summer festival of the arts. "That was where they ran taster classes for different art techniques, including copper enameling, oil painting, wood carving and linocut printing," Ho said. "I made my first linocut of a cat on a roof, and was hooked."
In college, Ho continued her dual focus. "I did the BA in Art History in the third year of a six-year degree in Veterinary Medicine, which was a quirk of studying at Cambridge," she said. "They assumed everyone would do something sensible like physiology, but it was technically possible to study whatever you liked."
Ho claims the oft-told story of second-generation East-Asian aspiration. "After resuming the vet studies, I realized that to fulfill my duties for my parents would be immensely difficult," she said, "so in desperation I applied for a job teaching English in Japan, and got it."
Her time studying Japanese woodblock printmaking at the Kyoto Seika University proved life-changing. "The Japanese way of teaching is embodied and based on repetition, which is more holistic than cerebral," she said. "Even though I could see, every day, how I wouldn't ever be the best, it didn't matter. Just showing up and trying was enough."
With this varied history, Ho's work generally features the animal kingdom, both human and non. "It strikes me how much of a tender connection we have to our animal companions, which sometimes I explore in my prints," she said. "And people, well, people are interesting! We assume everyone is like us, then things happen which make us realize how different we are."
In addition to creating art, Ho has taught printmaking to students internationally for fifteen years. "I teach them the rules," she said, "then encourage them to break them!"
While Davidson Galleries hosted an opening reception on October 6, Ho visited Seattle on November 3 as part of a larger tour of the U.S. "I will be doing a mini, for me, maxi, tour of various universities, who have all generously invited me to be a visiting fellow!" Ho relayed before the visit. "So I'm going to be in University North Carolina Charlotte, University of Tennessee, Knoxville, University Indiana Bloomington, University Utah, Salt Lake, and University of Hawaii, Hilo. I'm really excited."
During this university tour, Ho focused her lectures on color blends. "The project is called Meet Me at the Edge of Infinity, which is about how blends are not used in commercial printing technology, as we have created pixelation, and furthermore, the computer screen is also based on dots," she elaborated. "However, we are surrounded by blends in nature. I would like students to consider color blends in their creative work and reflect on the metaphoric and psychological results, and how it might speak to nuanced conversations, the non-binary and the analogue."
Then, she'll head back to the UK. "After this show I'm going to spend time in a winter residency in North Wales called Mawddach, which is on the mouth of a river in the middle of nowhere," Ho said. "I hope to make work that explores darkness and shadows… but who knows?"
Right Here, Right Now: Stories from These Times runs from October 7 to November 26 at Davidson Galleries, 313 Occidental Avenue South, Seattle.