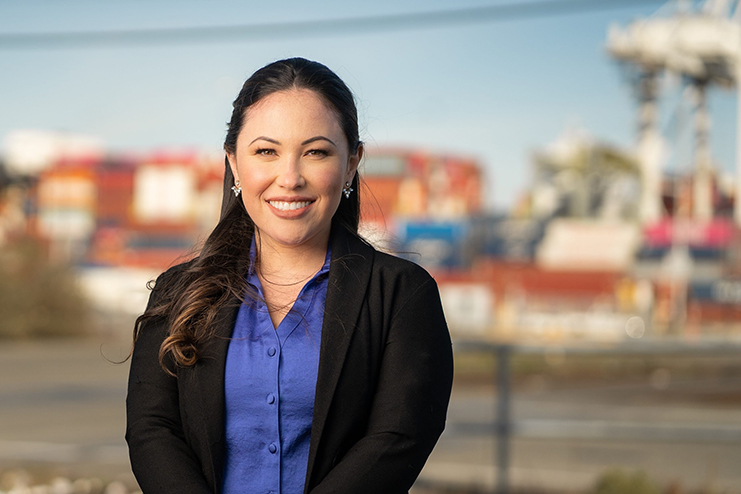 "I think about the younger me often," said Toshiko Hasegawa, the youngest woman of color ever to serve as a state-level cabinet member in Washington. "It's been a long road." 
Hasegawa grew up in what she describes as a very "social justice oriented" household. Her father, Sen. Bob Hasegawa (D-Seattle), was the head of the Teamsters Union, and her Beacon Hill childhood home might as well have been headquarters. Hasegawa recalls a bustling household with union members planning their action over coffee and donuts, actions she would attend with her father.
When Hasegawa got older, her mother, a mental health counselor who worked with Seattle Rape Relief, would bring her to Take Back the Night events. As a freshman at Garfield High School, she used to tag along with her older sister to the Seattle Youth Involvement Network, which she describes as her "first time getting [her] skin in the game in organizing"
Hasegawa says these "values and experiences" have culminated in a life of public service. 
According to her campaign announcement on Monday, March 15, the next stop in that life of public service is Seattle Port of Commission Position 4. If elected, Hasegawa says she would be the fifth woman in the Commission's history and the first woman of color.
"Most folks see [the port] as less relevant to their lives: less relevant to the lives of women, less relevant to lives of people of color," Hasegawa said. "That's because it hasn't been made to be relevant to them."
The Port of Seattle Commission is a hyper-local, policy-making body that consists of five council members elected to serve four-year terms by King County voters. Hasegawa calls the port "the economic driver of our region" with its connection to jobs, trade and immigration. 
According to the Commission's Workforce Development Strategic Plan for 2021-2023, the port plans to add 100,000 jobs for a total of 300,000 port-related jobs. For comparison, Amazon, Washington's largest employer, accounts for approximately 80,000 jobs in the state, the Seattle Times reports. 
"I was taught as a young girl that economic empowerment leads to social justice for our communities," Hasegawa said. 
Economic empowerment and environmental justice appear to be Hasegawa's top priorities at the port, something she calls a "Blue New Deal." She says she has the "experience to make sure the next rising tide of the economy sails all of our ships."
In 2018, Gov. Jay Inslee appointed Hasegawa the executive director of Washington's Commission on Asian Pacific American Affairs (CAPAA). 
Before her time with CAPAA, the Commission instituted the Ruth Woo Fellowship, a program for students interested in civil rights and equity to get hands-on experience in state government. Hasegawa would like to implement a similar program at the port. She emphasised this by saying "exclamation point, exclamation point, exclamation point," in a phone interview with the International Examiner. 
In response to the economic strain of the pandemic, the port issued $1 million in grants to nonprofits so that they could better serve communities most impacted. Hasegawa wants more. 
"Right now, I am running in the context of economic devastation," Hasegawa said. "It is not too much for folks to ask to have a seat at the table and be a part of rebuilding, so that it can be better than it was before."
Even before the initial COVID-19 induced shutdowns, an unfounded and anti-Asian association between the virus and China slowed business for restaurants in Chinatown International District (CID). On April 3, CAPAA hosted a statewide stakeholders conference call where the Department of Commerce discussed supporting small businesses. 
According to Hasegawa, CAPAA partnered with the Department of Commerce to center the Asian community. Under her leadership, CAPAA made sure that the Department of Commerce advertised Small Business Resiliency Grants in the top spoken Asian languages at the same time it advertised the grants in English. 
This inspired CAPAA's work with the Governor's Office to create Washington's Language Access Plan. This plan requires and funds state agencies to translate vital COVID-19 information in the top 37 spoken languages in the state – over a third of which are Asian languages. 
Hasegawa, who describes the port as "cagey" and "inaccessible," would like to expand language access on the port's website. 
Part of the port's mission is to steward the environment responsibly. Hasegawa says she has a sense of urgency when it comes to environmental justice. 
A new mother, Hasegawa is raising her daughter in the same neighborhood her father raised her and his parents raised him. She recalls buying salmon from native peoples and watching whales in the Puget Sound.
"Is [my daughter] going to be able to enjoy the same riches of the region the way we were?" Hasegawa said. "We need action now."
Hasegawa advocates for eliminating the use of fossil fuel in the port by subsidizing the cost to transition towards electric motors for trucks and boats. According to her website, Hasegawa is against selling public land to developers. 
If elected, Hasegawa would not be required to step down from her position at CAPAA. She says she sees the value in "making space" for new leadership, but she is unsure whether or not she would resign if elected to the port. 
Hasegawa has received endorsements from around King County: Sen. Joe Nguyen (D-Seattle) who has roots in White Center, Sen. Rebecca Saldaña (D-Seattle) who grew up in the Delridge neighborhood, and closest to home, her father.  
"I'm so proud to be a product of the community that raised me so that we might still carve a better future for the next generation," Hasegawa said. "It's a steep challenge, but it's actually one I'm excited to rise to answer."