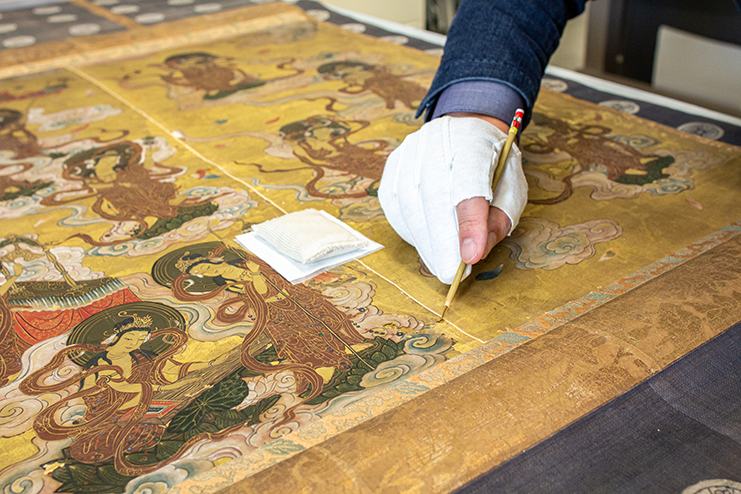 Art conservation typically takes place behind closed doors. The practice brings conservators in direct contact with centuries-old works of art and requires a highly specialized skill set that takes years to learn.
With the reopening of the Seattle Asian Art Museum this February, the once-secretive practice of art conservation will be made available for public viewing at the Asian Paintings Conservation Center. Dedicated to the conservation, mounting and study of Asian art, the studio is the only one of its kind in the western United States.
Residing just below the museum's galleries, the small studio sits at a little over 1,000 square feet. Inside, a reception desk welcomes visitors into the space while a nearby TV screen provides general information on the conservation process. A glass partition separates the conservators from the public, guaranteeing the art's protection while offering a firsthand look at the treatments taking place atop elevated Tatami mats.
In designing the space, Seattle Art Museum's (SAM) chief conservator Nicholas Dorman visited specialized Asian conservation studios in the United States, the United Kingdom, Japan, Korea and China. He worked closely with lead architectural firm, LMN Architects, to ensure the studio's design met the particular needs associated with conserving traditional Asian art.
The center was established and endowed in 2017 after SAM was awarded a $3.5 million grant from The Andrew W. Mellon Foundation. As part of the grant, SAM must raise an additional $2.5 million in matching funds over four years to support the studio's continued operation.
In addition to maintaining SAM's own Asian art collection, the Asian Paintings Conservation Center will also be open to outside work. The Asian Art Museum of San Francisco, Portland Art Museum, and Los Angeles County Museum of Art, among other museums and private collections, will have access to the studio's specialized conservation services.
"It's a game changer," said Dorman. "It's unlike anything we've ever done before. By opening the space up to other museums, we can study the art and enhance our scholarly work. It's a real innovation."
To staff the conservation studio, SAM is conducting an international search. Led by Dorman, the museum is in search of a senior mounting specialist to oversee the studio's day-to-day functions along with a secondary conservator specializing in Asian art. A third administrative position has already been filled.
Due to the specialized skillset needed to complete the essential duties of each position, Dorman is casting a wide net. He has already spoken with a few select candidates but plans to formally open up the positions in the spring.
Although the studio may not yet be fully operational come this February, Dorman has big plans for the space. He envisions offering workshops in partnership with the museum's education department and hopes to collaborate with museums and universities around the nation to bring scientific research into art.
"We feel so privileged to get to interact so closely with the work in our museum," said Dorman. "We want to establish a dialogue around art conservation and the art we are showcasing. We hope the studio gives people a notion of what goes into taking care of art and feels like more than just watching paint dry."