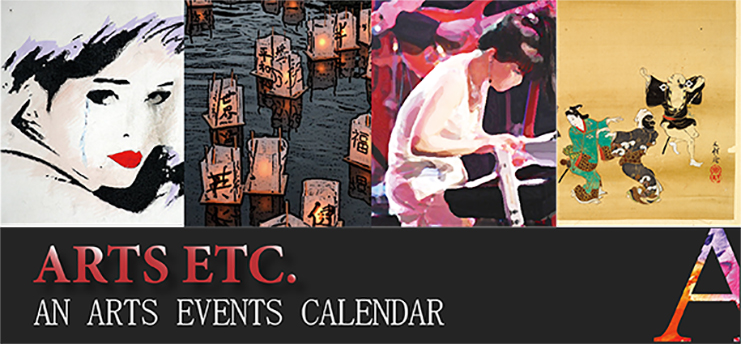 Due to the Covid 19 crisis, it is advisable that people check ahead with institutions before visiting by calling or going to their websites as government restrictions may apply or change at any time. Some galleries have limited hours with a limit of how many people may enter at one time. Face masks are mandatory.

Visual Arts
Humaira Abid, the  local Pakistani artist who works with wood to shape  thoughtful works that deal with women's issues has a show of new work entitled "Sacred Games" scheduled for Greg Kucera Gallery from Sept. 3 – 26, 2020. 212 – 3rd Avenue S. 206-624-0770 or try [email protected].
The Schack Art Center in Everett presents "American Graffiti", a one-of-a-kind comprehensive exposition of the Graffiti art genre with a rare public viewing of 85 spectacular originals from a local collection. Exhibit features commissioned works by artists in New York, Philadelphia, Chicago, San Francisco, Los Angeles, Oakland, Boston, Phoenix and Seattle. On view through  Sept. 5, 2020. 2021 Hoyt Ave. 425-259-5050 or try [email protected] or go to www.schack.org. In conjunction with the above exhibit, JAG Artworks in Everett will host a Local Graffiti Art show which features artists from all over the West coast. Also on view through Sept. 5, 2020. 2940 Colby Ave. 
Alaska-based printmaker Fumi Matsumoto has a show of monotype prints depicting animals on teabag papers September 4 – 27 at Roby King Gallery on Bainbridge Island. Also on view is Susan LeVan's mixed media collages. 176 Winslow Way East. 206-842-2063 or go to www.robykinggallery.com.
"Anatomy of a Collection" is a group show that shows more than 80 works of art from the permanent collection. On view through  January 3, 2021. At Whatcom Museum's Lightcatcher Building. 250 Flora St. Bellingham, WA. 360-778-8930 or go to www.whatcommuseum.org.
Local artist Shogo Ota has an art installation entitled "Murmuration" in the new PCC Bellevue store.
The Henry Art Gallery at UW features an online presentation entitled "Eyes On The Collection: The Need To Play" curated by Fiona Dang, Curatorial Department Coordinator. The presentation highlights works from the museum's collection and explores the many connotations of the term "play". Go to henryart.org or details.
Artist, graphic designer and costume designer Michelle Kumata's re-scheduled virtual talk sponsored by Wing Luke Museum takes place on Thursday, August 20 at 6pm PST. She will talk about her trip to Brazil to research and meet with her Japanese Brazilian relatives and how it has influenced her work. Go to https://www.facebook.com/events/2768428923263222/ for details. 
Seattle Art Museum's "Asia Talks" series (all virtual and online) continues with the following –  "Teaching From Contemporary Art" on August 6 from 2 – 4pm. In partnership with the  UW East Asia Resource Center, this virtual workshop focuses on contemporary Asian art that explores relevant themes of protest, migration, and identity to teach facilitation skills and close looking strategies. For further details and to register, go to https://jsis.washington.edu/earc/teaching-from-contemporary-asian-art-student-centered-engagement-strategies/. August 11 at 5pm, viewers can join  in on  "Instagram Live" artist chat  brought to you by the Wing Luke Museum with SAM. Artist and type designer  Juliet Shen chats with visual artist and cultural worker Carina A. del Rosario. They'll be talking about their work and how Covid-19 has affected their creativity and the arts community at large. The April speaking appearance by Silk Road art specialist Judith Lerner has been re-scheduled for next year. An article by SAM curators entitled "An Asian Art Museum Transformed" appears in a recent issue of Orientations magazine. The fall Saturday University Lecture Series will focus on color in Asian art and will take place either at the Asian Art Museum or online depending on the situation re: Covid 19. Go to [email protected] for more.
Seattle writer/curator Mayumi Tsutakawa gives a free virtual talk via zoom for the Whatcom Museum on "Early Washington's Undiscovered Feminists" touching on the careers of Imogen Cunningham, Ruby Bishop, Priscilla Chong Jue, Anna Louise Strong and Vi Hilbert. On August 19 at 6pm. Register  through eventbrite. Go to whatcommuseum.org. Part of the Humanities Washington's Speakers Bureau Program.
Artist Hiroshi Sato has a show entitled "Flattening and Form" which includes realist painting and utilizes geometric design principles of the old masters. August 6 – 29,  2020. Harris Harvey Gallery at 1915 First Ave. in Seattle. 206-443-3315 or try harrisharveygallery.com.
Deborah Kapoor has a show of new work entitled "Due Belle Voci" which includes sculpture made of encaustic and mixed media. It is an intimate portrait of a family seen through the artist's role as daughter, mother and caretaker.   On view  July 23 – August 22, 2020. Lauren Iida's "32 Aspects of Daily Life" also remains on view through August 22, 2020. Artxchange Gallery is at 512  1st Ave. South. 206-839-0377 or email [email protected].
"Seclusion" is the 28th annual exhibition of Z.Z. Wei, an artist known for his evocative paintings of Northwest landscapes. September 7 – 30,  2020 at Patricia Rovzar Gallery in downtown Seattle. 1111 First Ave. 206-223-0273 or go to www.rovzargallery.com.
On view September 19 – October 31, 2020 is the large scale mixed-media work by Lakshmi Muirhead in a show entitled "There is Always a Before" at J. Rinehart Gallery. 319 – 3rd Ave. South. 206-467-4508  or try www.jrinehartgallery.com.
"Fresh Air" is the title of a group show of gallery artists which includes the work of Jiro Yonezawa. August 6 – 29, 2020. At Traver Gallery in downtown Seattle. 110 Union St. #200. 206-587-6501 or try travergallery.com.
The Columbia City Gallery has the following – In the Community Gallery is "The Resting Place", a show that examines the intersection of grief, migration and cultural identity among Filipino Americans curated by Derek Dizon. This project was funded by the  National Endowment for the Arts. In the Members Gallery is a group show that includes the work by Kamla Kakaria. September 23 – November 8, 2020. 4864 Rainier Avenue South in Seattle's Columbia City neighborhood. 206-760-9843. Hours are Wed. – Sundays from 11am – 7pm.  206-760-9843 or go to www.columbiacitygallery.com.
Studio E Gallery in Seattle's Georgetown neighborhood features work by Ko Kirk Yamahira and Emily Counts. Both artists are tactile and material focused. Open on Saturdays from 1 – 4pm or by appointment. 5 people are allowed into the gallery at any given time and facemasks are required to enter. Sept. 5 – Oct. 17, 2020.206-762-3322 or try www.studioegallery.net.

The Seattle Art Museum has cancelled a previously planned major traveling exhibition for this summer entitled "The Allure of Matter: Material Art From China." Instead the current shows on John Akomfrah and Georgia O'Keeffe will be extended through Sept. 7, 2020 when the museum re-opens.

Davidson Galleries features work from a group show, the "Contemporary Northwest Print Invitational 2020". It includes the work of Jueun Shin, Yerin Yang and many others. August 6 – September 26, 2020. View online at davidsongalleries.com or in the gallery by appointment. 313 Occidental Ave. S. in Seattle. 206-624-7684 or go to www.davidsongalleries.com.
Kobo Seattle features a new virtual art space showcasing acrylic paintings by Kate Murray, stoneware ceramic pieces by Aaron Murray and an online store with free shipping on gift kits. Coming up for August is a show of calligraphy by Tommer Peterson. A recent acquisition are monthly shipments of handmade Japanese face masks in various colors and beautiful designs. Join in on the fun and submit your favorite "mask" haiku to [email protected]. Although both KOBO locations are still closed. Shopping by appointment only at the KOBO on Capitol Hill will soon be made available through an online booking system. Time slots will be limited to keep everyone safe, plus more protective protocols in place to meet safety guidelines. More information  to come. Shipping and curbside pickup is still available by scheduling a Pickup Time at Checkout. They have a new instagram shopping account @koboseattleshop or try their website at  koboseattle.com.
The annual Seattle Design Festival takes place August 15 – 23 with a variety of online and offline programs including the following: "The Antibody to the Pandemic of Fake News" which is a workshop by Yuansi Li, Catherine Chang and Alex Banh which will delve into media literacy skills. "Thinkercvze", an online design and play space for all ages and abilities. "Listen Now", an online audio exhibition of community stories. There will also be socially-distant scavenger hunts, tours, art installations and other physical place-based activities across greater Seattle. Go to https://designinpublic.org/ for details.
The San Juan Islands Museum of Art has work by Northwest sculptor June Sekiguchi entitled "The Pulse of Water" on view through August 17, 2020. Her large scale, immersive installations involve manipulating material that is pattern based, modular and site responsive. 540  Spring St. in Friday Harbor, WA Call 360-370-5050.
The Outdoor Sculpture Collection on the campus of Western Washington University in Bellingham is open and accessible to everyone. This is an outdoor collection of major sculptures from the late 20th century to the present and includes work by Do Ho Suh, Sarah Sze and Isamu Noguchi among others. Get a map from the information booth and explore the campus collection for yourself. Call 360-650-3900.
Forthcoming at the Northwind Arts Center in Port Townsend, WA. is a photography exhibit entitled "Manzanar: Their Footsteps Remain" by Brian Goodman. This show contains over 40 years of documenting one of the many internment camps where persons of Japanese ancestry were imprisoned during WWII. This exhibit marks the 75 anniversary of the closing of that camp in November of 1945. Nov. 6 – 29,  2020. There will be an art talk online to be announced. The gallery is open Friday – Sunday from noon – 5pm or by appointment. 701 Water St. Go to www.northwindarts.org for details.
The Schneider Museum of Art at the Oregon Center For The Arts at Southern Oregon University presents "Migrating Bodies: For(Saking) Life, Liberty And the Pursuit of Happiness". The exhibition presents work by five artists or artist collectives that address global migration, the causes and effects. On view  August 6 – October 10, 2020. 555 Indiana St. in Ashland, Oregon. 541-552-8484 or go to sma.sou.edu.
The Chinese Cultural Centre Museum at 555 Columbia St. in Vancouver B.C. has an ongoing exhibit entitled "Generation to Generation – History of Chinese Canadians in British Columbia". 604-658-8880 or go to cccvan.com.
The Dr. Sun Yat Sen Classical Chinese Garen presents "Luminous Garden, the third installment of artist-in-residence Lam Wong. Done in collaboration with Glenn Lewis, it's an investigation of the concept of the garden as a sanctuary for spiritual growth. 578 Carrall St. in Vancouver B.C. 604-662-3207 or  go to vancouverchinesegarden.com.
Ruth Asawa, the pioneer Japanese American artist  from the Bay Area is honored by the U.S. Postal Service. On August 13, 2020, they will issue a set of 10 different stamps with photographs of her striking wire sculptures. Marilyn Chase, who recently authored a biography on Asawa ("Everything She Touched: The Life of Ruth Asawa") on Chronicle Books talks about the artist in a conversation sponsored by Black Mountain College Museum + Arts Center. To listen in, go to http://www.blackmountaincollege.org/a-conversation-with-marilyn-chase-on-ruth-asawa-bmc-artist/.
Japanese fashion designer Kansai Yamamoto, known for styling David Bowie, has died at the age of 76 of leukemia. He was known for his colorful creations and blending traditional Japanese designs into his fashion. He worked with Bowie on both the Ziggy Stardust and Aladdin Sane tours.
Google Arts and Culture has partnered with cultural organizations around the world to host virtual tours of museums and world sites.
The Lower Mahattan Cultural Council's annual festival features art installations by four artists, Asiya Wadud, Jean Shin, Muna Malik and Mona Chalabi in "River to River 2020: Four Voices". Jean Shin's pieces entitled "Floating MaiZE and The Last Straw" located in the Winter Garden at Brookfield Place consists of recyclable green plastic soft drink bottles suspended above the grand staircase and macro and micro views of plastic waste, featuring different configurations and perspectives of colorful straws and reflective material. Both works encourage viewers to contemplate their own plastic consumption and question the ecological impact of consumer behavior in contributing to plastic pollution. All installations on view until  August 30, 2020. For more details, visit Imcc.net/river-to-river-festival.

Performing Arts
Clarence Moriwaki presents a talk entitled "Let It Not Happen Again – Lessons of the Japanese American Exclusion" in which he explores the story of Bainbridge Island – the origin point of the Japanese American exclusion in which 120,000 Japanese American men, women and children were forcibly removed and incarcerated during WWII. Hosted by Friends of the Bellevue Library. August 9 at 2pm. Please register by August 9 at noon. You will be mailed a zoom link for this virtual event a couple hours before the program starts. For details, go to humanities.org.
The Meany Center For The Performing Arts has announced fall schedule changes with the season opening postponed to January of 2021. Some fall performances have been canceled or rescheduled for late winter or spring. Virtual programming is being developed with many of the artists as an alternative to live performances. For a complete listing, go to https://meanycenter.org/tickets/season. Current ticket holders to canceled events are encouraged to contact the ArtsUW Ticket Office to request a refund, exchange into a later performance or other alternatives.
Freehold Theatre Lab/Studio now located in the CID continues their classes in various aspects of the theatre both virtual and in-person. This 2020 summer's classes include "Voice: Clarity & Confidence with Meg McLynn, "New Play Lab: From Page to Performance" with Elizabeth Heffron, "Voice Over 2.0 Kira", "Solo Performance" with Matt Smith and "The Online Movement Lab" with Mik Kuhlman. Go to freeholdtheatre.org for details.
Music of Remembrance online features compelling music inspired by Japanese and the Japanese American experience. From August 3 through August 9, dates which mark the tragic consequences of the U.S. atomic bombing of Hiroshima and Nagasaki, MOR will stream works that make eloquent pleas about the urgency of preventing nuclear war. Japanese American composer Shinji Eshima's "August 6th" is a haunting elegy for those terrifying events. The program also includes two works that MOR commissioned from Japanese composer/musician Ryuichi Sakamoto. "Snow Falls" is a musical score for the haunting poem by Kiyoko Nagase with an English translation by Empress Michiko. The program also includes the piece entitled "Passage" which Sakamoto wrote about the plight of a refugee seeking to escape violence in his own land in the Middle East. These programs will be available for viewing by clicking on to the "Weekly Feature" button on the home page of MOR's website www.musicofremembrance.org. Music of Remembrance was established in 1998 with a mission of remembering the Holocaust with music that matters for today. 
 Even though the Wayward Music Series at Chapel Performance Space is currently closed, go to nonsequiter's website to listen to free links by local musicians performing original music at wayward music.org or try gscchapel.com.. Also listed are live streaming of local concerts by contemporary musicians that you can rent. Local sound artist Susie Kozawa will have a piece she did invoking the space at the Chapel in a forthcoming edition.

The Bay Area performing arts couple of Brenda Wong Aoki and Mark Izu are offering free activities online such as story time for kids, "sho meditations" and weekly performances by their friends. Go to www.firstvoice.org for details.
Professor Yang Hongnian, founder of the Beijing Philharmonic Choir in 1983 has died in Beijing at the age of 86.
Welcome to the "new" normal. Tokyo's famed Kabuki-za Theatre has reopened but the difference is striking. Blocked off seats, reduced capacity and the musicians wear masks and face shields with dancers keeping far apart as they perform on stage.
Film & Media
"A Thousand Cuts", the documentary film by Ramona S. Diaz on a defiant Filipino journalist challenging President Rodrigo Duarte screens August 7 – September 4, 2020 at Seattle's Northwest Film Forum. Go to  nwfilmforum.org or call 206-329-2629.
"A Thousand Cuts" is a documentary film by Ramona S. Diaz that presents a portrait of Filipino journalist Maria Ressa, co-founder of popular online news outlet Rappler and a journalistic thorn in President Rodrigo Duarte's side. Opens for a virtual screening on August 7, 2020 presented by SIFF. Presented by "Frontline". This film was named the best international feature and won the top prize at New Zealand's Doc Edge Festival. Also now screening is "Widow of Silence", a drama about a Kashmiri woman whose husband goes missing. Koji Fukuda's "A Girl Missing" is a taut Japanese  thriller starring Mariko Tsutsui also now playing.  Go to siff.net for details.
Kelly Reichard's latest film "First Cow" is now available for streaming on Amazon, Google Play, iTunes, Vudu and You Tube. The story involves two men in mid-19th century Oregon territory who set up a business  selling fried dough using stolen milk from a cow. Orion Lee plays a Chinese man on the run and John Magaro, a cook and forager. Their tender partnership in this shifting frontier is the core of this film.
Foundry Communications has a new film entitled "A Girl Missing" by Koji Fukuda. His previous effort "Harmonium" nabbed a jury prize at Cannes. This latest film has "Harmonium" actress  Mariko Tsutsui in a slow-burn crime thriller about the secrets shared between a home-care nurse and the member of a family. A virtual screening begins on July 31, 2020.
Film Movement has  announced a new digitally restored version of Zhang Yimou's classic "Shanghai Triad" starring Gong-Li will be on sale August 4, 2020 on Blu-ray/DVD/Digital.The film looks at the Chinese criminal underworld of the 1930's. It was an Academy Award and Golden Globe nominee and winner of the "Best Foreign Film" from the National Board of Review. Go to www.filmmovement.com for details.
Town Hall Seattle has digital programming of upcoming events on their live stream page. They also have a media library of hundreds of video and audio free to enjoy. Go to townhallseattle.org for details.

Most local theaters are doing virtual screening via the internet where you can rent new films and see them at home. Go to the websites for Northwest Film Forum, Grand Illusion Cinema, Siff Uptown, AMC theatre chains and others.
HBO Asia presents "Invisible Stories", a new six-episode anthology of dramas that explore the triumph and tragedy of migrant workers living in Sungai Merah, one of Singapore's public housing communities. All six episodes will be available on Monday, August 3, 2020 in the U.S. and will be available to stream on HBO and HBO Max. The series features a cast from Bangladesh, Thailand, Indonesia and Singapore.
Director Wong Kar-Wai will take on his first dramatic TV series in an adaptation of Jin Yucheng's award-winning novel "Blossoms" which looks at the lives of people in Shanghai in the 90's during  a time of great economic growth. The screenplay is written by award-winning Shanghai native, Qin Wen and Academy Award winner Peter Pau will do the cinematography. Shooting began in  July.
The world of Stan Sakai's popular comic book series "Usagi Yojimbo" will be made into a CGI animated series entitled "Samurai Rabbit: The Usagi Chronicles". Mumbai-based 88 Pictures will be the CGI animation studio for the series. The series will take place in the future and follows the teenage rabbit descendant of the great rabbit warrior as he leads a rag-tag group of followers into adventure after adventure.
Filmmaker Ann Hui will receive a lifetime achievement award at this year's Cannes Film Festival. It will be held September 2 – 12, 2020. In contention for this year's top prize, the Golden Lion is Chloe Zhao's "Nomadland" starring Frances McDormand as a woman living as a nomad after the recent recession.
Sandra Oh is in consideration for this year's Emmy Awards under the category of "Best Actress, Drama".
Grant Imahara, an electrical engineer who was a host on the pop  science show "MythBusters" on the Discovery Channel and operated robots in the "Star Wars" prequels and other Hollywood films has died of a brain aneurysm. He was 49. 
The Smithsonian Asian Pacific American Center has put out a "self-care package" of poems, short films and other media and they will be adding to it periodically. Go to https://smithsonianpa.org/care/.

PBS has many digital-only shorts produced for its website Art 21 including work by Ai Weiwei. Go to art21.org for details.
The Written & Spoken Arts
Seattle-based playwright Brian Dang and non-fiction essayist/environmental justice communications strategist Frances Lee were in a group of writers selected as the 2019-20 Hugo Fellowship recipients. The fellows will focus on mss. Projects. For more information on the Hugo Fellowship, visit hugohouse.org.
Sumita Chakraborty's debut poetry collection entitled "Arrow" comes out in September 2020 on Alice James Books. It's a Ms. Magazine and Rumpus most anticipated book of 2020. The poems focus on gender, race-based violence, environmental destruction and grief.
"Flying Paintings: The Zhou Brothers, A Story of Revolution and Art" by Amy Alznauer is out in September 2020 on Candlewick Press. This children's book tells the story of the unique collaborative work process of these two talented Chinese artist brothers and their efforts to build art centers in Chicago, Kansas City and Beijing.
Sapardi Djoko Damono was one of the most revered figures in the history of Indonesian literature. He died in July, 2020 at the age of 80. Separdi, who served as dean of University of Indonesia's School of Literature, rose to prominence for his books of poetry such as "Perahu Kertas", "Hujan Bulan Juni" and "Arloji". He was also considered a highly influential scholar who contributed to a thriving artistic Indonesian ecosystem.
Art News/Opportunities
The Seattle Art Museum administers the Annual Betty Bowen Award to honor a Northwest artist for their original, exceptional and compelling work with a cash prize and a show at Seattle Art Museum. For details, go to http://www.seattleartmuseum.org/about-sam/art-submissions#bet. If you have questions, try [email protected].
The renowned Northwest photographer Mary Randlett was known for her portraits of artists and her landscapes. In one image we see a confident chic Japanese American lady seated at the end of a park bench in late winter staring confidently at the camera wrapped in a fur coat. On the empty bench and scattered at her feet are fallen leaves. Behind her is the Northwest Craft Center & Gallery once prominently situated in the middle of Seattle Center. That woman was Ruth Nomura who died in mid-April 2020. She was director of the Northwest Craft Center and Gallery since 1963, a gallery started by professors from the UW art school and others in the Seattle arts community. A local icon of Seattle's arts and crafts scene, Nomura had a good eye for picking out talent among established and emerging artists of the Northwest for some forty-plus years. She encouraged, discovered and encouraged hundreds of artists in clay, jewelry and printmaking and she knew all the great ceramic and crafts artists in the area. She supported all the arts and had season tickets to theatre and dance besides being an avid baseball fan. A celebration of her life is planned once health conditions change.