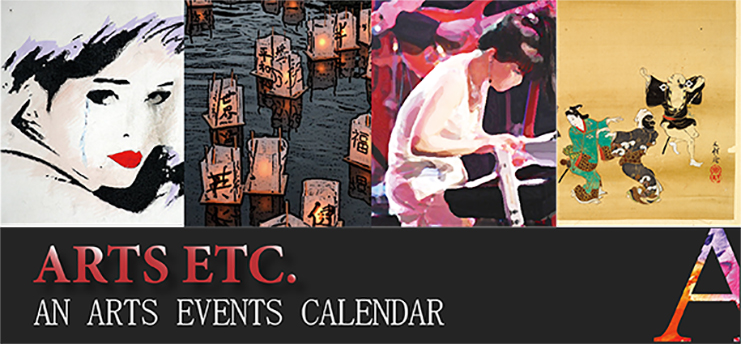 Due to the Covid 19 crisis, it is advisable that people check ahead with institutions before visiting by calling or going to their websites as government restrictions may apply or change at any time. Some galleries have limited hours with a limit of how many people may enter at one time. Face masks are mandatory.

Visual Arts
Seattle Art Museum's downtown location re-opens September 4 – September 20, 2020. Tickets for members only September 4 – 7 are already sold out. Tickets to the general public go on sale September 11, 2020. Also early on during the state-wide "Stay Home, Stay Safe" order, photographer Sharon H. Chang began a portrait campaign "#SafetyNotStigma" that provided an anti-racist counter narrative during the pandemic. Hear a virtual conversation with Chang and SAM's Priya Frank. September 9 at 4pm. Go to seattleartmuseum.org for details on all this. 
Sherry Ying Ruden's show entitled "X-paper Neoteric" features delicate abstractions on Chinese rice paper. On view through September 26, 2020. Gallery 110 at 110 3rd Ave. S. Wed. – Sat. from 11am – 6pm. 206-624-9336 or go to www.gallery110.com.
The work of George Tsutakawa is included in a group show entitled "Around The Northwest School" on view through September 26, 2020. The work of Jueun Shin and Yerin Yang appears in a group show entitled "Contemporary Northwest Print Invitational 2020" also on view through September 26, 2020. Tuesday – Saturday by appointment only. 313 Occidental Ave. S. 206-624-7684 or go to www.davidsongalleries.com.
L.A. based Filipino American artist Elyse Pignolet's new show entitled "Send Her Back" combines offensive text against women by male politicians of our day with ubiquitous, decorative floral watercolors and classic vessels from the ceramic tradition to force an uneasy collision of art and ideas. As the artist notes – "Intentionally, I begin my process with something strongly associated with the feminine…pretty, decorative, domestic, familiar, a vase, a flower arrangement. My hope is to then slightly create a shift: to make the situation a bit uncomfortable, a bit strange. Perhaps offensive  or even vile. I'm interested in contrasts." On view at Koplin del Rio Gallery through  September 30, 2020. By appointment only  from Wed. – Sat. by  emailing [email protected]. The exhibition can also be viewed online.  313 Occidental Ave. S.  206-999-0849.
Humaira Abid, the  local Pakistani artist who works with wood to shape  thoughtful works that deal with women's issues has a show of new work entitled "Sacred Games" scheduled for Greg Kucera Gallery from Sept. 3 – 26, 2020.  Roger Shimomura comes in with a new series of paintings entitled "100 Little White Lies" set for January 7 – 30, 2021. 212 – 3rd Avenue S. 206-624-0770 or try [email protected].
The work of sculptor Calvin Ma is included in a large group exhibition entitled "Elements: Earth" on view through September. Ma also has a solo exhibition of his sculpture forthcoming November 5 – 21. Foster/White Gallery. 220 Third Ave. S. 206-622-2833 or try [email protected].
The Schack Art Center in Everett presents "American Graffiti", a one-of-a-kind comprehensive exposition of the Graffiti art genre with a rare public viewing of 85 spectacular originals from a local collection. Exhibit features commissioned works by artists in New York, Philadelphia, Chicago, San Francisco, Los Angeles, Oakland, Boston, Phoenix and Seattle. On view through  Sept. 5, 2020. 2021 Hoyt Ave. 425-259-5050 or try [email protected] or go to www.schack.org. In conjunction with the above exhibit, JAG Artworks in Everett will host a Local Graffiti Art show which features artists from all over the West coast. Also on view through Sept. 5, 2020. 2940 Colby Ave. 
Alaska-based printmaker Fumi Matsumoto has a show of monotype prints depicting animals on teabag papers September 4 – 27 at Roby King Gallery on Bainbridge Island. Also on view is Susan LeVan's mixed media collages. 176 Winslow Way East. 206-842-2063 or go to www.robykinggallery.com.
"Anatomy of a Collection" is a group show that shows more than 80 works of art from the permanent collection. On view through January 3, 2021. At Whatcom Museum's Lightcatcher Building. 250 Flora St. Bellingham, WA. 360-778-8930 or go to www.whatcommuseum.org.
Local artist Shogo Ota has an art installation entitled "Murmuration" in the new PCC Bellevue store.
The Wing Luke  Asian Museum has many virtual programs now as well.   The "It Happened Here!" Storytelling Series happens every Wed. through September 30, 2020 at noon. Learn about neighborhood history through storytelling and Q & A. Each session will be hosted via facebook. There are virtual tours of the museum on weekday mornings. Pre-booking available for private groups. Contact the museum to sign up.  Check out what's in the giftshop with the Museum's online marketplace. The monthly storytime programs can be watched at www.digitalwingluke.org/programs.
Seattle writer/curator Mayumi Tsutakawa gives several free virtual talks via zoom  on "Early Washington's Undiscovered Feminists" touching on the careers of Imogen Cunningham, Ruby Bishop, Priscilla Chong Jue, Anna Louise Strong and Vi Hilbert.. Part of the Humanities Washington's Speakers Bureau Program. September 4 at 7pm sponsored by Jefferson County Historical Society of Port Townsend and again on Sept. 8, 2020 at 7:30pm sponsored by Seattle's Scarecrow Video. Go to humanities.org for details.
 "Quieter Days" is the title of a show of new work  slowly done at a now departed Ballard studio by Alan Lau (full disclosure – that's me)  on view from September 3 – Oct. 24, 2020. Artxchange Gallery is at 512  1st Ave. South. 206-839-0377 or email [email protected]. There will also be an  exhibition catalog available for purchase soon. An art talk and poetry reading by the artist will be posted on the gallery's website shortly. 
"Traveling At Home" is the 28th annual exhibition of Z.Z. Wei, an artist known for his evocative paintings of Northwest landscapes. The month of September, 2020 at Patricia Rovzar Gallery in downtown Seattle. 1111 First Ave. 206-223-0273 or go to www.rovzargallery.com.
On view September 19 – October 31, 2020 is the large scale mixed-media work by Lakshmi Muirhead in a show entitled "There is Always a Before" at J. Rinehart Gallery. 319 – 3rd Ave. South. 206-467-4508  or try www.jrinehartgallery.com.
"Do Not Avert Your Eyes" is the title of a group show of gallery artists which includes the work of Patti Warashina. September 3 – 26, 2020. At Traver Gallery in downtown Seattle. 110 Union St. #200. 206-587-6501 or try travergallery.com.
The Columbia City Gallery has the following – In the Community Gallery is "The Resting Place", a show that examines the intersection of grief, migration and cultural identity among Filipino Americans curated by Derek Dizon. This project was funded by the  National Endowment for the Arts. In the Members Gallery is a group show that includes the work by Kamla Kakaria. September 23 – November 8, 2020. 4864 Rainier Avenue South in Seattle's Columbia City neighborhood. 206-760-9843. Hours are Wed. – Sundays from 11am – 7pm.  206-760-9843 or go to www.columbiacitygallery.com.
Studio E Gallery in Seattle's Georgetown neighborhood features work by Ko Kirk Yamahira and Emily Counts. Both artists are tactile and material focused. Open on Saturdays from 1 – 4pm or by appointment. 5 people are allowed into the gallery at any given time and facemasks are required to enter. Sept. 5 – Oct. 17, 2020.206-762-3322 or try www.studioegallery.net. 
Join Amanda Donnan, Chief Curator at Frye Art Museum for a "Virtual Visit" with Frye artist/poet Jane Wong. There is also a Guided Art Discussion about the artist's "Altar" created for her 2019 exhibition at the Frye. Go to fryeartmuseum.org.
Local artist Minh Carrico has two public art installations available for viewing through the end of 2020. "Tattarrattat", a length of colorful fencing can be found at Seattle Public Utilities in Fremont at N.E. Canal St. and 2nd Ave. N.W. Sponsored by Seattle Office of Arts and Culture. "Be Here Now – Bring The Mind Home" is a text-driven panel on view at Pine St. and 4th Ave. in downtown Seattle. Sponsored by Shunpike. For more information, go to [email protected]. 
The Seattle Art Museum has cancelled a previously planned major traveling exhibition for this summer entitled "The Allure of Matter: Material Art From China." Instead the current shows on John Akomfrah and Georgia O'Keeffe will be extended through Sept. 7, 2020 when the museum re-opens.
 Kobo Seattle features a new virtual art space showcasing a show of calligraphy by Tommer Peterson through August. A recent acquisition are monthly shipments of handmade Japanese face masks in various colors and beautiful designs. Join in on the fun and submit your favorite "mask" haiku to [email protected] by August 30, 2020. Winners get a special gift and their haiku will be posted on the blog. KOBO at Higo is now open on Saturdays from 11am – 5pm. Masks are required and you must use the provided hand sanitizer upon entering.  30 minute shopping sessions by appointment only at the KOBO on Capitol Hill will soon be made available through an online booking system. Time slots will be limited to keep everyone safe, plus more protective protocols in place to meet safety guidelines. More information  to come. Shipping and curbside pickup is still available by scheduling a Pickup Time at Checkout. They have a new instagram shopping account @koboseattleshop or try their website at  koboseattle.com.  The Capitol Hill store is at 814 E. Roy St.  KOBO at Higo is at 604 South Jackson St. in the CID.
"World War Bonsai: Remembrance & Resilience" is the title of a show curated by Aarin Packard at Pacific Bonsai Museum. This show tells a history rooted in racism told through the living art of bonsai. It presents the powerful and inspiring untold history of bonsai artists working in the WWII-era and how they changed the course of bonsai art history forever.  With 32 bonsai, archival documents and photographs. The exhibition traces the cultural practice of bonsai in the U.S. and Japan  immediately before, during and after WWII, amid incarceration and at peace. Artists from the Puget Sound, California, Colorado, Hawaii and Japan are featured including Ben Oki, the Domoto family, Kelly Nishitani, Kenny Hikogawa and Joe Asahara, Ted Tsukiyama, Mas Imazumi, Kyuzo Murata and Yuji Yoshimura. The exhibition also includes  a site-specific artwork by Seattle artist Erin Shigaki which includes wheat-pasted images of individuals who played a role in the incarceration of more than 120,000 Japanese Americans.  A post-event recording of the "Branch Out" event held in August will be available on Pacific Bonsai Museum's You Tube channel. On view now through Oct. 10, 2021. 2515 South 336th St. in Federal Way,WA. Admission is by donation. Hours are Tuesday through Saturday from 10am – 4pm. 253-353-7345 or email [email protected].
The Outdoor Sculpture Collection on the campus of Western Washington University in Bellingham is open and accessible to everyone. This is an outdoor collection of major sculptures from the late 20th century to the present and includes work by Do Ho Suh, Sarah Sze and Isamu Noguchi among others. Get a map from the information booth and explore the campus collection for yourself. Call 360-650-3900.
Forthcoming at the Northwind Arts Center in Port Townsend, WA. is a photography exhibit entitled "Manzanar: Their Footsteps Remain" by Brian Goodman. This show contains over 40 years of documenting one of the many internment camps where persons of Japanese ancestry were imprisoned during WWII. This exhibit marks the 75 anniversary of the closing of that camp in November of 1945. Nov. 6 – 29,  2020. There will be an art talk online to be announced. The gallery is open Friday – Sunday from noon – 5pm or by appointment. 701 Water St. Go to www.northwindarts.org for details.
The Schneider Museum of Art at the Oregon Center For The Arts at Southern Oregon University presents "Migrating Bodies: For(Saking) Life, Liberty And the Pursuit of Happiness". The exhibition presents work by five artists or artist collectives that address global migration, the causes and effects. On view  through October 10, 2020. 555 Indiana St. in Ashland, Oregon. 541-552-8484 or go to sma.sou.edu.
The Chinese Canadian Museum of British Columbia opens its first exhibit in Vancouver's Chinatown. Entitled "A Seat at the Table", the exhibition explores historical and contemporary experiences of Chinese Canadians, particularly through the lens of food and restaurants. There are stations for writing and recording videos. Co-curator Viviane Gosselin said "the whole idea is to kind of generate a new body of historical knowledge that the Chinese Canadian Museum can use for future research and programming." A sister exhibition is set to open at the Museum of Vancouver's main location in the fall. Both exhibitions are expected to travel across B.C. within a year. This exhibition is at 27 East Pender. For details, go to [email protected].
The Chinese Cultural Centre Museum at 555 Columbia St. in Vancouver B.C. has an ongoing exhibit entitled "Generation to Generation – History of Chinese Canadians in British Columbia". 604-658-8880 or go to cccvan.com.
The Dr. Sun Yat Sen Classical Chinese Garen presents "Luminous Garden, the third installment of artist-in-residence Lam Wong. Done in collaboration with Glenn Lewis, it's an investigation of the concept of the garden as a sanctuary for spiritual growth. 578 Carrall St. in Vancouver B.C. 604-662-3207 or  go to vancouverchinesegarden.com.
JEFRE is a Filipino-American artist. He has created numerous site-specific artworks in major cities around the world including "Reflection" in Philadelphia's Unity Plaza, "The Beacon" and "Code Wall" in Orlando and "Heaven's Gate" in Manila. The Orlando Museum of Art has announced its marquee fall exhibition "JEFRE: Points of Connection" will open on Sept. 24, 2020 and be on view through Jan. 3, 2021. Designed as a touchless, interactive exhibition, "Points of Connection" will feature a series of site-specific installations and sculptures constructed at a human scale, introducing the audience to JEFRE's past projects alongside a series of works exemplifying his current studio practice. He is currently working on a 24-story high standing figure with an arm raised, titled "The Victor" located at a bridge connecting the cities of Pasig and Quezon in the Philippines. For more information on the Orlando Museum of Art, go to www.omart.org.

Performing Arts 
Over the past eight weeks, ARC Dance Company has featured selected dance works on its website and YouTube channel for free weekly streaming broadcasts called ARC at 21 to celebrate the 21 years since it was founded. Pieces in the series included Edwaard Liang's "Infinitum", Alex Ketley's "The End", Kabby Mitchell's "Que" and others.  Now ARC Director Marie Chong has created something new that leveraged the 'on location' and viewpoint angle flexibility that dance and videography bring to the mix.  The new work called "Segue" was created on twelve company dancers entirely through video conferencing and the dancers' respective parts were filmed in locations all over the world. The piece will b presented for free on ARC's website (arcdance.org) as well as its YouTube channel. To see the trailer, go to https://www.youtube.com/watch?=vecsIP9G13YO.
Pacific Northwest Ballet has announced an all new virtual lineup for its 2020-2921 season. Some highlights include an excerpt of "The Trees   The Trees" with choreography by Robyn Mineko Williams set for October 8, 2020 and a world premiere by choreographer Edwaard Liang on June 20, 2021. For complete details, go to PNB.org/DigitalSubscription or call 206-441-2424.
The Meany Center For The Performing Arts has announced fall schedule changes with the season opening postponed to January of 2021. Some fall performances have been canceled or rescheduled for late winter or spring. Virtual programming is being developed with many of the artists as an alternative to live performances. For a complete listing, go to https://meanycenter.org/tickets/season. Current ticket holders to canceled events are encouraged to contact the ArtsUW Ticket Office to request a refund, exchange into a later performance or other alternatives.
Freehold Theatre Lab/Studio now located in the CID continues their classes in various aspects of the theatre both virtual and in-person. This 2020 summer's classes include "Voice: Clarity & Confidence with Meg McLynn, "New Play Lab: From Page to Performance" with Elizabeth Heffron, "Voice Over 2.0 Kira", "Solo Performance" with Matt Smith and "The Online Movement Lab" with Mik Kuhlman. Go to freeholdtheatre.org for details.
Even though the Wayward Music Series at Chapel Performance Space is currently closed, go to nonsequiter's website to listen to free links by local musicians performing original music at wayward music.org or try gscchapel.com.. Also listed are live streaming of local concerts by contemporary musicians that you can rent. Local sound artist Susie Kozawa will have a piece she did invoking the space at the Chapel in a forthcoming edition.
Film & Media
"Local Sightings", the annual festival of films made by Northwest filmmakers returns in a virtual screening format this year to Northwest Film Forum September 18 – 27, 2020. Over 135 short and feature films from the region will be screened. The 20 day festival will also serve as a celebration for NWFF's 25th Anniversary. All programs available on demand any time from September  18 – 27. Of special interest is a short entitled "Taky Kimura – The Heart of the Dragon" which profiles one of Bruce Lee's Seattle disciples and friends. Also premiering at the festival is the feature film "The World Is Bright" by Canadian filmmaker Ying Wang. When an elderly couple in Beijing learn of their son's suicide in Canada, they travel to Vancouver to investigate as a mystery unravels. For details on the festival, go to nwfilmforum.org.
Isabel Sandoval wrote, directed and stars in the film "Lingua Franca" about an undocumented Filipino transgender woman desperate to obtain legal residency as she works as a caregiver to a gay Russian expatriate.
MUBI presents "China Across Time: A Jia Zhangke Doublebill" in which they are currently streaming on line "The Hedonists", a hybrid short that stars the director's veteran actors playing fictional versions of themselves. Completing the bill is "Mountains May Depart" set in the past, the present and the future of China starring actress Zhao Tao. Also from MUBI is Park Chan-wook's "Joint Security Area". This film came way before "The Handmaid's Tale" and "Old Boy" which put him on the international map. It was a surprise hit at a previous SIFF. It's a murder mystery set witin  the DMZ and a politically charged yet humanist whodunit. Also just released for streaming by MUBI is "3 Idiots", a 2009 Indian Hindi-language coming-of-age comedy/drama co-written with Abhijat Joshi and directed by Raj Kumar Hirani. The film follows the friendship of three students and is a satire about the social pressures under an Indian education system. A huge domestic success when it was released, the film prompted spin-offs in both Israel and Mexico. This buddy epic mixes slapstick with coming-of-age drama and some of Bollywood's best song-and-dance routines. Go to [email protected] to find out about this film streaming service where you can rent by the month or by the year.
"A Thousand Cuts", the documentary film by Ramona S. Diaz on a defiant Filipino journalist challenging President Rodrigo Duarte screens August 7 – September 4, 2020. Hillary Bachelder's "Represent" follows three women from all different parties who all share the singular goal of improving their communities through public service. Julie Cho is one of these women. As a woman of color, a conservative and an immigrant, she faces an uphill battle as the Republican against a popular Democratic candidate in a campaign for state representative in a liberal Chicago suburb. Screens now through September 11, 2020. "Our Time Machine" by S. Leo Chiang and Yang Sun (China & U.S.) tells the story of the painful decline of Make, former artistic director of Shanghai Chinese Opera Theatre forbidden by the Cultural Revolution from working. But eventually he finds himself returning to theatre which inspires his young son Maleonn. When his father is diagnosed with Alzheimers the son races to complete a time travel adventure with human size puppets that will involve his father. Screens September 11 – 17, 2020.  Northwest Film Forum. Go to  nwfilmforum.org or call 206-329-2629.
"A Thousand Cuts" is a documentary film by Ramona S. Diaz that presents a portrait of Filipino journalist Maria Ressa, co-founder of popular online news outlet Rappler and a journalistic thorn in President Rodrigo Duarte's side. Opens for a virtual screening on August 7, 2020 presented by SIFF. Presented by "Frontline". This film was named the best international feature and won the top prize at New Zealand's Doc Edge Festival.  "Made in Bangladesh" opens August 28th. A young woman in a clothing factory is faced with difficult work conditions and decides to start a union with her co-workers.  Go to siff.net for details.
Kelly Reichard's latest film "First Cow" is now available for streaming on Amazon, Google Play, iTunes, Vudu and You Tube. The story involves two men in mid-19th century Oregon territory who set up a business  selling fried dough using stolen milk from a cow. Orion Lee plays a Chinese man on the run and John Magaro, a cook and forager. Their tender partnership in this shifting frontier is the core of this film..
Chinese film director Jia Zhang Ke takes on a new genre in his new film "Swimming Out Till The Sea Turns Blue", a documentary film about literature and life in the Chinese province where he grew up. It has its premiere at the 58th New York Film Festival. Another highlight is Chloe Zhao's "Nomadland" with Frances McDormand as a widow in search of seasonal labor based on the book by Jessica Bruder.
 Film Movement has  announced a new digitally restored version of Zhang Yimou's classic "Shanghai Triad" starring Gong-Li will be on sale August 4, 2020 on Blu-ray/DVD/Digital.The film looks at the Chinese criminal underworld of the 1930's. It was an Academy Award and Golden Globe nominee and winner of the "Best Foreign Film" from the National Board of Review. Go to www.filmmovement.com for details.
Last chance to catch the five-part series "War Brides of Japan" by former Tacoma resident Yayoi Winfrey on Vimeo on Demand. Click https://vimeo.com/watermelonsushi/vod.com to see it now. For more information on this series, go to www.warbridesofjapan.com. More private screenings will be scheduled later this year.
Tasveer, a South Asian social justice arts non-profit organization based in Seattle usually brings their annual South Asian Film Festival to the Puget Sound area in the fall but this year is special. In an unprecedented effort by the South Asian film festival community in North America and in response to the COVID-19 pandemic, seven well-established South Asian film institutions are joining hands to produce and host the Coalition of South Asian Film Festivals (CoSAFF). This first-of-its-kind virtual festival will run for free for 15 days from October 3 – 17, with online screenings of the latest films and virtual Q&As with the filmmakers. It will also include unique virtual events focused on key industry topics and panel discussions. CoSAFF is  being produced by Seattle-based Tasveer. Film festivals from Chicago, Washington DC, Mississauga/Toronto,Maryland, Montreal and Vancouver are all involved  in this event. CoSAFF issued a joint statement saying, "We're excited and honored to becoming together during this very challenging time, in a show of unity and in pursuit of the creation of something meaningful for all our communities to engage in. Now is the time to collaborate rather than compete, and to work together to support our film professionals. CoSAFF's efforts will provide filmmakers an opportunity to showcase their hard work to the widest possible audiences in a respectful and secure manner. And, in turn, for all our audiences to have a shared experience watching these films without the burden of paying for them." For upcoming details, try the webpage at www.cosaff.org. For further information or to request interviews with any of the participating festivals, please contact [email protected].
Karen Fukuhara plays the physically enhanced fugitive Kimiko in "The Boys", the Amazon series that takes an irreverent look at the superhero genre. It starts its second season on September 4, 2020.
Disney's real film version of its animated hit "Mulan" which tells the story of a famous Chinese woman warrior starts streaming on September 4, 2020. Go to disneyplus.com for details.
"Star Wars" actress Kelly Marie Tran became the first Southeast Asian Disney lead when she was named as the star of the new animation feature "Raya And The Last Dragon". The character is the chief's daughter who embarks on a quest to find the last dragon which  she believes will save their kingdom. The water dragon will be  voiced by Awkwafina. The film takes place in the fictional land of Kumandra, a location said to be inspired by Southeast Asia. The script s co-written by Adele Lim ("Crazy Rich Asians") and Qui Nguyen.

 Town Hall Seattle has digital programming of upcoming events on their live stream page. They also have a media library of hundreds of video and audio free to enjoy. Go to townhallseattle.org for details.

  Most local theaters are doing virtual screening via the internet where you can rent new films and see them at home. Go to the websites for Northwest Film Forum, Grand Illusion Cinema, Siff Uptown, AMC theatre chains and others.
"The Personal History of David Copperfield" directed by Armando Iannucci is  a comedy-drama film based on the 1850 Victorian era novel "David Copperfield" by Charles Dickens. It stars Dev Patel in the lead role and the actor Benedict Wong in the role of Mr. Wickfield. It was released by Searchlight Pictures into theatres on August 28, 2020.
CMC Pictures brings the Chinese blockbuster film "The Eight Hundred" to North American screens. It will be the first major Chinese film to hit American shores as cinemas reopen. Directed by Guan Hu ("Mr. Six"). The 80-million-U.S.-dollar production is based on true stories that depict Chinese soldiers' defense of a warehouse against the invading Japanese army during the "Battle of Shanghai" in 1937. Despite being outnumbered and outgunned, the battalion of soldiers dubbed "The Eight Hundred Heroes" held out for four days and nights. In addition to the Chinese cast and crew, the film also boasts the help of Hollywood veterans for visual effects, action and soundtrack. This is also the first Chinese movie completely filmed with the state-of-the-art IMAX cameras.
Director Wong Kar-Wai will take on his first dramatic TV series in an adaptation of Jin Yucheng's award-winning novel "Blossoms" which looks at the lives of people in Shanghai in the 90's during  a time of great economic growth. The screenplay is written by award-winning Shanghai native, Qin Wen and Academy Award winner Peter Pau will do the cinematography. Shooting began in  July.
The world of Stan Sakai's popular comic book series "Usagi Yojimbo" will be made into a CGI animated series entitled "Samurai Rabbit: The Usagi Chronicles". Mumbai-based 88 Pictures will be the CGI animation studio for the series. The series will take place in the future and follows the teenage rabbit descendant of the great rabbit warrior as he leads a rag-tag group of followers into adventure after adventure.
Filmmaker Ann Hui will receive a lifetime achievement award at this year's Cannes Film Festival. It will be held September 2 – 12, 2020. In contention for this year's top prize, the Golden Lion is Chloe Zhao's "Nomadland" starring Frances McDormand as a woman living as a nomad after the recent recession.
Sandra Oh is in consideration for this year's Emmy Awards under the category of "Best Actress, Drama".
The Smithsonian Asian Pacific American Center has put out a "self-care package" of poems, short films and other media and they will be adding to it periodically. Go to https://smithsonianpa.org/care/.

PBS has many digital-only shorts produced for its website Art 21 including work by Ai Weiwei. Go to art21.org for details.

The Written & Spoken Arts
Former IE editor Ron Chew gives a virtual presentation on his memoir entitled "My Unforgotten Seattle" from MOHAI's History Cafe on September 16 , 2020 at 6:30pm. Go to [email protected] to find out how to register. He is also scheduled to do a virtual Townhall Seattle conversation with Naomi Ishisaka on Oct. 1, 2020 at 6pm, participate in a Seattle Lit. Crawl event on Oct. 24, 2020 and do a talk at the Wing on Nov. 20, 2020. Details to follow.
Third Place Books present the following virtual readings they sponsor or co-sponsor. Senior correspondent Steve Scher talks with poet/Townhall correspondent Shin Yu Pai about her new book of poetry "Enso" (Entre Rios) that is a hybrid compendium of her life experience in literature and the arts. This virtual conversation set for Monday, Sept. 7 at 1pm. Pramila Jayapal appears  as part of the King County Library System: Author Voices series in conversation with former Seattle City Councilman Nick Licata. Tuesday, September 8 at 7pm. Registration is required for this event, go to kcls.bibliocommons.com. For more information, try [email protected]. In the same series, Nguyen Phan Que Mai, author of the novel "The Mountains Sing", a multi-generational tale of a Vietnamese family's experiences before and after the Vietnamese war will be in conversation with Thanh Tan on Thursday, November 5, 2020 at 7:30pm. Visit httpas://www.crowdcast.io/e/mountains-sing to register to watch this event. Townhall Seattle Live Stream: Understanding Bird Behavoir" by Wenfei Tong happens virtually on Saturday, September 12 at 7:30pm. Another event in that series is "Conditional Citizens" by Laila Lalami in which she will discuss her latest book on the global immigrant crisis as it pertains to the U.S. with noted Vietnamese American author/editor Thanh Nguyen on Friday, September 25 at 7:30pm. Bruce and Ju-chan Fulton, a local husband and wife translating team will engage in a virtual conversation about the English translation of Kim Soom's "One Left". Co-sponsored with Townhall and the Korean American Historical Society on September 27 at 6pm. The book is a novel about a comfort woman who was kidnapped at the age of 13 to serve as sex slave for Japanese soldiers during WWII. When she finds out there is only one other surviving comfort woman, she makes the journey to see her. Go to townhall.org and click on to "calendar" for details.
Elliott Bay Book Company has a full slate of events in their virtual reading series. Here are a few –  Join disability activist Alice Wong, editor of "Disability Visibility: First Person Stories from the Twenty-First Century" (Vintage) which features a wide range of voices writing about their experiences living in disability. Wong will appear in this virtual event in conversation with Hugood Aurora-winning editor Elsa Sjunneson on September 9, 2020 at 7:30pm. Further down the road, prize-winning poet Kazim Ali appears in a conversation with Tacoma poet Rick Barot moderated by former Utah Poet-laureate Paisley Rekdal. All three are out with new volumes of poetry.  Don't miss this convergence of excellent poets all in one room set for October 14, 2020 at 6pm. For making reservations to the virtual events, go to elliottbaybook.com and click on the "events" page or call 206-624-6600 or toll-free at 1-800-962-5311. Although all events are virtual for the time being, the book store is open.
Fall class registration at Hugo House is now open. All classes and events will take place virtually for the remainder of 2020. Samples of classes available include some of the following – "The Political Essay" by Sonora Jha, "The Personal and the Political" with Rick Barot, "The Longest Poem: Writing with the Mahabharata with Shakur Narayan, "Writing the Family Saga" with Jaimie Z. Li, "Exploring Minor Feelings: An Asian American Reckoning" with Anne Liu Kellor and  "Poetry in & of Crisis" by Chen Chen You can register online but if you have questions, send an email with your name and # to lily@hugohouse.org. For more information try [email protected]. 
A new addition to the Town Hall media library is the recently concluded discussion by Town Hall correspondent and poet Shin Yu Pai with fellow Seattle poet Koon Woon. Woon explores the topic of displacement and the role that poetry can have in creating a sense of belonging and home.
Former Northwest figure Peter Jamero gives a presentation based on his memoir entitled "Growing Up Brown" (UW Press) as part of the Hanson Diversity Speaker Series on Friday, September 25, 2020 at 6:30pm. The reading takes place on the field outside the library and the event is free. You can also catch this event via zoom with a link provided. Go to www.hansonlibrary.org or email [email protected].
Tasveer, a Seattle-based South Asian arts non-profit, celebrates the second annual Tasveer South Asian Litfest from October 20 – 25, 2020. The event is scheduled to take place virtually over six days on Tasveer's social media channels. This free event will feature South Asian writers participating in events focused on various themes through readings, discussions and Q & A sessions. TSAL 2020 will showcase a stellar lineup of writers from South Asia and its diaspora. The lineup will be released soon on the website, tasveer.org so stay tuned.
Art News/Opportunities
The Wing Luke Museum of the Asian Pacific American Experience has announced a call for a curriculum writer for their Japanese American Remembrance Trail Project. That writer would be responsible along with neighborhood partners to compose text for a curriculum guide to educate the public and K-12 students about Japanese American confinement site stories illustrated through the Temporary Detention Station and more than 40 locations in the historic Seattle Chinatown-International District. Deadline for applications is September 30, 2020 at 4:30pm. For further information, contact Wren Wheeler at [email protected]. After September 15, 2020, a FAQ sheet may be posted on the Museum website at http://www.wingluke.org/job-opportunities.
The Center for Washington Cultural Traditions announces the launch of a free Cultural Documentation Field School. This series of online workshops which will meet twice a month from September 12 to December 5, 2020 will help students learn skills such as interviewing, audio and video production, photography, and exhibit and event creation. Each session will be led by experts in the field and presented with supplemental reading. Anyone interested in preserving cultural heritage of their communities can attend. The first series is limited to 15 participants so early registration is encouraged. Try i[email protected] or go to humanities.org for more information.
The Seattle Art Museum administers the Annual Betty Bowen Award to honor a Northwest artist for their original, exceptional and compelling work with a cash prize and a show at Seattle Art Museum. For details, go to http://www.seattleartmuseum.org/about-sam/art-submissions#bet. If you have questions, try [email protected].
Artist Trust has announced the winners of the 2020 Arts Innovator Award. They go to Haruko Crow Nishimura and Joshua Kohl  of the Degenerate Art Ensemble and artist Etsuko Inchikawa.  Panelists on the selection committee included Anida Yoeu Ali, Shin Yu Pai, John Feodorov and Chieko Phillips. The Arts Innovator Award is funded by The Dale and Leslie Chihuly Foundation. Read the full announcement at artisttrust.org.
The Jack Straw Artist Residency Programs (recording/production, New Media Gallery, writers program) are all open for submission via Submittable. For details and deadlines, go to [email protected] or call 206-634-0919.