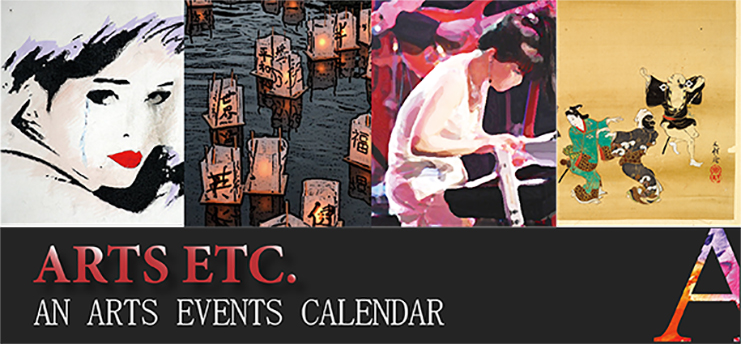 Visual Arts
The paintings of Geralyn Inokuchi are paired with the ceramics of Rebecca Arthur in a show entitled "Dynamic Conversation" on view Nov. 5 – 28, 2020 at Gallery 110. 110  3rd Ave. S. in Seattle. 206-624-9336 or  www.gallery110.com. Gallery hours are Wed. – Sat. from 11am – 6pm.
"Fall Introductions" is the title of a group exhibition of printmakers which include Sayuri Nishimura, Lu Ke, Amy Sands, Christie Tirado and Phil Greenwood. Nov. 6 – 28,  2020. View online at davidsongalleries.com or in the gallery by appointment (Tuesday – Saturday). 313 Occidental Ave. S. in Seattle. 206-624-7684 or  www.davidsongalleries.com.
Ceramic sculptor Jun Kaneko who shows locally at Traver Gallery has  five of his large outdoor ceramic pieces downtown on 8th Ave. between Thomas and Harrison that brighten up the landscape. 
Suzuki Keijiro has work in a group show entitled "Drawing The Ghost" curated by gallery artist Robert Pruitt on view through November 28, 2020. Koplin del Rio Gallery at 313 Occidental Ave. S. in Seattle's Pioneer Square. 206-999-0849 or [email protected].
"Seen and Unseen: Queering Japanese American History Before 1945" is the first-ever exhibit focused on Nikkei (Japanese Americans) who were involved in intimate same-sex relationships or defied gender roles in the early 20th century. Queer Nikkei are virtually non-existent in Japanese American history, but this exhibit brings them into view with recent research by scholars in history, cultural and literary studies. This ground-breaking exhibition opens on  October 11, 2020 to coincide with National Coming out Day and will run through Feb. 14, 2021. Hosted by J-Sei and co-curated by Amy Sueyoshi and Stan Yogi. The following exhibit-related programs are free but require an RSVP on Eventbrite to receive the Zoom link. All program times are Pacific Standard time.  On Sunday, November 8, 2020 from 4 – 5:30pm is "Queer Compulsions: Love, Sex and Scandal in Turn of the Century Japanese America" by historian Amy Sueyoshi. Go to https://www.eventbrite.com/e/queer-compulsions-love-sex-and-scandal-in-turn-of-the-century-japanese-am-tickets-121644543103. On Tuesday, November 17, 2020 from 7 – 8:30pm is "We  Were Here and Queer Before the Issei" by literary scholar Andrew Leong. Go to https://www.eventbrite.com/e/we-were-here-and-queer-before-the-issei-tickets-121657152819.  Finally on Tuesday, December 1, 2020 from 7- 8:30pm join filmmaker Tina Takemoto for "Queer Cinematic Visions of Nikkei History. Go to https://www/eventbrite.com/e/queer-cinematic-visions-of-nikkei-history-tickets-121657941177. For full information on plans for the exhibit can be found at https://j-sei.org/seen-and-unseen/.
Seattle Art Museum's downtown location has re-opened. Tickets to SAM are being released in batches and you can now purchase them for visits to SAM through October 11, 2020. Ongoing and on view is the group show "Exceptionally Ordinary: Mingei 1920 – 2020" which includes wood sculpture by George Tsutakawa  from his "Obos" series. Also on view is "Pure Amusements: Wealth, Leisure, And Culture in Late Imperial China." Opening on October, 23, 2020 is "City of Tomorrow: Jinny Wright and the Art That Shaped a New Seattle."  "Color in Asian Art: Material and Meaning" is the latest installment in the popular Saturday University lecture series. Dimensions of color and pigment in Asian art will be explored in eight talks on colors produced from the earth, sea, fire, plants and insects. Starts on Saturday, October 3 online and continues through November 21, 2020  starting at 10am PST and it is free with registration when you  receive a link to these zoom webinars. The schedule is as follows –Sunglim Kim, Associate Professor of Art History at Dartmouth College, investigates the pigments used, color association, and their use in various art media including painting, ceramics, textiles, architecture, and even food in "Korean Culture in Five Colors" (go to http://seattleartmuseum.org/visit/calendar/events?Eventld=69804) on Sat., Nov. 7. Fiber artist John Marshall discusses the unique and vibrant textiles created in Ryukyu (Okinawa), known as "bingata", and prized for their variety of colors and lively designs in "Colors of the Earth, Colors of the Sky: Bingata Textiles of Okinawa" (go to http://seattleartmuseum.org/visit/calendar/events?Eventld=69805) on Sat. Nov. 14. Arash Khazeni, Associate Professor of History at Pomona College introduces the finest quality turquoise mined in eastern Iran that was precious to Persian rulers as a celestial stone, a gift between empires, and a trade item throughout Eurasia in "Turquoise, The Sky Blue Stone" (go to http://seattleartmuseum.org/visit/calendar/events?Eventld=%2069806) on Sat., Nov. 21. 
Seattle Art Museum has shifted many of their educational programs online. To find out about the following programs – "The Art of Empathy: Live Virtual Tours", "Eyes on Asia", "Art Education Videos", "Collection Highlights" and "Look & Make Lessons", try this link. http://www.seattleartmuseum.org/programs-and-learning/. The Seattle Asian Art Museum is still closed. Go to seattleartmuseum.org for details on all this. 
The Cascadia Art Museum is now open and announces the following shows. "Gifts And Promised Gifts To The Museum's Permanent Collections" is a group show that includes the late John Matsudaira's masterpiece "Quiet Motion And Blue" which was featured at the Seattle's World Fair back in 1962. On view through May 23, 2021. Other exhibits include "Dreaming Forms: The Art of Leo Kenny" and "Stolen Moments: The Photography of Shedrich Williams", a Portland photographer. These two shows above  on view through January 10, 2021. Currently on view is "The Art of John Carl Ely" through November 8, 2020. 190 Sunset Ave. S. in Edmonds, WA. Hours are Th. – Sun. from 11am – 6pm. 425-336-4809.
Frye Art Museum has a public re-opening on Nov. 5, 2020. Free timed tickets will be available for reservations. Still on view through Jan. 4, 2021  is "Subspontaneous: Francesca Lohmann & Rob Rhee", the work of two Seattle-based artists who collaborate with gravity, time and the forces of nature in their sculptural practices. 704 Terry Ave. 206-622-9250 or go to fryemuseum.org.
Humaira Abid, the  local Pakistani artist who works with wood to shape  thoughtful works that deal with women's issues has a show of new work entitled "Sacred Games" scheduled for Greg Kucera Gallery through November 7, 2020.  Roger Shimomura comes in with a new series of paintings entitled "100 Little White Lies" set for January 7 – 30, 2021. 212 – 3rd Avenue S. 206-624-0770 or try [email protected].
 Sculptor Calvin Ma  has a solo exhibition of his sculpture  entitled "Blend In: Making Home"  November 5 – 21.  Foster/White Gallery in Seattle. 220 Third Ave. S. 206-622-2833 or try [email protected].
 "Anatomy of a Collection" is a group show that shows more than 80 works of art from the permanent collection. On view through  January 3, 2021. At Whatcom Museum's Lightcatcher Building. 250 Flora St. Bellingham, WA. 360-778-8930 or go to www.whatcommuseum.org.
The Wing Luke  Asian Museum  has re-opened with limited capacity and new hours. Wed. – Sun from 10am – 5pm.  Current exhibits include the following – "Hear Us Rise" is an exhibit that highlights Asian Pacific American women and other marginalized genders that have challenged society's expectation.  "Woven Together – Stories of Burma/Myanmar" on view through Nov. 8, 2020. "Where Beauty Lies" on view through Sept. 19, 2021. Opening Nov. 14, 2020 and on view through Nov. 16, 2021 is "Guilty Party" a group exhibition of multi-media work by various Asian Pacific American artists curated by Justin Hoover.  There are many virtual programs now as well.  YouthCan Fall 2020: Part and Parcel is an online studio program that focuses on the importance of staying connected while isolated with the medium of mail art. The program will meet online via ZOOM from 4:30pm – 6:30pm on Fridays through Dec. 4, 2020 (no meeting Nov. 27).  There are virtual tours of the museum on weekday mornings. Pre-booking available for private groups. Contact the museum to sign up.  Live virtual tours of the Freeman Hotel on Thursdays at 5pm PDT.Check out what's in the gift shop with the Museum's online marketplace. The monthly storytime programs can be watched at www.digitalwingluke.org/programs.
The Columbia City Gallery has the following – In the Community Gallery is "The Resting Place"(see related article in our Nov. 4, 2020 issue), a show that examines the intersection of grief, migration and cultural identity among Filipino Americans curated by Derek Dizon. This project was funded by the  National Endowment for the Arts. In the Members Gallery is a group show that includes the work by Kamla Kakaria. Now through November 8, 2020. 4864 Rainier Avenue South in Seattle's Columbia City neighborhood. 206-760-9843. Hours are Wed. – Sundays from 11am – 7pm.  206-760-9843 or go to www.columbiacitygallery.com.
Local artist Minh Carrico has two public art installations available for viewing through the end of 2020. "Tattarrattat", a length of colorful fencing can be found at Seattle Public Utilities in Fremont at N.E. Canal St. and 2nd Ave.  N.W. Sponsored by Seattle Office  of Arts and Culture. "Be Here Now – Bring The Mind Home" is a text-driven panel on view at Pine St. and 4th Ave. in downtown Seattle. Sponsored by Shunpike. Other local artists who have window installations in this old Macy's storefront include Juliana Kang Robinson, Ko Kirk Yamahira, Soo Hong and June Sekiguchi. For more information on Minh Carrico's work, go to [email protected].
 Kobo Seattle features a new virtual art space showcasing a show of  ceramics by Laura Brodax . KOBO at Higo is now open on Saturdays from 11am – 5pm. Masks are required and you must use the provided hand sanitizer upon entering.  30 minute shopping sessions by appointment only at the KOBO on Capitol Hill will soon be made available through an online booking system. Time slots will be limited to keep everyone safe, plus more protective protocols in place to meet safety guidelines. More information  to come. Shipping and curbside pickup is still available by scheduling a Pickup Time at Checkout. They have a new instagram shopping account @koboseattleshop or try their website at  koboseattle.com.  The Capitol Hill store is at 814 E. Roy St. There is a waiting list forming for the  always popular Karhu calendars for 2021. If you want one, sign up on [email protected]. KOBO at Higo is at 604 South Jackson St. in the CID.
"World War Bonsai: Remembrance & Resilience" is the title of a show curated by Aarin Packard at Pacific Bonsai Museum. This show tells a history rooted in racism told through the living art of bonsai. It presents the powerful and inspiring untold history of bonsai artists working in the WWII-era and how they changed the course of bonsai art history forever.  With 32 bonsai, archival documents and photographs. The exhibition traces the cultural practice of bonsai in the U.S. and Japan  immediately before, during and after WWII, amid incarceration and at peace. Artists from the Puget Sound, California, Colorado, Hawaii and Japan are featured including Ben Oki, the Domoto family, Kelly Nishitani, Kenny Hikogawa and Joe Asahara, Ted Tsukiyama, Mas Imazumi, Kyuzo Murata and Yuji Yoshimura. The exhibition also includes  a site-specific artwork by Seattle artist Erin Shigaki which includes wheat-pasted images of individuals who played a role in the incarceration of more than 120,000 Japanese Americans.  A post-event recording of the "Branch Out" event held in August will be available on Pacific Bonsai Museum's You Tube channel. On view now through Oct. 10, 2021. 2515 South 336th St. in Federal Way,WA. Admission is by donation. Hours are Tuesday through Saturday from 10am – 4pm. 253-353-7345 or email [email protected].
The Outdoor Sculpture Collection on the campus of Western Washington University in Bellingham is open and accessible to everyone. This is an outdoor collection of major sculptures from the late 20th century to the present and includes work by Do Ho Suh, Sarah Sze and Isamu Noguchi among others. Get a map from the information booth and explore the campus collection for yourself. Call 360-650-3900.
Forthcoming at the Northwind Arts Center  in Port Townsend, WA. is a photography exhibit entitled "Manzanar: Their Footsteps Remain" by Brian Goodman. This show contains over 40 years of documenting one of the many internment camps where persons of Japanese ancestry were imprisoned during WWII. This exhibit marks the 75 anniversary of the closing of that camp in November of 1945. Nov. 6 – 29,  2020. There will be an art talk online to be announced. The gallery is open Friday – Sunday from noon – 5pm or by appointment. 701 Water St. Go to www.northwindarts.org for details.
The Chinese Canadian Museum of British Columbia opens its first exhibit in Vancouver's Chinatown. Entitled "A Seat at the Table", the exhibition explores historical and contemporary experiences of Chinese Canadians, particularly through the lens of food and restaurants. There are stations for writing and recording videos. Co-curator Viviane Gosselin said "the whole idea is to kind of generate a new body of historical knowledge that the Chinese Canadian Museum can use for future research and programming." A sister exhibition is set to open at the Museum of Vancouver's main location in the fall. Both exhibitions are expected to travel across B.C. within a year. This exhibition is at 27 East Pender. For details, go to [email protected].
The Chinese Cultural Centre Museum at 555 Columbia St. in Vancouver B.C. has an ongoing exhibit entitled "Generation to Generation – History of Chinese Canadians in British Columbia". 604-658-8880 or go to cccvan.com.
The Dr. Sun Yat Sen Classical Chinese Garden presents "Luminous Garden, the third installment of artist-in-residence Lam Wong. Done in collaboration with Glenn Lewis, it's an investigation of the concept of the garden as a sanctuary for spiritual growth. 578 Carrall St. in Vancouver B.C. 604-662-3207 or  go to vancouverchinesegarden.com…
 "Broken Promises" is a 7 year multi-disciplinary, multi-institutional, community engaged project that explores the dispossession of Japanese Canadians in the 1940s. It illuminates the loss of home and the struggle for justice of one racially marginalized community. Also ongoing is "TAIKEN: Japanese Canadians Since 1877". Nikkei National Museum & Cultural Centre  at 6688 Southoaks Crescent in Burnaby. 604-777-7000 or go to nikkeiplace.org.
Dinh Q. Le's series "Fragile Springs" is on display in the back room "Print Wall" of Elizabeth Leach Gallery. These screen prints were inspired by the Occupy Wall Street movement in 2011 as well as concurrent international protest movements in Iran, Iraq, Libya, Yemen, Burma, Thailand, Tibet, Vietnam Tunisia and Ukraine. On display Nov.  5, 2020 – Jan. 2, 2021. 417 NW 9th in Portland. 503-224-0521 or go to www.elizabethleach.com.
Opening in September, 2020 at Portland Art Museum is a group show entitled "Joryu Hanga Kyokai, 1956-1865: Japan's Women Printmakers" which looks back at the careers of the founders of the Women's Print Association, Japan's first printmaking society for women artists. 1219 SW Park Ave. 503-226-2811 or  portlandartmuseum.org.
JEFRE is a Filipino-American artist. He has created numerous site-specific artworks in major cities around the world including "Reflection" in Philadelphia's Unity Plaza, "The Beacon" and "Code Wall" in Orlando and "Heaven's Gate" in Manila. The Orlando Museum of Art has announced its marquee fall exhibition "JEFRE: Points of Connection" will open on Sept. 24, 2020 and be on view through Jan. 3, 2021. Designed as a touchless, interactive exhibition, "Points of Connection" will feature a series of site-specific installations and sculptures constructed at a human scale, introducing the audience to JEFRE's past projects alongside a series of works exemplifying his current studio practice. He is currently working on a 24-story high standing figure with an arm raised, titled "The Victor" located at a bridge connecting the cities of Pasig and Quezon in the Philippines. For more information on the Orlando Museum of Art, go to www.omart.org.
The Museum of Chinese in America has gone through tumultuous changes. A fire ripped through its storage area endangering many artifacts. Then the Covid 19 pandemic came and prompted a surge in anti-Asian sentiment and the museum shut down for months. Recently the Ford Foundation notified the museum that it had received a $3 million grant (more than an entire year's budget for this small museum) to provide pandemic relief. The money will go toward conserving and repairing portions of the collection that were threatened by January's fire.  
The National Portrait Gallery at the Smithsonian in Washington, D.C. will present the first major large-scale retrospective of work by Hung Liu, the internationally acclaimed Chinese-born American artist. "Hung Liu: Portraits of Promised Lands, 1968-2020" will feature more than 50 artworks spanning Liu's time in Maoist China in the 1960s, her immigration to California in the 1980s, and the height of her career today. This is the first time the museum will celebrate an Asian American woman with a solo exhibition. The exhibition's opening coincides with Asian Pacific American Heritage Month 2021. The dates of this exhibition are May 21, 2021 – January 9, 2022. 
China Institute in New York continues its cultural programming. On Tuesday, Nov. 24 at 8pm (EST) they present in their "Meet the Artist" series,  a talk by Liu Xiaodong.  He became known for his involvement in the Neo-Realist movement in China during the 1990s. He lives and works in Beijing. He joins art journalist Barbara Pollack to discuss his life, career, and what it means to be an artist in China today. To register for this free virtual event, register at https://bit.ly/31JOL7p.
"Photoville"  is an annual fall pop-up festival of photography usually set in the waterfront under the Brooklyn Bridge. This year's edition has 60 plus exhibitions with over 300 artists across New York's five boroughs. The format  is high quality digital prints placed on weather-proof banners. The New York Times gives special mention to Haruka Sakaguchi's project where she has overlaid portraits of Asian Americans on photos of city locations they have experienced racist abuse over Covid-19 with text narration about each incident. This free outdoor exhibition is on view through Nov. 29, 2020. Go to photoville.nyc for details.
Artists using expanded experimental cinema as an art form was a popular trend in the 1960s around the world and in Japan as well. Now some pioneers of that genre are showing in New York. Shuzo Azuchi Gulliver's "Cinematic Illumination" is on view through February,2021 at the Museum of Modern Art. 11 West 53rd St. in Manhattan. Timed tickets are required. 212-708-9400 or try moma.org. Another exhibition entitled "More Than Cinema: Motoharu Jonouchi and Keiichi Tanaami is on view through Nov.22, 2020 at Pioneer Works at 159 Pioneer St. in Brooklyn. Open by Appointment. Go to pioneerworks.org.
In rural Bihar, India, Mithila artists are using their distinctive folk art style of painting to depict the new world in which they now live. While this art reflects the radical changes in the world since March, it is also a cry for help. As folk artists who must depend on tourist markets both foreign and domestic, they are now left without a current outlet for their work. The Syracuse University Art Museum presents a virtual exhibit entitled "Mithila Art in the Time of Covid" on their website. Curated by Professor Emerita Susan Wadley who has worked closely with these artists for over a decade, this show of recent work showcases art done within the last six months in watercolor, tempera and pencil by twenty individuals ranging in age from their late teens to their late 50s. On view on the museum website with artist statements, the exhibit also has a virtual panel discussion with some of the artists on November 7 at 9:30am (EST). Go to museum.syr.edu or follow the social media platforms Instagram, Facebook and Twitter @SUArtMuseum. The exhibit is co-sponsored by the South Asian Center in the Maxwell School of Citizenship, the Art & Music Histories Department in the College of Arts and Sciences, and the Humanities Center.
The artist Robert Kobayashi (1925-2015) came to New York from Hawai'i and got a job in the registrar's department at the Museum of Modern Art. Though his early work owed something to Abstract Expressionism, he created his own style of pointillist painting by nailing little pieces of cutout tin in wood. Though he never had much interest in gallery representation, he found his neighborhood display format when he bought the storefront of a tenement building and left the window of its former owner intact. It read "Moe's Meat Market" painted on the window. And for the next forty years, that window display became a neighborhood display favorite. This exhibition entitled "Moe's Meat Market" is his first show in a Manhattan art gallery. Through Nov. 7 at the Susan Inglett Gallery at 522 West 24 Street. 212-647-9111 or go to inglettgallery.com. A catalog of his work can be seen online on the gallery's website.
Sarah Sze, sculptor/installation artist and past MacArthur Fellowship winner has a new work now on view until March 7, 2020. Entitled "Night Into Day", it is at the Foundation Cartier in Paris. It consists of two parts. One room has an illuminated planet-like sculpture hanging from the ceiling. The other consists of a floor sculpture over which a pendulum swings. She has more projects lined up. An installation at the Guggenheim now pushed back to 2023 and a permanent  outdoor work for Storm King Art Centre in upstate New York.
Noted American set designer Ming Cho Lee has died at the age of 90. He created innovative and influential sets for hundreds of plays, dance works and operas. Lee was an emeritus professor at Yale School of Drama and won a Tony for the 1983 play "K2" about two clumbers scaling the Himalayan peak. He served as principal designer for Joseph Papp in the early life of the Public Theater and Shakespeare in the Park. Arnold Aronson, author of the book, "Ming Cho Lee: A Life in Design" said that "in the 1960s and'70s Lee radically and almost single-handedly transformed the American approach to stage design. His training in Chinese watercolor painting and his knowledge of German opera helped forge a new American scenic vocabulary that was characterized by a more vertical approach to stage space." Lee was also a crucial influence as a teacher where he taught at Yale from 1969 to 2017 and many of his students went on to prominent careers in the field.
Amanda Phingbodhipakkiya, a neuroscientist turned artist was named a New York City Public Artist in Residence in August 2020. The artist created her "I Believe in Our City" series as a response to a sad statistic. From February to September, the city's Commission on Human Rights logged more than 566 reports of discrimination, harassment and bias related to Covid-19 and of that number, 184 were expressly anti-Asian in nature. The artist said that "My goal with this art series was to turn these hurts into something beautiful and powerful. I really wanted to find a way to say, despite everything we have faced as Asian Americans and New Yorkers, that I still believe in New York." From November 3 – December 2, a series of 45 pieces will be displayed in the Atlantic Terminal in Brooklyn. It includes vibrant portraits of Black, Asian and Pacific Islanders along with anti-discriminatory messages like "I did not make you sick" and "I am not your scapegoat." Excerpted from the New York Times.
A French museum has accused the Chinese government of trying to rewrite history after it demanded  that an exhibition about Genghis Khan not refer to the Mongol leader by name and also asked the words "empire" and "Mongol" be omitted. They then asked for control over exhibition texts, maps, brochures and communication. The exhibition at Chateau des ducs de Bretagne in Nantes was being planned in collaboration with the Inner Mongolia Museum in Hohhot, China. The museum has put the exhibition on hold for three years because it will not abide by a "biased rewriting of Mongol culture in favor of a new national narrative." Instead, the museum will re-do the exhibition featuring works from European and American collections.

Performing Arts 
Seattle Modern Orchestra announces its 2020-2021 season. Founded in 2010, the Seattle Modern Orchestra is the only large ensemble in the Pacific Northwest solely dedicated to the music of the 20th and 21st centuries. It is led by co-artistic directors Julia Tai and Jeremy Jolley. SMO commissions and premieres new works from an international lineup of composers and often presents important pieces from the contemporary repertoire that are rarely if ever heard by Seattle audiences. This season will include six commissions and six concert broadcasts. The lineup of composers includes Iranian composer Anahita Abbasi, Cornish faculty member Tom Baker, saxophonist/composer Darius Jones, cellist/composer Ha-Yang Kim, Brown University assistant professor Wang Lu and SMO co-artistic director, Jeremy Jolley. The decision of whether each event will take place in person or virtually will be based on evolving community health guidelines throughout the season. Concert dates are  Dec. 16 – 19, 2020 and Jan. 31, March 14, May 1, June 6, 2021. Go to http://www.seattlemodernorchestra.org/2020/09/24/2020-2021-season-announcement-press-release/ for details.
Violinist Kristin Lee, Artistic Director of Emerald City Music announces Season Five. In an effort to bring chamber music to as many people as possible in the Puget Sound area, their fall 2020 highlights include a 10-part digital series of concerts and discussions hosted by Emerald City Music's resident artists, a city-wide festival entitled "This is Beethoven", presented in collaboration with twenty area arts organizations of various disciplines, an in-school program in Olympia where teaching artists will engage with 5th grade students to create a composition, a Project Music Heals Us which will use classical music to bring hope to doctors, nuses and those affected by Covid-19, a focused outreach and engagement strategy that will bring classical music to transitional housing shelters, drug treatment centers and family support services and a collaboration with Seattle youth Symphony Orchestras to build up the next generation of musicians. For more details, go to www.emeraldcitymusic.org.
Pacific Northwest Ballet has announced an all  new virtual lineup for its 2020-2921 season. Some highlights include  a world premiere by choreographer Edwaard Liang on June 20, 2021. For complete details, go to PNB.org/DigitalSubscription or call 206-441-2424.
The Meany Center For The Performing Arts has announced fall schedule changes with the season opening postponed to January of 2021. Some fall performances have been canceled or rescheduled for late winter or spring. Virtual programming is being developed with many of the artists as an alternative to live performances. For a complete listing, go to https://meanycenter.org/tickets/season. Current ticket holders to canceled events are encouraged to contact the ArtsUW Ticket Office to request a refund, exchange into a later performance or other alternatives.
Freehold Theatre Lab/Studio now located in the CID continues their classes in various aspects of the theatre both virtual and in-person.  Some current activities include the following – ReAct Theatre founding director David Hsieh teaches a class on "Advanced Scene Study" that began on Nov. 3, 2020. For a list of current classes, go to freeholdtheatre.org for details or call 206-595-1927.
Filipino American percussionist/composer/curator Chris Icasiano joins an Artist Trust sponsored forum, "Community Conversation: Mission, Vision And Values" on Thursday, Nov. 12, 2020 at 5pm (PST) using the question "What does it mean to be in a community with artists?" Composer/musician/visual artist Paul Rucker leads the discussion. Other participants include Remelisa Cullitan, Natasha Marin and Matt Offenbacher. Free with registration. Go to artisttrust.org to find out how to register. 
C89.5, Seattle's electronic/dance music radio station will be adding a new, hour-long show focused on the global phenomenon know as K-Pop to it's weekly program schedule. It is the very first K-Pop radio show produced for an American audience. The show is available anytime through the c89.5 archive for two weeks after each show. Listeners in Puget Sound can hear K-Plus on the radio at 89.5 EM and  world-wide, the show is available at c895.org. For more information, contact [email protected].
Even though the Wayward Music Series at Chapel Performance Space is currently closed, go to nonsequiter's website to listen to free links by local musicians performing original music at wayward music.org or try gscchapel.com. Also listed are live streaming of local concerts by contemporary musicians that you can rent. Local sound artist Susie Kozawa will have a piece she did invoking the space at the Chapel in a forthcoming edition.
China Institute in New York City presents a free virtual webinar presentation "Music Chat on Chinese Orchestra: At the Crossroads of the West and China" on Friday, Nov. 6, 2020 at 6pm (EDT). Shenzhan Liao will moderate a discussion with conductor/author/educator Jindong Cai and composer JunYi Chow. Go to https://bit.ly/2HCg4aS.
Cal Performances presents cellist "Yo-Yo Ma in Recital" set for Friday, Nov. 27, 2020 at 7pm (PST). This virtual presentation is $15. Pre-concert conversation between Cal Performances Executive/Artistic Director  Jeremy Geffen and Yo-Yo Ma at 6:30pm.  Free for ticket holders. Go to https://secure.calperformances.org/15151/15691. 
The holiday RomCom "I Hate New Year's" stars Korean American actress/singers Dia Frampton and Filipina American Ashley Argota as well as the actress Candis Cayne. Filmed in Nashville and featuring an original soundtrack by Emer Kinsella and Billy Steinberg/Josh Alexander. It will be available on demand everywhere on Dec. 4, 2020 as well as on the Tello Network. You can download the trailer at https://vimeo.com/430781239/e3acb8a75c.
Toronto-based Tapestry Opera's 2020/21 season hopes to "push the boundary of the genre". The season includes "Love Song – A Saxophony" in which soprano Xin Wang and saxophonist Wallace Halladay will perform Ana Sokolovic's score. Nov. 28, 2020 at 8pm. Direction and concept by Michael Hidetoshi Mori, co-conceived by Xi Wang. The company will also present "Sketch Opera Singers", a series of operatic shorts. Episode one  on Nov. 7 is directed by Michael Mori and Debi Wong. June 17 – 20, 2021 brings "Dragon's Tale" with music by Ka Nin Chan and libretto by Mark Brownell. This new Canadian opera by the same team that did "Iron Road" explores the relationship between a young Chinese Canadian woman and her immigrant father.  Go to tapestryopera.com to learn more. 
Japanese pianist Tadataka Unno, a New York City resident, was beaten in a New York subway station and suffered a fracture in his shoulder and arm. The group who attacked him called him a "Chinese m**therf**ker". A woman intervened and called an ambulance.  Unno has played at Kennedy Center and jazz clubs in New York such as the Village Vanguard, Dizzy's Club and the Blue Note. A Go-Fund-Me page started by a friend has raised more than $120,000 for his medical expenses.  In August, the NYPD started an Asian Hate Crime Task Force due to an increase in racist attacks against Asian Americans during Covid-19.
Film & Media
In partnership with the Seattle Art Museum and Seattle's Office of Art & Culture, the Future Ancient Public Art Team curated by Che Sehyun presents their first season of broadcasts entitled "Culture Without Borders. It runs for 8 Saturdays at 7:30 pm (PST) and started on October 10, 2020. Episodes cover varied subjects including "Living in Exile",  "Stateless in the United States", "Southeast Asian Insight", "Pacific Islander Futures", "Black Lives Matter", "Indigenous Lives Matter", "Asian Pacific Islander Arts" and "Future Ancient Arts". Please visit www.linktr.ee/futureancient for links to all the platforms (Facebook, Youtube and Instagram.)
Alice Gu's "The Donut King" traces the trajectory of Cambodian refugee Ted Ngoy who comes to America in 1975 penniless and then builds a donut empire in Southern California that even Dunkin' Donuts couldn't rival. Now in a virtual screening online courtesy of SIFF. Go to siff.net for details.
Grand illusion Cinema presents a virtual screening of the 2020 Korean film "Beasts Clawing At Straws" directed by Kim Yong-Hoon. It screens through Nov. 19. A Louis Vuitton bag stuffed with cash sends a group of hard-luck lowlifes on a desperate chase for fortune in this pitch-black neo-noir crime caper. Stars Jung Woo-sing and Jeon Do-yeon. Try watch.eventive.org/gran or go to wwwgrandillusioncinema.org.
Cornish College of the Arts offers Continuing Education courses for adult learners. Filmmaker, photographer and writer Phan Tran offers a class entitled "Editing: The Practical Art" with winter classes Jan. 26 – March 2 and spring classes March 23 – May 11, 2021. Students will learn the rudiments of editing on Adobe premiere Pro and will be introduced to writing, thinking, music and surgery – skills that are all needed to make film stories. $600 for 6 sessions. Go to ContinuingEducation@Cornish for details.
Manilatown Movietime  presented by San Francisco's  I-Hotel Manilatown Center screens "Lumpia", written and directed by Patricio Ginelsa  on Sat., Nov. 14 at 6pm  San Francisco time and Nov. 15 at 9am Manila time. This film was shot in Daly City and is a street-level affectionate look at kid-culture among Filipino immigrants where established immigrants from the 'hood with low-rider sensibilities clash with newly arrived native islanders. Upon registration on EventBrite, you will receive a link to watch the film and another link to join the panel discussion that follows at 7:30pm San Francisco time. The community discussion will be led by writer/poet/actor/professor Oscar Penaranda with actors, directors and cinematographers. To reserve your spot, visit www.manilatown.org/events.
Texas-raised Filipino American writer/director Diane Paragas's film entitled "Yellow Rose" (SONY Pictures) fellows a young girl as she dreams of becoming a country star. Dreams shatter when her undocumented mother is arrested in an ICE raid. Stars Eva Noblezada as the teenage girl and Lea Salonga as her aunt. Country & Western songwriter Dale Watson provides the music and also makes a cameo appearance. Available  for viewing in theaters now.
MUBI presents the following – MUBI  kicks off a focus on Indian experimental filmmaker Amit Dutta with a film often regarded as a critical juncture in his artistic practice. "Nainsukh" depicts the art and life of the noted 18th century eponymous Pahaari painter. This meditative work unfurls like a multi-layered miniature painting itself. King Hu cut his teeth working on Hong Kong movies and later made a name for himself directing films in Taiwan. "Legend of the Mountain" is an overlooked film in his oeuvre. Filmed in South Korea with a cast of Taiwanese and Chinese actors, the story is about a scholar sent on a mission to retrieve a copy of a Buddhist poem. He encounters a world of ghosts, demons and sorcerers. This edition has been fully restored to its original length. The series on Japanese horror film director Kiyoshi Kurosawa continues with "Penance" from 2012. Originally filmed as a TV series, all the episodes are solidified in this presentation. The scenario portrays how crime and a curse follow four girls and their divergent paths into adulthood. "Beautiful New Bay Area Project" is a half hour film developed by Kiyoshi Kurosawa and his students at Tokyo University of the Arts. It was commissioned by the Hong  Kong International Film Festival in 2013. The story involves love at first sight, a stolen nameplate, a chase and kung fu. Stars Mita Mao and Emoto Tasuku. Kicking off a new series "Criminal Antics in China" is "Cock and Bull", a 2016 Chinese crime comedy drama directed by Cao Baoping and starring Liu Ye and Zhang Yi. Suspected of murder, a small-town mechanic uncovers a series of disturbing facts while trying to exonerate himself.  Next in the series is Chen Jiabin's 2014 film, "The Fool" in which this famous Chinese actor makes his directorial debut. A stylish noir uses deadpan humor to satirize the greed underneath China's income divide. A shepherd from rural China is stalked by an idiot who pops out of nowhere. The story is a morality tale that pits a good-natured individual against a society of scammers and bullies. Third in the series is "A Cool Fish", a 2018 comedy directed and written by Rao Xiaozhi that has interlocking crime narratives, screwball comedy and a critical eye aimed at modern China.  Go to [email protected] to find out about this film streaming service where you can rent by the month or by the year.
The streaming virtual film company Film Movement presents from King Hu, the legendary director of "A Touch of Zen", a new restoration of his epic martial arts heist movie "Raining in the Mountain'. This is a Film Movement Classics Release. The story revolves around a power struggle in a Ming dynasty monastery with villains and heroes fighting over a secret treasure. It stars Taiwan/Hong Kong female super-star Hsu Feng. Now streaming on Film Forum's virtual cinema and opens nationally via all other virtual cinema on Nov. 6, 2020. Film Movement Plus presents the Chinese crime noir film "The Wild Goose Lake" by Diao Yinan. The film tells the story of a ganster on the run after he accidentally kills a cop and a mysterious woman who is either out to help or betray him. Stars Hu Ge and Gwei Lun-mei. For details, go to  www.filmmovementplus.com or email [email protected].
The movie "Demon Slayer: Mugen Train" based on a popular Japanese comic book had the biggest box office weekend in the country's history when it opened in theatres across Japan in late October. Based on a manga that went to 22 volumes and sold over 100 million copies, the story is set in early 20th century Japan. A young man joins a band of warriors dedicated to wiping out demons that killed his family and cursed his sister. Unlike other countries across the world, movie theatres are open now in Japan.
Nanfu Wang, documentary filmmaker whose most recent film "One Child Nation", a critical examination of the Chinese government policy limiting population growth, is the recipient of  a John D. And Catherine T. MacArthur Foundation Grant worth $625,000.
Kiyoshi Kurosawa's latest film "Wife of a Spy" picked up an award for "Best Director" in this year's Venice Film Festival. The story is about a Japanese woman's efforts to help her husband expose the military's human experiments conducted on Chinese citizens  after he discovers the secret during a business trip. Thousands of victims died during WWII in experiments done by the Japanese army's Unit 731. The film opens in Japan but does not yet have an American distributor.
"Blackpink: Light Up the Sky" is a documentary film by Caroline Suh about the idolized K-pop girl group on Netflix whose debut album has just been released.
"Evil Eye" (Amazon) is a film directed by Elan and Rajeev Dassani about an Indian mom scandalized by her daughter's romance with a man of means. The cast includes Sunita Mani as the daughter, Sarita Choudhury ("Missisippi Masala") as the mother and Omar Maskati as the suspicious suitor.
Jimmy O. Yang gets his first lead role in a new movie "The Opening Act" which is just out. In it, he plays a stand-up comic who has a lot to learn. Directed by Steve Byrne. His next project is a Netflix romance comedy entitled "Love Hard" directed by Hernan Jimenez.
 Town Hall Seattle has digital programming of upcoming events on their live stream page. They also have a media library of hundreds of video and audio free to enjoy.  A new addition to that includes   Laila Lalami who talks about "What It Means Be An American" and her book, "Conditional Citizens" with fellow author Viet Thanh Nguyen.Go to townhallseattle.org for details.

  Most local theaters are doing virtual screening via the internet where you can rent new films and see them at home. Go to the websites for Northwest Film Forum, Grand Illusion Cinema, Siff Uptown, AMC theatre chains and others.
 "George Nakashima, Woodworker" is a documentary film on the life and art of this noted American artist/craftsperson made by his nephew/TV producer John Terry Nakashima and George Nakashima's daughter, Mira. They have worked on the film since Nakashima's death in 1990. It had its virtual premiere on October 2, 2020 at Design Miami/Shop. The website is shop.designmiami.com. 
Hrishkesk Hirway is a South Asian American musician/composer but he's probably best known for his various podcasts at how people create art in various ways. His new Netflix series "Song Explorer" interviews musicians one-on-one and traces the personal exploration each artist goes through that lead to the creation of a single song.
Actress/singer Phillipa Soo of "Hamilton" fame voices the character Chang'e in the animated musical film "Over the Moon (Netflix)." Others in the cast include Robert G. Chiu, Sandra Oh, Ken Jeong, Cathy Ang and John Cho. The story written by the late Audrey Wells is set in China. The central character is a young girl who grieves the loss of her mother so she builds a rocket to fly to the moon to search for the truth about a goddess who lives there.
The Written & Spoken Arts
The Wing celebrates the world of books with an exciting array of book/author events with their "Book-O-Rama" virtual reading series. It kicks off in a celebration of novelists, poets, scholars and garden enthusiasts all singing the praises of the legacy of Fujitaro Kubota in the book, "Spirited Stone: Lessons from Kubota's Garden"(see related story in this issue) . Independent writer/curator Mayumi Tsutakawa moderates a panel discussion on Nov. 7, 2020 at 2pm (PST). Scheduled to appear are Jamie Ford, Gemina Garland Lewis, Shin Yu Pai, Claudia Castro Luna and Lawson Fusao Inada who all have writing in the book. "Intergenerational Japanese America" is the topic of the Sat, Nov. 14, 2020 event  which will be live with RSVP requested. It pairs educator/poet Lawrence Matsuda's first novel about his mother and the internment experience entitled "My Name is Not Viola" with Kiku Hughes' graphic novel "Displacement" (see related story in this issue) in which a young woman of today finds herself time-traveling back to her grandmother's internment camp experience. This talk will be moderated by author, educator and activist Gail M. Nomura. On Sat., Nov. 21, 2020 at 2pm (PST) Ron Chew will share stories from "My Unforgotten Seattle", his deeply personal memoir about the community. This will be a live event with RSVP requested. On Dec. 5, join an event which will be a "Book-O-Rama Story Time & Artist Demonstration" from 11am – 2pm (PST) on Facebook. This is a special morning program for the entire family with some of the most popular authors to celebrate imagination, creativity and expression. It features Angela Nguyen of "How to Draw Cute Stuff", Jing Jing Tsong and Gabrielle Ahuli'I of "Hawaiian Legend Series" and Joy Ang, illustrator of Mulan: The Legend of the Woman Warrior."  Book-O-Rama concludes with a "Bruce Lee: 80th Anniversary Celebration" on Sat., Dec. 5, 2020 from 2 – 3pm (PST) with RSVP required. Bruce Lee's daughter Shannon Lee will have a book release party for her new title, "Be Water, My Friend" which details her father's philosophies through previously untold stories, some related by Doug Palmer, one of Lee's youngest martial arts students. Each event has specially crafted gift sets that would make perfect xmas gifts. Go to http://www.wingluke.org/single-exhibit/?mep_event-3432
Former IE editor Ron Chew gives a virtual presentation on his memoir entitled "My Unforgotten Seattle" around town. He is scheduled to   participate Nov. 12, 2020  with an appearance at International Examiner's Community Voice Awards event (time TBD – go to https://iexaminer.org/community-voice-awards/), Nov. 17, 2020 at 6pm at Seattle Public Library and finally a talk at  Wing Luke's Book-O-Rama series. on Nov. 20, 2020 at 2pm. Details to follow.
Friends of Asian Art and Japan-America Soceity of the State of Washington present a workshop entitled "Tokaido, The Great East Sea Road – From Ancient to Modern Japan" on Mon., Nov. 9, 2020 at 10am (PST). In this crash course in Japanese history, we will follow Tokaido, the ancent road that connected Kyto and Tokyo through Japanese history starting in the Heian era (794) through today. Participation is free but registration is required. Go to https://jassw.info/event-3997323 for details.
Independent writer/curator Mayumi Tsutakawa continues her series of virtual talks on "Washington's Undiscovered Feminists" through Humanities Washington. She will discuss the careers and achievements of Imogene Cunningham, Ruby Bishop, Priscilla Chong Jue, Anna Louise Strong, and Vi Hilbert. On Nov. 14, 2020 at 10:30am (PT), her host will be Redmond Historical Society. On Nov. 17, 2020 at 2pm (PT), her host will be American Association of University Women, Olympia Branch. Go to humanities.org for details.
Third Place Books present the following virtual readings they sponsor or co-sponsor. In the  series "Author Voices" presented by the King County Library System, Nguyen Phan Que Mai, author of the novel "The Mountains Sing", a multi-generational tale of a Vietnamese family's experiences before and after the Vietnamese war will be in conversation with Thanh Tan on Thursday, November 5, 2020 at 7:30pm. Visit httpas://www.crowdcast.io/e/mountains-sing to register to watch this event. Go to townhall.org and click on to "calendar" for details. Pakistani American young adult author Sabaa Tahir is best known for her New York Times-bestselling "An Ember in the Ashes" series, talks with fellow author Renee Ahdieh about her new novel "a Sky Above the Strom" (the finale to the "Ember" series) in a virtual event on Friday, Dec. 4, 2020 at 5pm (PST). Advance tickets are required. Go to  www.thirdplacebooks.com.
Geo Quibuyen of Blue Scholars fame talks to music chronicler/author Daubi Abe, author of "Emerald Street: A History of Hip Hop in Seattle" (UW Press) about "An Essential History of Hip Hop in Seattle" on Monday, Nov. 9, 2020 at 7:30pm (PST) in a live stream brought to you by Seattle Town Hall. Go to townhallseattle.org for details.
Tom Ikeda, Founding Executive Director of Densho speaks on "keeping Alive the Stories of a Community" as part of the "Perspectives on Legacy – Creative aging Conference 2020" set for December 3 – 4, 2020 from 9am – 1pm (PST). He joins speakers/educators/artists Eddie Gonzalez, Sonnet Kekilia Coggins, Sarah Fetterman, Carol Kummet, Dr. Katie Schlenker and Pam McClusky. Go to [email protected] for details.
Elliott Bay Book Company has a full slate of events in their virtual reading series. Here are a few –  Ron Chew continues his virtual tour on behalf of his memoir, "My Unforgotten Seattle" (UW Press/International Examiner) in this talk virtually co-hosted by Seattle Public Library on Tuesday, Nov.17 at 6pm (PST). To register, go to httpas://www.spl.org/event-calendar?trumbaEmbed=eventid%3D148766546%26view3Devent%26-childview%3D. Seattle Times visual journalists Corinne Chin and Erika Schultz join a panel discussion entitled "Ni Una Mas – Seeking Justice for Femicide in Mexico Through Poetry, Journalism And Law" virtually co-hosted in English/Spanish by the International Women's Media Foundation. The conversation centers on the violence against women on the US-Mexico border.  Other participants include Washington State Poet Laureate Claudia Castro Luna and Norma Ledezma Ortega of Justica Para Nuestro Hijas. Moderated by Pro Publica journalist Vianna Davila.  Set for Thursday, Nov. 19 at 6pm (PST).  In another event set for Sunday, Nov. 22 at 4pm (PST) and virtually co-hosted with Seattle Public Library, Shirley Ann Higuchi & Friends discuss her book entitled "Setsuko's Secret: Heart Mountain and the Legacy of the Japanese American Incarceration" (University of Wisconsin Press). Higuchi is joined by  Darrell Kunitomi and Aura Newlin, descendants of former Heart Mountain incarcerees. The discussion will be moderated  by Densho founding director Tom Ikeda. For making reservations to the virtual events, go to elliottbaybook.com and click on the "events" page or call 206-624-6600 or toll-free at 1-800-962-5311. Although all events are virtual for the time being, the book  store is open.
Fall class registration at Hugo House is now open. All classes and events will take place virtually for the remainder of 2020. Samples of classes available include some of the following – "The Political Essay" by Sonora Jha, "The Personal and the Political" with Rick Barot, "The Longest Poem: Writing with the Mahabharata with Shakur Narayan, "Writing the Family Saga" with Jaimie Z. Li, "Exploring Minor Feelings: An Asian American Reckoning" with Anne Liu Kellor and  "Poetry in & of Crisis" by Chen Chen. You can register online but if you have questions, send an email with your name and # to lily@hugohouse.org. For more information try [email protected]. 
"Open A New Window" is the title of Seattle Arts & Lectures new 2020/21 season. Set for June 9, 2021 is poet/fiction writer Ocean Vuong. His novel, "On Earth We're Briefly Gorgeous" in which he writes letters to his immigrant mother which she will never read was an immediate and enduring bestseller. Sponsored by Elliott Bay Book Company. For more details, go to lectures.org.
The 2020 Jack Straw Writers Program continues with several readings via Zoom. Another group reading with the 2020 Jack Straw writers hosted by curator  Anastacia-Renee takes place sponsored by Seattle Public Library takes place on Sunday, November 15 at 2pm. Go to jackstraw.org for details.
One of the positive things during this Covid 19 period is the ability for all of us across the nation to have access to events from anywhere in the country via Zoom. The I-Hotel Manilatown Center has the following events that anyone can access through Zoom via EventBrite. "Remember, Recover, Reclaim" is a series hosted by Dr. Estella Habal. On Sat., Nov. 21 at 1pm (PST), she presents "Resistance and Relevance". This program will discuss the salient and pivotal role Filipino American students played in the most successful campus strike in US history that led to the creation of the first College of Ethnic Studies in the nation. The panel includes the Honorable Ronald Quidachay, former Superior Court Judge of San Francisco County, Seattle-based Juanita Tamayo-Lott, author and Federal Demographer, San Francisco State University Professor Daniel Phil Gonzales and ethnic studies students Sheryl Fontanilla and Marielle Concejo. Kommunity Kultura, a music, movement and cultural education program presents "Tagalog with Lydia", a 90 minute workshop where Lydia Querian  shares fundamental conversational structures that can help beginners obtain a basic grasp of the language. Set for Wed., Nov. 18 at 6pm (PST). Go to www.manilatown.org/events for details.
Poet Anna Maria Hong celebrates the publication of her new book entitled "Fablesque" with some readings.  She reads with Elizabeth Powell at Sundog Poetry Center on Wednesday, November 11 at 7pm EST. Go to https://www.sundogpoetry.org/events/elizabethpowell-annamariahong.
 Mary Uyematsu Kao's book of photographs entitled "Rockin' The Boat – Flashbacks Of The 1970s Asian Movement" is now available. To purchase a copy of the book for $30, visit the online bookstore at http://commerce.cashnet.com/aasc.
The "Imprint: Margarett Root Brown Reading Series" has tickets on sale now. This Houston-based reading series like many events all over the country is now a virtual series. Some of the authors in this series include Chang-Rae Lee  & Lily King on Feb. 22, 2021 and Viet Thanh Nguyen on April 12, 2021. To receive a complete series brochure, email [email protected].
"Chop Suey Nation: The Legion Café and Other Stories from Canada's Chinese Restaurants" (Douglas & McIntyre), a memoir featuring small-town Chinese restaurants and the families who run them in Canada by Canadian journalist Ann Hui has won two major book awards. The book was the Gold winner in the Culinary Narratives category at the Taste Canada Awards. It also won the Literary/Historical Food Writing category of the International Association of Culinary Professionals' 2020 Cookbook Awards. Hui drove across Canada to research the book. The Vancouver-born, Toronto-based writer is The Globe and Mail's national food reporter.
The Hawai'i Literary Arts Council issued awards to two local writers. Scott Kikkawa won the Elliott Cades Emerging Writer Award. Juliet S. Kono received the Loretta D. Petric Award for Outstanding Service to Hawai'i's Literary Community.
Below is a partial list of new books by or about Asian Americans and new titles on Asia. If you are interested in reviewing any of them, please let us know –
The late Bay Area poet and community activist Al Robles only book of poetry "Rappin' With Ten Thousand Carabaos In The Dark" is a classic that has been out of print too long. Now UCLA Asian American Studies Center Press brings it back in print for a new generation in an expanded edition with a foreword by his nephew and fellow poet Tony Robles. This new edition also includes the poet's essay "Hanging on to the Carrabao's Tail" which appeared in Amerasia Journal.
"Some Girls Walk Into The Country They Are From" (Wave)  is a new book by Sawako Nakayasu, an artist working with language, and translation – separately and in various combinations. She, alone is responsible for introducing a wide variety of modern Japanese poets  to English readers throughout the years with her fresh and skillful translations. This new volume is a multilingual work of both original and translated poetry.
"That Was Now, This Is Then" (Greywolf Press) is the first new collection from Paris Review Editor Vijay Seshadri since his 2014 Pulitzer Prizewinning book, "3 Sections." Rosanna Warren says of this new book, "These are poems of lacerating self-awareness and stoic compassion. It is a book we need, right now."
"The World Turned Upside Down: A History of the Chinese Cultural Revolution" (Farrar Straus & Giroux) as translated by Stacy Mosher and Guo Jian is due out January 19, 2021. It is the only complete history of this major event written by an independent scholar based in mainland China. The author witnessed much of this history firsthand, as a student and then as a journalist His previous book "Tombstone", his definitive history of the Great Famine received the Louis M. Lyons Award for Conscience and Integrity in Journalism presented by the Nieman Fellows at Harvard and Sweden's Steig Larsson prize. This new book was published in Hong Kong in Chinese in 2016 but has been banned in mainland China.
"All Heathens" (Sarabande) is a new book of poetry by Marianne Chan. In it, the poet navigates her Filipino heritage by grappling with notions of diaspora, circumnavigation, and discovery. Booklist said of the book, "Chan's mournful poems are brimming with longing and anger and redemption as she takes control of her own story and of Filipino istory."
"Saucy" (Antheneum) is a young adult novel about an eleven year old girl and the sickly piglet she adopts and how her life is changed forever by that experience. As the pig grows up, she and her owner find more ways to get into trouble than can be imagined. With illustrations  by Marianna Raskin.
"Family In Six Tones – A Refugee Mother, An American Daughter" (Viking) by Lan Cao (author of "Monkey Bridge") and Harlan Margaret Van Cao. 40 years after landing in a foreign land as a thirteen-year old, Lan Cao faces the biggest challenge of her life. How to raise her daughter, half-Vietnamese by birth but 100%  American teenager by inclination. In this joint memoir told in alternating voices, mother and daughter cross ages and ethnicities to tackle the hardest questions about assimilation, aspiration, and family.
"My Name Will Grow Wide Like A Tree" (Greywolf) by Yi Lei and translated from the Chinese by Changtai Bi and Tracy K. Smith. Yiyun Li says of this book, "Yi Lei, one of China's most original and independent poets, documents not only Chinese history in the past four decades, but also more importantly a woman's private history of rebellion and residence."
"Disappear Doppelganger Disappear" (Little A) is by the author of "The Hundred-Year Flood", Matthew Salesses. Laura Van den Berg writes "How to live in a world that refuses to see you? Matt Kim's intoxicating battle with his mysterious doppelganger moves him deeper and deeper into the vast and urgent sea of this question – and towards a possible answer. Inventive and profound, mordantly hilarious and wildly moving."
From Jessica Jung, former member of K-pop super group "Girls Generation" comes "SHINE" (Simon & Schuster Books for Young Readers), her young adult fiction debut. The story concerns a teen thrust into the competitive world of K-pop and takes the reader into a glamorous world where stakes are high.
"ACE – What Asexuality Reveals  About Desire, Society, and the Meaning of Sex" (Beacon) by Angela Chen. "ACE" explores the world of asexuality and those who have found a place in it. Through reportage, cultural criticism, and memoir, this book shows what we can gain from the ACE lens.
"Like Spilled Water" (Carolrhoda LAB)  by Jennie Liu. A Chinese family sacrifices all for the son's education while the daughter is left behind in the countryside. But when the boy dies suddenly, his sister investigates the root cause. A suspenseful and  poignant exploration of family dynamic/gender roles in today's China.
"Pink Mountain on Locust Island" (Coffee House) by Jamie Marina Lau. In her debut novel, shortlisted for Australia's prestigious Stella Prize, old hazy vignettes conjure a multi-faceted world of philosophical angst and lackadaisical violence. A teenage girl drifts through a monotonous existence in a Chinatown apartment until her dad and boyfriend plot a dubious enterprise that requires her involvement.
"Sachiko" (Columbia University Press) by Endo Shusaku as translated by Van C. Gessel. This novel tells the story of two young Japanese Christians in Nagasaki trying to find love in the painful  war-time years between 1930 and 1945.
"White Fox" (Chicken House/Scholatic) by Chen Jiatong as translated by Jennifer Feeley is an international young adult bestseller from China about this animal who wants to be human himself. To do so, he must find a magical moonstone before a pack of wicked blue foxes beat him to the punch.
"Seize" (Four Way Books) by Brian Komei Dempster. This Seattle-raised poet's second book examines a seizure of events within the body and our surroundings. Whether he confronts his son's epilepsy or the deep psychological scars his mother endured imprisoned in an WWII internment camp as an American citizen, this poet crafts poems that carry us through.
"Bestiary" (One World) by K-Ming Chang. This debut novel brings myth to life, revealing layer by layer origin stories of what becomes of women and girls who carry the spirits of beasts within.
"Other Moons – Vietnamese Short Stories of the American War and Its Aftermath" (Columbia University Press) translated and edited by Quan Manh Ha and Joseph Babcock. In this anthology, Vietnamese writers describe their experience of what they call the American war and its lasting legacy through the lens of their own vital artistic visions.
"The Unexplainable Disappearance of Mars Patel" (Walker Books) by Sheela Chari. Based on the Peabody Award-winning podcast, this tech-filled adventure pits intrepid Mars Patel against an enigmatic entrepreneur as they search for missing students from their school.
"Dancing After Ten – A Graphic Memoir" (Fantagraphics) by Vivian Chong and Georgia Webber. After the author experiences a severe medical reaction to ibuprofen that leaves her blind, she gets a second chance with a cornea operation that restores her sight only to realize the cure is temporary. She races to complete her memoir before blindness erases it all. With the help of a collaborator, she creates a book that conveys a life lived with an inner strength that inspires.
"Everything I Thought I Knew" (Candlewick) by Shannon Takaoka. A teenage girl wonders if she's inherited more than just a heart from her donor when odd things begin to happen. As she searches for answers, what she learns will lead her to question everything she assumed she knew.
"Welcome To Your Period!" (Walker Books) by Yumi Stynes and Dr. Melissa Kang. Getting your period for the first time can be mortifying, weird, and messy. But it doesn't have to be that way. This taboo-free guide is packed with honest advice and big-sisterly wisdom on all the things young girls need to know.
"New Deal Art In The Northwest – The WPA And Beyond" (UW) by Margaret Bullock. This book tells the story of hundreds of Northwest artists employed by the U.S. Federal government under the WPA Project and also serves as the catalog for an accompanying exhibition at Tacoma Art Museum. Includes work by Kamekichi Tokita, Kenjiro Nomura and Fay Chong.
"In "Three Keys" (Scholastic),Kelly Yang continues her "Front Desk" saga of a family who runs a motel. The motel struggles to make a profit and must answer to worried investors. If a new immigration law passes, it will threaten a young girl's whole family's existence. Will teenage Mia rise to meet these challenges?
"Last Tang Standing" (Putnam) by Lauren Ho. "Crazy Rich Asians" meets "Bridget Jones" in this funny debut novel about the pursuit of happiness, surviving one's thirties intact and opening one's self up to love.
"The Uncertainty Mind Set – Innovation Insights From the Frontiers of Food" (Columbia University Press) by Vaughn Tan. The author spent long periods observing some of the world's most famous chefs at work and tells readers what they do and how they do it.
"Some Are Always Hungry" (University of Nebraska) by Jihyun Yun. This volume won the Prairie Schooner Book Prize in Poetry. Ada Limon writes "At once a reckoning with immigration and historical trauma and rooted in the sensorial world, these poems are timeless and ongoing." It chronicles a family's wartime survival, immigration and heirloom trauma through the lens of food, or the lack of.
"Hong Kong Local – Cult Recipes From The Streets That Make The City" (Smith Street Books) by Archan Chan with photographs by Alana Dimou. Like the city itself, this book celebrates traditional and contemporary Cantonese cuisine that is cherished by locals and fervently adored by visitors, while embracing the extraordinary influences that continue to shape Hong Kong's unrivaled food scene.
"Girl's Garage – How to Use Any Tool, Tackle Any Project, and Build the World You Want to See" (Chronicle) by Emily Pilloton as illustrated by Kate Binaman-Burt. An indispensable guide to building things, fixing things and how to help girls take on anything by taking destiny into their own literal hands. Along the way, girls hear the encouraging words of strong female role models.
"Inferno – A Memoir of Motherhood And Madness" (Henry Holt) by Catherine Cho. A gripping, unforgettable love story about new motherhood and identity – and starting again after the unthinkable happens.
"A Brief History of Fruit" (Akron) by Kimberly Quiogue Andrews. An expansive account of what goes into forming us – our ancestors, our geographical and sociopolitical climates, our consumption practices which all add up to a rich and varied poetry collection.
"Fauja Singh Keeps Going – The True Story of the Oldest Person To Ever Run a Marathon" (Kokila) by Simran Jeet Singh as illustrated by Baljinder Kaur. A picture book true story of a boy with weak legs who pushed himself to reach his own potential. At the age of 81 he ran his first marathon, eventually becoming the first person over 100 to complete a grueling long distance race.
"Paper Peek Animals" (Candlewick) by Chihiro Takeuchi. A die cut book that allows kids to peek through and pick out the animals in this wild search-and-find journey that will engage minds and counting skills as well.
"World of Wonders – In Praise of Fireflies, Whale Sharks, and Other Astonishments" (Milkweed Editions) by Aimee Nezhukumatahil. An award-winning poet's non-fiction debut about the natural world and the way its inhabitants can teach, support, and inspire us.
"Sheepish (Wolf Under Cover) by Helen Yoon. This Candlewick Press picture book for children tells the story of a wolf in sheep's clothing who thinks he's fooling everyone but is he really?
"My First Book of Haiku Poems – A Picture, A Poem And A Dream – Classic Poems by Japanese Haiku Masters" (Tuttle) by Esperanza Ramirez-Christensen and illustrated by Tracy Gallup. Classic Japanese haiku imaginatively illustrated with bilingual English and Japanese text. Each poem comes with questions for the young reader to think about.
"Interior Chinatown" (Pantheon) by Charles Yu is a deeply personal novel about race, pop culture, immigration, assimilation and escaping the roles we are forced to play. Nominated for a National Book Award.
"I Can Be Anything" (Chronicle) by Shinsuke Yoshitake. A pre-bedtime game of charades between a little girl and her mother is full of silliness and surprises with delightful, charming illustrations by the author to move things along.
"Sacrificial Metal" (Conduit Books & Ephemera) by Esther Lee. It won the Minds on Fire Open Book Prize. Sean Dorsey writes that the book "dances with astute curiosity and deep tenderness across the shifting grounds of grief, touch, bearing witness, memory, and our obstinate human instinct for future planning. With great compassion, Lee's poems remind us that everything human eventually unravels…".
"Grandpa Grumps" (Little Bee Books) by Katrina Moore as illustrated by Xindi Yan. A little girl takes on the challenge of making her grumpy grandpa from China smile. A funny, heart-warming story about overcoming cultural differences and connecting across generations.
"K-Pop Confidential" (Point Paperbacks) by Stephen Lee. This book is about a teenager who can sing but is put to the test when she moves to Seoul and enters a K-pop boot camp. Caught in a spot in the most hyped girl group ever, is the challenge worth losing her friendships, her future and everything she believes in?
Seattle poet Don Mee Choi calls Anna Maria Hong "the genius poet of fairy tale language and conventions in "Fablesque" (Tupelo), a new book by this former Seattle resident. She goes on to say how "Hong explores the grammar of horror and hunger, survival and abuse across the contorted historical, cultural, and familial terrains of the Korean diaspora."
"Rain Before Rainbows" (Candlewick) by Smriti Prasadam-Halls as illustrated by David Litchfield. In this heartfelt story about courage, change, and moving on, a girl and her companion fox travel together away from a sorrowful past toward color and light and life.
"The Mad Kyoto Shoe Swapper" (Tuttle) by Rebecca Otowa is a collection of short stories by an Australian woman who went to Japan in 1978 and never left. Her stories deal with universal issues such as love, work, marriage, aging, death and family conflict all illustrated with the author's drawings. A glimpse into  everyday life in Japan.
"The Barnabus Project" (Tundra) by The Fan Brothers.  Half-mouse and  half-elephant. In a world of perfection, Barnabus is not quite perfect and is kept out of sight _ _ _ until his dreams of freedom lead him and his misfit friends on a perilous adventure. A perfect book for those of us who never quite fit in and yet, find solace in friendship and acceptance in unexpected places.
"Forbidden Memory – Tibet During the Cultural Revolution" (Potomac)  by Tsering Dorje. Edited by Robert Barnett and translated by Susan T. Chen. The author uses eyewitness accounts with expert analysis to tell the story of how Tibet was shaken by foreign invasion and cultural obliteration. This book is a long-overdue reckoning of China's role in Tibet's tragic past.
 "Paper Bells" (The Song Cave) by Phan Nhien Hao and translated by Hai-Dang Phan is a new volume of poems by a poet shaped by the Vietnam War, forced to re-start a life as a teenager in the U.S. His poems bear witness to a delicate balance between two countries and cultures.
"A Place for Mulan" (Disney) by Marie Chow as illustrated by Jasper Shaw. Mulan is different than all the other girls in the village and doesn't fit in. But with the help of those she loves she finds that maybe she's been looking in all the wrong places.
"So This Is Love: a Twisted Tale" (Disney) by Elizabeth Lim. A young  adult re-telling of the Cinderella story. In this one, Cinderella leaves the house where she works and gets a job as the palace seamstress. Here she becomes witness to a grand conspiracy to overthrow the king. Can she find a way to save the kingdom?
"Soul in Seoul – African American Popular Music and K-pop" (University Press of Mississippi) by Crystal S. Anderson. An innovative interpretation of K-pop music culture that highlights the influence of African American pop music on this ever evolving genre.
"From Maybe To Forever – An Adoption Story" (Creston) by M. L. Gold and N. V. Fong as illustrated by Jess Hong. Told from a big sister's point of view, this picture book makes the complicated adoption process clear for the youngest readers and the colorful art shows how many different kinds of families there can be.
"Troubling Borders – An Anthology of Art and Literature by Southeast Asian Women in the Diaspora" (UW) edited by Isabelle Thuy Pelaud, Lan Duyong, Mariam B. Lam and Kathy L. Nguyen. Juxtaposing short stories, poetry, paintings and photographs, this volume showcases the work of women of Vietnamese, Cambodian, Lao, Thai and Filipino ancestry. Shaped by wars, colonization, globalization and militarization, the stories serve as entry points for broader discussions about questions of history, memory and identity.
"Building Zaha – The Story of Architect Zaha Hadid" (Orchard Books)  by Victoria Tentler-Krylow. The author-illustrator, an architect herself, portrays the story of this Iraqi woman who used her inquisitive mind to analyze lines and shapes in everything she saw. This picture book for kids will inspire. When critics insisted her unorthodox designs couldn't be built, she broke barriers to prove them wrong. She became one of the influential architects of her time.
"Setsuko's Secret – Heart Mountain And the Legacy of the Japanese American Incarceration" (University of Wisconsin) by Shirley Ann Higuchi. Moving seamlessly between family and communal history, this book offers a clear window into camp life that was rarely revealed to the children of the incarcerated. Illuminates a devastating chapter of America's past.
"Gita – The Battle of the Worlds" (Harper Collins) by Sonal Sachdev Patel and Jemma Wayne-Kattan is a reimagined adventure story for children transporting the sacred Hindu verse of the Gita into a book made relevant to everybody's life.
"Venus in the Blindspot" (VIZ) by Juni Ito. This striking manga collection presents the most remarkable short works of the author's career. It includes an adaptation of Edogawa Ranpo's classic horror story "The Human Chair" and fan favorite, "The Enigma of Amigara Fault."
"The Passenger – For Explorers of the World" (Europa Editions) is an eclectic anthology series for readers who want to understand contemporary realities of a given country or city. The issue on Japan is a potpourri of essays and images with "Ghosts of the Tsunami" by Richard Lloyd Parry, "A Love Letter to the Shimokitazawa Neighborhood of Tokyo" by Yoshimoto Banana and "Why Japan Has Avoided Populism" by Ian Buruma and much more. 
"Sonata Ink" (Ellipsis) by Karen An-Hwei Lee imagines Kafka in the city of angles seen through the eyes of a Nisei woman hired to be his interpreter and chauffeur. Los Angeles seen as the epicenter of "The Wasteland."
"Story Boat" (Tundra) by Kyo Maclear and illustrated by Rashin Kheiriyeh. A picture book that tells the story of a little girl and her brother forced to flee home and create a new one out of dreams and stories amidst migration and crisis.
"Territory of Light" (Picador) by Yuko Tsushima as translated by Geraldine Harcout. This novel finds a young woman left by her husband starting a new life in a Tokyo apartment with her two year-old daughter. As the months go by she must confront what she has lost and who she will become.
"Moms" (Drawn & Quarterly) by Yeong-shin Ma is a graphic novel from Korea about mothers in their mid-fifties fed up with their husbands and the grind of their menial jobs. This book re-examines romance, lust and gender norms for middle-aged women.
"Butterfly Sleep" (Tupelo) by Kim Kyung Ju as translated by Jake Levine is a historical drama based in the early Joson Dynasty. With a mixture of magic realism and dark humor, he tells an existentialist allegory of Korean's rapid development. This play is a modern fable of a rapidly changing country that must confront its ghosts.
"Lion Boys and Fan Girls" (Epigram) by Pauline Loh looks at teenage boys who make a pledge to ban dating and focus on lion dancing. But they must contend with unusual girls and cyberbullying. The rich culture of Singapore and the fascinating history of lion dance make this a compelling young adult read.
"Azadi – Freedom, Fascism, Fiction" (Haymarket) is a new book of essays in which award-winning author Arundhati Roy challenges us to reflect on the meaning of freedom in a world of growing authoritarianism.
"Monsoon" (Seagull) by Vimala Devi as translated by Paul Meto e Castro is a book of short stories first published in 1963. They delve into divisions of caste, religion, language and material privilege in the colonial Portuguese colony of Goa.
"Then The Fish Swallowed Him" (Harpervia) by Amir Ahmadi Arian is the first novel in English by this critically acclaimed Iranian author. It's a timely and unflinching look at the potential dangers of the everyday citizen living under a despotic regime. An original  Iranian voice.
"Eat A Bowl of Tea" (UW) by Louis Chu is a classic influential novel that captured the tone and sensibility of everyday life in an American Chinatown. This new edition comes with a foreword by Fae Myenne Ng and an introduction by Jeffrey Paul Chan.
Set in a New England town where accusations led to the Salem witch trials, Quan Berry's novel "We Ride Upon Sticks" (Pantheon) looks at a 1980's girls field hockey team who flaunt society's notions of femininity in order to find their true selves and lasting friendship.
"Superman Smashes The Klan" (DC) by award-winning comic book writer Gene Luen Yang with art by Gurihiru. Inspired by a 1940s superman radio serial, teenagers Roberta and Tony Lee team up to aid the caped crusader as they fight the klan in Metropolis.
"Stuck – Why Asian Americans Don't Reach The Top of The Corporate Ladder" (NYU) by Margaret M. Chin. Using extensive interviews, the author shows the ways both subtle and overt  discrimination  keeps Asian Americans  from reaching the highest levels of professional life.
"A Bond Undone" (St. Martin's Griffin) by Jin Yong is the second volume of "Legends of The Condor Heroes", one of Asia's most popular martial arts novels. Translated by Gigi Chang.
"Let The Samurai Be Your Guide – The Seven Bushido Pathways to Personal Success" (Tuttle) by local writer Lori Tsugawa Whaley is a revised edition of a popular self-help book that shows people today how they can improve their lives based on the traditional samurai code of conduct.
"Taiwan In Dynamic Transition – Nation Building And Democratization" (UW)  edited by Ryan Dunch and Ashley Esarey. This book provides an up-to-date assessment of contemporary Taiwan highlighting that country's emergent nationhood and its significance for world politics.
"The Aosawa Murders" (Bitter Lemon) by Riku Onda. When a hospital hosts a party and seventeen people die from cyanide in their drinks, only a blind girl survives. When a prime suspect commits suicide, things get murky. An origami-obsessed ex-chain smoking detective tries to untie the knots of this who-dunnit.  Winner of the Mystery Writers of Japan Award for Fiction.
"The Journey of Liu Xiabao – From Dark Horse to Nobel Laureate" (Potomac) edited by Joanne Leedom-Ackerman with Yu Zhang, Jie Li and Tienchi Martin-Liao. Liu Xiabao was more than a dissident poet and this collection of essays capture the intellectual and activist spirit of this late literary critic and democracy icon.
"The Boy Who Became a Dragon – A Bruce Lee Story" (Graphix) by Jim Di Bartolo tells the life story of this martial arts acting legend in comic book form from his childhood in Hong Kong, his martial arts quest and his leap across the silver screen.
"Harris Bin Potter And The  Stoned Philosopher" (Epigram) by Suffian Hakim. This young Singapore-based writer's parody of Harry Potter bases the story in Malaysia and seasons it with local and pop cultural references.
"Mindy Kim and the Lunar New Year Parade" (Aladdin) by Lyla Lee and illustrated by Dung Ho. Mindy is excited to go to the annual lunar new year parade but things don't go as planned. Can she still find a way to celebrate?
"Kusama – The Graphic Novel" (Laurence King) is the first graphic novel on this world famous artist and follows her incredible journey from rural Japan to international icon. Offers a fascinating new way to look at one of the most intriguing artists of our time.
"Peach Blossom Paradise" (NYRB) by Ge Fei and translated by Canaan Morse. This novel is the first volume of the award-winning "South of the Yangtze" trilogy. It is a sweeping saga of  twentieth-century China that follows a family from a tiny village through three generations of history.
"Gold Mountain Big City – Ken Cathcart's 1947 Illustrated Map of San Francisco Chinatown" (Cameron & Co.) by Jim Schein with a foreword by Gordon Chin. This is like an illustrated scrapbook of photos and illustrations done by a Caucasian photographer who lived near Chinatown that chronicles his involvement with that community.
"Our Voices, Our Histories – Asian American And Pacific Islander Women" (NYU) edited by Shirley Hune and former  UW professor, Gail M. Nomura. This innovative anthology brings together thirty-five Asian American and Pacific Islander authors in a single volume to explore  the historical experiences, perspectives, and actions of  these women in the U.S. and beyond.
"The Swamp" (Drawn & Quarterly) by Yoshiharu Tsuge is one of  Japan's most important cartoonists and in this book, he hits his stride. It's a mix of classical popular samurai manga and more modern desperate post-war drama. Edited by Mitsuhiro Asakawa and co-edited and translated by Rayn Holmberg.
"In the Face of Death We Are Equal" (Seagull) by Mu Cao and translated by Scott C. Meyers. This novel is an authentic and powerful portrait of a working class gay man who works in a crematorium. Combining elements of magical realism and the grotesque, and alternating between first, second and third person, we are treated to a story of this man and the colorful cast of characters he encounters in the course of a most unusual life.
"Sweet Time" (Drawn & Quarterly) is an intimate rumination on love, empathy and confidence by Singapore cartoonist Weng Pixin. Her stories dabbed with colorful bursts of color illustrations explore strained relationships with a kind of hopefulness while acknowledging the inevitable collapse.
"Breasts And Eggs" (Europa) by Mieko Kawakami and translated from the Japanese by Sam Bett and David Boyd explores and questions the assumptions of womanhood and family – the bonds and abuses, expectations and betrayals and choices and denials. It won the Akutagawa Prize and is her fist novel to be published in the U.S.
"This Could Have Become Ramayan Chamar's Tale: Two Anti-Novels" (Open Letter) by Subimal Misra translated from the Bengali by V. Ramaswamy. Misra is an anarchist activist, anti-establishment, experimental anti-writer and one of India's greatest living authors. This volume of two "anti-novels" is the first of his works to appear in the U.S.
"From Maybe To Forever – An Adoption Story" (Creston) by M.L. Gold and N.V. Fong and illustrated by Jess Hong. Told from the view of an eager older sister, this is an endearing story about adoption from an often-neglected point of view.
"Outside The Lines" (Catalyst) by Ameera Patel is a novel where boundaries divide and blur in this comedy/thriller that shatters the façade of suburban life in Johannesburg, South Africa.
"The Paper Kingdom" (Random House) by Helena Ku Rhee and illustrated by Pascal Campion. In this kid's picture book, the parents must bring their son along with them as nighttime office cleaners when a baby sitter cancels. The boy, expecting a boring night finds the work of cleaning an imaginative adventure.
"Grievance is Their Sword, Subterfuge Is Their Shield" (OkeyDokeySmokeyPokey Publishing) in the words of former IE staff person Thomas R. Brierly is "an intersectional persuasion to elucidate and educate on matters of race, violence, white supremacy and the United States' adherence to brutal capitalism…". Go to vvovnn.bigcartel.com to order.
"Arrow" (Alice James) by Sumita Chakraborty's debut poetry collection is a literary-philosophical exploration of the unknown and the unpredictability of life. The poems challenge gender and race-based violence, ecological devastation, grief and mourning. "Arrow" then is a love letter to a flawed world.
"Layla and the Bots" (Scholastic) by Vicky Fang and illustrated by Christine Nishiyama is a series meant to empower girls. It's about a rock star and her team of bots. The books pair science, engineering and math with kid-friendly themes.
"Each of Us Killers" (703 Books) by Jenny Bhatt is a book of stories that moves through the words, thoughts, subversions involved in the experience of interracial relationships, east-west communications, theft, justice and migration.
"Skin Deep" (Polis) by Sung J. Woo follows the story of Korean-american adoptee Siobhan O'Brien who's in a quandary. How can she carry on the PI agency her dead boss left her? When an old friend asks her to find a missing daughter, the saga of this rookie detective begins.
"In The Footsteps Of A Thousand Griefs" (Poetry Northwest Editons) is the debut poetry publication by Seattle Young Poet Laureate Wei-Wei Lee. She is the 2019/2020 Youth Poet Laureate of Seattle as sponsored by Seattle Arts & Lectures. Born in California but raised in Taiwan, she has made Seattle her home for the past few years. Her poems have a beauty of language that pays tribute to both cultures and countries.
"The Maze Of Transparencies" (Ellipsis Press) by Karen An-hwei Lee. A futuristic novel in which Alan Davies remarks, "Karen Lee writes the present and the ever-impinging future through the lenses of several jargons. The language is dense, the future, impossible, and this book a solid scream."
"Tokyo Travel Sketchbook – Kawaii Culture, Wabi Sabi Design, Female Samurais and Other Obsessions (tuttle) by Amaia Arrazola. A look at a city where  high-tech untramodern meets tradition and the contradictions between the two. The author's colorful sketches accompany the text.
Art News/Opportunities
The Seattle Office of Arts & Culture is creating an artist roster of approximately 200-300 artists that will include both artists who are emerging into the field and experienced public artists, who will be pre-qualified or future public art projects in 2021-2023 within city utility facilities, parks, street right-of-way, and other locations. Priority will be given to emerging artists and artists from historically under-represented communities, including co9mmunities of color. Artists must be at least 18 years of age to apply. Students are not eligible to apply. Deadline is 5pm, Monday, November 30, 2020 (PST)Apply on Submittable. Any ?'s, contact [email protected]. For additional help or questions, contact Maija McKnight at [email protected] or call 206-684-7311.
Mukai Farm & Garden on Vashon Island will offer online Mukai "Master" Classes that dig deeper into the food, art and culture of the Japanese and Asian American experience. On Sat., Nov. 14 at 2pm (PST), Fred and Takayo Harriman offer a class on "ASA-ZUKI, The Basics of Japanese Pickling". This $15 class will show you how to make quick Japanese pickles that will form the basis for more sophisticated pickling classes in the future. On Nov. 18 from 9:30 am to 12:00 (PST), live from London, Rob Jones will conduct a Sashiko Stitching Workshop where participants will have the chance to stitch a traditional Japanese design onto a tote bag or onto your own fabric. This class is $45 per person with a $33 kit you can order for your own project (allow 3 weeks for delivery). Attendance is limited so first come, first served. Go to www.mukaifarmandgarden.org/classes to sign up as soon as possible. Link to register (after which you will be sent an invoice to pay): https://docs.google.com/…/1FAlpQLSdA4KH6n…/viewform…
The University of Washington Press issues a call for writers working on a manuscript or new book proposal. The editors at this local press want to connect with current and prospective authors about new projects and book proposals. They invite writers to contact them by email to set up a meeting by phone or zoom. If interested, contact Executive Editor Lorri Hagman at [email protected].
Artist Trust is looking for volunteers that bring vital expertise, thought partnership, and community connections to join their Board of Trustees. Also a Mental Health & Wellness Mondays bi-weekly program happens which consists of artist stories, resource sharing and workshops that center self-care and encourage rest and resilence. The goal is to provide a platform for Washington State artists to share the tools and resources they use to better thie mental health and wellness, including how self-care might be incorporated as part of their artistic practice.  The Future Ancient public art team has put together a survey and artist roster to create economic empowerment for API creative through an Artist Roster created by and for local API Creatives and cultural workers. Take some time to fill out the survey to move this crucial work ahead. A Washington State Food Bank Map was created by Artist Trust as a resource for finding alternative food sources during the COVID-19 pandemic. The Barbara Hammer Lesbian Experimental Filmmaking Grant is an annual grant that will be awarded to self-identified lesbians for making visionary moving-image art. Also check out the monthly digest of resources and opportunities for artists. Try [email protected] to find out about all of the above possibilities.
The Ford Foundation and The Andrew W. Mellon Foundation has created Disability Futures administered by United States Artists which  is intended to spotlight the work of disabled creatives across disciplines and geography and amplify their voices individually and collectively. Disability Futures aims to shed light on the dearth of visibility of disabled creatives. Born out of a year-long effort with disabled artists across the United States, the 20 creative fellows were nominated by their peers to both honor legacies of achievement and elevate emerging artistry and ideas. Of the 20 "Disability Futures Fellows" chosen, the following Asian Americans were chosen – Alice Wong, Christine Sun Kim, Jeffrey Yasuo Mansfield, Mia Mingus, Sky Cubacub and Seattle's Leah Lakshmi Piepzna-Samarashinha. Congratulations to all!
HBO has announced the call for submissions for its annual Asian Pacific American Visionaries short film competition. Submissions will open on January 1, 2021 at 9am PST. The top three winners win cash prizes and the opportunity to have their projects premiere on HBO and available to stream on HBO Max following their theatrical screening at the 2021 Los Angeles Asian Pacific Film Festival. For this year's competition, HBO is seeking emerging storytellers whose works respond to the theme of "taking the lead." Serving as the ambassador and spokesperson for the 2021 HBO Vionaries program is Jamie Chung, star of the HBO Original Series "Lovecraft Country." For complete rules and guidelines, go to www.hbovisionaries.com. All submissions are due by April 1, 2021 at 11:59 PST.
The Southern California city of Arcadia's Santa Anita Park racetrack was the site where 19,000 Japanese and Japanese Americans were temporarily incarcerated during WWII. Most lived in converted horse stalls before being transferred to officially designated camps in California, Arizona and elsewhere. That city has just hired  its first police chief of Japanese American descent. Capt. Robert Nakamura, a 28-year veteran of the Arcadia Police Department said of his promotion. "It's progress. Obviously, I wasn't here during those times, and not everything in history has been positive, but we're here to learn from our mistakes, and I wouldn't be here if I didn't believe  in the city of Arcadia." Nakamura will become the first Asian American police chief in the city of about 58,000 where 61% of the residents identify as Asian Americans.