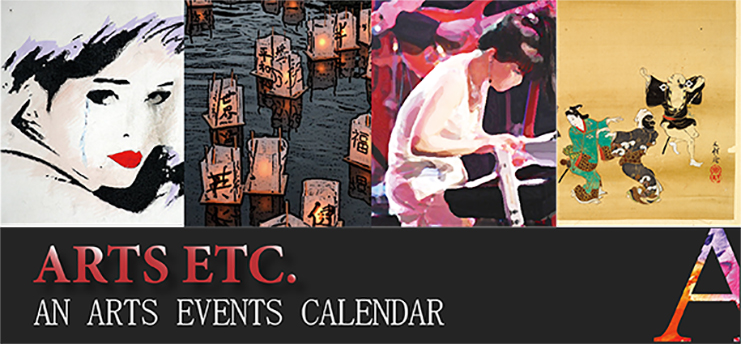 Visual Arts
Congratulations to Seattle artist Romson Bustillo who nabbed a $25,000 2021 Arts Innovator Award. The award is given out to those who create work that explores culture, lineage, history, gender, race, power and forgiveness and ask viewers to question systems of power. Bustillo was selected from a cohort of eight finalists by a statewide-inner-disciplinary panel comprised of five artists. In the literary arts category, writer Teresa Hulls also received an Arts Innovator Award. The remaining six finalists will each receive a $500 honorarium for their collective achievement. Bustillo hails from the island of Mindinao in the Philippines. His layered works and immersive collaborations are tied to his Philippine lineage, South Seattle-PNW upbringing, and research travels. Carving his own path, Bustillo integrates a printmaking foundation with a transdisciplinary practice.  
"Spooking Actions At A Distance" is the title of multi-media artist Saya Moriyasu's latest show of whimsical ceramic sculptures and works painted in oil on porcelain canvas. On view now through  June 26, 2201 at J. Rinehart Gallery. There will be an artist "meet and greet" on Saturday, June 26, 2021 from 1 – 4pm. To schedule your visit, go to jrinehartgallery.com. 319 – 3rd Ave. S.  206-467-4508 or  try jrinehartgallery.com.
Sherry Ying Ruden's mixed media work on rice paper is on view in a show entitled "Paper Alchemy" June 3 – 26, 2021. Fountainhead Gallery at 625 W. McGraw St. in Seattle. Gallery hours are Wed. – Sun., 11am – 6pm or by appointment. 206-285-4467 or go to www.fountainheadgallery.com or email [email protected].
"Rainbow On The Eastside" is the first gallery group show for Eastside LGBTQIA artists at Centro Cultural Mexicano now on view through June 26, 2021. The show includes the work of Mary Dispenza, Amber Duan, Aaron Kapilvsky, Dahra Perez Mendez, Wing Mui, Tomas Narvaja, Gou Qi and Lily Pezzee. 7945 Gilman St. (between Redmond Vacuum and McDonald's Book Exchange). Hours are weekdays 10am – 5pm. Please note that CCM may at times host community events in addition to the gallery show during listed hours. If you are planning a visit, please email [email protected] to confirm gallery hours for a specific date. Presented by Wolfberry Studio LLC in partnership with Centro Cultural Mexicano and supported by a grant from the City of Redmond and the Arts And Culture Commission.
Each year, the Henry Art Gallery presents the University of Washington's School of Art + Art History+Design Master of Fine Arts and Master of Design thesis exhibition.  In the Master of Fine Arts category is work by Xiaoyi Gao, Midori Hirose, Jia Jia, Pinchuan (Larry) Huang, Shuo Yin and others. In the Master of Design category is work by Solji Lee, Fei Shao and others.  On  view through June 27, 2021. Get your free ticket to the Henry online. 15th Ave.  NE & NE 41st  on UW Seattle campus. 206-543-2280 or try https://henryart.org.
New Archives is a new Northwest arts journal online started by Satprett Kahlon and Matt Offenbacher. Their latest issue looks at points of departure, contemplation and joy in art. For details, try [email protected].
Connie H. Choi, Associate Curator of the Permanent Collection at the Studio Museum in Harlem presents a virtual tour and conversation about the landmark exhibition "On Black Refractions" on Wed, June 23, 2021 from noon – 1pm. Register now for tickets. The exhibition is on view at Seattle's Frye Museum until August 15, 2021. For details, go to [email protected]. Regular hours are 11am – 5pm, Wed. – Sundays. 704 Terry Ave. 206-622-9250.
"Corky Lee on My Mind: A Photographic tribute" is a group show of photography now on view at Pearl River Gallery, currently New York's only Asian American art gallery. The work honors the work of iconic Chinese American photographer Cory Lee who for the last 50 years, documented the history of Asian America. Both the gallery and Lee trace their origins to 1971 and the Asian American activist community that included Basement Workshop. Curated by artist/friend Chee Wang Ng, photographer and longtime partner Karen Zhou and Pearl River President and friend Joanne Kwong. The show brings together 21 photographers to pay homage to Lee's philosophy of "photographic justice." Seattle's Dean Wong has work in this show  which also includes the work of Lincoln Anderson, Tomie Arai, Louis Chan, Edward Cheng, Alan S. Chin, Stan Honda, Bob Hsiang, Joseph Hsu, Andrew Kung, Jook Leung, Kyle Lui, Chee Wang Ng, Wai Ng, Joseph Songco, Cindy Trinh, Athony Wong, Leland Wong, Marilynn K. Yee and Hai Zhang. On view now through August 29, 2021.  Go to https://pearlriver.com/blogs/blog/corky-lee-on-my-mind-a-photographic-tribute or email [email protected] for more information.
The noted late Filipina artist Pacita Abad spent some fruitful years in Washington D.C. teaching and making art. On June 17, 2021, a jointly sponsored exhibition by PALM, the Rita Cacas Foundation, Philippines on the Potomac Project, the Philippine Embassy and the US/Philippine Society present "Inspirations and Memories of Pacita's Colorful DC Palette: PALM Remembers Their Beloved Pacita Abad (1946-2004)."  Registration is required via Eventbrite. Go to http://bit.ly/lstorya-DC-_acita/Abad to receive your Zoom link. Facilitated by Linda Yangas, Phillippine Arts, Letters, and Media Council on Thursday, June 17, 2021 at 7:30pm (EST).  If you have any questions, go to [email protected]. A show of work by Pacita Abad will also be presented April 15 – Sept. 3, 2023 at the Walker Art Center in Minneapolis.
Seattle artists Romson Bustillo  and June Sekiguchi currently have work on view in the group show entitled "Reflections – 20 Years of the Bill and Melinda Gates Foundation" which can be seen from the street level at the Gates Discovery Center on 5th Avenue between Harrison and Thomas. 
Davidson Galleries has a show of woodcuts by Tetsuo Aoki, Chul Soo Lee and Zha Sai on view through July 31, 2021. 313 Occidental Ave. S. in Seattle. 206-624-7684 or go to davidsongalleries.com.
Woodside Braseth Gallery presents their "60th Annual Summer Salon" with a rotating exhibition of major artworks by Northwest masters. On view through August 31, 2021. Includes the work of Paul Horiuchi, George Tsutakawa, Johsel Namkung, Gerard Tsutakawa, Mark Tobey and many others. Suite 105 – 1201  Western Ave. in Seattle. 206-622-7243 or go to woodsidebrasethgallerycom.
Seattle Art Museum's downtown location has the following.  Ongoing and on view is the group show "Exceptionally Ordinary: Mingei 1920 – 2020" which includes wood sculpture by George Tsutakawa  from his "Obos" series. Also on view is "Pure Amusements: Wealth, Leisure, And Culture in Late Imperial China." Another show opening March 20, 2021 and ongoing will be "Northwest Modernism: Four Japanese Americans" which takes a look at the work of Kenjiro Nomura, Kamekichi Tokita, Paul Horiuchi and George Tsutakawa. Seattle Asian Art Museum has the following. "Boundless: Stories of Asian Art" is a group show re-imagining of items from the museum's permanent collection of Asian art. "Be/longing: Contemporary Asian Art" showcases current trends in contemporary Asian art. In the Fuller Garden Court you will find Kenzan Tsutakawa Chinn's installation "Gather." Tsutakawa Chinn is a Seattle-raised, New York-based LED light installation artist.  Go to seattleartmuseum.org for details on all this. The Museum's Winter 2021 Saturday University Series is curated under the theme of "Sites of Memory in Asia: Remembrance and Redemption." Presented with the UW's Jackson School of International Studies and the Elliott Bay Book Company.   On July 21, 2021, Xiaojan Wu, Curator of Japanese and Korean Art will talk about "Some/One: Do Ho Suh's Dog-Tag Sculpture."  Speaking of curators, Seattle Art Museum has deepened its commitment to South Asian art by hiring Natalia Di Pietrantonio as its first ever Assistant Curator of South Asian art. The first show she will curate for Seattle Asian Art Museum is tentatively titled "Skin As Allegory" scheduled for late 2021. It will blend contemporary and historical objects and explore visual practices that contain representations and re-figurations of the human body from 3 BC to the present day in a variety of media. Objects will be culled from the museum collection and private collectors.  SAM participates in the Bank of America "Masterpiece Moment" program which is a new series of videos that showcase works of art in the collections of 25 museum partners across the U.S. Illsley Ball Nordstrom Director and CEO Amada Cruz talks about Hokusai's "Five Beautiful Women" in a youtube video on view on SAM's blog. Go to seattleartmuseum.org to see the complete schedule or try [email protected]. Seattle Asian Art Museum in Volunteer Park reopens on May 28, 2021. Tickets released every Thursday at 10am. Tickets must be obtained in advance. Capacity is limited.
The Wing Luke Asian Museum reopens on March 5, 2021. Hours are Fridays through Sundays from 10am – 5pm. Reserving tickets online prior to visit is highly encouraged as it is operating at limited capacity.  Current exhibits include the following – "Paths Intertwined" features works from diaspora Taiwanese and Chinese artists drawing on themes of identity, place and belonging. Featured artists include Agnes Lee, ZZ Wei, Larine Chung, May Kytonen, Jenny Ku, Shin Yu Pai, Ellison Shieh, and Monyee Chau  which remains on view through November 7, 2021.  A panel discussion moderated by Pei Pei Sung with the artists is planned for July 10, 2021.On-site tours are available twice a day in the Tateuchi Story Theare."Hear Us Rise" is an exhibit that highlights Asian Pacific American women and other marginalized genders that have challenged society's expectation.   "Where Beauty Lies" on view through Sept. 19, 2021.  On view through Nov. 16, 2021 is "Guilty Party" a group exhibition of multi-media work by various Asian Pacific American artists curated by Justin Hoover. Upcoming exhibit is "Gerard Tsutakawa: Stories Shaped in Bronze" which explores the inspiration, design, and the fabrication process of public sculptures by Gerard Tsutakawa as well as their effect on Seattle physically, socially and culturally.  There are many virtual programs now as well.   There are virtual tours of the museum on weekday mornings. Pre-booking available for private groups. Contact the museum to sign up.  Live virtual tours of the Freeman Hotel on Thursdays at 5pm PDT. Check out what's in the gift shop with the Museum's online marketplace. The monthly storytime programs can be watched at www.digitalwingluke.org/programs.
The visual arts shows in June at KOBO at Higo include pet portrait paintings by Chinami Kono and sumi ink collages by Paul Young.   KOBO at Higo is now open on Thursdays, Fridays and Saturdays from 11am – 5pm.  Masks are required and you must use the provided hand sanitizer upon entering.  30 minute shopping sessions by appointment only at the KOBO on Capitol Hill will soon be made available through an online booking system. Time slots will be limited to keep everyone safe, plus more protective protocols in place to meet safety guidelines. Shipping and curbside pickup is still available by scheduling a Pickup Time at Checkout. They have a new instagram shopping account @koboseattleshop or try their website at  koboseattle.com.  The Capitol Hill store is at 814 E. Roy St. and their hours are Tues. – Sat. from noon to 5pm.   Congratulations to KOBO which celebrates its 25th anniversary. KOBO at Higo is at 604 South Jackson St. in the CID.
 "World War Bonsai: Remembrance & Resilience" is the title of a show curated by Aarin Packard at Pacific Bonsai Museum. This show tells a history rooted in racism told through the living art of bonsai. It presents the powerful and inspiring untold history of bonsai artists working in the WWII-era and how they changed the course of bonsai art history forever.  With 32 bonsai, archival documents and photographs. The exhibition traces the cultural practice of bonsai in the U.S. and Japan immediately before, during and after WWII, amid incarceration and at peace. Artists from the Puget Sound, California, Colorado, Hawaii and Japan are featured including Ben Oki, the Domoto family, Kelly Nishitani, Kenny Hikogawa and Joe Asahara, Ted Tsukiyama, Mas Imazumi, Kyuzo Murata and Yuji Yoshimura. The exhibition also includes  a site-specific artwork by Seattle artist Erin Shigaki which includes wheat-pasted images of individuals who played a role in the incarceration of more than 120,000 Japanese Americans.  A post-event recording of the "Branch Out" event held in August will be available on Pacific Bonsai Museum's You Tube channel. On view now through  Oct. 10, 2021. 2515 South 336th St. in Federal Way, WA. Admission is by donation. Hours are Tuesday through Saturday from 10am – 4pm. 253-353-7345 or email [email protected].
Tacoma Art Museum re-opens April 10th, 2021. "Painting Deconstructed: Selections from the Northwest Collection" includes work by Ed Aulerich-Sugai, Tram Bui, Donnabelle Casis, Paul Horiuchi, Fumiko Kimura, Roy Kiyooka, John Matsudaira, Mark Takamichi Miller, Kenjiro Nomura, Frank Okada, Joseph Park, Roger Shimomura, Maki Tamura, Kamekichi Tokita, George Tsutakawa, Thuy-Van Vu and many others. On view for  an extended time.  1701 Pacific Avenue. 253-272-4258 or go to [email protected].
The Outdoor Sculpture Collection on the campus of Western Washington University in Bellingham is open and accessible to everyone. This is an outdoor collection of major sculptures from the late 20th century to the present and includes work by Do Ho Suh, Sarah Sze and Isamu Noguchi among others. Get a map from the information booth and explore the campus collection for yourself. Call 360-650-3900.
The Museum of Anthropology at UBC in Vancouver BC presents "A Future for Memory: Art and Life After the Great East Japan Earthquake" on view through September 5, 2021.  March 11, 2021 marks 20 years since Japan experienced a chain reaction that began with a magnitude 9.0 earthquake, which was followed by a tsunami and then, a level 7 accident at a nuclear power plant in Fukushima. In commemoration of this "triple disaster," Fuyubi Nakamura, MOA's Asia curator, assembled the work of eight Japanese artists, groups and institutions to "consider the effects of natural disasters and reflect on how we are all connected globally." Artists include Masao Okabe and Atsunobu Katagiri. To complement the exhibition and to give it global connections, a 20-minute documentary film entitled "Tsunami Ladies" follows the daily routines of six Chilean and Japanese women who lived through 2010 and 2011 tsunamis, respectively. Go to moa.ubc.ca for details.
The Chinese Cultural Centre Museum at 555 Columbia St. in Vancouver B.C. has an ongoing exhibit entitled "Generation to Generation – History of Chinese Canadians in British Columbia". 604-658-8880 or go to cccvan.com.
Vancouver Art Gallery presents multi-media Chinese artist Sun Xun and his work through  August 22, 2021. Also "Pictures And Promises", a group show up until Sept. 6, 2021. Based in the VAG's extensive collection of lens-based art that alludes to the forms and conventions of mass media, fashion and advertising. Includes work by Ken Lum, Yasumasa Morimura, Andy Warhol and many others.750 Hornby St. in Vancouver BC, Canada. Go to https://ww.vanartgallery.bc.ca/.
Circle Craft Gallery in Vancouver, BC presents a group show entitled "Emerging Artists of 2021: Redefining Fine Craft" on view through June 30, 2021. The work of Nikki Arasaki in included in this show. 1-1666 Johnston St. on Granville Island. 604-669-8021  or try circlecraft.net.
Outsiders and Others is a window gallery and on line gallery open 24/7. On view through June 27, 2021 is "Wild Things" from Michelle Ibaraki, Shina Itabashi and Joan Marr", three self-taught artists expressing their love of the natural world through clay, felting and color illustration. 716 East Hastings St. 604-499-5025 or go to outsidersandothers.com.
Art Gallery of Greater Victoria features "Retainers of Anarchy" by Howie Tsui. This installation reflects on the paradox of how harmony can exist in lawless times, when rampant corruption may flourish in governed states and regulated industries. Through June 2021. 1040 Moss St. 250-384-4171 or try aggv.ca. Victoria, CA.
Deluge Contemporary Art in Victoria presents "Why This Word", a group show by Wang Yahui, Valentina Jager and Ho I-Ting from July 16 – August 28, 2021. Guest-curated by Taiwanese curator Jo Ying Peng based in Mexico City. The work is informed by a transcultural knowledge, both Western and Asian, and offers a critical approach on a bilingual cultural conventions. 636 Yates St. 250-385-3327 or go to deluge.ca.
Flux Media Gallery presents "In Visible Lines", video works by Gem Chang-Kue that traces the history of her family from China to South Africa to Canada. The artist looks at the challenges of migration and displacement and finds creativity in the confluence of languages and cultures. On view through July 23, 2021.1524 Pandora Ave. in Victoria, CA. 250-381-4428 or try fluxmediagallery.org.
 "Broken Promises" is a 7 year multi-disciplinary, multi-institutional, community engaged project that explores the dispossession of Japanese Canadians in the 1940s. It illuminates the loss of home and the struggle for justice of one racially marginalized community. Opening June 27, 2021 is a group show entitled "Iron Willed: Women in STEM" which features inspirational women such as Irene Uchida, Donna Stricklan and Jocelyn Bell Burnell and their important contributions to the fields of science, technology, engineering and mathematics. This exhibit addresses the many structural and cultural barriers that contribute to gender biases and underrepresentation of women in these fields. Also on view is an ongoing exhibit on "TAIKEN: Japanese Canadians Since 1877". Nikkei National Museum & Cultural Centre at 6688 Southoaks Crescent in Burnaby. 604-777-7000 or go to nikkeiplace.org.
Artist Brendan Lee Satish Tang reflects on his childhood home of Nanaimo in a show entitled "Reluctant Offerings" on view through July11, 2021. Nanaimo Art Gallery. 150 Commercial St. in Nanaimo. 250-754-1750 or try  nanaimoartgallery.ca.
"A Modern Landscape: Takao Tanabe" is a survey of the career of this legendary Canadian artist  whose various phases are represented in abstract paintings, landscapes and media such as paintings and prints. On view through  July 17, 2021. West Vancouver Art Museum in West Vancouver, CA. 680 – 17th St. 1-604-925-7295 or try httpas://westvancouverartmuseum.ca.
The Surrey Art Gallery revisits Japanese Canadian history with a pair of shows on view from June 26 – August 28, 2021. In "Autumn Strawberry", Cindy Mochizuki uses video animations and wooden sculptures to recreate local Japanese Canadian stories prior to WWII. In "Hasting Park", Henry Tsang uses video projection and infrared photographs to reveal hidden histories of buildings used in Japanese Canadian internment. 13750 88th Ave. in Surrey, CA. 604-501-5566 or try surrey.ca/artgallery.
The Jordan Schnitzer Museum on the University of Oregon campus in Eugene has the following –  "Rhapsody in Blue and Red: Ukiyo-e Prints of the Utagawa School." On view through  July 17, 2021.  "Myriad Treasures: Celebrating the Reinstallation of the Soreng Gallery of Chinese Art" through July 11, 2021. "Korean Ceramic Culture – Legacy of Earth and Fire" through May 8, 2021. Upcoming shows include the following – "Fit to Print: The Dawn of JUournalism in Japanese Woodblock Prints from the Lavenberg and Michels Collections opens on July 31, 2021. "Northwest Ambience: Frank Okada from the Permanent Collection" June 26 – August 18, 2021. A selection of paintings from  the former beloved University of Oregon art professor taken from JSMA's collection. Includes two portraits of the artist by Mary Randlett.  1430 Johnson Lane in Eugene, Oregon. 541-346-3027.
Portland Japanese Garden has the following activities. "Fish-Man: Tatsuki Masaru" showcases the work of this Tokyo-based photographer and his exploration of the people in Tohoku and their interaction with the landscape of the sea on view through July 18, 2021. Also on view is "Painting Paradise: Art of Daisuke Nakano" on view through July 18, 2021.   611 SW Kingston Ave.  503-223-1321  or japanesegarden.org.
Portland Art Museum has the following – "Objects of Contact: Encounters between Japan And The West" and "Joryu Hanga Kyokai, 1956-1965 – Japan's Women Printmakers" both on view through June 13, 2021. 1219 SW Park Ave. 503-226-2811.
Japanese American Museum of Oregon is temporarily closed in preparation for the museum's move to a new location but several online exhibits on the history of Japanese Americans in Oregon can be viewed. 503-224-1458 or email [email protected].
Portland Chinatown Museum is currently closed. Their permanent exhibit is "Beyond the Gate: A Tale of Portland's Historic Chinatowns." Opening in May, 2021 is Seattle photojournalist Dean Wong's photo essay on "The Future of Chinatowns." 127 N.W. Third Ave. 503-224-0008 or email [email protected].
Seattle artist Ko Kirk Yamahira has new work showing at Russo Lee Gallery from August 5 – 28, 2021. 805 NW 21st Ave. in Portland, Oregon.  503-226-2754 or try  russoleegallery.com.
"Shadows From the Past – Sansei Artists And The American Concentration Camps" is a virtual group exhibition presented by Celadon Arts and San Joaquin Delta College and curated by Gail Enns. Artists in the exhibition include Lydia Nakashima Degarrod, Reiko Fujii, Lucien Kubo, Wendy Maruyama, Tom Nakashima, No Omi Judy Shintani, Masako Takasashi and Jerry Takigawa. The next venue for this touring exhibit will be at the Monterey Museum of Art from September 9, 2021 through January 9, 2022. 559 Pacific St.  831-372-5477  or montereyart.org.
The Asian Art Museum, San Francisco has the following currently on view.  "Lost At Sea: Recovered from Shipwrecks". "Zheng Chongbin: I Look For The Sky." "After Hope: Vidoes of Resistance." Site-specific installations – "Momento: Jayashree Chakravarty and Lam Tung Pang." Outside murals by Channel Miller and Jennifer K.Wofford are visible from Hyde St. 200 Larkin St. San Francisco, CA. 415-581-3500.
San Francisco Museum of Modern Art (SFMOMA) is the West Coast venue for a traveling retrospective on the work of pioneer video artist Nam June Paik. Opening May 8, 2021. 151 – 3rd St. San Francisco, CA. 415-357-4000.
The De Young Museum in Golden Gate Park in San Francisco has the following set to open this summer. Noted Bay Area artist Hung Liu has a show entitled "Golden Gate" opening July 17, 2021 and it remains on view through Jan. 2, 2022. 50 Hagiwara Tea Garden Drive in San Francisco, CA. 415-750-3600.
The Berkeley Art Museum/PFA has the following. "Beyond Boundaries: Buddhist Art of Gandhara" on view through Oct. 3, 2021. "Kay Sekimachi: Geometries" on view through Oct. 24, 2021. 155 Center St. Berkeley, CA 510-642-0808 or go to [email protected].
The San Jose Museum of Art has the following. "Karma" is a 23 foot high sculpture by Do Ho  Suh on view through Jan. 30, 2022. Coming later this summer is a massive installation entitled "Factory of the Sun" by European artist Hito Steyerl which opens August 6, 2021. 110 South Market St. in San Jose, CA. 408-271-6840.
The Japanese American National Museum (JANM) has the following – Ongoing is "Common Ground – The Heart of Community" which features a WWII Japanese internment camp building.  "Taiji Terasaki – Transcendients – Heroes at Borders – 100 Days of Covid – Memorial to Healthcare Workers" on view through May 16, 2021. "Under a Mushroom Cloud – Hiroshima, Nagasaki and the Atomic Bomb" on view through July 1, 2021. Forthcoming is "A Life in Pieces – The Diary And Letters of Stanley Hayami" July 9, 2021 – Jan. 9, 2022. This L.A. native's journal writing and wartime letters from Heart Mountain concentration camp and the war in Europe brought to life with a 3d virtual experience accessed via smart phone. His artwork, journal entries and letters will also be on display. Hayami died in combat at the age of 19 in Italy. His brief legacy lives on in this exhibit created by Nonny de la Pena of Emblematic and Sharon Yamato in collaboration with JANM. 101 N. Central Ave. in Los Angeles, CA. 213-625-0414.
The Los Angeles County Museum of Art (LACMA) has the following – "Yoshitomo Nara" on view through July 5, 2021.   Forthcoming will be "Sam Francis And Japan: Emptiness Overflowing". 5905 Wilshire Blvd. 323-857-6010.
The USC Pacific Asia Museum in Pasadena, CA has the following –  "We Are Here: Contemporary Art And Asian Voices in Los Angeles" now on view. This group exhibition features the work of seven contemporary female artists of diverse Asian Pacific heritages working in diverse media that live and work in the Los Angeles area. Features the work of Reanne Estrada, Phung Huynh, Ann Le, Ahree Lee, Kaoru Mansour, Mei Xianqui and Sichong Xie. Summer 2021 shows include the following – "Divine Immersion: The Experiential Art of Nick Dong" and "Crossroads" Exploring the Silk Road." In the fall of 2021, a group show entitled "Intervention: Perspectives For a New PAM" will be shown.  2680 N. Los Robles Ave.  in Pasadena, CA.  626-787-2680  or [email protected].
The Museum of Photographic Art in San Diego exhibits a group show from its Japanese sister institution entitled "Beginnings, Forever: From the Collection of the Kiyosato Museum of Photographic Arts/Shinnyo-en" now through Sept. 19. 2021. These works of historic and then emerging artists all were made before they were the age of 35. Includes the work of Edward Weston, Robert Frank, Shomei Tomatsu, Irving Penn, Kikuji Kawada, Lewis Hine, Andre Kertesz, Eikoh Hosoe, William Klein, Hisae Imai, Ken Kitano, Robert Capa and others.  1649 El Prado  in San Diego. 619-238-7559 or try [email protected].
"Origami in-the-Garden – A Monumental Outdoor Sculpture Exhibition" is on view through October 10, 2021 at Missouri Botanical Garden. Created by Santa Fe artists Jennifer and Kevin Box, these sculptures tell the story of origami, the Japanese art of paper folding. These large-scale metal sculptures were created in collaboration with world-renowned origami artists such as Te Jui Fu, Beth Johnson and others. 4344 Shaw Boulevard. St. Louis, MO. 314-577-5100 or go to events.missouribotanicalgarden.org.
The National Portrait Gallery at the Smithsonian in Washington, D.C. will present the first major large-scale retrospective of work by Hung Liu, the internationally acclaimed Chinese-born American artist. "Hung Liu: Portraits of Promised Lands, 1968-2020" will feature more than 50 artworks spanning Liu's time in Maoist China in the 1960s, her immigration to California in the 1980s, and the height of her career today. This is the first time the museum will celebrate an Asian American woman with a solo exhibition. The exhibition's opening coincides with Asian Pacific American Heritage Month 2021. The dates of this exhibition are May 21, 2021 – January 9, 2022. 
The National Museum of Asian Art/Sackler Gallery on the Smithsonian Mall in Washington D.C .has the following –  "Encountering the Buddha: Art & Practice Across Asia" on view through Jan. 17. 2022. "Resound: Ancient Bells of China" on view through July 5, 2021. Upcoming is an anticipated show of brush paintings by early 20th century Japanese artist Tomioka Tessai. 1050 Independence Ave. SW.  Washington, D.C.
The Museum of Fine Arts, Boston has the following –  "Weng Family Collection of Chinese Painting: Travel & Home" on view through March 6, 2022. "Conservation in Action: Japanese Buddhist Sculpture in a New Light" on view through July 3, 2022. 465 Huntington Ave. Boston, MA. 617-267-9300 or go to mfa.org.
The Peabody Essex Museum in Salem, MA has the following – "Zarah Hussain: Breath" on view through Jan. 2, 2022. 161 Essex St. in Salem, MA 816-745-4876 or go to pem.org.
The Minneapolis Institute of Art has the following – "20 Dances: Japanese Calligraphy Then And Now" through Jan. 2, 2022.  "Shimmering Surfaces: Chinese Lacquer Motifs And Techniques" on view through April 10, 2022. "Captive Beauties: Depictions of Women in Late Imperial China" through Nov. 28, 2021. "Intimate Space: A Noblewoman's Bedroom in Late Imperial China" on view through Nov. 7, 2021. "With New Light: MIA's Reinstalled Himalayan, South and Southeast Asian Art Galleries" on view through Oct. 7, 2021. 2400 Third Ave. S. Minneapolis, MN 888-642-2787.
The Walker Art Center has the following – A show on Candace Lin from August 5 – Dec. 26, 2021. A show  on Shen Xin from Nov. 18 – May 1, 2022. A show on artist  Pacita Abid from April 15 – Sept. 3, 2023. "Paul Chan: Breathers" on view from Nov. 19, 2022 – April 16, 2023. 725 Vineland Place, Minneapolis, MN. 612-375-7600 or try [email protected].
The Art Institute of Chicago has the following –  "Cosmosscapes: Ink Paintings by Tai Xiangzhou" on view through Sept. 20, 2021. "Modernity and Nostalgia: The Prints of Ito Shunsui" on view through June 13, 2021. 111 South Michigan Ave./159 E. Monroe. Chicago, ILL. 312-443-3600.
The Metropolitan Museum of Art in New York City has the following – "Japan: A History of Style" through April 24, 2022. "Chinese Painting and Calligraphy Up Close" through June 27, 2021. "Celebrating the Year of the Ox" through Jan. 17, 2022. "Masters and Masterpieces: Chinese Art from the Irving Collection" through June 5, 2022. "Bodhisattvas of Wisdom, Compassion, and Power" through Oct. 16, 2022. 1000 Fifth Ave.  212-535-7710. Go to https://www.metmuseum.org.
Asia Society Museum has the following – "Rebel Jester, Mystic, Poet: Contemporary Persians" on view Sept. 10, 2021 through Jan. 16, 2022. "Buddha and Shiva, Lotus and Dragon – Asian Art in the U.S."  on view through May 30, 2021. "Asia Society Triennial: We Do Not Dream Alone" on view through June 27, 2021. 725 Park Ave. in New York City.212-327-9721 or try www.asiasociety.org.
 "Awaken: A Tibetan Buddhist Journey Toward Enlightenment" is a new exhibition that runs from March 12, 2021 – January 3, 2022 at the Rubin Museum of Art curated by Elena Pakhoutova. The show was organized by the Virginia Museum of Fine Arts.  The exhibit guides visitors on a journey toward enlightenment, showcasing the power of Tibetan Buddhist art to focus and refine awareness. Accompanying the exhibition is an audio guide and a catalog.   A new podcast premieres on June 8, 2021 entitled "Awaken" hosted by musician/composer Laurie Anderson. It features stories of transformation by Aparna Nancheria, Alok Vaid-Menon, Tara Branch and more. The podcast continues on June 13,25 and 29, July 6, 13, 20, 27 and August 2, 2021. Get the podcast on RubinMuseum.org/awakenPOD and other major podcast platforms. 150 West 17th St. in New York City. 212-620-5000 or go to rubinmuseum.org.
The Museum of Chinese in America has the following –  "With a Single Step – Stories in the Making of America" on view through Dec. 31, 2023.  "An Unlikely Photojournalist – Emile Bocian in Chinatown" on view through Dec. 31, 2021. 215 Centre St. in New York City. 855-955-MOCA  or try mocanyc.org.
The Noguchi Museum has the following –  "Noguchi's Useless Architecture" is a show inspired by his visits to Indian astronomical devices.  On view  through May 8, 2022. "Christian Boltanski's Animites" on view Sept. 5, 2021. "Isamu Noguchi: Ways of Discovery" Through August 29, 2021. "Noguchi's Memorials to the Atomic Dead" opens on June 2, 2021.   9-01,33rd Rd.  Long Island, New York. 718-204-7088.
The Japan Society has the following –  "When Practice Becomes Carpentry – Tools From Japan" on view through July 11, 2021. 333 East 47th St. New York, New York. 212-263-1258
The New York Botanical Garden in the Bronx has the following –  "KUSAMA: Cosmic Nature" on view through Oct. 31, 2021. Yayoi Kusama reveals her lifelong fascination with nature with these pieces. On view are floral sculptures that transform the space's landmark landscape. Her monumental sculptures "Dancing Pumpkin" and "I Want To Fly To The Universe" are here as well. And coming this summer will be her "infinity Mirrored Room – Illusion Inside the Heart" which will reflect the outdoor light. Timed tickets will be sold in installments. 2900 Southern Blvd. Bronx, New York. 718-817-8700 or  try nybg.org.
The New Orleans Museum of Art has the following – "The Pursuit of Salvation: Jain Art from India" through May 15, 2022. The Jain faith of India is older than Buddhism yet is little known outside of India. This exhibit presents sculpture, ink and watercolor drawings and manuscripts that open a window to this fascinating religion. "Orientalism: Taking and Making" is on view through January 2, 2022. "Buddha and Shiva, Lotus and Dragon: Masterworks From The Mr. and Mrs. John D. Rockefeller 3rd Collection at Asia Society" on view through May 31, 2021. One Collins C. Diboll Circle, City Park in New Orleans, Louisiana. 504-658-4100.
Asia Society Texas Center presents "Shahidul Alam: Truth to Power", the first comprehensive U.S. museum survey of this renowned Bangladeshi photographer, writer, activist, and institution builder and a Time Magazine Person of the Year in 2018. Through 60+ images and ephemera, the exhibition will show the breath of Alam's practice and impact throughout his four-decade career. This pioneering exhibition aims to provide visitors with a nuanced view of Bangladesh and South Asia, to explore systems of personal and collective agency, and to underscore the importance of self-representation, empowerment, and truth as embodied in Alam's life and work. On view through Sunday, July 11, 2021 and admission is free. 1370 Southmore Blvd. in Houston, Texas. Hours are Thursday – Friday from 11am -4pm and weekends from 10am – 4pm. For more information, go to https://asiasociety.org/texas/exhibitions/shahidul-alam-truth-power.
The Museum of Contemporary Art in Tokyo presents "Rhizomatlks – Multiplex" a group show on this high tech art collective that looks at the relationship between human beings and technology. On view through  June 20, 2021. 4-1-1 Miyoshi, Koto-Ku,Tokyo, Japan. +81-5—5541-8600  (Hello Dial).
The Tokyo National Museum has the following . "The 1400th Memorial for Prince Shotoku-Horyuji-Prince Shotoku and Treasures of Early Buddhist Faith in Japan" July 15 – Sept. 5, 2021. On view through Sept. 12, 2021 is "Sacred Treasures From Ancient Nara- The Eleven-headed Kannon of Shorinji Temple".13-9 Ueno Park, Taito-ku, Tokyo.  +81-(50)-5541-8600.
The National Art Center, Tokyo has a comprehensive group show on "Fashion in Japan" which opens June 9 and remains on view through Sept. 5, 2021.7-22-2 Roppongi Minato-Ku Tokyo 106-8558.
The Museum of Modern Art, Hayama has two shows on sculpture. One on the work of a Japanese sculptor entitled "Wakabayashi: Donations from Takanori Kawai" and the other a group survey of world sculpture entitled "Forms in Space – From Alberto Giacometti to Tadaaki Kuwayama". Both on view through  Sept. 5, 2021.  2208-1 Isshiki Hayama Town,  Miura District, Kanagawa, Japan. Go to http://www.moma.pref.kanagawa.jp/en/. 046-875-2800.
"Vivo Video: The Art and Life of Shigeko Kubota". Kubota made work that some called video sculpture. I once saw her refreshing ode to Duchamp   at Hara Art Museum which consisted of bicycle wheels with video monitors attached.  This retrospective consists of drawings and documents found in her own archives along with works culled from Japanese collections. On view through June 6, 2021  at Niigata Prefectural Museum of Modern Art. 3 chome-278-14 Senshu, Nagaoka,  Niigata, Japan. +81 258-28-411/.
The National Museum of Modern Art, Kyoto has the following –  A show on a noted Japanese architect, "Kuma Kengo: Five Purr-fect Points for a New Public Space" on view from June 18 – Sept. 26, 2021.  +81(0) 3-5777-8600 or try www.momak.go.jp/english/.
Program highlights from the May 2021 Convention/Exhibition at Hong Kong Asia Society Center are now online. It includes international art conversations and contributions from Hong Kong artists, curators and pioneering gallery owners from independent art spaces around the city. Go to: https://www.facebook.com/watch/1519350461632033/283310803500503.
Puget Sound sculptor June Sekiguchi who is represented locally by ArtXchange Gallery is doing two public art projects at Clinton National Airport in Little Rock, Arkansas. Locally she has projects at Glacier Middle School in Buckley, WA and in the Interfaith Mediation and Prayer Room at SeaTac Airport.
Arturo Luz, a key  figure in Filipino neo-realism, died in May, 2021 at the age of 94. He was a pivotal force in culture for the Philippines and across Asia. He was best known as an artist who used spare lines and dramatic compositions in his work  which embraced painting, collage, printmaking, sculpture and photography. He was designated a National Artist by the government in 1997, the country's most prestigious cultural award. From the 1960s onwards he worked as an art administrator and curator favoring a modernist visual language in sharp contrast to those who preferred classic European paintings and sculpture. His work iscurrently on view in a group show , "The Homecoming Exhibition of the Philippine Center New York Core Collection of 1974" at the National Museum of Fine Arts in Manila until February, 2022.
Performing Arts
"Pandamnit!" is a variety show of performers that feature "comedic stories of lockdown life." This is a benefit for Abbey Arts. On Thursday,  June 24, 2021 at 8pm (PDT). Doors open at 7:30pm. Local storyteller/writer Soyon Im is among the many performers set to hit the stage for this live and socially distanced event.  At Ballard Homestead at 6541 Jones Ave. NW. Go to https://www.fremontabbey.org.
Seattle's Degenerate Art Ensemble shake off the rust and begin live performances around the world. They performed on June 12, 2021 at the Performance Mix Festival in New York. You can also catch them online as they perform "The Invitation" at the UNFIX Festival in Scotland. Streaming online now through June 27. 2021. In August, the group journeys to Mexico City to present "Skeleton Flower" at the International Festival of Contemporary Dance. Many more performances are in the works so stay tuned. And if you're feeling particularly generous and wish to support their work, donations are always welcome.  For details, try [email protected].
Henry Art Gallery and Jack Straw Cultural Center present "Sonolocations – A Sound Works Series" in conjunction with Murmurations. Participants are composers Byron Au Yong (available starting June 4, 2021), Chenoa Egawa (available starting July 2, 2021) and Bill & Naima Lowe (available starting August 8, 2021).  All works available at henryart.org and jackstraw.org as well as soundcloud and other pod cast platforms.
 "The Mandala of Sherlock Holmes" by Jamyang Norbu, one of Tibet's most prolific activists and authors is an homage to the famous British detective. It has been adapted by Bilal Dardai and marks Book-It Repertory Theatre Director Gus Menary's debut (audio style). Missing years of the great detective's life take him through the vistas of India and Tibet. To be presented in 5 separate episodes released each week for five weeks. All episodes available until  June 30, 2021. Access to the play begins May 15, 2021 once you purchase a $25 ticket. Info@book-it-org.
Comfort Food, the Earshot Jazz award-winners from last year blend Afro-funk with "Bitches Brew" era Miles to offer a percolating soundtrack for dancers and listeners alike. They stage a come out of Covid celebration. It is set for July 16  in person at Factory Luxe from 8pm – 12pm. $18 advance and $20 at the door. 3100 Airport Way South. 206-940-1052 or  try https://www.thefactoryluxe.com/.
Interested in learning how to prepare Asian snacks from some of the area's best chefs? "The Art of the Appetizer" is a Fare Start Cooking Program now online. This segment features Rachel Yang of Joule and Revel and Melissa Miranda of Musang Restaurant. Demonstration of recipes on chilled tofu with kim chi, kim chi pancakes and sardine toasts. Go to https://www.youtube.com/watch?v=8P67yK5SFUo.
Pacific Northwest Ballet & PNB School present "Next Step", PNB's annual choreographic showcase of premieres, created by PNB Company dancers for Professional Division students online June 4 – 18, 2021. In the line-up of new works is "On Being" with choreography and Direction by Leah Terada. "Next Step" works is available for viewing from 7pm (PST) June 4 – June 18, 2021 on the PNB YouTube page at YouTube.com/PacificNorthwestBallet and at Facebook.com/PNBallet. Other highlights include a world premiere by choreographer Edwaard Liang entitled "The Veil Between Worlds" on June 10 – 14, 2021. In their 2021-2022 season of live performances in McCaw Hall will be a world premiere by choreographer Robin Mineko Williams in a program entitled "Plot Points" set for March 18 – 27, 2022.For complete details, go to PNB.org/DigitalSubscription or call 206-441-2424 or try www.PNB.org..
The UW Meany Center For The Performing Arts has announced a welcome return to live performance starting October 13, 2021 when their 2021-2022 season begins. Season tickets are now on sale and single tickets will go on sale September 7, 2021. Some performers include the following – In the "Chamber Music Series", Wu Han, Philip Setzer and David Finckel perform on Wed., Feb. 16, 2022 at 7:30pm. In the "Piano Series", Conrad Tao performs on Wed., Oct. 13, 2021 at 7:30pm. He will include in his program, "TAO", a newly commissioned original piece. George Li, a promising young concert pianist performs on Feb. 18, 2022 at 7:30pm. Included in this program is Qigang Chen's Peking Opera inspired "Moments". Concert pianist Joyce Yang takes the stage on May 3, 2022 at 7:30pm. Online ordering of tickets at MeanyCenter.org or call 206-543-4880.
Freehold Theatre Lab/Studio now located in the CID continues their classes in various aspects of the theatre both virtual and in-person.   For a list of current classes, go to freeholdtheatre.org for details or call 206-595-1927. 
Go to Nonsequiter's website to listen to free links by local musicians performing original music at waywardmusic.org.  Sovan is an ambient music duo featuring songwriter Tomo Nakayama and film composer Jeramy Koepping. Classically trained pianist and designer Tiffany Lin plays a piano program of originals in this series. Local sound artist Susie Kozawa has a piece she did invoking the space at the Chapel. Percussionist/composer Paul Kikuchi explores new music. Choreographer/dancer/singer Haruko Crow Nishimura performs a new vocal piece. Other performers include Leanna Keith, Nordra, Ahmed Yousefbeigi, Mother Tongue with Angelina Baldoz, trumpeter Cuong Vu and drummer Ted Poor, the wife/husband classical duo of Melia Watras and Michael Jinsoo Lim, Joshua Limanjaya Lim, Rahikka & James Lee, Kaoru Suzuki and Chris Icasiano with more to follow.
On Saturday, June 19 at 3pm (PDT), the Internaitonal Hotel Manilatown Center presents their first live in-person event of the year.  It is "Kommunity Kultura", a traditional Philippine music, movement and cultural education program taking place once a month on Saturday afternoons. This workshop will  be led by Frank Holder who will introduce us to the basics of the T'Boli Smaagi music ensemble. Register in advance through EvetnBrite for this free program. 868 Kearny St. in San Francisco's Manilatown. The International Hotel Manilatown Center continues their YouTube presentations. On Friday, June 25 at 6pm (PDT), enjoy Manilatown Music's Carlos Zialcitas premiere of his "Ullalim-Sugilanon, an original Filipino-American Jazz Suite. This is a collaboration between the International Hotel Manilatown Center's house jazz ensemble The Autonomous Region and its house traditional Philippine ensemble Kultura Kapwa. You must register on EventBrite to hear this. For more information on these events , email [email protected].
City Opera has announced that the world premiere of "Chinatown", a new chamber opera by Alice Ping Yee Ho with a libretto by Madeleine Thien will be postponed until the 2022 season due to the ongoing health restrictions from Covid-19. The production has been in development for the past four years.
Toronto-based Tapestry Opera's 2020/21 season hopes to "push the boundary of the genre". The season includes the following – June 17 – 20, 2021 brings "Dragon's Tale" with music by Ka Nin Chan and libretto by Mark Brownell. This new Canadian opera by the same team that did "Iron Road" explores the relationship between a young Chinese Canadian woman and her immigrant father.  Go to tapestryopera.com to learn more. 
Opera Director Matthew Ozawa who helmed San Francisco Opera's return to live opera with an outdoor production of "The Barber of Seville" sits down for an interview and talks about the battles he's faced as an Asian American man coming up in the opera industry. Try https://www.youtube.com/watch?v=odepTdXAce4.
The Cloud Gate Dance Theatre of Taiwan is an internationally acclaimed contemporary dance company. Their performance of "DUST" by Lin Hwai-Min portrays victims of war and persecution set to Shostakovich's String Quartet No. 8. You can watch it by logging on to https://www.youtube.com/watch?v=gSe6lx62nJg8+=3s.
Town Hall also has digital programming of upcoming events on their live stream page. They have a media library of hundreds of video and audio free to enjoy. New additions include Pardis Mahdayi's "A Social and Personal History of the Hyphen" and Audrea Lim's "Stories And Lessons from America's Unsung Environmental Movement." The discussion of the memoir "An Immigrant Daughter's Story" by Senator Mazie K. Hirono with Viet Thanh Nguyen has been added.   Laila Lalami who talks about "What It Means Be An American" and her book, "Conditional Citizens" with fellow author Viet Thanh Nguyen is also available. Go to townhallseattle.org for details.
Yoshi Wada, a Japanese-born composer and performing artist who performed on homemade instruments in unusual environments died in May, 2021 in Manhattan. He was a member of the Fluxus performance art movement of the 1960s. He is known for two important albums of the 1980's, "Lament for the Rise and Fall of the Elephantine Crocodile" which was recorded in an empty swimming pool and "Off the Wall" made in West Berlin with a sound combining bagpipes, a handcrafted organ and percussion. He said, "What I'd like to get is a feeling of the endless space. I want to create this feeling of infinity by sound." His son Tashi Wada is also a musician/performer and often collaborated with his father in performance.
Film & Media
On Thursday, June 17, 2021 at 6pm, tune into KUOW FM Radio for a program entitled Asian America: A YouTube Conversation" as created and hosted by Kristin Leong. Go to kuow.org for details.
Bay Area Asian American musicians and performers Brenda Wong Aoki and Mark Izu of First Voice recently convened online generations of Japanese Americans in an effort to share stories and communicate ideas and called it "Story Circle of the Japanese Diaspora". Now it is all available online. Part one is entitled "Why My Father Stopped talking To Me", Part two is "Japanese Joy" and the third part is "Hear The Now Facing Future". Try goggling "Story Circle of the Japanese Diaspora" or email [email protected] for more information.
Director Jon M. Chu's ("Crazy Rich Asians") second feature film is a musical by Lin-Manuel Miranda and Quiara Alegria Hudes ("Hamilton") entitled "In The Heights". It is an ode to Washington Heights, a Latin American neighborhood of New York where the creators grew up. The musical was originally a Tony Award-winning Broadway show. This Warner Bros. feature film is screening in various theatres.
"Joji" by Duleesh Potham takes a page out of Shakespeare's "McBeth" or "King Lear" as it zeros in on a wealthy family in Southern India. As the patriarch falls ill, three brothers jostle for the crown. Streaming on Amazon Prime. 
Documentary filmmaker Bing Liu ("Minding the Gap") returns with "All These Sons", a film he did with Joshua Altman about two Chicago community programs seeking to curb the city's gun violence by nurturing the most vulnerable men. It recently screened at the Tribeca Festival in New York.
Jimmy Wong is the voice of a teenage boy and John Cho, the voice of a magic dragon in Chris Appelhan's animated Disney feature "Wish Dragon" now streaming on Netflix. Alatasha Liu Bordizzo and Constance Wu also voice characters in the cast.
"Family Style" is the award-winning unscripted Asian cuisine and travel series from Stage 13. It's a six-time EMMY award nominated series from Warner Bros. TV Group and YOMYOMF. It is now available to watch on HBO MAX. Twenty episodes of the first two seasons are currently streaming on the platform.
Still streaming on Northwest Film Forum's virtual screen is local writer/director Bao Tran's martial arts comedy "The Paper Tigers" extended through June 20, 2021. It is presented with the short film, "Ox Year." Tickets are pay- what –you-can, priced on a sliding scale starting at $7. Suggested ticket price: $10. 
Masaki Kobayashi's "The Human Condition" is based  on a six-volume novel by Jumpei Gomikawa. As a film, it ran 9 ½ hours and was originally released between 1959 and 1961. I recall seeing this in a movie theatre in Japan in the evening and at film's end, I exited to see the sun raise. Kobayashi co-wrote the screenplay with Zenzo Matsuyama. It is a blistering indictment of Japanese militarism and imperialism during the 1940s and features an incandescent performance by Tatsuya Nakadai as a pacifist forced into warfare as a Japanese soldier in China. The Criterion Collection has just brought it all to DVD and upgraded it to Blu-ray in high-definition digital restoration.
Before American director Cathy Yan hit it big in the States with "Birds of Prey", she made her film debut with a movie filmed in China entitled "Dead Pigs". Not often screened in the US until now, the film concerns the citizens of a town outside of Shanghai that are puzzled by the sudden appearance of hundreds of dead pigs floating in the river. Screens virtually through June 24, 2021. Grand  Illusion Cinema. 206-523-3935 or email [email protected]. 
"Swimming Out 'Till the Sea Turns Blue" is Jia Zhangke's latest film, a documentary consisting of interviews with Shanxi-area writers Jia Pingwa, Yu Hua and Liang Hong. Together with the collaborations of colleagues, neighbors and family members, it's a group bearing witness to major shifts in China's history whether it's the Great Leap Forward or the Cultural Revolution. Screening now in theatres.
A Film Movement Plus Premiere of Hirokazu Kore-eda's "The Third Murder" started on June 4, 2021. This is a gripping morally complex crime procedural from the Palme d'Or-winning director. Go to www.filmmovementplus.com for details.
 "The Real Thing" is Koji Fukuda's latest film premiering on June 4, 2021 via Virtual Cinema, VOD and Digital Platforms. Fukuda brings an idiosyncratic drama on human nature, fatalism and true love adapted from a popular manga.  Naomi Kawase's "True Mothers' looks at a young adoptive family whose life is shaken by the surprising arrival of the birth mother who demands the return of her child.   This film is available on June 8, 2021 as a DVD/Digital.  Includes bonus short film and a discussion with the director and Juliette Binoche. "True Mothers" was the official entry by Japan for the 2021 Oscars. Distributed by Film Movement and Foundry Communications. For details, email [email protected]. 
MUBI presents the following –In  "S—He" by Zhou Sengwei, a single mother fights to raise and feed her daughter in a man's world. But this animated feature makes the mother a shiny red pump shoe with a crown of green vines and the men are shiny black loafers with wide mouths and ponty teeth."Three Adventures of Brooke" is the debut 2018 film by Chinese writer/director Yuan Qing. It stars Xu Fangyi and Pascal Greggory. It's the story of a Chinese woman who travels alone to a town in Northern Malaysia. The story splits into three different versions of what happens when her car gets a flat tire and she uses three different identities to introduce herself to those she encounters.. Tomu Uchida was a Japanese director much admired by his contemporaries like Kurosawa and Ozu but is little known in the West. His 1955 masterpiece, "A Bloody Spear at Mount Fuji" is set in the Edo period and is a tragicomic road movie in which a samurai and his escorts embark on a journey and encounter a set of characters met along the way. Stars Daisuke Kato. "Songs My Brothers Taught Me" is the rarely seen debut from Academy Award-winning director Chloe Zhao. This stunning depiction of rural life in America helped establish the themes of grief and marginalization that punctuate her style. Climber-director Jimmy Chin's 2015 film "Meru" documents his team's drive to complete the first-ever ascent of Mt. Meru's shark fin peak. An invigorating study of passion and  experience. Shohei Imamura's 1967 film, "A Man Vanishes" starts out as a standard documentary before developing into something more complex. It becomes a self-reflective meta-mystery that follows an existential and elusive, jagged line of inquiry. "The Fate of Lee Khan" made in 1973 was the third installment in the filmmaker King Hu's unofficial "Inn Trilogy." It features an all-star female cast in this martial arts adventure in which a female troop of Chinese resistance fighters corner a Mongolian emperor's official at an inn. This film was a follow-up to "A Touch of Zen." "Labyrinth of Cinema", a final opus by Nobuhiko Obayashi ("Haus") released in 2019 is now on MUBI. A three-hour time-traveling, genre-hopping anti-war masterpiece, the film the director's love letter to the art of cinema and its capacity to change the world. Malene Choi's 2018 film, "The Return" is the story of two Danish-Korean adoptees visiting their motherland for the first time and confronting their own identity struggles. Go to [email protected] to find out about this film streaming service where you can rent by the month or by the year.
Most local theaters are doing virtual screening via the internet where you can rent new films and see them at home. Go to the websites for Northwest Film Forum, Grand Illusion Cinema, Siff Uptown and others. AMC Theaters and The Varsity in the University District have returned to screening films in their theatres.
Vincent Chin was killed by two White men in 1982. The resurgence of an anti-Asian attitude in this country has also renewed interest in this historic landmark event. Gemma Chan ("Crazy Rich Asians") is partnering with other AAPI creatives to produce an audio table-read of "Hold Still, Vincent" from a screenplay by Johnny Ngo Chan's company, A-Major Media and M88. They also hope to produce a companion podcast about Asian American civil rights as well as an eventual feature film adaptation of "Hold Still, Vincent." The murder of Vincent Chin in 1982 marked a turning point in the history of civil rights inspiring a Pan-Asian movement to defend the rights of the AAPI community. Aaron and Winston Tao are slated to be directors of the film.
The Written & Spoken Arts
Writer and UW Professor of English, Shawn Wong has received the 2021 Association of University Presses Stand Up Award in recognition for his support of University Presses. The award is given to honor those who through their words and actions have done extraordinary work to support, defend, and celebrate the university press community.  He was recognized for leading a grassroots effort in 2019-2020 to protest the University of Washington Press's right to publish the landmark 1957 novel "No-No Boy" by John Okada. When Penguin Random House unexpectedly issued its own Penguin Classics edition in 2019, asserting that the work was in public domain, Wong led a social media campaign to call attention to UWP's work that garnered national and international media coverage.  As a result, Penguin Random House agreed to withdraw its edition from US bookstores and to license an international edition from UWP, with the Okada family receiving royalties on all copies sold.
 "We Hereby Refuse" is a graphic novel by Frank Abe and Tamiko Nimura with illustrations by Ross Ishikawa and Matt Sasaki. It brings to light three Japanese American voices and their acts of defiance during the WWII internment of persons of Japanese ancestry on the West Coast. The stories of their refusal to submit without a fight are tied together within an epic narrative of the internment camp experience. Co-published by the Wing Luke Museum and Chin Music Press. Book release on  May 18, 2021. To purchase copies, go to Wing Luke Museum's Marketplace online store. On Saturday, June 26, 2021 at 2pm (PST), a book event will be held at Japanese American National Museum (JANM) in Los Angeles.
The University Book Store presents local Washington author Daniel James Brown in a talk with Densho Director Tom Ikeda in a ZOOM webinar about his book, "Facing The Mountain: A True Story of Japanese American Heroes in World War II" (Penguin Random House) on Thursday, June 17 at 6pm (PDT). Introduced by Paul Rucker, Executive Director of UWAA. Free but you must register. Go to ubookstore.com for details.
Elliott Bay Book Company has a full slate of events in their virtual reading series. Here are a few. K-Ming Chang talks to Meng Jin about her debut novel "Bestiary" (One World) on Friday, June 18 at 6pm (PDT). A queer transnational fairy tale whose heroine is a Taiwanese American baby dyke. An origin story for our  times. Meng Jin is the author of the novel "Little Gods" (Custon House). For reservations, go to https://www.eventbrite.com/e-k-ming-chang-author-bestiary-in-conversation-with-tba-tickets-155384634625. On Thursday, June 24 at 6pm (PDT), Asako Serizawa talks to Akil Kumarasamy about her award-winning first novel "Inheritors" (Anchor) now in a new paperback edition. The book is a complex series of stories of multiple generations in Asia and in the US during a tumultuous time of war and colonialism. Go to https://www.eventbrite.com/e/asako/serizawa-author-of-inheritors-with-akil-kumarasamy-tickets-155436082507.  Zoe Hana Mikuta, still a UW Creative Writing student has landed a book deal with a major New York publisher. "Gear Breakers" (Feiwei & Friends/Macmillan) is a young adult sci-fi novel with mecha fighting machines, gods and the intimacy of found family. It's the the first of a projected series of YA sci-fi works planned. Nina Varela, author of "Crier's Wife" will join Mikuta in conversation about her book. On Wed., June 30, 2021 at 5pm (PDT). Asian American activist/singer/performer/dancer Nobuko Miyamoto brings her Virtual Book Tour to Seattle on behalf of her memoir entitled "Not Yo' Butterfly" (UC Press) on Thursday, July 22nd at 6pm (PDT). Please register for this event. Sponsored by the bookstore and Seattle Public Library. Moderated by Dr. Deborah Wong (editor) and community panelists Professor Vince Schleitwiler, Anida Yoeu Ali, Professor Michelle Habell-Pallan and Asiyah Ayubbi .  For information, try https://www.ucpress.edu/blog/56380/not-yo-butterfly-book-tour/. For making reservations to the virtual events, go to elliottbaybook.com and click on the "events" page or call 206-624-6600 or toll-free at 1-800-962-5311. Although all events are virtual for the time being, the bookstore is open.
Third Place Books continues their virtual reading series with the following – On July 8, 2021 at 7pm (PDT), Priyanka Champaneri will discuss her debut novel "The City of Good Death" (Restless Books) with Tea Obreht. It's a look at India's holy city of Benares where the manager of a death hostel shepherds the dying only to be reminded of a stubborn past that won't let him go. Go to thirdbooks.com for details on how to register for the readings.
Humanities Washington has announced their 2021 – 2023 Speakers Bureau Roster with presentations ranging from the personal to the global. Public presentations are free and will start July 1, 2021. Some speakers include the following – Under "Arts & Literature", Deepti Agrawal will speak on "The Ancient Art Of Madhubani Painting." Under "History", Julie Pham speaks on "Hidden Histories: The South Vietnamese Side of the Vietnam War." Under "Life & Culture", Lori Tsugawa Whaley talks about "The Samurai Code: How Bushido Changes Lives". Under "Race & Identity", Michelie Liu talks about "Laughing Matters: Asian Americans, Comedy And Inclusion." To reserve an online virtual program, contact [email protected]. For more information, try [email protected].
EAST WIND BOOKS in Berkeley, California remains one of the most comprehensive bookstores in the country for Asian American and Asian titles. They are sponsoring the following free virtual events. Long-time activist/singer/performer/dancer and now author Nobuko Miyamoto talks about her new memoir entitled "Not  Yo' Butterfly – My Long Song of Relocation, Race, Love And Revolution" (UC Press) in a virtual event on June 26, 2021 at 3pm (PST). This is a free online event but please RSVP at notyobutterfly.eventbrite.com. To get more details on these events, email [email protected] or go to asiabookcenter.com.
Diode Editions has a chapbook launch for their 2021 releases. Live stream readings of new works by chapbook authors Teow Lim Goh, Joey S. Kim, Natasha Saje, Amorak Huey, W. Todd Kaneko, Kendra DeColo and Tyler Mills. On Sat., June 26 at 1pm (EST). Free but you must register via Eventbrite. Go to www.diodeeditions.com. 
D.C. Comics announced that after the success of DC's middle-grade title "Green Lantern: Legacy" that they are bringing back the team of writer Minh Le and artist Andie Tong for their new series entitled "Green Lantern: Alliance". In this new series, Tai Pham follows his nemesis Xander's trail of menace and gets help from a new hero known as Kid Flash. It will be available digitally and in participating bookstores on April 5, 2022. For details, go to www.dccomics.com.
"Neotenica" (Nightboat Books) by Joon Oiuchi Lee won the Lambda Literary Award for Gay Fiction.
In June, 2021, the Pulitzer Prize winners and finalists were announced in the categories of fiction, general history, biography, poetry and general non-fiction. Amy Stanley's "Stranger in the Shogun's City: A Japanese Woman and Her World" (Scribner) was a finalist in the "Biography" category. It follows the daughter of a Buddhist priest who defies convention to make a life for herself in 19th-century Japan. After three divorces, she leaves her small village to start over in the city that would become Tokyo. This book also won a National Book Critics Circle Award and the PEN/Jacqueline Bograd Weld Award for "Biography." "Minor Feelings: An Asian American Reckoning" (One World/Random House) by Cathy Park Hong was a finalist in the "General Nonfiction" category. This essay collection by the noted poet is a mix of memoir and cultural criticism and looks at racial consciousness in America with a sensitive vulnerability and a sense of wry humor. It was a New York Times best seller and a National Book Critics Circle award winner.
The Summer 2021 University of Magazine has a tribute to the late Anthony Ishisaka, the associate professor in the School of Social Work known for his love of teaching and mentoring. Written by Jon Marmor. Also noted in this issue is UW Tacoma, School of Nursing & Healthcare Leadership professor Weichao Yuwen honored with a 2021 Teacher of the Year award. You'll also find a short profile of UW former student Colleen Fukui-Sketchley who received a "Distinguished Service Award" for her extraordinary volunteer leadership and public service.
The University of Washington Press is seeking writers working on a manuscript or new book proposal. UW Press editors are eager to connect with current and prospective authors about new projects and book proposals. Contact them via email of set up a meeting by phone or Zoom. Executive Editor is Lorri Hagman at [email protected].
Below is a partial list of new books by or about Asian Americans and new titles on Asia. If you are interested in reviewing any of them, please let us know –
"Anne's Cradle – The Life & Works of Hanako Muraoka" (Nimbus)  by Eri Muraoka as translated by Cathy Hirano. Hanako Muraoka  is revered in Japan for her  translation of L. M Montgomery's children's classic, "Anne of Green Gables." Because of her translation the book had a massive and enduring popularity in that country. This bestselling biography of Muraoka written by her granddaughter, traces the complex and captivating story of a woman who risked her freedom and devoted her life to bringing quality children's literature to the people during a period of tumultuous change in Japan.
"We Could Be Heroes" (Mira) is a novel by Mike Chen. Jamie loses his memory but has the ability to read and erase other people's memories. Zoe is searching for her past and uses her abilities of speed and strength to deliver fast food and occasionally beat up bad guys if she feels like it. When these two archrivals meet in a memory-loss support group, they realize the only way to reveal their hidden pasts might be through each other. An emotional adventure about unlikely friends and the power of choosing who you want to be.
"Kengo Kuma – My Life As An Architect In Tokyo" (Norton) by Kengo Kuma. This visionary architect of Japan's new Olympic Stadium in Tokyo offers an enlightening tour of this complex city. Thoughts and reflections on  his most influential buildings and Tokyo's rich architectural heritage. Filled with the architect's own drawings and photos of his buildings.
"Languages of Truth – Essays 2003 – 2020" (Random House) by Salman Rushdie. Newly collected, revised, and expanded nonfiction from the first two decades of the 21st century by this Booker Prize-winning international author.  A look at the evolution of literature and culture with Rushdie's  most piercingly analytical views.
Best-selling young adult author David Yoon ("Frankly in Love") has switched genres with his new adult novel entitled "Version Zero" (Putnam). A data whiz at a social media company sees the dark side of big tech and starts asking questions about the data they collect.  He finds himself fired and blackballed across Silicon Valley.
"Building for Hope- Towards an Architecture of Belonging" (Thames & Hudson) by Marwa Al-Sabouni. This book is a memoir about survival and a manifesto for understanding the seeds of the Syrian civil war. This architect argues passionately for architecture's pivotal role in shaping social realities and re-building a society from the ground up.
"Singing Emptiness – Kumar Gandharva Performs The Poetry Of Kabir" (Seagull) by Linda Hess. In this book, two men, five centuries apart, make contact with each other through poetry, music and performance. A great twentieth-century Hindustani classical vocalist takes up the challenge of singing the songs of Kabir, the great fifteenth century poet.
"Build Your House Around My Body" (Random House) by Violet Kupersmith. A kaleidoscopic debut novel that reads as part puzzle, part revenge tale, and part ghost story. It follows the intersecting fates of three unforgettable women across a half century of Vietnamese history.
"How to Kidnap the Rich" (HarperPerennial) by Rahul Raina. A satire of modern-day India that tells the story of a poor yet intelligent young man who makes his living taking exams for sons of wealthy parents so they can get their visa and go to America.
"A Boy Named Isamu – A Story of Isamu Noguchi" (Viking) written and illustrated by James Yang. Yang imagines an artist's sensibility talking us through a child's mind as he walks through the world solitary but never alone. Beautifully illustrated with spare but telling text.
"The Thousand Crimes Of Ming Tsu" (Little Brown) by Tom Lin. This fiction debut reimagines the classic western through the eyes of a Chinese American assassin on a quest to rescue his kidnapped wife and exact his revenge on her abductors. This book is a thriller, a romance and a story of one man's quest for redemption in the face of a distinctly American brutality."
A God at the Door" (Copper Canyon) by Tishani Doshi. Doshi is an award-winning  writer and dancer of Welsh-Gujarati descent. She has published seven books of fiction and poetry. This new volume of poems calls on the extraordinary minutiae of nature and humanity to redefine belonging and unveil injustice.
"Crazy Rich Asians" author Kevin Kwan is back with "Sex And Vanity" (Anchor) tells the story of the daughter of an American-born Chinese mother and a blue-blooded New York father. She has always sublimated the Asian side of herself in favor of the white side and when she finds herself drawn to a Chinese American man, she denies her feelings. When they meet again and romance flares, she must spin a web of deceit to her fiancé and family to keep the affair alive. A comedy if manners set between two cultures.
"Tokyo Ever After"(Flatiron) by Emiko Jean. It's hard growing up Japanese American in a small, mostly-white Northern California town with a single mom. But when Izumi or "Izzy" as she's known discovers her missing dad is the crown prince of Japan, things become surreal. Traveling to Japan to find her dad, her life is turned upside down. Not American enough in the States, not Japanese enough in Japan. Will Izumi ever land on her feet?
"Angel & Hannah – A Novel in Verse"  (One World) by Ishle Yi Park.The electricity of first love in the heart  of New York's neighborhoods.  When a Korean American girl from Queens meets a Puerto Rican American boy from Brooklyn at a  quincecanera, sparks fly and so does family opposition and cultural complexity. This former poet laureate of Queens uses bursts of  language and imagery in sonnet and song form to bring alive the glow of first love.
"Swimming Back To Trout River" (Simon & Schuster) by Linda Rui Feng. It's 1986 and a ten-year-old girl lives in a small Chinese village with her grandparents. Her parents left for the opportunities in America years ago. Now her father promises to pick her up and take her to America by her 12th birthday. The little girl is determined to stay. And what she doesn't know is that her parents are estranged, burdened by demons from their past. Can one family, with an ocean between them, start anew without losing themselves –or each other? Jean Kwok calls this novel, "A beautifully written, poignant exploration of family, art, culture, immigration, and most of all, love."
"Made In Korea" (Simon & Schuster) by Sarah Suk. A "rom-com" novel debut depicts two entrepreneurial teens who butt heads – and maybe fall in love- while running competing Korean beauty businesses at their high school.
"At The End Of The Matinee" (Amazon Crossing) by Keiichiro Hirano as translated by Juliet Winters Carpenter. Billed as a love story and psychological thriller, this novel traces the years long relationship between a concert guitarist and a journalist and examines whether the relationship will endure and perhaps blossom into something deeper.
Burying the Mountain (Copper Canyon) by Shangyang Fang. Deeply immersed in the music of ancient Chinese poetry, Fang's debut alloys political erasure, exile, remembrance, and death into a single brushstroke on the silk scroll, where our names are forgotten as paper boats on water.
"Finding Junie Kim" (Harper) by Ellen Oh. A young adult novel about a Korean American girl who tries to fit in at school by not sticking out. But when racist graffiti appears at her middle school, she must make a decision. When a teacher assigns an oral history project, Junie decides to interview her grandparents about the Korean war and her world changes.
"Swimming to Freedom: My Escape from China and the Cultural Revolution" (Abrams) by local writer Kent Wong tells the harrowing tale of the author's escape from China by swimming to Hong Kong. In 1974, it is estimated that half a million "freedom swimmers" risked everything to escape hardship and oppression by swimming to that city.
"Soul Lanterns" (Delacorte Press) by Shaw Kuzki. Translated by Emily Ballistrieri from the Japanese. Twelve–year-old Nozomi lives in Hiroshima and though not even born when the atomic bomb was dropped on that city, she participates in the lantern-floating ceremony to honor those lost in the blast. The names of the victims are written on each lantern but every year, Nozomi realizes her mom always releases one lantern with no name. When she investigates, complicated stories of loss and loneliness begin to unfold.
The work of Su Hwang, Samiya Bashir and Monica Youn appears in a new anthology entitled "There's a Revolution Outside, My Love: Letters From a Crisis" (Vintage) as edited by Tracy K. Smith and John Freeman. It's a timely response to the Black Lives Matter movement by some of our country's best writers in the form of poems, essays, letters and reflections.
Award-winning author Padma Venkatraman returns with her companion novel to "The Bridge Home" entitled "Born Behind Bars" (set for September 2021 release). This young adult novel on Penguin follows a boy who is unexpectedly released into the world after spending his whole life in Jail with his mother. Her previous book "The Bridge Home" received the SCBWI Golden Kite Award and was a 2019 Global Read-Aloud.
"Like a Dandelion"(Balzer + Bray) written and illustrated by  Huy Voun Lee. This is a poetic tribute to immigrants and refugees, inspired by the author's childhood experiences of moving to the United States from Cambodia. Like the feathery seeds of the dandelion we all fly away and take root in another place.
"Never Have I Ever" (Small Beer Press) by Isabel Yap is a collection of powerful short stories of speculative fiction/fantasy that  explores themes ranging from monstrousness, shared trauma, systemic violence, friendship and the ambiguity of love.
"A Pho Love Story" (Simon & Schuster) by Loan Le is a romantic YA rom-com in which two Vietnamese American teens must navigate their new  found love amid their family's age-old feud about their competing pho restaurants.
"If I Were A Tree" (Lee & Low)  by Andrea Zimmerman as imaginatively illustrated by local artist Jin Jing Tsong. This picture book traces two siblings journey into the woods and how they use the five senses to explore the natural world. Tsong's kaleidoscopic art makes the wooded world come to life and illuminates the author's poetic ode to trees.
"Shame On Me – An Anatomy on Race and Belonging" (Random House Canada) by Tessa McWatt. A mixed race woman asks tough questions about the necrotic legacies of race and affirming kinship and solidarity against the ongoing violence of silence and discrimination.
"Sato The Rabbit" (Enchanted Lion) written and illustrated by Yuki Ainoya and translated by Michael Blaskowsky. When a boy becomes a rabbit, he discovers the extraordinary can be found in the everyday, accepting and embracing the surreal in a world of endless possibilities. Charmingly illustrated with images that stretch the imagination.
"We Two Alone"(HarperVia)  by Jack Wang. From the vulnerable and disenfranchised to the educated and privileged, the characters in this collection of  stories embodies the diversity of the Chinese diaspora, past and present. An impressive  fiction debut by this Chinese Canadian writer.
"Death Fugue" (Restless) by Sheng Keyi as translated by Shelly Bryant. This novel is a dystopian allegory of the Tiananmen Square massacre and banned in China. In this book, the author questions the role of art after an act of atrocity.
"When Father Comes Home" (Orchard) is written and illustrated by Sarah Jung. June's father is like a goose: he flies away for long periods of time so when he comes home, it's a special occasion. This picture book turns the story of migrant fathers who work abroad in hopes of widening the field of opportunity for their children into a heart-warming, reflective tale.
"The Intimacies of Conflict – Cultural Memory and The Korean War" (NYU) by Daniel Y. Kim. The author delves into novels, films and photos to reconstruct memories of war and what it means to Koreans, Asian Americans and people of color
"The Tangle Root Palace" (Tachyon) by Marjorie Liu ("Monstress"} is her debut collection of dark, lush and spellbinding fantasy fiction. It's full of thorny tales of love, revenge and new beginnings.
"American Betiya" (Knopf) by Anuradha D. Rajurkar. This YA author takes an honest look at the ways cultures can clash in an interracial relationship. With themes of sexuality, artistic expression and appropriation, she gives voice to a young girl claiming ownership of her identity, one shattered stereotype at a time and going through the complex experience of her first relationship.
"Pop Song – Adventures in Art and Intimacy" (Catapult) by Larissa Pham. This is a memoir that plumbs the well of culture for clues and patterns about love and loss from paintings to travel, and sex and drugs before the author turns the gaze upon herself.
"Tastes Like War – A Memoir" (Feminist Press) by Grace M. Cho. The author grew up as the daughter of a white American merchant marine and the Korean bar hostess he met abroad. This book covers a daughter's search through intimate and global history for the roots of her mother's schizophrenia. In her mother's last years, the author learned to cook dishes from her mother's childhood in order to invite the past into the present, and to hold space for her mother's multiple voices. Over these shared meals, she discovered not only the things that broke the brilliant, complicated woman who raised her but also the things that kept her alive.
"Mister Jiu's in Chinatown: Recipes and Stories from the Birthplace of Chinese American Food"  (Ten Speed Press) by Brandon Jew and Tienlon Ho. The acclaimed chef behind Mister Jiu's Restaurant shares the past, the present and the future of Chinese cooking with personal stories and recipes. 
"Tell Me Who You Are: Sharing Our Stories of Race, Culture, And Identity" (Penguin Random House) by Winona Guo and Priya Vulchi. Two 17 year old girls (a Chinese American and an Indian American) take a year off after high school and travel the country asking Americans how race has impacted their lives. Out of 500 stories, they edited it down to 115 for this anthology.
"Autumn Light – Season of Fire and Farewells" (Vintage) by Pico Iyer. Now, in a new paperback edition, the author returns to his second home of Japan after a father-in-law's death. He immerses himself in the steadying patterns of everyday rites and reflects as the leaves turn to color and the heat begins to soften
 "Yang Warriors" (University of Minnesota Press) by Kao Kalia Yang as illustrated by Billy Thao. In this inspiring picture book, the determined Hmong children of a refugee camp confront hardships and do what they can to provide subsistence to the younger kids and elderly. From this picture book emerges young heroes offering gifts of hope.
"Hiroshige – Famous Places in the Sixty-Odd Provinces" (Prestel) by Anne Sefrioul. Created during the Japanese master's later years, this book contains images of each of Japan's provinces. Panoramic views of the Japanese countryside captured before industrialization and Western influence.
Inspired by the Peabody Award-winning podcast, "The Unexplainable Disappearance of Mars Patel" (Walker) by Sheila Chari is a young adult thriller. As kids are disappearing one by one from a middle school and their parents don't seem to care, Mars Patel and his crew go on a desperate search for answers.
"Mapping Abundance For  a Planetary Future- Kanaka Maoli and Critical Settler Cartographies in Hawai'i" (Duke) by Candance Fujikane. Fujikane criticizes settler colonial cartographies that diminish life and instead highlights the all encompassing voices of Hawaiian communities and their perspective of abundant healing and protection for the land.
"All You Knead Is Love" (FSG)by Tanya Guerrero. When a 12 year old girl must leave her mother to live with her grandmother in Barcelona, she feels estranged. But then she grows to love that city that her mother once called home. She connects with her Spanish roots, becomes close with her Filipino grandmother and discovers a passion and talent for baking bread. When her favorite bakery is in trouble, she learns what she can do to help.
"Folklorn: A Novel" (Erewhon) by Angela Mi Young tackles complex issues about mythology, science, generational trauma and identity. It follows a Korean American physicist in the Antarctic who must return to her childhood home in California to deal with mental illness that runs through her family. It explores the myths we inherit and those we fashion for ourselves.
"Afterparties – Stories" (Ecco) by Anthony Veasno So. This book marks the short story debut that offers profound insight into the intimacy of queer and Cambodian American immigrant communities. These children of refugees create a new life in California as they shoulder the inherited weight of the "killing fields" and grapple with the complexities of race, sexuality, friendship and family.
"The Woman in the Purple Skirt" (Penguin) by Natsuko Imamura as translated by Lucy North is a past winner of the Akutagawa Prize. It tells the story of two chambermaids whose lives intertwine and explores envy, loneliness, power dynamics and the vulnerability of unmarried women in a taut, suspenseful narrative.
"Kiyoshi's Walk" (Lee & Low) by Mark Karlins as illustrated by Nicole Wong. When a boy watches his grandfather compose a haiku, he wonders "Where poems come from?" His grandfather's response is to take him on a walk through the city.
International bestseller "Kim Jiyong, Born 1982" (Liveright) by Cho Nam-Joo as translated by Jamie Chang is now available in a paperback edition. It follows one Korean millennial "everywoman" as she descends into a psychic deterioration in the face of a rigid misogyny. A rallying cry of feminism and gender that resonated  with women all over Korea.
"Lady Joker – Volume One" (Soho Crime) by Kaoru Takamura as translated by Marie Iida and Allison Markin Powell. This book centers on a crime inspired by a true case in which a food chain is sabotaged and held for kidnapping. It also turns a kaleidoscopic eye on Japanese cultural norms and taboos over a period of four decades. This fictional opus will appear in several volumes.
"I Am A Bird" (Candlewick) by Hope Lim as illustrated by Hyewon Yum. When a little girl goes on her morning bike ride with her dad, she imitates the sounds of birds. But when she sees a strange woman with a stern demeanor and a mysterious bag, she becomes frightened. A children's book that encourages readers to embrace over similarities rather then letting our differences divide us.
"Planet Omar Incredible Rescue Mission" (Putnam) by Zanib Mian as illustrated by Nasaya Mafaridik. Omar is excited about his first trip to Pakistan but then tragedy strikes. His favorite teacher goes missing. Could his teacher been abducted by aliens? Omar investigates. Will creative thinking and a galactic spirit of adventure help solve this young adult mystery?
"The Human Zoo" (Grove Press) is the new novel by PEN/Faulkner Award-winning writer Sabrina Murray. It is the coming home story of a Filipino American woman who arrives in Manila under the throes of a dictatorship who must host a cousin's fiancé in search of his roots, deal with a flirtation from an ex-boyfriend and co-exist with her upper class family. Due in August, 2021.
"Much Ado About Baseball" (Yellow Jacket/Little Bee) by Rajani LaRocca. When Trish finds herself on the same summer baseball team as Ben, her math competition rival, two people must set aside their animosity and join together to help their team win. Will solving a math puzzle help the team succeed? Trish and Ben think so.
"Winter in Sokcho" (Open Letter) by French Korean author Elisa Shua Dusapin is billed as a novel as if Marguerite Duras wrote "Convenience Store Woman."  In it, a young French Korean woman works as a receptionist in a tired guesthouse in a border town between the two Koreas. An unexpected guest arrives, a French cartoonist determined to find interest in this desolate landscape. The two form an uneasy relationship that has them searching for answers.
"The Unicorn Rescue Society – The Secret of the Himalayas (Dutton) by Adam Gidwitz & Hena Khan is a continuation of the New york Times bestselling young adult series about the juvenile members of this group who travel to the rugged mountains of Pakistan to rescue a unicorn.
"Paris Is A Party, Paris Is A Ghost" (FSG) is the debut novel by David Hoon Kim. Henrik Blatand is a translator living in Paris who was born in Japan and raised in Denmark as a Korean adoptee. In Paris he falls in with a group of expats from Korea and then falls in love with a Japanese student who has a nervous breakdown, eventually dying alone in her room. Haunted by this love, Henrik later becomes a parental figure to his best friend's daughter who reminds him of his lost love. This is a transcontinental story of love, loneliness, strange bonds as well as race, calss, power and cultural identity.
"The Elephant Doctor of India" (Chicago Review Press) by Janie Chodosh. When a young elephant touching a sagging electric line in Assam, India gets stuck in the mud, there  is only one person to call – Dr. Sarma, the elephant doctor. Chodosh spends time with the doctor and reveals to young readers what this unique veterinarian does for the elephants he encounters.
"Good Talk: A Memoir in Conversation" (One World) by Mira Jacob. This is a graphic novel that examines what it means to be an immigrant and a first generation American. It delves into race, sex, love and family and discusses what these issues mean to her family and to the rest of the nation.
"Kudo Kids – The Mystery in Manhattan" (Razorbill) by Maia and Alex Shibutani. This brother & sister Olympic ice skating pair have turned their hands at writing young adult novels. The Kudo Kids come to New York to see the sights but when a dress from their fashion designer auntie's collection goes missing, they end up in a chase around the city to nab the culprit.
"Tokyo Before Tokyo – Power and Magic in the City of Edo" (Reaktion) by Timon Screech. A beautifully illustrated volume on how the new capitol of Japan was formed set in the broader context of Japan's cultural history and its extensive ties to China and Europe.
"From Little Tokyo With Love" (Viking) by Sarah Kuhn. Rika is an adopted bi-racial girl with formidable judo skills and a fiery temper. When she hears rumors in her neighborhood that her real mother is not only alive but a Hollywood movie star, she goes on a quest to find her. Accompanied by actor friend Hank, she must make some big decisions that could change the direction in her own life.
"Dial A for Aunties" (Berkley) by Jesse Q. Sutanto. In this rom-com/murder mystery mash-up of mistaken identity and sisterhood, a wedding photographer enlists the aid of her mother and her sisters in hiding the dead body of her blind date while attempting to pull off an opulent wedding for a billionaire client.
"Korean War Comic Books" (McFarland) by Leonard Rifas. Comic books have presented fictional and fact-based stories of the Korean War, as it was being fought and afterward. Comparing these comics with events that inspired them offers a deeper understanding of the comics industry, America's "forgotten war" and the anti-comics movement. This book examines the dramatization of events and issues, including the war's origins, germ warfare, brainwashing, Cold War espionage, the nuclear threat, African Americans in the military, mistreatment of POWS and atrocities.
"Renegade Flight" (Razorbill) by Andrea Tang. In this YA fantasy adventure, a young pilot-in-training is grounded when found cheating on an entrance exam. Eager to re-join, she competes in a combat tournament to regain entry only to find she must battle a strangely attractive nemesis.
"Daddy's Love For Me" (Mascot) by Sarah and JoAnn Jung as illustrated by Chiara Civati. A daughter feels resentment towards her overworked dad when he has no time to spend with her and show his love. When she overhears a conversation between her parents, she realizes how wrong she was.
"Counting Down With You" (Inkyard) by Tashie Bhuiyan. A reserved Bangladeshi teenage girl looks forward to a restful break when her demanding parents go abroad. Instead, she is roped into tutoring the school's resident bad boy and then talked into a fake-dating façade. But then her life changes as the days go by and the two get to know each other.
"City of Ash And Red" (Arcade) by Hye-Young Pyun as translated by Sora Kim-Russell. This futuristic novel about a rat-killer sent by an extermination company into a foreign country swept by a plague and flooded with trash is a story of lost identity and redemption in trying times.
"We Belong" (Dial) by Cookie Hiponia Everman. In this Young Adult novel-in-verse, the author weaves together Philipino mythology and a family's immigration story.
"Dumplings for Lili" (Norton) written and illustrated by Melissa Iwai is a delightful tale of a young girl's cooking with her grandmother and how it leads to borrowing ingredients and sharing food in a multi-cultural apartment building.
"Count Me In" (Nancy Paulsen) by Varsha Bajaj. A middle school Indian girl doesn't care for the bad boy next door. But when her grandmother begins to tutor him, a friendship develops. When an act of racist hate leaves her grandfather injured, the two must band together to overcome adversity.
"Heart of Fire – An Immigrant Daughter's Story" (Viking) by Mazie K. Hirono – U.S. Senator. The intimate and inspiring life story of the first Asian American woman elected to the U.S. senate and her upbringing in immigrant Hawai'i.
"Bracelets For Bina's Brothers" (Charlesbridge) by Rajani LaRocca as illustrated by Chaaya Prabhat. In this ingenious picture book, a young girl uses math to determine how she goes about making colorful bracelets for her many brothers.
"Utamaro and The Spectacle of Beauty" (Reaktion)  by Julie Nelson Davis. This is the revised and expanded second edition. The author reinterprets this Japanese print artist within the context of his times. Looks at the roles of gender, sexuality and celebrity in Edo period Japan through Utamaro's work.
"Nina Soni, Sister Fixer" (Peachtree)  by Kashmira Sheth as illustrated by Jenn Kocsmiersky. This continuing series on the adventures of a young Indian American girl who looks for a new project while at the same time getting aggravated by her little sister's behavior. Maybe there is a way to solve both issues at the same time?
"Mangoes, Mischief, And Tales of Friendship – Stories from India" (Candlewick) by Chitra Soundar as illustrated by Uma Krishnaswamy. This volume includes eight original trickster tales inspired by traditional Indian folktales.
"Fatima's Great Outdoors" (Kokila) by Ambreen Tariq as illustrated by Stevie Lewis. This picture book is a celebration of an immigrant family's first outdoor camping trip and how it brings them all together for once inside one big tent under a canopy of stars.
"Abundance" (Graywolf) by Jakob Guanzon is a novel that looks at a father and son living on the streets down to their last dollar. It is a condemnation of capitalism and the cycles of poverty in which so many are trapped.
"Last Night At The Telegraph Club"  (Dutton) by Malinda Lo. It's 1954 and red-scare paranoia spreads across "cold war" America. Not the safest place for two teenage girls to fall in love. With deportation looming over her father, a Chinese American girl must risk it all to let her love for another see the light of day.
"Queen of Ice" (Duckbill) by Devika Rangachari. This young adult historic novel delves into the turbulent history of tenth-century Kashmir and Didda, princess of Lohara who learns how to hold her own in a court ridden with factions and conspiracies.
"Ten Little Dumplings" (Tundra) by Larissa Fan and illustrated by Cindy Wume. In a Chinese family, boys are traditionally valued but this quirky  children's picture book looks behind the ten little boys in the family to reveal a sister who is just as important.
"All of Me" (HarperCollins) by Venita Coelho. What happens to a child locked into a basement so long that he develops a personality fracturing into many characters that become his family?
"The Ramble Shamble Children" (Nancy Paulsen) by Christina Soontornva as illustrated by Lauren Castillo. Five children live in a simple run-down house where they have everything they need – a garden, chicken eggs and each other. But when they get the idea to "proper it up", things won't feel the same.
"Foreign Bodies" (Norton) by Kimiko Hahn. Inspired by her encounter with the Jackson Collection of ingested curiosities at the Mutter Museum, this poet investigates the grip that seemingly insignificant objects have on our lives.
"Black Water Sister" (ACE) by Zen Cho. A modern fantasy  tale of ghosts, gods and the eternal bonds of family ties in the setting of modern-day Malaysia. A young woman returns to Penang and reunites with her extended family while at the same time navigating a world of spirits and gangsters.
Two-time Newberry Medal winner Lois Lowry's new book "On The Horizon – World War II Reflections" (HMH) is a moving young adult account of the lives lost and forever altered in the bombings of Pearl Harbor and Hiroshima.
"Leave Society" (Vintage) is Tao Lin's first work of fiction since 2013. It follows a thirty-year-old novelist living part-time with his parents in Taiwan and part-time in New York who grows increasingly alienated from friends and community back in the U.S. As he rotates between places, the novel chronicles his growth as son, writer and misfit. 
"The Henna Wars" (Page Street Kids) by Adiba Jaigirdar. This romcom about two teen girls with rival henna businesses who find despite their competition, they have to come to terms with a realization of the affection they have for each other.
"In the Watchful City" (TorDotCom) by S. Qiouy Lu. An unforgettable futuristic tale in a secondary world that feels familiar in essence, and that centers trans, nonbinary, queer, mentally ill and Chinese-coded identities. It asks the eternal question, "What good is a city if it can't protect its people?"
 "The Sunflower Cast A Spell To Save Us From The Void" (Nightboat Books)  by Jackie Wang. These poems emphasize the social dimensions of dreams, particularly the use of dreams to index historical trauma and social processes.
"A Future For Memory – Art And Life After The Great East Japan Earthquake" (UBC Anthropology Museum Books) by Fuyubi Nakamura.  This is the exhibition catalog for this show held recently at The Museum of Anthropology at the University of British Columbia that revisits the scene of the earthquake and tsunami that engulfed Northern Japan many years ago and chronicles how it's changed and how it's stayed the safe and how it's affected its people.
"Clues to the Universe" (Quill Tree) is the Young Adult debut novel by Chrsitina Li. What do an aspiring young rocket scientist reeling from her father's death and an artistic boy who loves superheroes and comic books have in common? When the two become science class partners, they embark on an adventure and discover themselves while banding together to confront bullying, grief and their own differences.
 "Love Without A Storm" (Blood Axe Books) by Arundhathi Subramaniam is filled with poems that celebrate an expanding kinship: of passion and friendship, mythic quest and modern day longing, in a world animated by dialogue and dissent, delirium and silence.
"American as Paneer Pie" (Aladdin) by Supriya Kelkar. As the only Indian American kid in small town America, Lekha leads two lives. Her Indian cultural world at home and the one where she's trying to fit in at school as she gets bullied for looking different. Things change however when another Indian girl appears at school. When a racist incident rocks the school, decisions must be made.
"The Pandemic – Perspectives on Asia" (Columbia University Press) edited by Vinayak Chaturvedi. A collection of essays that look at the effect of COVID-19 in Asia as interpreted by leading scholars in anthropology, food studies, history, media stuydies, political science and visual studies. Reports from China, India, Korea, Japan, Taiwan and beyond. 
"Heiress Apparently" (Abrams) by Diana Ma is the first book in an epic, romantic young adult series following the fictionalized descendants of the only officially recognized regent of China. When a young Chinese American woman from Illinois embarks on an acting career in Los Angeles having abandoned plans for college – things turn strange. When she gets a role in "M. Butterfly" shooting in Beijing, she uncovers a royal Chinese legacy in her family her parents would rather she never knew.
"Catcalling" (Open Letter) is a book of poems by Lee Soho. This poet is part of the new wave of innovative feminist and queer poetry appearing in South Korea today.
"Magic Ramen – The Story of Momofuku Ando" (Little Bee) by Andrea Wang as illustrated by Kana Urbanowicz. The true story of the man who invented instant ramen through trial and error in his very own kitchen.
"Terminal Boredom – Stories" (Verso) by Izumi Suzuki. This book of short stories introduces readers to a cult figure in Japanese literature who takes a unique slant on science fiction and concerns about technology, gender and imperialism.
"Forty Two Greens – Poems of Chonggi Mah" (Forsythia) as translated by Youngshil Cho. Winner of the Korean Literary Award, this poet's search for the infinite in nature illuminates moments of beauty in the subconscious.
"Experiments in Skin – Race And Beauty In The Shadows of Vietnam" (Duke)  by Thuy Linh Nguyen Tu. The author examines the ongoing influence of the Vietnam War on contemporary ideas about race and beauty.
"Facing The Mountain – a True Story of Japanese American Heroes in WWII" (Viking) by Daniel James Brown. Based on extensive interviews, the book chronicles the kaleidoscopic journey of four Japanese American families and their sons during the war and their courage in combat and resistance.
"Yolk" (Simon & Schuster) by Mary H. K. Choi. Two Korean sisters once thick as thieves now can't stand the sight of each other. But when one gets cancer, the other becomes the only one who can help her. Bound together by family secrets and sickness, will these sisters learn more than they're willing to confront?
"Beyond Line: The Art of Korean Writing" (LACMA/Prestel) by Stephen Little and Virginia Moon is the exhibition catalog for a major show that illuminates the restrained beauty strength and flexibility of Korean calligraphy. It is the first exhibition held outside Asia to focus on the history of writing and calligraphy in Korea.
"A Sky Beyond The Storm" (Razorbill) is the finale to the popular "Ember in the Ashes" series by Sabaa Tahir. This fantasy series finds the soul catcher must look beyond the borders of his land and take on a mission that could save or destroy – all that he holds dear.
"The Surprising Power of a Dumpling" (Scholastic) by Wai Chin. A teenage girl balances looking after her siblings, working in her dad's restaurant and taking care of a mother suffering from a debilitating mental illness. A deep true-to-life  exploration through the complex crevices of culture, mental illness and family.
"Hokusai – A Graphic Biography" (Lawrence King) by Franceso Matteuzzi and illustrated by Giuseppe Lotanza. A vivid graphic biography that tells the story of Hokusai's intriguing life and pioneering works.
"The Cat Man of Aleppo" (Putnam) is a Caldecott Medal winner by Irene latham and Kaerim Shamsi-Basha as illustrated by Yuko Shimizu. This picture book is based on a true story of an ambulance driver in the city who remained even as bombs fell and the war drove citizens away. He starts to care for all the orphan cats left behind and expands his charity to the children and the remaining survivors as donations come in to support his efforts.
"From A Whisper To A Rallying Cry – The Killing of Vincent Chin and the Trial That Galvanized the Asian American Movement" (Norton) by Paula Yoo. This award-winning children's picture book author makes her YA debut with a compelling account of the killing of Vincent Chin, the verdicts that took the Asian American community to the streets in protest, and the groundbreaking civil rights trial that followed.
"The Phone Booth at the Edge of the World" (Overlook) by Laura Imai Messina. A Japanese woman loses her mother and daughter in the tsunami. When she hears of a phone booth where people come to speak to departed loved ones, she makes a pilgrimage there only to find her grief won't allow her to pick up the phone. A novel based on a true story.
"Taking On The Plastics Crisis" (Penguin Workshop) by Hannah Testa is part of the "Pocket Change Collective" series. It's a handy guide on how we can all reduce our use of plastics that clog our beaches, oceans and landfill.
"Almond" (Scholastic) is the latest picture book by master storyteller/artist Allen Say. In it he portrays a young girl named Almond who is a victim of self-doubt and is envious of the talented new girl in school who plays the violin. Yet, through trial and error she comes to find her place in the world and a role she can play.
"NARA" (Del Monico/Prestel/LACMA) is the official catalog for one of the first major museum exhibitions on the Japanese artist on the West Coast. It surveys his large output of paintings, sculptures, drawing and installations from the past 30 years. His wide-eyed yet vaguely menacing figures are now known  world-wide but this exhibition connects the work to his inspiration taken from the early 70's punk rock scene. To this end, the exhibition also includes selections of music by Yo La Tengo on vinyl. The catalog is edited by Mika Yoshitake with texts by Michael Govan, Yoshitomo Nara and Mika Yoshitake.
"HAO – Stories" (Catapult) by Ye Chun. This collection of short stories by a three-time Pushcart winner follows Chinese women in both China and the U.S. who turn to signs and languages to navigate the alien landscapes of migration and motherhood they find themselves in.
"Ten – A Soccer Story" (Houghton Mifflin Harcourt) by Shamini Flint. A good half-Indian girl in  1980's Malaysia isn't supposed to play a "boys" sport but Maya is all game as she achieves her goals while placating a bossy Indian grandmother and holding together a mixed race family on the verge of drifting apart. A young adult novel  that will inspire.
"How To Not  Be Afraid Of Everything" (Alice James) is the sophomore release by Washington poet Jane Wong due out in October, 2021. This book explores the vulnerable ways we articulate and reckon with fear: fear of intergenerational trauma and the silent, hidden histories of families. These poems speak across generations of survival in not always easy times.
"I'm Waiting For You and Other Stories" (Harper Voyager) by Kim Bo-Young. Translated by Sophie Bowman and Song Ryu. These short stories have  been hailed by Academy Award-winning director Bong Joon-Ha as "a breathtaking piece of cinematic art itself." This marks the debut in English of one of South Korea's most treasured writers whose speculative fiction explores the driving forces of humanity and the very meaning of existence.
"The Smile Shop" (Peachtree) written and illustrated by Satoshi Kitamura. When a boy goes to market to buy something special, disaster strikes and he becomes penniless. But when he sees a smile shop, his curiosity is aroused and he goes in. Will he find anything of value or will he leave empty-handed and disappointed?
"The Secret Talker" (HarperVia), a novel by Geling Yan as translated by Jeremy Tiang. Hongmei and Glen seem to have the perfect idyll life in the Bay Area even though their marriage is falling apart. When a secret admirer contacts Hongwei on the internet, his flirting turns into an obsession. 
"The Collected Poems of Chika Sagawa" (Modern Library) won the Pen Award for "Poetry in Translation" for translator/poet Sawako Nakayasu. Now it's brought back in print in the new Modern Library Torchbearers Series that highlights women who wrote on their own terms, with  boldness,  creativity and a spirit of resistance. Sagawa was a turn-of-the-century daringly experimental voice in Tokyo's avant-garde poetry scene. Her life was cut short by cancer at the age of 24 but the words she left behind linger on.
"Amy Wu and the  Patchwork Dragon" (Simon & Schuster) by Kat Zhang as illustrated by Charlene Chua. When a classroom teacher asks her students to make their own dragon, Amy Wu is stumped until her grandmother's story gives her new inspiration.
"CURB" (Nightboat) is a new collection of poems by Divya Victor. This book documents how immigrants and Americans both, navigate the liminal sites of everyday living, ripped by violence and paved over with possibilities of belonging.
"Ichiro" (Etch) by Ryan Inzana was a Will Eisner Award nominee, received the Asian/Pacific American Award and was a Junior Library Guild Selection. This graphic novel tells the story of a boy raised by his Japanese mother in Brooklyn who grows up idolizing his American father he never knew who was killed in combat. When he is forced to go to Japan with his mother who is on a work trip, he is left with a grandfather, a stranger to him in a country he doesn't know. When he finds himself a fugitive in a land of mythic gods, he must figure out who he is and how he can escape.
"Séance Tea Party" (RH Graphic) by Reimena Yee. A lonely girl meets a ghost who haunts her home and finds a new friend. But what happens as the girl grows older and the ghost stays the same age?
"A Nail The Evening Hangs On" (Copper Canyon) by Monica Sok. A strong debut  that illuminates the experiences of the Cambodian diaspora and reflects on America's role in escalating genocide in Cambodia. A travel to war museums around the world re-shapes the imagination of a child of refugees and from these experiences tumble out powerful poems of voice and witness.
"Nina Soni, Master of The Garden" (Peachtree) by Kashmira Sheth and illustrated by Jenn Kocsmiersky. This young adult series about an Indian American fourth grader finds her working on a   garden project with her siblings supervised by their landscape architect mom. What they hadn't counted on was the unpredictability of mother  nature. Can Nina Soni help this garden survive?
"Banned Book Club" (Iron Circus) by Kim Hyun Sook, Ko Hyung-Ju and Ryan Estrada. This graphic novel is a young adult memoir that takes place in the 1980s under a repressive regime in South Korea. When she joins a reading group, a Korean girl finds more than books. This is a dramatic true story of the death of democratic institutions and the relentless rebellion of reading.
"Constellation Route" (Alice James) by Matthew Olzmann This new book of poems (due out March, 2022) by this mixed-race poet uses the form of the letter to explain issues related to contemporary American society. The book is a metaphysical tribute to both the Post Office and the act of letter writing as a way to understand and create meaningful connections with the world at large.
Mindy Kim, Class President" (Aladdin) by Lyla Lee is part of a series of books on the adventures of a teenage Korean American girl. In this story, she decides to run for class president but first she must overcome her fear of public speaking.
"The Truffle Eye" (Zephyr) by Vann Nguyen is the debut collection of poems by this Vietnamese-Israeli poet as translated by Adriana X. Jacobs. In it she tackles questions of identity and cultural legacy from points of emotion and shock.
"Donut Feed The Squirrels" (RH Graphic) is a graphic novel about two squirrels named Norma and Belly who conspire to steal the delicious donuts from a local food truck run by a grumpy baker.
"Flowering Tales – Women Exorcising History in Heian Japan"  (Columbia University Press) by Takeshi Watanabe. This is the first extensive study of this historical Japanese tale. It unravels 150 years of happenings in Heian era society penned by female writers.
"Pippa Park Raises Her Game" (Fabled Films Press) by Erin Yun. This loose reimaging of "Great Expectations" follows a young Korean American girl learning to navigate her new life at an elite private school in this young adult novel.
National Book Award-winning poet Arthur Sze in "The Glass Constellation" (Copper Canyon) has his poetry spanning five decades assembled into a book of new and collected poems. Fusing elements of Chinese, Japanese, Native American and various Western experimental traditions, the poems illuminate a concern for our endangered planet and troubled species.
"Strong as Fire, Fierce as Flame" (Tu Books) by Supriya Kelkar is a historical novel of a young girl in colonial India who becomes a runaway teenage widow only to be forced to work as a servant to a British captain. When she discovers a British plot against India's citizens, what will she do?
 "Some Girls Walk Into The Country They Are From" (Wave)  is a new book by Sawako Nakayasu, an artist working with language, and translation – separately and in various combinations. She, alone is responsible for introducing a wide variety of modern Japanese poets  to English readers throughout the years with her fresh and skillful translations. This new volume is a multilingual work of both original and translated poetry.
"Hello Rain" (Chronicle) by Kyo Maclear as illustrated by Chris Turnham. This joyful romp through a rainy day combines a captivating storyline with exuberant illustrations that kids will get lost in with joy.
"A Taste for Love" (Razorbill) by Jennifer Yen. When a rebellious teenage girl agrees to help her mom's bakery stage a junior competition, she soon realizes it's a setup. All of the contestants are young Asian American men her mom has handpicked for her to date. What can she do?
"That Was Now, This Is Then" (Greywolf Press) is the first new collection from Paris Review Editor Vijay Seshadri since his 2014 Pulitzer Prizewinning book, "3 Sections." Rosanna Warren says of this new book, "These are poems of lacerating self-awareness and stoic compassion. It is a book we need, right now."
"Midsummer's Mayhem" (Yellow Jacket) by Rajani LaRocca. When her dad , a renowed food writer loses his sense of taste, it puts a damper on this eleven-year old girl's dream of becoming a baker and winning a cooking contest. When she meets a boy in the forest, he teaches her about new natural ingredients. Will the everyday magic of baking give her the courage she needs to save her father?
"The World Turned Upside Down: A History of the Chinese Cultural Revolution" (Farrar Straus & Giroux) as translated by Stacy Mosher and Guo Jian is due out January 19, 2021. It is the only complete history of this major event written by an independent scholar based in mainland China. The author witnessed much of this history firsthand, as a student and then as a journalist His previous book "Tombstone", his definitive history of the Great Famine received the Louis M. Lyons Award for Conscience and Integrity in Journalism presented by the Nieman Fellows at Harvard and Sweden's Steig Larsson prize. This new book was published in Hong Kong in Chinese in 2016 but has been banned in mainland China.
"Every Reason We Shouldn't" (Tor Teen) by Sara Fujimura. When a teenage girl's Olympic figure skater dreams fade, she meets a young man at her family's rink who's driven to get to the Olympics in speed skating. As a rivalry develops, so does a romance.
"My Name Will Grow Wide Like A Tree" (Greywolf) by Yi Lei and translated from the Chinese by Changtai Bi and Tracy K. Smith. Yiyun Li says of this book, "Yi Lei, one of China's most original and independent poets, documents not only Chinese history in the past four decades, but also more importantly a woman's private history of rebellion and residence."
"Disappear Doppelganger Disappear" (Little A) is by the author of "The Hundred-Year Flood", Matthew Salesses. Laura Van den Berg writes "How to live in a world that refuses to see you? Matt Kim's intoxicating battle with his mysterious doppelganger moves him deeper and deeper into the vast and urgent sea of this question – and towards a possible answer. Inventive and profound, mordantly hilarious and wildly moving."
"The Boys in the Back Row" (Levine Querido) by Mike Jung. When band geeks, comic nerds and best friends Eric and Matt tire of being bullied by racist comments and being called "gay", they hatch a plan to meet a famous comic book artist during regional marching competition but an enemy has other ideas.
 "ACE – What Asexuality Reveals About Desire, Society, and the Meaning of Sex" (Beacon) by Angela Chen. "ACE" explores the world of asexuality and those who have found a place in it. Through reportage, cultural criticism, and memoir, this book shows what we can gain from the ACE lens.
"The Future History of Contemporary Chinese Art" (University of Minnesota) by Peggy Wang. In the 1980s and 90s, a group of Chinese artists rode to international fame but their work received simplistic Western interpretations that did not always go deep enough. The author gives each artist here a new appraisal, addressing fundamental questions about form, meaning and the possibilities of art.
 "The Girl Who Stole an Elephant" (Peachtree)  by Nizrana Farook. Deep adventures in the Sri Lankan jungle await young readers as a nobleman's rebellious daughter steals the queen's jewelry and makes her escape on the king's elephant. How will things turn out in the end?
"Pink Mountain on Locust Island" (Coffee House) by Jamie Marina Lau. In her debut novel, shortlisted for Australia's prestigious Stella Prize, old hazy vignettes conjure a multi-faceted world of philosophical angst and lackadaisical violence. A teenage girl drifts through a monotonous existence in a Chinatown apartment until her dad and boyfriend plot a dubious enterprise that requires her involvement.
"Sakamoto's Swim Club – How a Teacher Led an Unlikely Team to Victory" (Kids Can Press) by Julie Abery and illustrated by Chris Sasaki. This picture book tells the true story of a school teacher who can barely swim and how he turned a group of children into skilled swimmers who won Olympic gold.
"Sachiko" (Columbia University Press) by Endo Shusaku as translated by Van C. Gessel. This novel tells the story of two young Japanese Christians in Nagasaki trying to find love in the painful war-time years between 1930 and 1945.
"Kimono Culture – The Beauty of Chiso" (Worchester Art Museum) by Vivian Li and Christine D. Starkman tells the story of a Kyoto-based draper that is one of the oldest and most prestigious kimono makers in Japan today.
"Anna K – A Love Story" (Flatiron Books) by  Jenny Lee.  A re-imaging of "Anna Karenina". This time in the persona of a teenage Korean American girl in Manhattan. 
"Bestiary" (One World) by K-Ming Chang. This debut novel brings myth to life, revealing layer by layer origin stories of what becomes of women and girls who carry the spirits of beasts within.
"Land of Big Numbers" (Mariner) by Te-Ping Chen. This debut story collection depicts the diverse people of China, their government and how it has tumbled into the present. The author is a reporter for the Wall Street Journal.
"Other Moons – Vietnamese Short Stories of the American War and Its Aftermath" (Columbia University Press) translated and edited by Quan Manh Ha and Joseph Babcock. In this anthology, Vietnamese writers describe their experience of what they call the American war and its lasting legacy through the lens of their own vital artistic visions.
"Two Trees Make a Forest – In Search of My Family's Past Among Taiwan's Mountains And Coasts" (Hamish Hamilton) by Jessica J. Lee. This award-winning memoir from Canada opens as the author finds her immigrant grandfather's letters and traces his adventures in the nature of his country.
"Everything I Thought I Knew" (Candlewick) by Shannon Takaoka. A teenage girl wonders if she's inherited more than just a heart from her donor when odd things begin to happen. As she searches for answers, what she learns will lead her to question everything she assumed she knew.
"On Fragile Waves" (Erewhon) by E. Lily Yu. This debut novel by a local author traces a family's journey from Afghanistan to their eventual new home in Australia. A coming-of-age tale  and meditation on exile, belonging, fragility and hope.
"New Deal Art In The Northwest – The WPA And Beyond" (UW) by Margaret Bullock. This book tells the story of hundreds of Northwest artists employed by the U.S. Federal government under the WPA Project and also serves as the catalog for an accompanying exhibition at Tacoma Art Museum. Includes work by Kamekichi Tokita, Kenjiro Nomura and Fay Chong.
"Edge Case" (Ecco) by YZ Chin. The dilemma of a Chinese woman's life on a work visa in New York City narrows as her marriage disintegrates and her options grow sparse. The author explores the imperfect yet enduring relationship we hold to country and family.
"Goat Days" (Seagull Books) by Benyamin as translated by Joseph Koyippally. A poor young man in Southern India dreams of getting a job in a Persian Gulf country so he can earn enough money to send to his family back home. When his wish becomes reality, things don't turn out as planned and he is locked into a slave-like existence herding goats in the desert. Circumstances force him to conceive of a hazardous scheme  to escape his life of loneliness and alienation. But will it be enough?
"Last Tang Standing" (Putnam) by Lauren Ho. "Crazy Rich Asians" meets "Bridget Jones" in this funny debut novel about the pursuit of happiness, surviving one's thirties intact and opening one's self up to love.
 "Paper Peek Animals" (Candlewick) by Chihiro Takeuchi. A die cut book that allows kids to peek through and pick out the animals in this wild search-and-find journey that will engage minds and counting skills as well.
"AN I NOVEL" (Columbia) by Minae Mizumura as translated by Juliet Winters Carpenter. This novel focuses on a single day of a Japanese expatriate in America as she reflects on her life in this country and why she wants to return to Japan to become a writer and write again in Japanese.
"My First Book of Haiku Poems – A Picture, A Poem And A Dream – Classic Poems by Japanese Haiku Masters" (Tuttle) by Esperanza Ramirez-Christensen and illustrated by Tracy Gallup. Classic Japanese haiku imaginatively illustrated with bilingual English and Japanese text. Each poem comes with questions for the young reader to think about.
"Sacrificial Metal" (Conduit Books & Ephemera) by Esther Lee. It won the Minds on Fire Open Book Prize. Sean Dorsey writes that the book "dances with astute curiosity and deep tenderness across the shifting grounds of grief, touch, bearing witness, memory, and our obstinate human instinct for future planning. With great compassion, Lee's poems remind us that everything human eventually unravels…"
"SNEEZE" (VIZ) by Naoki Urasawa is a Japanese manga that collects some of the odds and ends of short pieces by this author in one collection. Urasawa's career spans over thirty years and a multitude of subjects. Urasawa has been called one of the artists who changed the history of manga. He's noted for his psychological storytelling style and detailed artwork. His stories touch upon the hopes, dreams and underlying fears of humanity.
Seattle poet Don Mee Choi calls Anna Maria Hong "the genius poet of fairy tale language and conventions in "Fablesque" (Tupelo), a new book by this former Seattle resident. She goes on to say how "Hong explores the grammar of horror and hunger, survival and abuse across the contorted historical, cultural, and familial terrains of the Korean diaspora."
"Forbidden Memory – Tibet During the Cultural Revolution" (Potomac)  by Tsering Dorje. Edited by Robert Barnett and translated by Susan T. Chen. The author uses eyewitness accounts with expert analysis to tell the story of how Tibet was shaken by foreign invasion and cultural obliteration. This book is a long-overdue reckoning of China's role in Tibet's tragic past.
 "Paper Bells" (The Song Cave) by Phan Nhien Hao and translated by Hai-Dang Phan is a new volume of poems by a poet shaped by the Vietnam War, forced to re-start a life as a teenager in the U.S. His poems bear witness to a delicate balance between two countries and cultures.
 "So This Is Love: a Twisted Tale" (Disney) by Elizabeth Lim. A young  adult re-telling of the Cinderella story. In this one, Cinderella leaves the house where she works and gets a job as the palace seamstress. Here she becomes witness to a grand conspiracy to overthrow the king. Can she find a way to save the kingdom?
"From Maybe To Forever – An Adoption Story" (Creston) by M. L. Gold and N. V. Fong as illustrated by Jess Hong. Told from a big sister's point of view, this picture book makes the complicated adoption process clear for the youngest readers and the colorful art shows how many different kinds of families there can be. 
"Sonata Ink" (Ellipsis) by Karen An-Hwei Lee imagines Kafka in the city of angles seen through the eyes of a Nisei woman hired to be his interpreter and chauffeur. Los Angeles seen as the epicenter of "The Wasteland."
"Story Boat" (Tundra) by Kyo Maclear and illustrated by Rashin Kheiriyeh. A picture book that tells the story of a little girl and her brother forced to flee home and create a new one out of dreams and stories amidst migration and crisis.
"Territory of Light" (Picador) by Yuko Tsushima as translated by Geraldine Harcout. This novel finds a young woman left by her husband starting a new life in a Tokyo apartment with her two year-old daughter. As the months go by she must confront what she has lost and who she will become.
"Butterfly Sleep" (Tupelo) by Kim Kyung Ju as translated by Jake Levine is a historical drama based in the early Joson Dynasty. With a mixture of magic realism and dark humor, he tells an existentialist allegory of Korean's rapid development. This play is a modern fable of a rapidly changing country that must confront its ghosts.
"Lion Boys and Fan Girls" (Epigram) by Pauline Loh looks at teenage boys who make a pledge to ban dating and focus on lion dancing. But they must contend with unusual girls and cyberbullying. The rich culture of Singapore and the fascinating history of lion dance make this a compelling young adult read.
"Eat A Bowl of Tea" (UW) by Louis Chu is a classic influential novel that captured the tone and sensibility of everyday life in an American Chinatown. This new edition comes with a foreword by Fae Myenne Ng and an introduction by Jeffrey Paul Chan.
Set in a New England town where accusations led to the Salem witch trials, Quan Berry's novel "We Ride Upon Sticks" (Pantheon) looks at a 1980's girls field hockey team who flaunt society's notions of femininity in order to find their true selves and lasting friendship.
"A Bond Undone" (St. Martin's Griffin) by Jin Yong is the second volume of "Legends of The Condor Heroes", one of Asia's most popular martial arts novels. Translated by Gigi Chang.
 "Taiwan In Dynamic Transition – Nation Building And Democratization" (UW)  edited by Ryan Dunch and Ashley Esarey. This book provides an up-to-date assessment of contemporary Taiwan highlighting that country's emergent nationhood and its significance for world politics.
 "The Journey of Liu Xiabao – From Dark Horse to Nobel Laureate" (Potomac) edited by Joanne Leedom-Ackerman with Yu Zhang, Jie Li and Tienchi Martin-Liao. Liu Xiabao was more than a dissident poet and this collection of essays capture the intellectual and activist spirit of this late literary critic and democracy icon.
"Harris Bin Potter And The  Stoned Philosopher" (Epigram) by Suffian Hakim. This young Singapore-based writer's parody of Harry Potter bases the story in Malaysia and seasons it with local and pop cultural references.
"Mindy Kim and the Lunar New Year Parade" (Aladdin) by Lyla Lee and illustrated by Dung Ho. Mindy is excited to go to the annual lunar new year parade but things don't go as planned. Can she still find a way to celebrate?
"Peach Blossom Paradise" (NYRB) by Ge Fei and translated by Canaan Morse. This novel is the first volume of the award-winning "South of the Yangtze" trilogy. It is a sweeping saga of  twentieth-century China that follows a family from a tiny village through three generations of history.
"From Maybe To Forever – An Adoption Story" (Creston) by M.L. Gold and N.V. Fong and illustrated by Jess Hong. Told from the view of an eager older sister, this is an endearing story about adoption from an often-neglected point of view.
 "Grievance is Their Sword, Subterfuge Is Their Shield" (OkeyDokeySmokeyPokey Publishing) in the words of former IE staff person Thomas R. Brierly is "an intersectional persuasion to elucidate and educate on matters of race, violence, white supremacy and the United States' adherence to brutal capitalism…". Go to vvovnn.bigcartel.com to order.
"In The Footsteps Of A Thousand Griefs" (Poetry Northwest Editons) is the debut poetry publication by Seattle Young Poet Laureate Wei-Wei Lee. She is the 2019/2020 Youth Poet Laureate of Seattle as sponsored by Seattle Arts & Lectures. Born in California but raised in Taiwan, she has made Seattle her home for the past few years. Her poems have a beauty of language that pays tribute to both cultures and countries.
Art News/Opportunities
Tsuru for Solidarity issues a call for art dealing with specific issues dealing with the WWII internment, Japanese American resistance to state-sponsored violence, Japanese Americans and African Americans advancing the movement for reparations, healing intergenerational trauma in the Japanese American community and other projects. Application deadline is Monday, June 28, 2021 at 11:59pm (PST). For complete details, go to [email protected].
Monday, June 21, 2021 at 5pm (PST) is the final deadline to be included in the 2021-2025 Public Artist Roster. It is a list of artists who pre-qualify to create artworks through The Art in Public Places program. Go to https://www.arts.wa.gov/how:to-get-on-the-public-artist-roster.
Artist Trust offers up the following for Washington State artists. If you are interested in applying for either the 2021 Twining Humber and SOLA Awards, workshops are available. On June 15, 2021 there is an open ZOOM session from 1 – 3pm. You can also sign up for an Office Hours session on June 18, 2021. On June 17, 2021, they host a "Lunch and Learn: Writing Our Artist Statement and Biography" at noon (PST). They also partner with CERF to bring you a fice-part program series entitled "Readiness and Resilience" designed to teach artists how to prepare for adversity. Contact Artist Trust to sign up. For artists in the greater Spokane area, four studio spaces at the HIVE are available for occupancy beginning in August, 2021. Go to [email protected] to access details on all this non-profit offers to Washington State artists of all disciplines.
The University of Washington Press issues a call for writers working on a manuscript or new book proposal. The editors at this local press want to connect with current and prospective authors about new projects and book proposals. They invite writers to contact them by email to set up a meeting by phone or zoom. If interested, contact Executive Editor Lorri Hagman at [email protected].
A call for entries to visual artists  working in Washington, Oregon and Idaho for the Annual Betty Bowen Award. Deadline is August 1, 2021 at 11pm (PST). Application at callforentry.org with a $10  application fee. Winner receives $15,000 and a show at Seattle Art Museum. For more information, email [email protected] or visitsam.org/bettybowen.