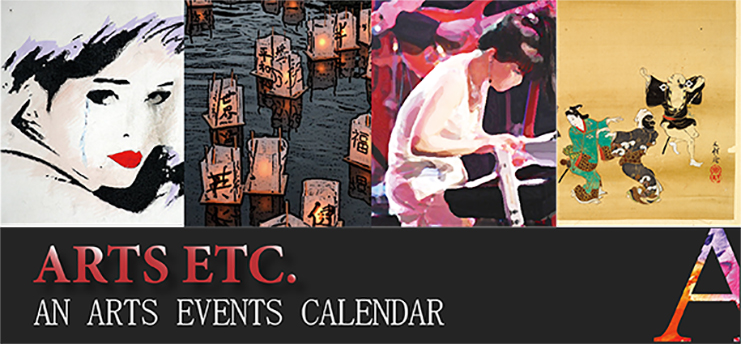 Visual Arts
"Magic Box: Defining Words in a Digital Age" is a show by butoh dancer/artist Shoko Zama and poet David Thornbrugh. It is  an interdisciplinary dialogue between collage/painting, evoking dictionary illustrations and ekphrastic writing. During gallery receptions and community day, butoh dancers will perform in the window displays.  Opening reception on Wed., July 31, 2019 from 6 – 8pm. First Thursday receptions are on August 1 and Sept. 5, 2019 from 6 – 8pm. On view July 31 – Sept. 28, 2019. 603 S. Main St. in Seattle.Go to www.thisisbonfire.com for details.
Manila-born, Brooklyn-based artist Paolo Arao presents "Key Change" in which he arranges textiles and paint in intricate patterns to evoke a softer, more tactile take on geometric abstraction. June 29 – July 20, 2019. Glass Box Gallery at 831 Seattle Blvd. S. Go to [email protected] for details.
"20/20: A 20th Anniversary Survey" on view through August 17, 2019. A group show of twenty artists who have contributed to the gallery's 20-year history are celebrated in this anniversary show. Includes work by Akio Takamori. James Harris Gallery at 604 2nd Ave. 206-903-6220.
MadArt presents Beili Liu from Austin, TX. In her first solo show in Seattle, the artist creates an immersive "site-specific" installation entitled "Each and Every" that creates and explores various dichotomies. For the Seattle show, she will suspend thousands of pieces of concrete-coated children's clothing inches above the gallery floor in a metaphor for all the immigrant children stopped and detained at our southern border crossing. Through Aug. 31, 2019.  325 Westlake Ave. N. #101. 206-623-1180 or go to [email protected].
"The Modern Youth Identity" is a group show curated by teenagers Alice Mao and Taylor Wang who hope to gather work by their high school and young adult peers for this show at Seattle Artist League. Here's information on what they hope to achieve from their statement. "We want to give underprivileged artists a chance to shine, without having to worry about the costs. It's going to be exciting to curate all the artwork. This is a non-profit event, and we are working as volunteers to put on this show because we know, as young artists ourselves, that we would really appreciate this sort of show. It's often events like these early in artists' careers that give them confidence and propel them forward." For details, go to studentartspaces.com or email [email protected]. On view from August  31 – Sept. 3,  2019. 10219 Aurora Ave. N. 206-483-9749.
Photographic Center Northwest presents a group show "Thesis Exhibition" which incudes the work of James Kuan and others. Through Aug. 18, 2019.  900 12th Ave. 206-720-7222.
"The Magic Brush" is a show by Master Hong-Duan Yang. He is a practitioner of Chinese painting and calligraphy and consultant to the Senior Professor Association of Chinese Calligraphy And Painting at Beijing University. The show is on view through July 21, 2019. Magnuson Park Gallery SPACE at 7448 63rd  Ave. N.E. in Seattle. Go to www.spaceatmagnuson.org for details.
"Quiet Hour: The Photography of Yukio Morinaga (1888 – 1968)" is the first solo exhibition by Seattle photographer Yukio Morinaga. He was an important member of the Seattle Camera Club, a group started by Dr. Kyo Koike which consisted of mostly Japanese members that specialized in the school of Pictorialism. In the 1920's, his work won prizes in many national and international competitions. There was a silken, poetic sensibility in his work that captured the mood of the streets in early turn-of-the-century Seattle. On view from July 11 – October 13, 2019. Opening reception for members and guests on Wed., July 10 from 5 – 8pm. Cascadia Museum in Edmonds, WA. 190 Sunset Ave.  425-336-4809.
The work of Tacoma artist Fumiko Kimura is included in a group show entitled "Departures and Arrivals: Artists in Abstraction" now on view through Sept. 29, 2019. Bainbridge Island Museum of Art. 550 Winslow Way on Bainbridge Island. 206-842-4451 or go to www.biartmuseum.org.
Seattle artist Tara Tamaribuchi presents two installations from her Camouflage Net Project. The work made of camouflage netting and kimono fabric was inspired by the history of Japanese Americans who made camouflage nets for the U.S. army as prison labor during WWII while they, themselves were imprisoned in concentration camps. One installation will be at the Northwest African American Museum in Seattle  through August 28, 2019. It is part of a group exhibition with several Pratt Fine Arts Center scholarship recipients entitled "Edwin T. Pratt: A Living Legacy" in honor of the life and spirit of the late Seattle-area civil rights leader, Edwin T. Pratt. The installation has a sound element featuring the oral histories of Japanese American internment camp survivors who made the nets and that of Dennis Baumbauer who was taken from an orphanage and imprisoned at Manzanar for being half-Japanese. 2300 S. Massachusetts St. 206-518-6000 or go to naamnw.org. The second installation is at the Pantages Theater in the storefront windows on 9th and Commerce in Tacoma through July 15, 2019 and is presented by Spaceworks Tacoma and funded in part by Densho and ArtsFund. This piece has a video that blends photos of incarcerated Japanese Americans with photos of asylum seekers at the U.S. southern border and Japanese Americans making camouflage nets with imagery of contemporary prison labor. For details on the work, go to www.tamaratamaribuci.com.
Jueun Shin shows in a group show entitled "Inked" of member printmakers at Columbia City Gallery through August 11, 2019. 9843 Rainier Ave. S. 206-760-9843 or go to www.columbiacitygallery.com.
JoEllen Wang has work in a group show entitled "Emerging Artist Scholarship Competition Exhibition" at Gallery 110 through July 27, 2019. 110 Third Ave. S. 206-624-9336 or go to www.gallery110.com.
Aaliyah Gupta explores cartography and topography, creating an interrogation of ruin and fragmentation in her solo show entitled "Topos"  Opening reception on Thurs., August 1 from 6 – 9pm. On view through  the month. CORE Gallery at 117 Prefontaine Place South. 206-467-4444  or go to [email protected].
Washington artist Yoshiko Yamamoto's work is included in a group show entitled "West Coast Woodcut: Contemporary Relief Prints by Regional Artists" on view through Nov. 15, 2019. Maryhill Museum at 35 Maryhill Museum Dr. in Goldendale, WA. 509-773-3733.
Hedreen Gallery – Lee Center for the Arts on the Seattle University campus off Capitol Hill has the following –Veteran Northwest artist Romsom Bustillo draws upon his island upbringing steeped in a colonial/native history and iconography. The final result in patterns and mark-making on paper are images that stay rooted in the memory. On view through August 10, 2019. Wed. – Fri. from 1 – 6pm. 901 12th Ave. 206-296-2244.
At KOBO at Higo in the CID is the following – A joint show of "Bonsai Landscapes" by Heiando Japanese Lacquer and "Floral Designs" by Delinger & Radovich Floral Designers is on view now through July 28, 2019. Traditional Japanese lacquerware handcrafted in Japan are used as the vessels for the expertly created arrangements of preserved bonsai and flowers by Delinger and Radovich. Following this exhibition, there will be two floral workshops lead by Delinger & Radovich in September, 2019. Participants will learn to create their own personal, one of a kind, floral arrangements using Heiando Traditional Japanese lacquerware and specially preserved flowers. Time and date will be announced shortly.  Open daily at 604 South Jackson St. 206-381-3000 or [email protected]. Kobo also has a sister location on Capitol Hill at 814 East Roy St., 206-726-0704.
Tacoma-based sculptor June Sekiguchi visited Laos a few years ago and it left a deep impression. So deep that she hopes to summon the powerful flow of the muddy Mekong River within the gallery walls providing visitors with a bridge to cross it as well. Set for the month of Oct., 2019. ArtXchange Gallery at 512 First Ave. S, 206-839-0327 or [email protected].
L.A.-based Ahree Lee is a multi-media artist working in video, photography, sound and interactive installations. She has a video installation entitled "Permutations"  currently on view in front of the Bill & Melinda Gates Foundation campus at 500 Fifth Ave. N. on view from 7am – 10pm. This same installation also appears at 4Culture's Storefront Media Gallery space at 101 Prefontaine Pl. S. with a screening launch on Thursday, August 1 from 6 – 8pm. It will be on view for a year.This is part of Storefront Media Gallery sponsored by 4Culture. 206-263-1588 for details.
"Yahaw – Together We Lift The Sky" is a year-long indigenous community-based project culminating in the inaugural exhibition at Seattle Office of Arts & Culture's ARTS at King Street Station.  "Yahaw" will feature the work of 200+ Indigenous creative artists at over 20 sites across Seattle and beyond. Curated by Tracy Rector, Asia Tail and Satpreet Kahlon. Learn more at Yehawshow.com. On view through August 3, 2019.
The work of Louise Kikuchi is included in a group show landscape invitational entitled "Lay of the Land" during the month of August at i.e. Gallery at 5800 Cains Court in Edison, WA. 360-488-3458 or go to www.ieedison.com.
Asia Pacific Cultural Center has a show every month of a local Asian American artist every month in their gallery.4851 South Tacoma Way in Tacoma. 253-383-3900  or asiapacificculturalcenter.org.
Seattle Art Museum has the following –Opening at the John McCone Gallery on the 3rd floor on March 16, 2019  is "The Gentleman Warrior: Art of the Samurai" which features two complete sets of samurai armor, screen paintings and a print of the legendary battle between the Tara and Minamoto clans. On the third floor of SAM, tea ceremony demonstrations continue on Third Thursdays at 5:30pm and Third Sundays at 2:30pm. Free with admission. Tea ceremonies do not occur in August. Go to visitsam.org/performs for details. Seattle Art Museum is located at 1300 First Ave.  206-654-3210  or try www.seattleartmuseum.org.
Henry Art Gallery has the following -"Recto/Verso" features art by New York-based artist Carrie Yamaoka from July 13 – Oct. 2019. It brings together work from the early 1990's to the present highlighting recurring themes of (in)visibility and perception. Early work is text-based explorations using chemically altered photographs. Also ongoing work made with reflective mylar and resin. Recent work straddles the media of painting, drawing and sculpture. Yamaoka is a founding member of the queer art collective known as fierce pussy. Located on the UW Seattle campus at 15th Ave. NE + NE 4lst Street. 206-543-2280  or try henryart.org.
"The Silk Road of Uzbekistan – An Ancient Trade Link Between China And The Western World" is the title of a talk by photographer & world traveler Barry Broman. His presentation will focus on three important ancient cities in this area of early world trade. Joining Broman will be Dr. David Paley who will share samples of his antique, selected Uzbek textile treasures. August 4, 2019 at 2:30pm. Presented by Friends of Asian Art Association at Skyline Retirement Center. 725 Ninth Ave. on Capitol Hill. Pre-registrationfor tickets at http//friendsofasianart.org/eventflyer4.html or buy at the door.
Pacific Bonsai Museum shakes up this Japanese tradition with LAB (Living Art of Bonsai), an experimental collaborative for bonsai innovation This project is a re-sequencing in the order of influence between the bonsai artist, ceramicist and stand maker. The project kicks off in 2018 and continues through 2020. A video trailer from a film about this new process can be viewed at http://www.bonsaimirai.com. Other shows include "Gnarly", a tribute to "bonsai renegade" Dan Robinson who helped create the Northwest bonsai scene with his innovative designs. Also on view will be "Living Art of Bonsai: Principles of Design" which emphasizes key elements of the art form. Both shows on view May 11 – Sept. 29, 2019. For more information, go to http://www.pacificbonsaimuseum.org. The Pacific Bonsai Museum is at 2515 S. 336th St. in Federal Way, WA. 206-612-0026 for information.
"Split Stone (Northwest)" by Sarah Sze is the latest addition to Western Washington University's Outdoor Sculpture Garden Collection on view in various sites around campus. Also includes work by Do Ho Suh, Isamu Noguchi, Richard Serra and many others. 516 High St. Bellingham,WA. 360-650-3963. Go to WesternGallery.wwu.edu for details.
Portland Art Museum has the following –  On view for the first time at the museum are Korean ink paintings from the Mary and Cheney Cowles Collection. Dating from the 16th to early 20th century, these paintings show the expressive moods of animals in landscape. "Squirrels, Tigers and Towering Peaks" is on view July 6 – Oct. 17, 2019. "Dramatic Impressions – Japanese Actor Prints" is a group show of woodblock prints of actors on the kabuki stage on view through Oct. 13, 2019. "APEX: Steven Young Lee" showcases this contemporary ceramic artist who takes inspiration from the museum's Korean collection and reconsiders these objects with a contemporary twist. Lee is based in Helena, MT. On view  through August 11, 2019. 1219 S.W. Park Ave. 503-226-2811 or try [email protected].
Bellevue Arts Museum previously had a retrospective for the late N.W. jewelry artist Ron Ho. They follow it up with "Ron Ho: A Jeweler's Tale" which looks more closely at his inspirations and how his Chinese roots and world cultures influenced and fed into his own work. With a reconstruction of his studio and the screening of a new documentary entitled "Ron Ho: Becoming Chinese, A Jeweler's Tale". On view  through Sept. 15, 2019. 510 Bellevue Way. 425-519-0770 or go to bellevuearts.org.
New and recent shows /activities at the The Wing   include the following – "Excluded, Inside the Lines" is on view through Feb. 23, 2020. It uncovers the history of redlining and the impact on minority communities. "A Dragon Lives Here", part 4 of the ongoing Bruce Lee exhibition series is ongoing.  This concluding part hones in on Bruce Lee's Seattle roots and how this region played a key role in shaping Lee and his groundbreaking career. "I Am Filipino" exhibit is ongoing.      Toddler Story Time set for Thursdays at 11am always has events centered around a kid's book and an art activity afterwards.   A new addition to The Wing's daily Historic Hotel Tour is "APT 507" which is the story of Au Shee, one Chinese immigrant woman who helped build Seattle's Chinatown. Her living room is interactive with objects meant to be felt, opened  and experienced.   "Worlds Beyond Here: The Expanding Universe of APA Science Fiction" is a show that remains on view through Sept. 15, 2019. From onscreen actors to behind-the-scenes writers, creators, artists and animators, learn about the impact Asian Pacific Americans have had and continue to have in science fiction. A mix of literary and pop culture works helps viewers to see how science fiction reflects the times they were written in. It addresses issues related to identity, immigration and race, technology, morality and the human condition. Curated by Mikala Woodward. Includes work by Tamiko Thiel, Simon Kono, June Sekigiuchi, Stasia Burrington, relics from George Takei's Sulu character on Star Trek, clips & stills from the film, Arrival" based on Bellevue writer Ted Chiang's story and much more. A group show tentatively titled "Open Housing" shows how community members across the Central Area, Chinatown-ID and Southeast Seattle gather to explore how racial restrictions on where people could live shaped the Seattle we know today and set a vision for those neighborhoods for the next 50 years. Through Feb. 16, 2020 in the New Dialogues Initiative area. Carina del Rosario curates an exhibit entitled "Wide Angle/Close up: A Self Portrait of the Asian Pacific Islander American Community" from May 10, 2019 – April 19, 2020. Includes photography, video, and photo-based installations by photojournalists that document the community from the inside out. Set for the George Tsutakawa Gallery. "Chinatown in the 1970s" recreates Seattle's Chinatown in the 1970's and explores the values and customs that continue to shape the neighborhood today. July 20, 2019 – Jan. 5, 2020 in the KidPLACE Gallery.  On Thursday, July 18 at 5:30pm as part of the Wing's annual JamFest, Jazz writer Paul De Barros leads a free walking tour of historic International District jazz clubs including a viewing of the Club Royale stairwell murals. Seating is limited to 25 people SO sign up asap at Louisahotelseattle.com.The Museum is located at 719  South King St. (206) 623-5124 or  visit www.wingluke.org. Closed Mondays. Tuesday – Sunday from 10am – 5pm. First Thursday of each month is free from 10am – 8pm. Third Saturday of each month is free from 10am – 8pm.
Poet Jane Wong, currently teaching at Western University enters a new realm with a debut exhibition centered on family entitled "After Preparing the Altar, the Ghosts Feast Feverishly" at Seattle's Frye Art Museum. Wong explores the themes of hunger and waste and their meaning for immigrant families. Expect altars, sculpture poems and texts that evoke a New Jersey childhood in the Chinese restaurant her parents ran. If she can do with images what she does with words, this show will be sure to haunt. On view through  Sept. 1, 2019. "Fieldwork: Contemporary Art from South Asia" is a part of the Frye Art Museum's Summer Art History Lecture Series. UW School of Art Professor Sonal Khullar gives an introduction to contemporary art from India, Pakistan, Bangladesh and Sri Lanka. Credits and clock hours available. July 23 – 26, 2019 from 11am – 1:30pm. 704 Terry. 206-622-9250 or go to fryemuseum.org.
"Key to the Collection" is a group show that opened Dec. 22, 2018 and it lets TAM show off some of the treasured gifts from their collection including their legacy of Japanese woodblock prints and various other items. Familiar Faces & New Voices: Surveying Northwest Art"  stays on view through the summer of 2019. This group show is a chronological walk through of Northwest art history, illustrated with the works of noted artists from each time period as well as lesser-known but just as important figures. Different works will be displayed throughout the run of this show. Includes the work of Patti Warashina, Roger Shimomura, Joseph Park, Alan Lau (full disclosure, that's me)  and many others. Tacoma Art Museum at 1701 Pacific Ave. 253-272-4258 or email [email protected] or go to www.TacomaArtMuseum.org.
"A Thousand Words' Worth: Washington Authors Tell Northwest Stories Through Historic Artifacts" is a group exhibition in which the Washington State Historical Society asked Northwest writers to pick out a few historic artifacts to tell stories with. The end result is like pulling books off a shelf and reading about the stories they tell. Washington authors Shawn Wong, Jamie Ford, John Okada and Frank Abe are included. On view through August  24, 2019. 1911 Pacific Ave. in Tacoma. 1-888-BE-THERE. For details, go to www.washingtonhistory.org/1000words.
Early tickets are now available for sale for the fifth edition of the Seattle Art Fair set for August 1 – 4, 2019 as presented by AIG. Prices will increase starting July 18, 2019. Held annually at Century Link Field Event Center. Go to seattleartfair.com for details.
The Pilchuck Glass School has issued their 2019 Programs catalog. Some of the instructors teaching there during July/August include Anjali Srinvasan, Ranjit Bhatnagar, Aya Oki and Kentaro Yanagi. Go to pilchuck.com for full details.
"Land of Joy And Sorrow: Japanese Pioneers of the Yakima Valley" is an ongoing exhibit that traces the story of the Japanese families who settled in the Yakima valley. Yakima Valley Museum at 2105 Tieton Dr. in Yakima, WA. 509-248-0747.
The Portland Chinatown Museum has the following – In the permanent gallery is "Beyond the Gate: A Tale of Portland's Historic Chinatowns". On view through Sept. 1, 2019 is Jeff Lee's landscape photographs of Southeast Asia and the Pacific Northwest juxtaposed with a small collection of Portland streetscapes and abstract compositions by his father Eugene Lee who was born near Chinatown. 127 NW Third Ave. 503-224-0008 or email [email protected].
Blackfish Gallery in Portland has the following – "Palmarin Merges: Manila to PDX/Exploratory Drawings" through July  27, 2019. "Mami Takahashi: My Word is Hard to Hear in 2019" which is an investigation of veiled communication within public space.  From July 30 – August 31, 2019. 420 NW 9th Ave. 503-224-2634 or go to blackfish.com.
Longtime Portland sculptor Michihiro Kosuge  has a show of new work at Russo Lee Gallery in Portland from August 1 – 31, 2019. 805 NW 21st Ave. 503-226-2754 or go to russoleegallery.com.
Oregon Nikkei Legacy Center presents the following – From July 18 – Sept. 22, 2019 will be a museum exhibit that covers Portland Taiko's 25 year history in the region entitled "Portland Taiko 25th Anniversary Exhibition". Beginning this year, visitors can see artifacts of the collection up close as the stacks will be open to see as the staff does filing. 121 NW Second Ave. in  Portland. 503-224-1458 or go to www.oregonnikkeir.org.
The Portland Japanese Garden has the following – On view through July 21, 2019 will be "Forest of Dreams: Ainu And Native American Woodcarving". 611 SW Kingston Ave. in Portland, Oregon. 503-223-1321 or go to japanesegarden.org.
The Jordan Schnitzer Museum of Art located on the campus of the University of Oregon in Eugene has the following – "Graceful Fortitude: The Spirit of Korean Women" is on view through August 4, 2019. It includes art created by, for and/or about Korean women in all media from the twelfth to the twenty-first century.  Upcoming exhibits include the following –  "Evocative Shadows: Art of the Japanese Mezzotint" is on view from July 27, 2019 – August 30, 2020. This show celebrates the history of this genre which produces a broad tonal range of deep blacks through bright whites. "Kwang Young Chun: Aggregations" from August 24, 2019 – June 28, 2020. This South Korean artist combines hundreds of paper-wrapped parcels to create sculptural compositions that resemble crystal formations, asteroids of the surface of the moon.1430 Johnson Lane in Eugene, Oregon. 541-346-3027.
Vancouver Art Gallery has the following – On view through Sept. 2, 2019 is "Moving Still: Performative Photography in India" which explores the themes of migration, gender, religion and national identity through the lens of performative photography. Curated by Diana Freundi and Gayatri Sinha. 750 Hornby St. Vancouver BC Canada. 604-662-4719.
Chinese Cultural Centre Museum has the ongoing exhibit "Generation to Generation – History of Chinese Canadians in British Columbia." 555 Columbia St. Vancouver, BC. 604-658-8880.  Admission by  donation.
Art Gallery of Greater Victoria has the following – Opening July 5 and on view through Sept. 15, 2019 is "Imagining Fusang: Exploring Chinese and Indigenous Encounters", a group show where artists explore and speculate upon early encounters and interactions between indigenous peoples and Chinese communities that settled on Vancouver Island. Curated by Haema Sivanesan.1040 Moss St. in Victoria, BC. 250-384-4171 or go to aggv.ca.
Asian Art Museum, San Francisco has the following "Changing And Unchanging Things: Noguchi And Hasegawa in Postwar Japan" on view Sept. 27, 2019 – Dec. 18, 2019. This looks at a pivotal moment for both artists. Noguchi was returning to Japan after many years and Hasegawa had spent many years away in Europe. Together they discussed the many possibilities of combining Japanese tradition with outside influences they had had discovered on their travels. Noguchi would go on to design major permanent sculptural installations around the world and Hasegawa would become a strong influence on America's zen-inspired "Beat Movement." 200 Larkin St. 415-581-3500.
Berkeley Art Museum has the following – "Divine Women, Divine Wisdom" is on view through Jan. 12, 2020. It features art from South Asia and the Himalayan region that celebrates the wisdom, power and compassion of women within the context of Hindu and Buddhist traditions. "Meditation in Motion: Zen Calligraphy from the Stuart Katz Collection" on view July 17 – Oct. 20, 2019. Important works by Chinese Obaku monks who immigrated to Japan and the work of Japanese monks who expanded on their examples.155 Center St. in Berkeley, CA. 510-642-0808 or go to [email protected].
"Future IDS At Alcatraz" is a yearlong project, exhibition, and series of monthly public programs on view in the New Industries Building on Alcatraz Island until October, 2019. The installation features ID-inspired artworks created by and with individuals who have conviction histories as they conceive and develop a vision for a future self. In stark contrast to prison-issued IDs, these artworks represent individual stories of transformation. Artist Gregory Sale leads a team of collaborators that translates criminal justice reforms efforts into a visual language to shift thinking about rehabilitation, reentry, and reintegration. The team includes Dr. Luis Garcia, Kirn Kim, Sabrina Reid, Jessica Tully, Sale and many others. Presented in partnership with the Art in the Parks program of the National Park Service, Golden Gate National Parks Conservancy, and Headlands Center for the Arts. The project and exhibition space has been designed to function as a platform for engagement through performances, workshops, and civic dialogue experiments that are co-curated with community partners. On the third Saturday of each month, there will be a day-long program of participatory programs. The next one is July 20 from 10am – 5pm. Entrance to this exhibition comes with your boat cruise ticket to the island. The ferry leaves from Pier 33 Alcatraz Landing. For tickets go AlcatrazCruises.com. To learn more about the project, go to GregorySaleArt.com or FutureIDs.com.
The professional basketball team, the Golden State Warriors has formed a unique art partnership with San Francisco Museum of Modern Art for the team's new home court in San Francisco. When they move from Oakland to San Francisco's Chase Center, they will have sculptural art pieces on the grounds and in the building on loan from SFMOMA. A mobile by Alexander Calder will hang from the ceiling of the stadium. In addition, a 1975 piece by Isamu Noguchi entitled "Play Sculpture" will be situated outside the arena. Further plans include a commissioned sculpture by Danish artist Olafur Eliasson to be built outside the building. Also 33 more artists have been commissioned to have work displayed in the area around the facility.
LACMA or Los Angeles County Museum of Art  has the following – "The Allure of Matter: Material Art from China" brings together work from the last four decades in which conscious choice of material has become a symbol of the artists' individual expression. Some of the most influential Chinese artists of today are included with work by Xu Bing, Cai Guo-Qiang, Lin Tianmao and Ai Weiwei. This traveling show premieres here before  going on to Smart Museum of Art in Chicago, Seattle Art Museum (June 25 – Sept. 13, 2020)  and the Peabody Essex Museum in Salem, Mass. A display of Korean art which includes paintings, ceramics, textiles and Buddhist art are on view until July 27, 2019. "Power of Pattern: Central Asian Ikats from the Reisbord Collection" until July 28, 2019. "Beyond Line: The Art of Korean Writing" is the first show outside of Asia  to focus on the history of writing and calligraphy in Korea. On view through Sept. 29, 2019. 5905 Wilshire Blvd. 323-857-6010.
The Japanese American National Museum has the following shows  – "Common Ground: The Heart of Community." This overview exhibit of Japanese American history is ongoing. Opening May 25 and going on through Oct. 20, 2019 is "At First Light: The Dawning of Asian Pacific America". This multi-media exhibition celebrates and explores the emergence of a politically defined Asian Pacific American consciousness and identity. It draws on the archives of Visual Communications and the museum itself. 100 N. Central Ave. in Los Angeles. 213-625-0414 or go to http://www.janm.org.
"Chiura Obata: An American Modern" is the first retrospective of this noted Bay area artist whose work reflected the glories of the American landscape from the Grand Canyon to Yosemite. His influence could also be felt at UC Berkeley where he had a distinguished teaching career. He also helped found art schools in internment camps during WWII.  Curated by ShiPu Wang with a catalogue. The exhibition travels to the following sites. June 23 – Sept. 29, 2019 at Crocker Art Museum in Sacramento.
The Freer/Sackler Gallery on the Smithsonian Mall shows you how religion and art mix in "Encountering the Buddha: Art and Practice Across Asia through Nov. 29, 2020. 202-633-1000 or go to FreerSackler.si.edu for details.
The Metropolitan Museum of Art has the following –"Kyoto: Capitol of Artistic Imagination" is on view from July 24, 2019 – August 2, 2020. "Seeing the Divine: Pahari Paintings of North India" through July 21, 2019.   Through Oct. 27, 2019 is  a major sculpture exhibition from  the 18th & 19th century era in the Pacific Islands entitled "Atea: Nature And Divinity In Polynesia." "Celebrating the Year of the Pig" through July 28, 2019. "Essential Korea" through Sept. 22, 2019. "Streams and Mountains Without End: Landscape Traditions of China" through August 4, 2019.  "Children to Immortals: Figural Representation in Chinese Art" through Feb. 23, 2020. 1000 Fifth Ave. New York, New York. Go to metmuseum.org for details.
"Phenomenal Nature" is the first retrospective of Indian artist Mrinalini Mukherjee in the U.S. It explores the artist's longstanding engagement with fiber and her forays into ceramics and bronze, nature and her enthusiasm for Indian historic sculpture, modern design, local crafts and textile traditions On view through Sept. 29, 2019 at The Met Breuer at 945 Madison Ave. in New York City. 212-731-1675.
The work of Noritaka Minami and Alex Huanfa Cheng is included in a group show of photography entitled "Delicious Cities", the 2019 Summer Open Exhibition featuring international talent. On view from July 25 – August 29, 2019. Aperture  Foundation at 547 West 27th St – 4th floor. 212-505-5555 or go to aperture.org.
The Rubin Museum of Art has the following shows –"Charged with Buddha's Blessings – Relics from an Ancient Stupa" is on view through June 8, 2020."Masterworks of Himalayan Art" is on view through March 23, 2020. "The Power of Intention- Reinventing the (Prayer) Wheel" brings together select examples of traditional and contemporary art to illuminate the relationship between our intentions, commitments and actions. On view  through Oct. 14, 2019. "The Wheel of Intentions" is an interactive installation on view through Jan. 6, 2020.  "Gateway to Himalayan Art" is on view through June 8, 2020. "Shrine Room Projects: Wishes and Offerings" is on view through September 16, 2019. "The Tibetan Buddhist Shrine Room" is on view through September 16, 2019.150 W. 17th St.  New York, New York. 212-620-5000×344 or go to rubinmuseum.org.
The Japan Society has the following – Opening Oct. 11, 2019 and on view through Jan. 6, 2020 is "Made in Tokyo: Architecture And Living, 1964/2020" which looks at how Tokyo has changed its architecture from the 1964 Summer Olympics up to its preparation for the 2020 event. 333 East 47th St. New York, New York. 212-263-1258.
The Museum of Chinese in America has the following –"With a Single Step: Stories in The Making of America" chronicles the history of the museum through Dec. 31, 2020. Through Sept. 15, 2019 is "The Moon Represents My Heart: Music And Belonging" which explores the tradition of music in Chinese communities. 215 Centre St. New York, NY. 855-955-MOCA or go to mocanyc.org.
The Asia Society Museum in New York presents the following – "M. F.  Husain: Art And the Nation" focuses on the artist's mural-sized painting created for Indira Gandhi's Congress Party rally in 1975. On view through August 4, 2019. "Masterpieces from the Asia Society Museum Collection" is a group show on view through August, 2019.To find out more, go to AsiaSociety.org/NY. 725 Park Ave. New York City, New York. 212-327-9721 or go to www.asiasociety.org for more details.
The Noguchi Museum has the following – "Rotating Objects" by Gabriel Orozco in which the artist takes Japanese objects and embellishes them in his own style on view through August, 2019. "Changing And Unchanging Things" Noguchi & Hasegawa in Postwar Japan" featuring this historic meeting in post WWII Japan between two artists influenced by Japanese tradition and Western modernism  and how to create a new fusion of both. May 1 – July 14, 2019.  9 – 01 33rd Rd, Long Island City, NY. 718-204-7088.
China Institute Gallery presents "Art of the Mountain: Through the Chinese Photographer's Lens" on view through August 28, 2019. Located at 100 Washington St. (visitor entrance is at 40 Rector St . on the 2nd floor) in New York. 212-744-8181 or go to www.chinainstitute.org.
Tallur L. N. is an Indian sculptor who combines Indian craft traditions and novel sculptural techniques to infuse ancient iconography with contemporary meanings. "Multiplicity"  is a show that has around thirty works in a variety of mediums, from carved stone and wood to cast bronze and concrete to found objects. Through Jan. 5, 2020. Grounds for Sculpture at 80 Sculptors Way  in Hamilton, New Jersey.609-586-0616 or info@grounds for sculpture.org.
"Forward Press: 21st Century Printmaking" is a group show of printmakers who break rules in printmaking to immerse and overwhelm the viewer with large scale installations. Curated by Susan Goldman, the artists use 3D, printed fabric, inkjet printing, laser-cut technology, video and whatever works to get their art across. The work of Sangi Yoo entitled "Dazzle Dazzle" does just that with incised forms and shadow play to evoke the suburbia of her Korean childhood and her current home in Texas. On view at American University Museum at  the Katzen Arts Center, 4400 Massachusetts Ave. NW in Washington  D.C. through August 11, 2019. Free. Go to American.edu/museum for details.
"The Life of Animals in Japanese Art" is a group show on view through August 19, 2019 at the National Gallery of Art. It covers 17 centuries, a wide variety of media drawn from Japanese and American public and private collections and seven items are deemed Important Cultural Properties by the Japanese government. The exhibition is complimented with a series of lectures, gallery talks and programs during the run of the show. On Constitution Avenue NW on the National Mall. 1-202-737-4215 or  try nga.gov.
Museum of Fine Arts Boston has the following –  "Royal Celebrities – Japanese Prints And Postcards" through July 28, 2019.465 Huntington Ave. Go to mfa.org ot call 617 -267-9300.
"Painting the Classics: Japanese Screens" through Nov. 17, 2019. "Power in S.E. Asia" is ongoing. "Sacred Dedication: A Korean Buddhist Masterpiece" is on view from Sept. 21, 2019 through March 22, 2020. "My Iran: Six Women Photographers" is on view August 10, 2019 through Feb. 9, 2020. All at the Freer/Sackler Gallery on the Smithsonian Mall in Washington D.C.
The Peabody Essex Museum has the following – "Wild Designs" is a group show that features artists and innovators who look to nature and living systems for new ideas and creative solutions to human problems. On view through August 4, 2019. "Japanomania! Japanese Art Goes Global" through Jan. 3, 2021.  "Mega City: India's Culture of the Streets" on view through June 28, 2020. "Double Happiness: Celebration in Chinese Art" through Jan. 3, 2020. Opening June 22, 2019 and remaining on view through Jan. 19, 2020 is Kimsooja's "Archive of Mind." This is a participatory installation with visitor assistance that builds over the course of the exhibit. Museum visitors are encouraged to sit at the space and form a fall of clay with their own hands. Thousands of clay spheres will be generated through small individual gestures that reveal the emotional traces of their makers and cumulatively generate a complex array of texture, scale and tone.  Opening June 1, 2019 and remaining on view through May 17, 2020 is "A Lasting Memento: John Thomson's Photographs Along the River Min". Scotsman John Thomson is considered to be one of the first photographers to document East and South Asia. This exhibit takes us back to an earlier time. It features more than 40 landscapes, city views and portrait studies. The show is complemented by a selection of photographs by contemporary artist Luo Dan who was inspired by Thomson to undertake his own journey in Southwestern China in 2010. 161 Essex St. in Salem, Massachusetts. 816745-4876 or go to pem.org.
A show of prints by the late Seattle artist Munio Makuuchi is set from August – December, 2019. Art historian Margo Machida will write the catalog essay. 20 Elm St at Bedford Terrace in Northhampton, MA. 413-585-2760 or go to [email protected].
The Minneapolis Institute of Art has the following – "Without Boundaries: Fiber Sculpture & Paintings by Women Artists" featuring work by Yayoi Kusama through July 21, 2019. "An Art as Lyrical as Poetry: Recently Acquired Chinese Paintings through Nov. 24, 2019. "All Flowers in Bloom: Porcelains from China's Last Dynasty through Nov. 10, 2019. "Romance And Heroism: Theatrical Robes from Late Imperial China through Sept. 29, 2019. "Nature in Monochrome: Birds And Flowers in Japanese Ink Paintings from Sept. 29, 2019 to Oct. 27, 2019. "Living Rooms Made in China: The McFarlane Room Wallpaper on view through Dec. 29, 2019. "Artists Respond: American Art And The Vietnam War, 1965 – 1975 from Sept. 29, 2019 – Jan. 5, 2020. Minneapolis  Institute of Art. 2400 Third Ave. S. Call toll free at 888-642-2787.
"Being Japanese Canadian: reflections on a broken world" is a group show that focuses on the internment camp experience during WWII for Japanese Canadians. Includes the work of Lillian Michiko Blakey, David L. Hayashida, Emma Nishimura, Steven Nunoda, Laura Shintai, Norman Takeukchi. Marjene Matsunaga Turnbull and Yvonne Wakabayashi. On view through  August 5, 2019. "Gods in Any House: Chinese New Year with Ancestor Portraits and Deity Prints" is also on view though Sept. 29, 2019.  Royal Ontario Museum at 100 Queens Park in Toronto, Ontario, Canada. Go to rom.on.ca for details.
The Nikkei National Museum & Cultural Centre in Burnaby BC Canada has undergone some renovation and restructuring and presents a show entitled "Nikkei" which juxtaposes archives and artworks and includes stories, personal items, digitized "heritage" film footage and Cindy Michizuki's video installation to examine what it means to be a person of Japanese ancestry. 6688 Southoaks Cres. 604-777-7000. Go to centre.nikkeiplace.org.
"Journeying Through Chinatowns" includes work by three Vancouver photographers who try to capture the present-day conditions of historical Chinatowns in Vancouver. Work by Rennie Brown, Jonathan Desmond and Kayla Isomura. Through Sept. 1, 2019. Dr. Sun Yat-Sen Classical Chinese Garden. 578 Carrall St.  604-662-3207 or try vancouverchinesegarden.com
The Museum of Vancouver presents "Dragon Jars and Lotus Bowls: Asian Ceramics from the Jean Mackay Fahrni Collection through August 12, 2019. In Vanier Park at 1100 Chestnut St. 604-736-4431 or try museumofvancouver.ca.
"Shadows, Strings and Other Things: The Enchanting Theatre of Puppets" is a cross-cultural exhibition with puppets from more than 15 countries in Europe, Asia and the Americas. Through Oct. 14, 2019. Museum of Anthropology  at UBC. 6393 NW Marine Drive. 604-822-5087 or go to moa.ubc.ca.
The VISUAL SPACE Gallery in Vancouver BC presents the work of two award-winning metal artists with "Brian Hoyano & Kye-Syeon Son: Metamorphosis" opening August 16 at 7pm. 3352 Dunbar St. 604-559-0576 or go to visualspace.ca.
The work of beloved Japanese manga artist Urasawa Naoki is highlighted in a show entitled "This is Manga – The Art of Urasawa Naoki" now on view through July 28, 2019 at Japan House in London. Contains more than 400 original drawings and storyboards by the artist. 101-111 Kensington High St. 44-20-3972-7100 or try [email protected].
Indonesian-born, Amsterdam-based filmmaker Fiona Tan mixes found and original footage in her work to blue categories. Here, she uses color advertising footage from Agfa to explore notions of authenticity and normalcy in West Germany. Through August 11, 2019.  Museum Ludwig in Cologne, Germany. Heinrich-Boll-Platz, 50067 Koln, Germany. +49 221-221-26165 or [email protected].
Tokyo Opera City Art Gallery has the following shows. Through Sept. 23, 2019 will be a retrospective on the art of Julian Opie, works by Ikeda Ryoji and Suematsu Yukari. 3-20-2 Nishi-Shinjuku, Shinjuku-ku, Tokyo,Japan. +81- (0) 3-5353-0756.
National  Museum of Modern Art, Tokyo has a show of works from their collection on view until Oct. 20, 2019. The show features currents in Japanese modern and contemporary art from the beginning of the 20th century to the present. 1-1 Kitanomaru-koen, Chiyoda-ku, Tokyo, Japan. +81 3-5777-8600.
The Mori Art Museum has the following – Coming up is the highly anticipated exhibition for Berlin-based installation artist Shiota Chiharu entitled "Shiota Chiharu: The Soul Trembles" which is on view June 20 – Oct. 27, 2019. A show tentatively entitled "The Future And Arts" is set for Nov. 19, 2019 – March 29, 2020. T106-6108, Tokyo, Minato City, Roppongi, 6 Chome – 10-1 Japan. +81  3-5777-8600.
"teamLab*Borderless" houses works by this hi-tech art group in the Mori Building Digital Art Museum. With computer-graphic projections of animals, plants and objects from nature to  light sculptures and a forest of lamps. On view indefinitely. Aomi Station, Odaiba, Tokyo, Japan. 03-6406-3949.
"Abstraction: Aspects of Contemporary Art" is on view through August 4, 2019. Looks at examples of abstract art that have emerged from the West since the 1980s. The Museum of Contemporary Art, Osaka. 4-2-55 Nakanoshima, Kita-ku, Osaka,  Japan.
The University of California at Irvine's Institute and Museum for California Art has named its first director. Kim Kanatani who most recently served as deputy director and director of education at the Guggenheim in New York takes up her new position in August, 2019. The museum was established through gifts of art made in 2016/2017 and houses work made by California artists of the early 19th century to the present. UCI will build a new permanent space for the museum on campus.
Congratulations to the following artists who received awards from Artist Trust this year. Romson Bustillo received a 2019 Fellowship Award. Don't miss his current show at Seattle University. MalPina Chan received a 2019 SOLA Award.
James KM Cheng of JKMC Architects will design a residential tower project entitled First Light to be built at the corner of Third & Virginia in downtown Seattle by Vancouver-based real estate development firm Westbank. This project is personal for Cheng since he began his architectural training at UW. First Light hopes to integrate art and architecture for every project. This one will be a collaboration with Seattle glass artist John Hogan. First Light breaks ground later this year. For a preview, people can see the First Light Presentation Gallery on the site to see "Light As a Common Thread", an art exhibition weaving together the art  work of Hogan, the architecture of Cheng, PFS Studio Landscape Architects and Westbank.
Performing Arts
"Crazy Woke Asians" come to Seattle for a mini-tour featuring the funniest Asian American stand-up comics from Los Angeles and Seattle. Catch Justin Rivera, JR De Guzman, Aidan Park, Kazu Kusano, Dewa Dorje, Ellen Acuario, Mona Conception and more special guests to-be-announced. Hosted by Kiki Yeung, former Seattle resident and former IE contributing writer. $15 advance tickets and $20 at-the-door. They will perform at Unexpected Productions Improv on July 24 at 7pm at 1428 Post Alley. 206-507-2414. On July 25 they come to Laughs Comedy Club at 5220 Roosevelt Way NE at 8pm. 206-526-5653. On July 26 you will find them at Jai Thai on 235 Broadway E. at 9pm.For advance tickets and more information, go to https://crazywokeasians.weebly.com/seattle-tour.html or email [email protected].
The Mukai Japanese Garden and Mukai House on Vashon Island is a non-profit formed around the original house and garden of one of the first Japanese farmers on the Island. They are in the process of renovating the house and re-building the garden and use the facility to educate the community about local Japanese American history and culture. On Sat., July 20 from 1 – 4pm, the place will have an open house for visitors attending the nearby Strawberry Festival, a mile west of Vashon's Town Center. On Sat., Sept. 14, 2019 from 11am – 8pm, there will be the 2nd Annual Vashon Japan Festival. All events are free and all ages are welcome. 18017 – 107th Ave. SW on Vashon Island. [email protected].
The Gardner Center for Asian Art and Ideas' annual outdoor World Music Series features free world music at the Volunteer Amphitheater by the Asian Art Museum in Volunteer Park.  Ganesh Rajagopalan is one of India's best violinists who crosses boundaries in jazz, folk, blues and Hindustani music and he performs July 19. Emi Meyer was born in Kyoto to a Japanese mother and American father but raised in Seattle. This singer/songwriter shares her songs that blend jazz, soul and pop on July 26. All concerts are free and begin at 7pm in the park. Go to visitsam.org/gardnercenter for details.
Seattle actress/director Sara Porkalob helps Susan Lieu reprise her performance piece, directing her in  "140 LBS: How Beauty Killed My Mother" July 18 – 21 at Theatre Off Jackson. And on every second Sunday is "Sunday Night Shuga Shaq", the only monthly all people of color burlesque revue in Seattle. Go to www.thetheatreoffjackson.org for details.
"The Bite Cooks!" is a showcase feature of the always popular summer foodie event "Bite of Seattle" held at Seattle Center from July 19 – 21, 2019. "The Bite Cooks!" features high-energy mystery ingredient cook-offs and culinary demonstrations by some of Seattle's best chefs. Competing chefs are given a half-hour  to concoct a masterpiece from three mystery ingredients. Chef Yong Cho of Phorale will be one of the contestants. 9 year old junior chef-in-the-making Ana Kuma (Junior Sous) will perform a cooking demo with instructor Sara Adams. Thai Select chefs doing cooking demos include Jutamas Kanjanamai (Bai Tong), Aratana Nualkhar (Nualkhar), Jindanat  Nuaikhair (Araya's Place) and Kasem Saengsawang (Farmhouse Kitchen Thai Cuisine). Go to httpps://biteofseattle.com for complete details.
Seattle Public Theatre gives a $10,000 Emerald Prize for new plays that bring up new ides that compel us to examine and engage our ever-changing world from different perspectives. This year's winner was Sam Hamashima. He comes to Seattle to research and workshop his new play "Supposed Home" which integrates Washington's history with Japanese American internment into a magical Miyazaki-esque fable and begins on Bainbridge Island. A single performance of this play takes place on Tuesday, July 23 at 7:30pm. Cast includes Ina Chang, Brad Walker, Stephen Sumida, Tom Dang and Laura Lee Caudill. Directed by Annie Lareau. It will take place at UHEIGHTS at 5031 University Way NE in Seattle. Tickets are free but space is limited. Reserve your seat at http:bit.ly/EPReading, Sam Hamashima is a New York based playwright and interdisciplinary artist. His numerous plays have been performed around the country including the John F. Kennedy Center for Performing Arts and the University of Michigan amongst others.
Japanese jazz organist Akiko Tsuruga notched second place in Downbeat's "Rising Star Organ" category and has been praised by organ icon Dr. Lonnie Smith. She comes to the Northwest on the heels of a new recording with a trio known as "Equal Time" with Graham Dechter on guitar and Jeff Hamilton on drums. She is at the popular Jazz Port Townsend Festival which runs from July 25 – 27, 2019 in Port Townsend,WA. You can catch her with Equal Time on Friday, July 26 at 7:30pm sharing the main stage at McCurdy Pavilion with clarinetist Anat Cohen and guitarist Marcello Goncalves. She appears again with the Centrum All Star Big Band on Sat., July 27 at 1:30pm sharing the bill with Brothers of Brass and vocalist Mayo Mastery. At Fort Worden State Park. Call 1 (800) 746-1982 or go to centrum.org for tickets. Equal Time also performs at Jazz Clubs NW on July 28 – 29, 2019 in North Bend, WA. 112 W. 2nd St. Go to http://jazzclubsnw.org/northbend for details.
"Strictly Seattle" is a dance festival where dancers get the chance to collaborate with special guest choreographers like Veronica Lee-Baik, Pat Graney and others. July 26 – 27, 2019. At Velocity Dance Center.1621 12th Ave. #100. 206-325-8773.
The Olympic Music Festival at Fort Worden in Port Townsend has their focus this summer on "The Art of the Violin". The season finale includes Ray Chen & Julio Elizalde on Sept. 7 & 8, 2019. For complete information, go to olympicmusicfestival.org.
Future Seattle Opera productions include the following – "Rigoletto – The Cost of Corruption" August 10, 11, 14, 17, 18, 23,24, 25 & 28, 2019. Yongzhao Yu makes his Seattle Opera debut as the Duke of Mantua. "Charlie Parker's Yardbird – The Man Behind A Legend" with music by Daniel Schnyder and libretto by Bridgette A. Wimberly. Plays Feb. 22, 23, 26, 29 AND March 1, 4, 6 & 7, 2020. Kelly Kuo will make his Seattle Opera debut as conductor for the orchestra for this production.
Pianist/composer Keiko Matsui marks her yearly return to Seattle with a stay at Jazz Alley from Aug. 22 – 25, 2019. 2033 6th Ave. 206-441-9729.
"Sake To Me! – A Taste of Japan" is an event sponsored by Friends of Asian Art. Sample different types  of sake accompanied by small bites. August 25, 2019 from 3 – 4:30pm. Members,  $25.  Non-members, $35. For tickets, go to http://friendsofasianart.org/eventflyer2.html. The event takes place at Sake Nomi located at 76 South Washington in Seattle's pioneer Square.
In the fall, Seattle Symphony begins a new season under new conductor Thomas Dausgaard. Some highlights include the following – Dynamic classical pianist Lang  Lang returns from a previous injury to perform a program of Sibelius, Beethoven and Mozart on Wed., Oct. 9 at 7:30pm. Masaaki Suzuki conducts Seattle Symphony in a concert of the "Mozart Requiem" on Oct. 17, 19 & 20, 2019. The program also includes Takemitsu's "Requiem for String Orchestra". Beatrice Rana is the concert pianist on a performance of "Schumann Piano Concerto"  on Oct. 24 & 26, 2019. Byron Schenkman & Friends presents international competition winner and Seattle native Rachell Ellen Wong in concert with Byron Schenkman in a program of "Brahms, Dvorak and Still" on Oct. 27. 2019. Lawrence Loh conducts Seattle Symphony in a program entitled "The Movie Music of John Williams" on Nov. 8, 9 & 10, 2019 as part of the "Pops Series".  Moving on to 2020, the annual "Celebrate Asia" concert has Tianyi Lu conducting and Gaurav Mazumdav on sitar and Conrad Tao on piano in a program of compositions by Huang Ruo, Reen Esmail, Conrao Tao and Gershwin. Eun Sun Kim conducts the orchestra with Elisa Barston on violin in Tchaikovsky's "Symphony No. 8" on March 12 & 14 with a special "Tchaikovsy Untuxed" concert on March 13. Pianist Aimi Kobayashi participates in "Bach Fest 1" on May 21 with conductor Ryan Bancroft and fellow pianist Alexandra Dovgan. All concerts at Benaroya  Hall in downtown Seattle. 200 University St. Go to seattlesymphony.org for details or call 206-215-4747.
ArtsWest concludes their current season with Justin Huertas's musical, "The Last World Octopus Wrestling Champion" which runs until July 28, 2019. ArtsWest has also announced their new 2019/2020 season entitled "Agents of Change" which looks at revolutions and the people who participate in them. The prolific and talented playwright/director/actress Sara Porkalob returns with a new play and a world premiere for the new season. "Alex and Alix" looks at the unseen forces that shape the way we remember love and a moving meditation on memory, trauma and healing. Two women in love  and one name. Set for April 30 – May 24, 2020. Learn more details about the entire new season at artswest.org. ArtsWest is located in West Seattle at 4711 California Ave. SW.
Village Theatre has announced their lineup for "The 19th Annual Festival of New Musicals" set for August 9 – 11, 2019. In the mix will be "Eastbound" by 2018 Drama League Fellow Cheeyang Ng who did the book and music. Khiyon Hursey did the book and lyrics. Desdemona Chiang will direct. The music will be directed by Steven Tran. Chinese American adoptee Calvin travels to China in search of his birth mother while unbeknownst to him, his biological brother, Yun travels to America to break free of family traditions. Their quests in search of identities force them to evaluate whether family is chosen or biological.  This festival of staged readings of musicals currently in development takes place in Issaquah. 303 Front St. N. 425-392-1942
Seattle-based Japanese singer/songwriter Kuniko Matsumura who performs on both sides of the Pacific  in both Tokyo and the West Coast has a concert set for Sat., Sept. 7, 2019 at 12:30pm. $20 tickets. At the Chapel on the fourth floor of the Good Shepherd Center located at 4649 Sunnyside Ave. N. For tickets go to https://www.brownpapertickets.com/event/4109410. For more information, go to https://kunikoafternoon.godaddysites.com.
Seattle Contemporary Dance Company, Whim W'him's new season will include "Choreographic Shindig V", this 5th annual series kicks off the company's new Season X. It includes the choreography of New York-based choreographer Yoshito Sakuraba as well as the work of Kyra Jean Green and Joshua Manculich.  Sept. 13 – 15 & 18 – 21 at 8pm.  Erickson Theatre Off Broadway. 707-350-9446 or go to whimwhim.org/season.
Closing Café Nordo's present season will be "7th & Jackson" written by the multi-talented Sara Porkalob and set for July 19 through August 11, 2019. Three Seattle friends haunt the speakeasys listening to jazz before WW II and share a dream to open a night club of their own. When the bombing of Pearl Harbor and rising WWII tensions tear apart homes, the friends separate but never lose sight of their dreams. Stars Anasofia Gallegas, Sarah Russell, Corinne Magin, Aaron Jin and Van Lang Pham. With original music by Andrew Pang and notable jazz standards performed by the band consisting of Jin on piano, Tai Taitano on drums, Joseph Ralston on drums and Ian Mengedoht on saxophone. In other news, join Brad Shigetsu in the Café's Jazz Lounge on Thurs., July 18 at 8pm. Café Nordo is at 109 South Main. Go to www.cafenordo.com to find out more about their new season and how you can get tickets.
Led Kaapana, beloved slack key guitarist from Hawai'i makes a  welcome return to Seattle with an appearance on Wed., July 17 at 7:30pm. L.A. based jazz pianist/composer Connie Han is only 22 but she comes to Seattle with an impressive resume and positive reviews from the New York Times and Downbeat. She performs on August 12, 2019 at 7:30pm on behalf of her brand-new release entitled "Crime Zone" (Mack Avenue) with her working trio.  Both concerts at  The Triple Door at 216 Union St. in downtown Seattle. 206-838-4333 or go to thetripledoor.com.
Japanese rocker Miyavi who fills stadiums across Asia will perfrom in the more intimate environs of the Neptune on Friday, July 26 at 8pm. Stand-up comic Biswa Kalyan Rath brings his "Live" tour here on Sunday, Sept. 22, 2019 at 8pm. Singer/songwriter Sid Sriram grew up with Indian classical roots but listened to Donny Hathaway and would also lend his talents to Indian cinema soundtracks. You've got to wonder what synthesis he would come up with in his own music.  You can find out when he performs on his "Crossover Tour" set for Friday, Oct. 17, 2019 at 8pm. The Neptune is in the University District at 1303 NE 45th. 206-682-1414.
The Asia Pacific Cultural Center in Tacoma sponsors numerous events to highlight the diversity of Asian Pacific American culture. A "Polynesian Luau" is set for August 17 at 3pm. Includes cultural dances, live music,, island cuisine, cultural booths and a special performance by fire dancer Kapte'o-Tafiti. On Sept. 21 from 11am – 5pm, the "Chu Seck Korean Festival" takes place with Korean performing art, cultural activities and food booths.   The Center also has  "Taste of Asia: A Cooking Series" in which participants are encouraged to learn, cook and taste. All classes are monthly from 11am – noon. The schedule is as follows – July 6 is India, August 3 is Indonesia, Sept. 7 is Burma, Oct. 6 is Japan, Nov. 2nd is the Marshall Islands and Dec. 7 is Samoa. APCC is at 4851 South Tacoma Way in Tacoma. 253-383-3900 or go to apcc96.org.
Catch the Dan Duval Good Vibes Quartet with Steve Yamasaki on saxophone on July 25 as part of the "Jazz Under the Stars" concert series which runs on Thursdays from July 11 – August 15, 2019 at 7pm. Mary Baker Russell Outdoor Amphitheater at Pacific Lutheran University in Tacoma, WA. For details go to plu.edu.
ARC Dance Company as directed by choreographer Marie Chong celebrates their 20th anniversary with concerts planned in August of 2019. But first if you've ever had the urge to see how a dance company prepares and works on a concert, you're in luck. In preparation for the August concerts, ARC presents a "Sneak Peek Rehearsal" on Sat., July 20 and Sat., July 27 both at 5pm for visitors to get a look on what they are working on. At the ARC Dance space located at 9250 – 14th Ave. N.W. Go to http://arcdance.org/contact/ for details. "ARC at 20: A Twentieth Anniversary Retrospective Performance" takes place on August 10 & 11 at Bagley Wright Theatre in Seattle Center. Includes choreography by Wen Wei Wang, Edward Liang, Wade Madsen, Marie Chong (ARC founder/director) and many others. A two  day retrospective festival of the best and boldest work the company has to offer. 155 Mercer St. Go to arcdance.org for details and to Brownpapertickets.com to order online.
Mxmtoon is an 18 year-old Chinese American singer/songwriter from Oakland, California. An internet phenomenon, she records all her music in her bedroom with just a ukulele and her voice. Her bare, honest lyrics about teenage coming-of-age struggles speak to her peer group. "Mxm: The Masquerade Tour" comes to the Crocodile on Sat., Sept. 21 at 5:30pm. 2200 2nd Ave. She will sing songs from her new recording. Not surprisingly, that concert is already sold out.
The Meany Center For The Performing Arts has announced their 2019/2020 season. Some performers include the following – David Finckel & Wu Han perform with Philip Setzer in a program of Beethoven, Shostakovich and Mendelssohn on Mon., May 18, 2020 at 7:30pm. Concert pianist George Li plays a recital of Haydn, Schubert, Ravel and Schumann on Wed., April 19, 2020 at 7:30pm. The contemporary butoh dance troupe Sankai Juku return to Seattle Oct. 17 – 19, 2019 at 8pm with choreographer Ushio Amagatsu's new piece "Meguri: Teeming Sea, Tranquil Land." It is a poetic meditation on the passage of time as symbolized by the circulation of water and the seasonal transformation of the earth. Violin virtuoso Midori performs with   pianist Jean-Yves Thibaudet on Thurs., Jan. 23, 2020 at 7:30pm in an all-Beethoven program in honor of the composer's 250th anniversary. Meany Center is located on the Seattle campus of the University of Washington.  206-543-4880 or go to meanycenter.org.
MACHA Theatre Works has a new season entitled "Look Back, Move Forward". It will feature works by local female playwrights. Maggie Lee's "The Flight Before Xmas" blends traditional expectations of the season with the challenges of modern families in a heart-warming comedy. Directed by Amy Poisson. Good for ages 7 and up. Dec. 6 – 22, 2019  at West of Lenin in Fremont. 608-909-1252 or go to www.machatheatreworks.com.
Ken Kwek, a Singapore playwright wrote a play on victims of sexual misconduct. Entitled "This Is What Happens to Pretty Girls", it performed to sold-out audiences during May of 2019 in Singapore. It was staged by Pangdemonium Theatre Company, a prominent local company run by Adrian and Tracie Pang, known for tackling difficult themes.
British Vietnamese playwright/actress Tuyen Do has a production of her play "Summer Rolls" performed at London's Park Theatre until July 13, 2019. The play shows the younger generation embracing cultural change and unsettling their families who arrived as immigrants 40 years earlier along the way. The cast is almost all British Vietnamese and is billed as the first British Vietnamese play to be staged. The playwright says "I'm trying to get away from the cliché that the British Vietnamese all work in restaurants and nail bars." Clifton Terrace, Finsbury Park in London. 44-20-7870-6876.
The Doris Duke Charitable Foundation has awarded New York-based playwright Laureen Yee a 2019 Doris Duke Artist Award. Locally, Seattle choreographer Donald Byrd received one too. Awardees receive a $275,000 grant. Congratulations to all the winners.
Film & Media
"The Farewell" by Lulu Wang and starring Awkafina about a young woman who must go to China and face her grandmother's death opens July 18 at SIFF Cinema Egyptian at 800 E. Pine St.  "The Third Wife" by Ash Mayfair tells the story of a 14 year old girl in 19th-century Vietnam forced to marry a wealthy landlord who demands a male heir.  It screens July 26 – 28, 2019 at SIFF Film Center on the corner of Republican & Warren inside Seattle Center. "Ghost Fleet", a documentary film by Shannon Service and Jeffrey Waldron about a Thai human rights activist who attempts to rescue enslaved fishermen forced to work the Southeast Asian seas. It opens on July 30, 2019 at SIFF Cinema Uptown at 511 Queen Anne Ave. N. And finally a new documentary entitled "Exhibition On Screen: Van Gogh & Japan" screens August 4 – 6, 2019 at SIFF Film Center. Featuring Van Gogh's personal letters and written accounts by friends and contemporaries, this film reveals the artist's deep connection to Japanese art though he never visited that country. He found instead his idealized version of Japan in the beautiful French countryside. Directed by David Bickerstaff. 206-464-5380 or go to siff.net.
Sentai Filmworks and Fanthom bring the highly anticipated anime adventure "Is It Wrong To Try to Pick Up Girls in a Dungeon: Arrow of the Orion" to several Puget Sound theatres on July 23 at 7:30pm This feature-length film is based on an original hit Japanese television series. It is in Japanese with English subtitles. Go to www.fanthomevents.com for info. And advance tickets or get them at the door.
Gkids and Fanthom Events present Japanese animated feature "Promare" from Studio TRIGGER, a blistering action-adventure on Sept. 17 & 19, 2019. Directed by Hiroyuki Imaishi. When a race of flame-wielding mutants who burned up half the world with fire return generations later, it's up to a rescue team to wage an epic battle with these aggressors to save the planet. Screens Sept. 17 at 7pm in an English dubbed version and again on Sept. 19 at 7pm in Japanese with English subtitles. At several Puget sound locations. To get advance tickets and locations, go to www.fanthomevents.com/events/promare OR www.PromareMovie.com or get tickets at the door
Fanthom Events continues their screening of Studio Ghibli classic films in 2019 with the following  to hit local movie theatres (some with new prints). Screenings are usually in both Japanese with English subtitles and  dubbed in English. "Kiki's Delivery Service" on July 28 & 29. "Millennium Actress" on August 13 and August 19. "My Neighbor Totoro" on August 25, 26 & 28.  "The Secret of Arrietty" on Sept. 29 & 30. "Spirited Away" on Oct. 27, 28 & 30. "Princess Mononoke" on Nov. 17, 18 & 20.  "The Tale of the Princess Kageya" Dec. 16 & 18. Tickets online at www.FanthomEvents.com or at the box office.
"Gum Saan to Golden Spike" was a completely UW student produced short film on the story of a Chinese American family and their role in the building of the transcontinental railroad. A miracle project that was made on a $5000 shoestring budget, it screened at the UW Ethnic Cultural Center to a positive response. Plans are for more screenings in the future.
Northwest Film Forum has the following – "Blowin' Up" is a documentary film by Stephanie Wang-Breal that looks at an experimental court in Queens that focuses on advocating for rather than bringing to trial, women brought in on prostitution – human trafficking-related charges, encouraging them to exit "the life." Screens July 19 at 8pm and July 20 & 21  at 4:30pm and 7:30pm. Northwest  Film Forum at 1515 – 12th Ave.  206-329-2629.
"Nights at the Neptune" is a summer series that is a free showcase of Seattle community talent in all genres. On August 15 at 8pm, they will screen "On The Brink", a new documentary film directed by Steven Fong and Jeff Shulman that looks at the gentrification of the Central District, a formerly Afro-American neighborhood and how it's changed. Soundtrack supplied by Itstr3nt. Presented by Seattle Theatre Group at the Neptune in the University District. 1305  NE 45th. 206-682-1414.
Christina Oh worked as a producer on the Sundance Film Festival award-winning film "The Last Black Man in San Francisco".
Some of the films that appeared at the recent SIFF festival will get general distribution across the country. Here are the dates for those films and other new movies. Ali Wong and Randall Park star in "Always Be My Maybe", a romcom piece between childhood friends  available on Netflix. "Godzilla: King of the Monsters" is now playing across the country and Ken Watanabe is part of the large cast. Also just opened is the Mindy Kaling movie "Late Night" with a script about a late night host whose routine is getting stale and the woman of color who joins the cast to make her more current. Kaling wrote the script specifically for actress Emma Thompson who plays the lead. Danny Boyle's "Yesterday" starring Himish Patel as a promising singer/songwriter who must sing Beatle's songs to get the success he has been striving for opens on June 28, 2019. The Lulu Wang film, "The Farewell" starring Awkafina as a young woman who travel to China for a fake wedding when she hears her grandmother is dying opens in theatres on July 12, 2019. Also opening on the same date is "Stuber", a film starring Kumail Nanjiani as an Uber driver whose car is commandeered by an LA cop. On August 9, 2019, the documentary film "One Child Nation" which looks at the disastrous results of the government decision to limit families to one child is released. Directed by Nafu Wang and Jialing Zhang. August 14, 2019 brings the new Gurinder Chadha film "Blinded by the Light" about a South Asian teenager growing up in Thatcher's Britain whose mind is opened up when he hears Bruce Springsteen's music. On August 23, Justin Chon's new film "Ms. Purple" opens. It is about a Korean American woman who must make amends with her estranged brother in order to properly care for a dying father in LA's Korea Town.
"Amphibia" is an American animated TV series produced by Disney. The series  was created by Matt Braly who is mixed race Thai American. It chronicles the adventures of a fearless teenage girl after she is magically transported to a rural marshland full of frog people. It was inspired by Braly's childhood trips to Bangkok.
"Mulan" is a new live action film based on the 1998 Disney animated feature. A young Chinese woman disguises herself as a male warrior in order to save her father. Stars Jet Li, Y-fei Liu, Donnie Yen, Gong Li, Jason Scott Lee, Rosalind Chao, Tzi Ma and others. Set for March 2020 release.
Former IE film writer Yayoi Winfrey has been working on her own documentary film entitled "War Brides of Japan". Segments are available for viewing on Vimeo and Youtube. The film  recently  received two awards from The Buddha International Film Festival. Go to www.warbridesofjapan.com for details.
The Written & Spoken Arts
Michelle Penazola, a poet who formerly lived in Seattle celebrates the publication of her first full-length collection of poetry entitled "Former Possessions of the Spanish Empire" which won the 2019 Hillary Gravendyk National Prize through  Inlandia Books with three local readings with friends. As her former teacher Garrett Hongo points out, "The book asks the important question, 'How do children born of empire, once removed possess the history of their naming?' ". On Sat., August 10, 2019 from 6:30 – 9pm, she will be joined in a "Literaoke Book Launch" with Quentin Baker, Anastacia Renee, Troy Osaki and Jane Wong at The Beacon, home of the Massive Monkees at 664 South King St. in the CID. On Sunday, August 11 at 3pm she will do a reading entitled "All-Pinxy All Stars" at Estelita's Library with Jen Soriano, Dujie Tahat and Anis Gisele. 2533 – 16th Ave. S. On Monday, August 12 at 7pm, there will be another "All-Pinxy All Stars" reading with Robert Francis Flor, Emily Lawsin and Corina Zappia at Elliott Bay Books at 1521 – 10th Ave. Co-sponsored by Pinoy BrownBox and Pinoy Words Expressed Kultura Arts. All events are free. For details, contact [email protected].
The University Book Store has the following events – Fonda Lee is a writer of speculative fiction who will come to Seattle to conduct a summer workshop for Clarion West. She will read from her latest book "Jade War", a sequel to the World Fantasy Award-winning novel, "Jade City". The latest book is an epic trilogy about family, honor and those who live and die by the ancient laws of blood and jade. On Wed., July 24 at 7pm at the University District branch of the University Book Store. Bobby Kim (also known as Bobby Hundreds) is an illustrator, documentarian, designer and writer. In 2003, he co-founded The Hundreds, a streetwear brand, with Ben Senassafar. "The Is Not A T-Shirt" is a memoir of his life and career that covers his early Southern California punk-DIY-tinged youth to his rise in the clothing industry with his streetwear brand. He talks about the book on Wed., July 31 at 6:30pm at the "U" branch of the University Book Store. Free but space is limited. If you pre-order a copy of the book at https://bit.ly/2SjV8q5, your space will be guaranteed. Also the series "Thursdays with KUOW" features news journalists from the local NPR station addressing various issues. On Sept. 5, 2019 at 6:30pm, reporter Ruby de Luna addresses the topic of "Our Foods, Our Stories". She looks at people who are inspired by food and use it to follow their dreams. 4326 University Way NE. 206-634-3400.
Elliott Bay Book Company continues to sponsor readings in their Capitol Hill bookstore as well as co-producing events all over the city. Below you will find a partial listing of some of their events. Events are at the bookstore unless otherwise noted. On July 23 at 7pm, Kristen Arnett reads from her debut novel "Mostly Dead Things" with Seattle writer Richard Chiem who reads from his recent novel entitled "King of Joy". On Mon., August 12, 2019  at 7pm, catch a "Filipinx Reading with poet/prose writer Michelle Penaloza and Friends." On  Tuesday, August 20 at 7pm, Lucy Tan reads from a new paperback edition of her novel, "What We Were Promised." Tan recently moved to Seattle. After years of chasing the American dream, the Zhen family moves back to Shanghai to join an elite community of Chinese-born, Western-educated professionals. All seems perfect until a troubled prodigal son reappears after decades to raise anxieties. In the end, the family must struggle to come to terms with their past.  206-624-6600 or go to www.elliottbaybook.com.
"Two Dads And Three Girls: Searching for Sexual Identity, Falling in Love, and Building a Family Through Surrogacy" is a new memoir by Nick He. It is the memoir of a Chinese man whose journey takes him from being a confused "straight" boy in China to being a gay dad, happily married in Seattle with a lovely husband and three girls through surrogacy. He reads from the book on Sat.,July 27 at 6pm. Third Place Books at Lake Forest Park. At Town Center at Lake Forest Park. 206-366-3333.
Renovations are complete  and the public is welcome back to the old building. Town Hall Seattle presents the following events as part of their "Homecoming Festival." Back-to-back conversations of logic and geometry form a math night double-header featuring Eugenia Cheng and Amir Alexander on Sept. 11, 2019. Cheng will address topics from her book "The Art of Logic In An Illogical World" at 7pm in The Forum. Amir Alexander follows with a talk about subjects in his book entitled "Poof! How The World Became  Geometrical" at 8pm in the same location. Leta Hong Fincher talks about her book "Betraying Big Brother – The Feminist Awakening in China" on Sunday, Sept. 22, 2019 at 7:30pm. In The  Forum. 1119 – 8th Ave. (West entrance.) Go to Townhallseattle.org for details.
Hugo House, that venerated Northwest center for writers and poets re-opens in brand-new digs with expanded space but in the same location. Catch their readings and celebrate their new space. Writers Arlene Naganawa and J.P. Kemick help students explore the urban environment as writers. August 5 – 9, 2019 for grades 6 – 8 as part of the Scribes Summer Writing Camps For Teens in one and two week sessions available between July 8 – August 16, 2019 at Hugo House. Email [email protected] or call 206-322-7030 if you are interested in this class. "Memory's Possibilities" is the title of a reading with writers Janice Lee and Chelsea Biondolillo on Thurs., August 15 at 7pm at Hugo House. Diana Xin teaches a 1 session workshop entitled "The Heart of the Story" on August 17 from 10am – 1pm. Bring in a draft of your story and learn revision strategies and generative tools. This is part of Hugo Houses schedule of summer classes. Also with the opening of the new Hugo House, the writing center rolls out a new series of classes/workshops with a varied number of subjects taught by a talented group of writers like Nisi Shawl, Sonora Jha, R. O. Kwon, Anne Liu Kellor, Michelle Penaloza, Richard Chiem, Diana Xin, Anglela Garbes, Lora Shinn, Aimee Bhausar and Shankar Narayan. Hugo House has selected writers for the 2019-20 Hugo Fellowships. Joyce Chen and Jen Soriano were some of the writers selected. The writers will be given advice and have a space to write. They will give two readings as well. Chen is a writer/editor/creator from Los Angeles. She will be working on a collection of essays that examine the push/pull conflict between American ideals of independence and self-fulfillment and Taiwanese values of family community and sacrifice. Jen Soriano is a Filipinx-American writer who blurs the lines between non-fiction, surrealism and poetry. She is working on a memoir of colonization, historical trauma and the neuroscience of healing as well as an essay collection on gender, technology and mothering.  1634 – 11th Ave. 206-453-1937. Go to hugohouse.org to find out more.
Seattle journalist/editor/curator Mayumi Tsutakawa gives a free public talk entitled "Washington's Undiscovered Feminists" which highlights our state's women warriors who changed the Northwest and American society. She will talk about Imogene Cunningham, Ruby Bishop, Priscilla Chong Jue, Anna Louise Strong and Vi Hilbert. Part of the Speakers Bureau Program of Humanities Washington. Sept. 7, 2019 at 1pm. Please go to monamuseum.org to RSVP. At the Museum  of Northwest Art in La Connor, WA. At 121 South 1st St.
The first Seattle Childrens Book Festival takes place on Sept. 28, 2019 from 11am – 3pm. Kazu Kibushi, Leuyen Pham and Joyce Wan are just a few of the many children's authors and book illustrators appearing. Hands-on literary activities, crafts and  author presentations. Young readers will have a chance to meet award-winning authors and artists from around the country, purchase books and have them signed. Greenwood Elementary School. 144 NW 80th St. Free. [email protected].
The Guardian has reported that Uighur author Nurmuhammad Tohti has died while being held in a Xinjiang internment camp called a "re-education" camp by Chinese authorities. PEN America's director of free expression programmes, Summer Lopez had this to say – "The inhumane treatment reported at the internment camps is a grave illustration of the severity of China's violations of free expression. Tohti's death is a tragic loss to the Uighur literary community at a time when the government is attempting to abolish their cultural and intellectual life."
Girish Karnad, regarded as India's foremost playwright recently died at the age of 81. Besides the theatre, he was a successful film director and popular actor in both arthouse films and hit Bollywood movies. Influenced by the philosopher Krishnamurti, he questioned traditional devotion to caste, religion and duty. Many of his plays were translated into English and published by Oxford University Press.
Below is a partial list of new books by or about Asian Americans and new titles on Asia. If you are interested in reviewing any of them, please let us know –
"Rising Son – A US Soldier's Secret and Heroic Role in World War II" (Sasquatch) by Sandra Vea. The story of a Japanese American man who joined the Military Intelligence Service assigned to convince Japanese Imperial soldiers to lay down their arms while wearing a target on his back. Reveals a little-known history of how the confluence of race, war and loyalty played out when the nation called for the service of those it mudged most harshly.
"Things To Make And Break" (Coffee House) is a book of stories by May-Lan Tran. A collection of stories that reveal old relationships, past selves and hopes for the future where the path is not always clear and self-invention and self-annihilation appear as road signs to a varied cast of characters.
"Stories For South Asian Super Girls" (Kashi House) by Raj Kaur Khaira is a treasure trove of 50 illustrated biographies of amazing South Asian women. A young adult book of "sheroes" sure to inspire.
"ESL or You Weren't Here" (Nightboat) by Aldrin Valdez. A debut book of poems that looks at a young man's upbringing as a queer immigrant body adrift in a sea of contradictions with negotiations between Tagalog and English at every corner.
"Always Angali" (Bharat Babies) by Sheetal Sheth with illustrations by Jessica Blank. When an Indian girl in America finds she is bullied for her different name, she asks her parents to change it but they refuse. A timeless children's story about appreciating what makes us special and honoring our differences.
"Sightseer in This Killing City" (Penguin) by Eugene Gloria. This new book of poems captures the surreal and disorienting feelings of the present and reveals an obsession with arrivals and departures and the bitter divisions in America.
"Parade" (Soft Skull) by Hiromi Kawakami as translated by Allison Markin Powell. It's a summer afternoon and the student tells her former high school teacher a modern folk-tale of creatures over a bowl of cold noodles. Set for Nov 2019 publication.
"Fashion And Beauty in The Time of Asia" (NYU Press) edited by S. Heijin Lee, Christina Moon and Thuy Lin Nguyen Tu. This collection of essays considers the role of bodily aesthetics foraged through engagements with fashion and beauty. Topics run the gamut from the American influence on plastic surgery in Korea, Chinese garment workers to Nepalese nail technicians in New York.
In "Hybrida" (Norton) is Tina Chang's new book of poems and in it, she confronts the complexities of raising a mixed-race child during an era of political upheavel in the United States.
"Before I Was A Critic I was A Human Being" (Book Hug) by Amy Fung. This collection of essays takes a closer look at Canada's mythologies of multiculturalism, settler colonialism, and identity through the lens of a national art critic.
"Love in the New Millennium" (Yale) by Can Xue with a foreword by Eileen Myles and translated from the Chinese by Annelise Finegan Wacmoen. A dark comic novel about a group of women who inhabit a world of constant surveillance, where informants lurk in the flower beds and false reports fly. Love stories of a new millennium by a master storyteller.
"Super Satya Saves The Day" (Bharat Babies) by Raakhee Mirchandani with pictures by Tim Palin. Can a little girl conquer the tallest slide in Hoboken without her superhero cape? Will she be able to face her fears, help her friends and be the true hero everyone knows she is?
"Empire of Style – Silk And Fashion in Tang China" (UW Press) by  Buyen Chen. During the Tang dynasty, the Silk Road was filled with a critical market and the thriving cultures of Central Asia and the Middle East. Chen looks at this vibrant fashion system that emerged through the efforts of Tang artisans, wearers and critics of clothing.
"Zeng Fanzhi" (Hauser & Wirth) is a catalog of a 2018 exhibition by one of China's most well known contemporary artists that toured Zurich, London and Hong Kong. The artist often works on multiple artworks in different styles and this book is a reflection of that as it moves from the purely abstract to the figurative to traditional landscape.
"Symptoms of a Heart Break" (Imprint) by Sona Charaipotra is a young adult novel of a young doctor treating kids with cancer who must mend her own broken heart even as she starts to become attracted to a patient.
"Anna May Wong – Performing The Modern" (Temple University Press) by Shirley Jennifer Lim. The author explores modernity and women of color through the central presence of this famed Chinese American actress. In this study, Lim captures Wong's emergence through the contradictions of gender and race.
"At A Moment's Notice – Indonesian Maids Write on Their Lives Abroad (Nias Press) edited by Jafar Suryomenggolo. A new genre of Indonesian women's literature has appeared, one in which the authors reimagine their experiences as domestic workers in foreign lands.
"Caster" (Scholastic) by Elsie Chapman. This Chinese Canadian young adult writer re-imagines the Chinese enclave of Richmond as a dystopian world broken apart by magic. The protagonist risks all to save her home in a tournament of magic.
"The Life of Animals In Japanese Art" (distributed by Yale) is the exhibition catalog for a traveling exhibition currently at the National Gallery of Art in Washington, DC. It will travel to L.A. County Museum of Art in the fall. Edited by Robert T. Singer and Kawai Masatomo. Few countries have devoted as much artistic energy to the depiction of animal life as Japan. The curators draw upon Japan's unique spiritual heritage, rich literary traditions and currents in popular culture. By tossing out such a wide net, one can see how Japanese artists have expressed their admiration for animals in various media from traditional to modern.
"Rising Water – The Story of the Thai Cave Rescue" (Simon & Schuster) by Marc Aronson brings the backstory behind how this astonishing rescue took place. He examines the physical, environmental and psychological factors surrounding the rescue and makes this inspiring story come alive for young adult readers.
"Who is Michael Jang?" (Atelier Editions) is the artist's first major monograph introduced by SFMoMa's Curator Emerita of photography, Sandra S. Phillips. A successful commercial portrait photographer, this book shows the work he did for his own pleasure and it reflects an incredible time capsule of American life in the 70s and 80s California from family life to city streets and punks and poets.
"Gandhi's Search for the Perfect Diet – Eating With the World In Mind" (UW Press) by Nico Slate. Gandhi redefined nutrition as a holistic approach to building a more just world. What he chose to eat was intimately connected to his beliefs. This book sheds new light on important periods in his life as they relate to his developing food ethic.
"Pangs of Love & Other Writings" (UW Press) by David Wong Louie with a foreword by Viet Thanh Nguyen and an afterword by King-Kok Cheung. This debut book of short stories by the late author established him as a bold storyteller of tales built around characters in conflict and disconnected from both American society and their own families. This new edition includes an additional short story and an autobiographic essay in which he reflects on a life without food after cancer took away his ability to swallow.
"Mao's Kisses: A Novel of June 4, 1989" (Red Bat) by Alex Kuo. There have been scores of non-fiction books on the subject but this appears to be one of the first novels about Tianamen Square and the massacre of students and civilians on that fateful day. It tracks the events on both sides through the eyes of Deng Xiaoping's secretary.
"Beyond Line: The Art of Korean Writing (Del Monico/Prestel) by Stephen Little and Virginia Moon is the exhibition catalog for the first exhibition outside Asia to focus on the history of writing and calligraphy in Korea. It explores the role of calligraphy in all forms throughout different strata of society from Chinese characters to Hangeul. It also explores Korea's innovations in woodblock printing and moveable metal type. Coming to Los Angeles County Museum of Art.
"I Have A Little Lantern" (Better Link Press) by Gan Dayong as translated by Yijin Wert. When a little girl walks to school early in the morning, she has her lantern to light the way. But when a monster destroys it, how will she get out of danger?
"Searching For Sylvie Lee" (Morrow) is the latest novel by Jean Kwok. It looks at the complicated identities within a single immigrant family when a woman goes on a long search after her sister disappears.
"The Birdwoman's Palate" (Amazon Crossing) by Laksmi Pamuntjak and translated by Tiffany Tsao. An independent epidemiologist is asked to research cases of bird flu in rural West Java which also allows her to explore the spices and foods of far flung regions.
"Hello" (Creston) written and illustrated by Aiko Ikegami. Some stories don't need words to make their meaning clear. In a children's tale that is literally "out of this world", this book shows how we can all communicate and transcend boundaries to make a good friend.
"Night In The American Village – Women in the Shadow of the U.S. Military Bases in Okinawa" (The New Press) by Akemi Johnson. The author lays bare the tenuous relationship between those who are dependent upon yet face danger in their dealings with the U.S. military presence abroad.
"The Shadow In The Moon – A Tale of the Mid-Autumn Festival" (Charlesbridge) by Christina Matula and illustrated by Pearl Law. The author tells the story of where those beloved mooncakes come from as told by a Chinese grandmother to her grand daughters. Complete with bright, colorful artwork and yes, a mooncake recipe.
"The City of Folding Faces" (Lanternfish Press) by Jayinee Basu. When people go  to a futuristic casino, they play roulette. But this is more than a gamble, a complex surgery can change the very structure of your face and give you a language for expressing the inexpressible. But is it worth the risk?
"A Common Table – 80 Recipes and Stories from My Shared Cultures" (Rodale) by Cynthia Chen McTernan. A delicious mix of cultures that is truly American. Raised in the South, she stirs her Chinese heritage and her huband's Korean-Irish roots in a new mixture of flavors that sing off the tongue. Winner of a James Beard Award.
"Ghosts Of Gold Mountain: The Epic Story of the Chinese Who Built the Transcontinental Railroad" (Houghton Mifflin Harcourt) by award-winning scholar and Stanford University professor Gordon Chang. It is a ground-breaking account that draws on unprecedented research to recover the Chinese railroad workers' stories and celebrate their role in remaking America.
In "Dream of the Water Children – Memory And Mourning in the Black Pacific" (2Leaf Press) by Fredrick D. Kakinami Cloyd, this former Seattle resident makes his publishing debut in a compelling memoir about a son of an African American father and a Japanese mother who spent a lifetime being looked upon with curiosity and suspicion by both sides of his ancestry.
"A Big Mooncake for Little Star" (Little Brown) by Grace Lin. In an imaginative picture book, the author uses the eating of a mooncake to symbolize the many phases of the moon.
"Hide With Me" (Razorbill) by Sorboni Banerjee is a young adult novel that crafts a story about the unbreakable bonds of friendship, the power of first love and the courage to fight for a brighter future. What happens when a Texas farmer finds a girl broken and bleeding?
"Inhabitation" (Counterpoint) is a novel by Teru Miyamoto as translated by Roger K. Thomas. This is the story of a living lizard nailed to a pillar and a young man bound by a family's misfortune. Their relationship poses questions about life, death and karma.
"Frankly in Love" (Putnam) by David Yoon is a young adult novel about a second generation Korean American boy who falls in love for the first time only to realize he doesn't meet his traditional parents' expectations and wonders what he can do about it. A best friend lends a hand.
"The Ten Lives of Nishino" (Europa Editions) by Hiromi Kawakami as translated by Allison Markin Powell. Ten women tell their stories about distinct and common desires and the seductive charm of an unfathomable man who drifted so naturally into their lives.
For over forty years Bamboo Ridge has showcased Hawai'i's literary and artistic talents in both issues of their magazine and in books of poetry and prose by local authors. The latest issue of Bamboo Ridge – Journal of Hawai'i Literature And Arts" is celebrating their 40th anniversary. Guest-edited by Gail N. Harada and Lisa Linn Kanae, this chunky edition features work by over 50 island writers and a profile of artist Noe Tanigawa.
"A Place To Belong" (Antheneum) by Cynthia Kadohata tells another story that originates out of the forced imprisonment of Japanese (many of them American citizens) on the West Coast during WWII. A disillusioned family gives up their citizenship after the war to move to a city in Japan for a fresh start, unaware of the devastation caused by the atomic bomb.
"The Year of Blue Water" (Yale Series of Younger Poets) by  Yanyi with a foreword by Carl Phillips. This Chinese American poet is the 113th recipient of this series. It weaves experiences of immigration, racism, mental wellness and gender from a queer and trans perspective.
"The Tiger Prince" (NYRB) by Chen Jiang Hong. A Chinese folktale of a baby raised by a tigress inspires this picture book story translated by Alyson Waters. When hunters kill her cubs, a tigress wrecks havoc in nearby villages until a little boy intervenes.
"Plum Rain" (Soho) by Andromeda Romano-Lax is a futuristic novel about an old Japanese woman, her Filipina nurse and the robot who comes between them.
Children's author/illustrator Grace Lin seamlessly weaves a child's love of a bouncy bed with the sighting of a first snowfall in "A Big Bed for Little Snow" (Little Brown).
"Once and Forever – The Tales of Kenji Miyazawa" (NYRB) translated by John Bester. One of Japan's most beloved writers, Miyazawa's poetry and stories enchant and enthrall with tales of the deep north, introducing readers to a natural world both cruel and magical.
Simon Tam's dance rock band is The Slants. But when he sought to trademark the name, it went to the courts opening up issues of race, culture and free speech. "Slanted – How An Asian American Troublemaker Took On The Supreme Court" (Troublemaker Press) tells the story.
"Un//Martyred=(Self-) Vanishing Presences in Vietnamese Poetry" (Roof) by Nha Thuyen is a collection of essays by this Hanoi-based poet and critic that offers a cartography of the writing communities that have lived (and died) along the margins of Vietnam's literary landscape since the late 1980's.
"Pie in the Sky" (Henry Holt) by Remy Lai. An amusing debut illustrated novel of a young immigrant who feels lost but through brotherhood, friendship and baking experiments, finds his way home.
"On Earth We're Briefly Gorgeous" (Penguin) is the fictional debut of award-winning poet Ocean Vuong. It is about the relationship between a son and his mother who may not know how to read, an ode to loss and struggle and what it can mean being a Vietnamese American.
"Your House Will Pay" (Ecco) by Steph Cha is a novel that looks at a history of Los Angeles after Rodney King and how it impacted and shaped her city. She deals with issues of how crime, violence and injustice permeates communities and families.
"Professor Chandra Follows His Bliss" (Dial) by Rajeev Balasubramanyam is a novel of an internationally known economist who after a serious accident finds his life at a crossroads.
"Art And Engagement in Early Postwar Japan" (Cornell University Press) by  UW professor Justin Jesty uses archival work to re-examine the relationship between art and politics in a new era in Japanese history after WWII.
In "Have You Been Feeling Blues These Days"" (Noemi Press), the poet Kim Eon Hee takes no prisoners and writes compellingly against the grain of neo-colonialist, neo-liberal K-culture. Translated by Sung Gi Kim & Eunsong Kim.
"Instantly Indian Cookbook – Modern Classic Recipes For The Instant Pot" (Knopf) is the latest by the godmother of Indian cookbook writers, Madhur Jaffrey. In it, she tries to make cooking Indian food in your home easier via the use of the Instant Pot. Runs the gamut with recipes, side dishes, spices, special ingredients and handy tips.
"The Safety of Edges" (Marrowstone Press) by Thomas Hitoshi Pruiksma uses poetry to ponder liminal times and spaces, tracing between now and then and there, childhood and the grown poet.
"Let's Scare Bear" (Holiday House) by Yuko Katakawa is a children's picture book based on "Scary Manju", a Japanese Rakugo tale. When the rest of the animals try to scare Bear, they throw manju cakes at him not knowing that Bear secretly loves them. A fun and silly book that opens conversations about  bullying and teasing. With delightful artwork  by Katakawa.
"If I Had Two Lives"(Europa Editions) by Abbigail N. Rosewood. An engrossing tale of a Vietnamese woman without a country and the double life of an immigrant who must return to the place she fled to confront her memories.
"Gondra's Treasure" (Clarion) by Linda Sue Park as illustrated by Jennifer Black Reinhardt tells the story of a little dragon that explores the richness of a child's dual heritage and may inspire discussions in multiracial families.
"Leaving Our Shadows Behind Us" (Bamboo Ridge Press) by Elmer Omar Bascos Pizo depicts the poet's life experiences from an abusive childhood in the Philippines through the trials of an overseas Filipino worker in the Middle East and finally as a hard-working immigrant in 21st century Hawai'i.
"Obits" (Coach House Press) by Tess Liem. A book where the poet tries and fails to write obituaries for those whose memorials are missing, those who are represented only by statistics. But the answers are an attempt to center vulnerability and to grapple with issues of trauma, depression and the experience of being a mixed-race queer woman.
"Original Prin" (Biblioasis) by Randy Boyagoda is a comic novel that paints a portrait of a modern family and faith in today's uncertain times. Skewers campus  corruption, infidelity, politics and religion along the way.
"Diary of a Murderer And Other Stories" (Mariner) by Young-ha Kim and translated by Kyrs Lee. A novel of a life lived along the margins in South Korea by discarded youth in today's confusing society.
"The Best of Aloha Shorts" (Bamboo Ridge) edited by Sammie Choy, Craig Howes and Phyllis S.K. Look is co-produced by Bamboo Ridge and Hawai'i Public Radio and culled from the radio program that celebrates local literature featuring some of the Island's finest writers, actors and musicians.
"Sushi Master – An Expert Guide To Sourcing, Making and Enjoying Sushi at Home" (Quarry) by Nick Sakagami. Introduces the basics of sushi to the beginner including tools, techniques, and etiquette so you can prepare it at home.
"The Chinese And the  Iron Road – Building The Transcontinental Railroad" (Stanford) edited by Gordon H. Chang  and Shelly Fisher Fishkin. This landmark volume of essays sheds new light on the Chinese railroad workers and their enduring importance. Although they made up 90 percent of the work force on the Western portion of the line, their work remains largely invisible and little understood. This book goes a long way to addressing that shortcoming.
"Ambedkar – India's Crusader for Human Rights" (Campfire) by Kieron Moore and Illustrated by Sachin Nagar. Due out August 6, 2019. This is part of the Campfire Graphic Novels Heroes Series. It tells the story of a man who was an untiring crusader for human rights for the oppressed untouchables of India. That fight goes on to this day.
"Ink Knows No Borders – Poems of the Immigrant And Refugee Experience" (Triangle Square) edited by Patrice Vecchione and Alyssa Raymond. This collection for young adults brings together some of the most compelling and vibrant voices today reflecting the experience of teen immigrants and refugees. Includes poems by Samira Ahmed, Chen Chen, Jeff Tagami, Ada Limon, Bao Phi, Javier Zamora and many others.
P Is For Pterodactyl: The Worst Alphabet Book Ever" (Sourcebooks) by Raj Haldaar & Chris Carpenter and illustrated by Maria Tina Beddia. This picture book tackles words in the English language book that don't always make logical sense, poking fun at the most mischievous words in English and demonstrating how to pronounce them.
"The Memory Police" (Pantheon) by Yoko Ogawa as translated by Stephen Snyder. Due out August 2019, this is a haunting Orwellian novel about the terrors of state surveillance by the acclaimed Japanese author of "The Housekeeper and the Professor".
With "The Candle And The Flame" (Scholastic) by Nafiza Azad, we enter another world and another time. Based on Islamic mythology and Arabic folklore, the author evokes a city on the silk road and a young woman who must be quick on her feet and alert to her senses as she navigates political intrigue and the dangers of a magical battlefield to survive. A young adult fantasy novel. The author born in Fuji is an Indo-Fijian Muslim Canadian.
"Autumn Light – Season of Fire And Farewells (Knopf) by Pico Iyer. A memoir  on Japan where the author has lived for years and how the death of his father-in-law triggers thoughts on love and dying.
"The Kinship of Secrets" (HMH) by Eugenia Kim. This novel looks at the relationship between sisters, one in the U.S. and the other in South Korea – and the war that kept them apart.
"Flowers of Mold" (Open Letter) by Ha Seong-Nan as translated from the Korean by Janet Hong. This book of short stories explores the lives of mis-fits – those ordinary individuals who have found themselves left behind by an increasingly urbanized and fragmented world.
"Girl Under A Red Moon – Growing Up During China's CulturalRevolution" (Scholastic). A young adult novel by Da Chen about the daughter of a family who are shunned because they were former landowners. With choices between family and nation as well as safety and justice, this young woman must navigate her passage during a tumultuous cultural movement.
"HI, Konnichiwa" (Kodansha) by Yayoi Kusama is a pocket-sized full color book of this internationally known artist's drawings, paintings and eye-boggling colors and dots with a few minimal quotes from the artist's philosophy/thoughts in between pages of her artwork.
"Ojiichan's Gift" (Kids Can Press) by Chieri Uegaki and illustrated by Genevieve Simms. A picture book about a grandfather's garden in Japan and how an American granddaughter learns to tend the garden on her summer visits until everything changes. A story of facing change and  the bond of love.
"The Beast Player" (Henry Holt) by Nahoto Uehashi as translated by Cathy Hirano is a young adult fantasy novel about a girl who has a special power to communicate with magical beasts and the kingdom at war that only she can save.
"Changing And Unchanging Things: Noguchi And Hasegawa in Post War Japan" (UC Press) edited by Dakin Hart and Mark Dean Johnson. When the artist Isamu Noguchi returns to Japan for the first time in 20 years, it is 1950. A key figure for Noguchi during this period was fellow artist Saburo Hasegawa who had lived abroad in Paris in the 1930's and later influenced the American "Beats" about Japanese culture. Together the two artists explore traditional Japanese culture and how it can strike a balance between tradition and Western modernity. The exhibition catalog for a show upcoming at the Asian Art Museum in San Francisco.
"Sacred Cesilum Ground And Isa's Deluge" (Columbia University). Two novellas of Japan's 3/11 disaster by Kimura Yusuke as translated by Doug Slaymaker. The author explores both human and animal life in Japan after the natural and nuclear disasters of March 11, 2011 and finds them both defiant and awake.
"Uneven Moments – Reflections on Japan's Modern History" (Columbia) by Harry Harootunian. A book of essays on Japn's intellectual and cultural history that opens a window on the precarious process of that country's metamorphosis  into a modern society.
"The Lava Never Sleeps – A Honolulu Memoir" (Willow Books) by Loreen Lilyn Lee. This Seattle writer details her struggle growing up in a traditional chinese family in Hawai'i during the 50's and 60's and how the land and culture informed and defined what she became.
"Ruth Asawa – Life's Work" (Pulitzer Foundation) edited by Tamara H. Schenkenberg with Essays by Aruna D'Souza, Helen Molesworth and Tamara H. Schenkenberg is the exhibition catalog for one of the first major exhibitions of the work of this major Bay Area artist and educator outside the West Coast since 2006.
"China Dream" (Counterpoint) by Mia Jian. This novel set for May 2019 release by this Chinese writer-in-exile is a satire that takes the reader through the horrors and absurdities of totalitarian power as it is epitomized today by the current Chinese government.
"River of Fire" (New Directions) by Qurratulain Hyder transcreated by the author from her Urdu original. Considered the imost important novel of twentieth-century Urdu fiction. This writer conjures up a country's memory, forming a rich tapestry of history, human emotions and redefining Indian identity.
"The Little Book of Life Hacks: How To Make Your Life Happier, Healthier And More Beautiful" (St. Martin's) by Yumi Sakugawa. This author, illustrator and comic book artist uses all those skills to craft a book that will guide your personal life from the inside out, step by step. Common sense tips profusely illustrated in a charming comic book style.
"The Twice-Born – Life and Death On The Ganges" (F S & G) by Aatish Taseer. The son of a Sikh journalist and an assassinated Pakistani politician, the author uses his return to the city of Benares as a way to grapple with the questions of identity and belonging.
"The Tenth Muse" (Ecco) by Catherine Cheng looks at the life of a female mathematician and a life caught up in stories of legacy, identity and the ways the mind can set us free.
"Nightingale" (Copper Canyon) by Paisley Rekdal is a poetry of transformation. By re-writing myths central to Ovid's "Metamorphoses" she contemporizes the tropes of violence, dismemberment, silence and fragmentation.
'Vietnamese Food Any Day"  (Ten Speed Press) by Andrea Nguyen. This popular cookbook author shows you how to use easy-to-find ingredients to create true Vietnamese flavors at home – fast.
"Coloratura" (Oklahoma) by Li Er as translated by Jeremy Tiang marks the first time this prominent Chinese writer has been available in English. It looks at a mysterious character  during the Chinese civil war whose story is told by three narrators and a chorus of witnesses. It this man a hero, a nationalist or communist, a spy, a poet or a scholar or perhaps all of the above?
"The Beautiful" (Putnam) by Renee Ahdieh puts a teenage girl from Paris in 1872 New Orleans. This fantasy novel exudes atmosphere and history in equal measure. When a murder occurs in the underworld, our heroine must be leery of romance and the threat of a murderer on her trail. Set for October, 2019 release.
"Japanese Cooking With Manga" (Tuttle) by The Gourmand Gohan Team is a manga-style cook book of Japanese recipes both traditional and experimental as concocted by  a trio of foodies in Spain.
"Sea Sirens – A Trot & Cap'n Bill Adventure" (Viking) written by Amy Chu and illustrated by Janet K. Lee. It is the first in a new graphic novel adventure series drawing inspiration from classic Vietnamese folktales and L. Frank Baum's "The Sea Fairies". When a girl and her cat fall into an underwater kingdom, they are caught up in a battle between mermaids and the serpent king.
"Night of Power" (Viking Canada) by Anar Ali looks at a wealthy South Indian family who lose everything when they are forced to flee Uganda under the Idi Amin regime. Resettled in Canada, the strain of trauma haunts them as they grapple with the weight of unrealized dreams and desires.
"Laura Dean Keeps Breaking Up With Me" (First Second) by Mariko Tamaki and Rosemary Valero O'Connell. A sweet and spirited graphic novel about young love and what happens when we ditch the toxic relationships we crave and embrace the healthy ones we need.
"Somewhere Only We Know" (FS&G) by Maurene Goo. The latest  young adult novel by this wildly popular author. What happens when a teenage cub reporter for a tabloid bumps into a female K-pop singer about to break big. A sparkling romance  about taking a chance on love.
"The Bells of Old Tokyo – Meditations On Time And A City" (Picador) by Anna Sherman scheduled for August 2019 release. The author in her search for the great bells that once kept the hours in the shogun's city leads us on a tour of history and the voices of its people.
"Stargazing" (First Second) by Jen Wang scheduled for September 2019 release. This graphic novel details the unlikely friendship of two girls who are  two personality opposites and how it grows and what happens when tragedy strikes.
"Seattle Style – Fashion/Function" (UW) by Clara Berg with  a foreward by Luly Wang. Billed as the most significant work yet compiled on the dress and clothing history of the Seattle area. It is the exhibition catalog for an exhibition currently at MOHAI through October, 2019.
"Girl Gone Viral" (Viking) by Arvin Ahmadi. A teenage girl who is an expert coder must use all her wit and skill to trace the disappearance of her father on her tenth birthday.
"Camp Tiger" (Putnam) by Susan Choi with illustrations by John Rocco. Acclaimed adult novelist and Pulitzer-prize finalist Susan Choi makes her kids' picture book debut with a story about a boy who meets a tiger when his family goes camping and how his life is changed. A tender, moving ode to  childhood and the pangs of growing up.
Shaun Tan, the bestselling author of "The Arrival" returns with "Cicada" (Arthur A. Levine), a satiric comment on work and the nameless office worker who toils 9 – 5pm without recognition or appreciation. With minimal text, the amazingly evocative artwork says it all.
"Great Job, Dad!" (Tundra) and "Great Job, Mom!" (Tundra) are both by Holman Wang. The author using props and models he photographed to create charming picture books that honor the multiple roles parents  play in the lives of their children.
"Song of the Crimson Flower" (Philomel) by Julie C. Dao set for November, 2019 release. This is a fantastical young adult tale of darkness and love and how some magical bonds are stronger than either.
"Secrets from My Vietnamese Kitchen – Simple Recipes from My Many Mothers" (Appetite-Penguin Random House Canada) by Kim Thuy. Translated from the French by Sheila Fischman with recipes translated by Marie Asselin. A warm introduction to a vibrant  cuisine by bestselling novelist and former restaurant owner Kim Thuy. It combines the author's storytelling style with simple dishes culled from all the mother figures in her life.
"Wicked Fox" (Putnam) by Kat Cho set for June 2019 release. This is a fantasy-romance retelling of the Korean legend of the Gumiho. What happens when a nine-tailed fox in the guise of a girl who devours the energy of men to survive saves a boy who knows her secret?
"Building Tradition – Pan-Asian Seattle And Life in the Residential Hotels" (Chin Music) by Marie Rose Wong, PhD. A book about Seattle's Chinatown-International District where the intermingling of Asian immigrants was a response to both discriminatory   policies and the brick-and-mortar architecture of single-room occupancy (SRO).
"The Downstairs Girl" (Putnam) by Stacey Lee. A Chinese American  teenager who works as a maid for one of the wealthiest men in Atlanta moonlights under a pseudonym as an advice columnist for the genteel Southern lady. But when she uses the power of the pen to address society's ills, she is ambushed by the backlash from readers.
"The House Of The Pain Of Others – Chronicle of a Small Genocide" (Graywolf) by Julian Herbert as translated by Christina Sweeney. Early in the twentieth century, some three hundred Chinese immigrants were massacred in the newly founded city of Torreon, Mexico. It is considered the largest slaughter of Chinese people in the history of the Americas. The deed was followed by denial  or empty statements of regret. More than a  century later, a Mexican writer digs deep into history to discover what happened and why.
"Patron Saints of Nothing" (Kokila) by Randy Ribay. A young adult coming-of-age story about grief, guilt and the power found in looking at all parts of ourselves. A Filipino American teenager returns to the Philippines  when he finds out his cousin was murdered as part of President Duerte's "War on Drugs" but no one wants to talk about it.
Art News/Opportunities
The 2019 Neddy at Cornish is one of the Northwest's largest cash awards for local artists. Application period  through July 21, 2019. Go to www.neddyatcornish.submittable.com/submit to apply.