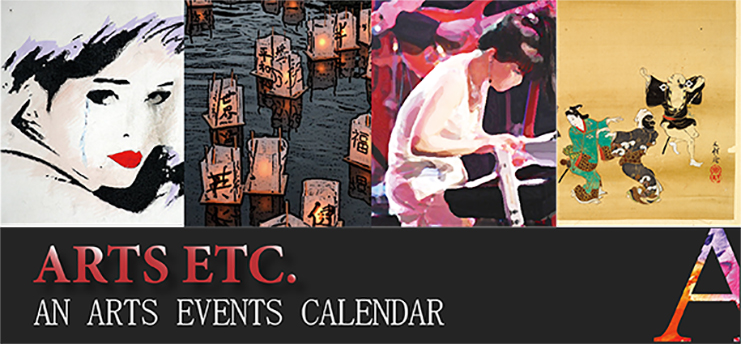 Some museums in the state are gradually re-opening. Please check with individual museum websites to see which museums and where.
Visual Arts
Greg Kucera Gallery presents their "Semi-occasional Exhibition of Secondary Market Offerings", a group show in which they sell work on consignment from collections and collectors. This show has work by Roger Shimomura, Guy Anderson, Romare Bearden, George Tsutakawa, Morris Graves and many others. On view through February 27, 2021. Kucera has announced he will gradually retire from the gallery, bringing in staff members Jim Wilcox and Carol Clifford as co-partners. 212 Third Ave. S. in Seattle. 206-624-0770  or try www.gregkukcera.com.
The work of Michelle Kumata can be seen in a group show entitled "Breathe" which is inspired by Martin Luther King. Also included is work by Carletta Carrington Wilson, Humaira Abid, Cory Bennett Anderson, Eileen Jimenez, Tia Blassingame and Roger Shimomura. Also includes a solo show by Paul Rucker titled "Forever" which pays homage with large postage stamp paintings of unsung heroes in the civil rights struggle. Both shows focus on social justice and human rights issues. A large scroll-like painting by Kumata entitled "Song for Generations" can be seen in the front window of the museum at all hours of the day. "Breathe" is on view until February 22, 2021. "Forever" remains on view until May 9, 2021. Bainbridge Art Museum is at 550 Winslow Way E. by the ferry dock. 206-842-4451 or try  biartmuseum.org. If you go to https://youtu.be/viwXLjccAUc, you can view a video on the exhibitions.
The ceramic work of Akio Takamori is included in a group show entitled "In Search of Lost Time" inspired by a novel by Marcel Proust. Also included is work by ceramic artist Viola Frey and painter Fay Jones. On view through  February 27, 2021. James Harris Gallery at 604 Second Avenue in Seattle. 206-903-6220 or go to jamesharrisgallery.com.
Seattle artist Romson Bustillo currently has an installation in a group show entitled "Yellow No. 5" at the Bellevue Art Museum. It includes 8 new large mixed media works on canvas, wall treatments, 21 hand-sewn/applique fabric pieces, audio and video, a repurposed bed, poetry and three hand carved shadow puppets. To take a virtual tour of this exhibit, go to Bellevue Art Museum's website. The show is curated by artist/curator Tariqa Waters and also includes work by Monyee Chau, ARI Glass, Aramis O. Hamer, Christopher Paul Jordan, Clyde Petersen, Kenji Hamai Stoll and SuttonBeresCuller. Waters says of the show  that "it examines the transactional relationship between culture and consumerism and how they often work in tandem to conceal their connection." It remains up until April 18, 2021. 425-519-0770. In addition, Bustillo also has work on view in the group show entitled "Reflections – 20 Years of the Bill and Melinda Gates Foundation" which can be seen from the street level at the Gates Discovery Center on 5th Avenue between Harrison and Thomas.
"Caring for Humanity" is an apt title for a show of over 120 portraits of Seattle front line healthcare workers painted by Jayashree Krishnan. These intimate portraits reveal the determination, fatigue and caring that these workers bring to the COVID-19 crisis. On view from February 19 – March  21, 2021. Columbia City Gallery at 4864 Rainier Avenue S. Hours are Friday – Sunday from 12 – 5pm or by appointment. 206-760-9843.
Sung I Chun has work in a group show entitled "The Uncertainty Principle" set for the month of February,  2021. Also includes work by Stephanie Krimmel, Peggy Murphy and Sue Springer. The exhibit explores aspects of unpredictability, uncertainty and unease. Various media are used to speak of the personal as well as existential challenges of the unknown and unknowable. At the Shift Gallery at 312 South Washington St. in Seattle. Hours are Fri.-Sat. from 12 – 5pm and by appointment. Email is [email protected] and www.shiftgallery.org.
The Textile Museum Associates of Southern California, Inc. present a zoom virtual program of talks. On Saturday, February 27, 2021 at 10am (PST), Asian art and textile specialist Alan Kennedy will talk about "Kesa in Japan: Buddhist Robes from the Beginnings to the Present". You must pre-register to attend these virtual talks. Try www.tmasc.org or email [email protected].
Davidson Galleries presents two group shows of international print artists under different themes. "Portraits" includes the work of Yoshio Yanobe, Lu Ke, Sayuri Nishimura, Jun'ichiro Sekino, Hui Zhang, Tomiyuki Sakuta, Koji Ikuta, Keisei Kobayashi, Seiichi Hiroshima, Wai Chirachaisakul, Chin Sheng Lee, Kouki Tsuritani, Atsuo Sakazume. Another group show entitled "Mad World" allows international artists to express their impressions of today's condition. It includes work by Wai Chirachaisakul, Sohee Kim and many others. On view  through March 27, 2021. View online at davidsongalleries.com or in the gallery by appointment (Tuesday – Saturday). 313 Occidental Ave. S. in Seattle. 206-624-7684 or  www.davidsongalleries.com. 
"Seen and Unseen: Queering Japanese American History Before 1945" is the first-ever exhibit focused on Nikkei (Japanese Americans) who were involved in intimate same-sex relationships or defied gender roles in the early 20th century. Queer Nikkei are virtually non-existent in Japanese American history, but this exhibit brings them into view with recent research by scholars in history, cultural and literary studies. This ground-breaking exhibition opens on  October 11, 2020 to coincide with National Coming out Day and will run through Feb. 14, 2021. Hosted by J-Sei and co-curated by Amy Sueyoshi and Stan Yogi. Go to https://www/eventbrite.com/e/queer-cinematic-visions-of-nikkei-history-tickets-121657941177. For full information on plans for the exhibit can be found at https://j-sei.org/seen-and-unseen/.
Seattle Art Museum's downtown location has the following.  Ongoing and on view is the group show "Exceptionally Ordinary: Mingei 1920 – 2020" which includes wood sculpture by George Tsutakawa  from his "Obos" series. Also on view is "Pure Amusements: Wealth, Leisure, And Culture in Late Imperial China." Seattle Art Museum has shifted many of their educational programs online. To find out about the following programs – "The Art of Empathy: Live Virtual Tours", "Eyes on Asia", "Art Education Videos", "Collection Highlights" and "Look & Make Lessons", try this link. http://www.seattleartmuseum.org/programs-and-learning/. The Seattle Asian Art Museum is still closed. Go to seattleartmuseum.org for details on all this. The Museum's Winter 2021 Saturday University Series is curated under the theme of "Art and Renewal in Times of Crisis in Asia." On Friday, February 5 at 5:30pm (PST). Timon Screech, Professor of the History of Art at the School of Oriental and African Studies at the University of London will speak about "Fires and Renewal in Edo Period Japan" go to www.seattleartmuseum.org/visit/calendar/events?Eventid=70988. On Saturday, February 13 at 10am (PST),Robert E. Harrist, Jr, Professor of Chinese Art History at Columbia University talks about "Big Writing and the End of the Law: The Monumental Sutras of Shandong Province." Go to www.seattleartmuseum.org/visit/calendar/events?Eventid=70989.  On Saturday, February 20 at 10am (PST), Middle East art specialist Heghnar Zeitlan Watenpaugh will talk about "The Missing Pages, from Genocide to Justice". Go to www.seattleartmuseum.org/visit/calendar/events?Eventid=70990. On Saturday, February 27 at 10 am (PST),  photographer and video artist Munem Wasif from Bangladesh will speak on the topic "Jomin o Joban, a tale of the land". Go to www.seattleartmuseum.org/visit/calendar/events?Eventid-70991. On Saturday, March 6 at 10 am (PST), Rachmi Diyah Larasati, associate professor of cultural theory and historiography in the Department of Theatre Arts & Dance at the University of Minnesota and Christina Sunardi, associate professor in the Ethnomusicology program in the School of Music at UW will discuss the impact of political genocide in Indonesia in 1965-66 on dance performance in Java. The title of their talk is "Tracing Violent Events and Exploring Resilience: A Conversation on Dance in Java, Indonesia. Go to www.seattleartmuseum.org/visit/calendar/events?Eventid=70992. If you become a SAM member, you will have access to the enormously popular "Conversations with Curators" series.  The series continues on every third Wednesday from February through August. On February 17, catch Natalia Di Pietrantonion, Assistant Curator of South Asian Art as she talks about "Storytelling Redux: South Asian Art" which looks at scroll paintings commissioned in 1843 in Telangana, India as part of a performance space and how two South Asian contemporary artists embody the narrative through their staged video and photographic performances.  Go to seattleartmuseum.org to see the complete schedule.
The Cascadia Art Museum announces the following shows. "Gifts And Promised Gifts To The Museum's Permanent Collections" is a group show that includes the late John Matsudaira's masterpiece "Quiet Motion And Blue" which was featured at the Seattle's World Fair back in 1962. On view  through May 23, 2021. 190 Sunset Ave. S. in Edmonds, WA. Hours are Th. – Sun. from 11am – 6pm. 425-336-4809.
The Wing Luke  Asian Museum  has re-opened with limited capacity and new hours. Wed. – Sun from 10am – 5pm.  Current exhibits include the following – "Hear Us Rise" is an exhibit that highlights Asian Pacific American women and other marginalized genders that have challenged society's expectation.   "Where Beauty Lies" on view through Sept. 19, 2021. Opening Nov. 14, 2020 and on view through Nov. 16, 2021 is "Guilty Party" a group exhibition of multi-media work by various Asian Pacific American artists curated by Justin Hoover.  There are many virtual programs now as well.   There are virtual tours of the museum on weekday mornings. Pre-booking available for private groups. Contact the museum to sign up.  Live virtual tours of the Freeman Hotel on Thursdays at 5pm PDT.Check out what's in the gift shop with the Museum's online marketplace. The monthly storytime programs can be watched at www.digitalwingluke.org/programs.
Henry Art Gallery  on the Seattle UW campus has the following artists presenting art talks in their "Critical Issues Lecture Series."    On Friday, February 5, 2021 at noon, Hong-An Truong examines the histories of war and immigrant and refugee narratives through a decolonial framework using photography, sound, video and performance. Go to https://henryart.org/programs/all.
 KOBO at Higo is now open on Saturdays from 11am – 5pm.  In this month's virtual gallery are ceramics by Michelle Murphy and Jodi Rockwell. Masks are required and you must use the provided hand sanitizer upon entering.  30 minute shopping sessions by appointment only at the KOBO on Capitol Hill will soon be made available through an online booking system. Time slots will be limited to keep everyone safe, plus more protective protocols in place to meet safety guidelines. More information  to come. Shipping and curbside pickup is still available by scheduling a Pickup Time at Checkout. They have a new instagram shopping account @koboseattleshop or try their website at  koboseattle.com.  The Capitol Hill store is at 814 E. Roy St.  Congratulations to KOBO which celebrates its 25th anniversary. KOBO at Higo is at 604 South Jackson St. in the CID.
 "World War Bonsai: Remembrance & Resilience" is the title of a show curated by Aarin Packard at Pacific Bonsai Museum. This show tells a history rooted in racism told through the living art of bonsai. It presents the powerful and inspiring untold history of bonsai artists working in the WWII-era and how they changed the course of bonsai art history forever.  With 32 bonsai, archival documents and photographs. The exhibition traces the cultural practice of bonsai in the U.S. and Japan immediately before, during and after WWII, amid incarceration and at peace. Artists from the Puget Sound, California, Colorado, Hawaii and Japan are featured including Ben Oki, the Domoto family, Kelly Nishitani, Kenny Hikogawa and Joe Asahara, Ted Tsukiyama, Mas Imazumi, Kyuzo Murata and Yuji Yoshimura. The exhibition also includes  a site-specific artwork by Seattle artist Erin Shigaki which includes wheat-pasted images of individuals who played a role in the incarceration of more than 120,000 Japanese Americans.  A post-event recording of the "Branch Out" event held in August will be available on Pacific Bonsai Museum's You Tube channel. On view now  through Oct. 10, 2021. 2515 South 336th St. in Federal Way, WA. Admission is by donation. Hours are Tuesday through Saturday from 10am – 4pm. 253-353-7345 or email [email protected].
The Outdoor Sculpture Collection on the campus of Western Washington University in Bellingham is open and accessible to everyone. This is an outdoor collection of major sculptures from the late 20th century to the present and includes work by Do Ho Suh, Sarah Sze and Isamu Noguchi among others. Get a map from the information booth and explore the campus collection for yourself. Call 360-650-3900.
The Northwest Museum of Arts & Culture in Spokane has the following – "Witness to Wartime: The Painted Diary of Takuichi Fujii" which opens January 23, 2021. Fujii was a Seattle artist and his illustrated diary spans the years from his forced removal in 1942 through his internment in Minidoka  which ended on 1945. There are over 200 ink drawings and over 230 watercolors of all aspects of camp life. 2316 W. First Ave. in Spokane. Hours are Tuesday – Sunday from 10am – 5pm with timed tickets purchased only online. 509-456-3931 or go to northwestmuseum.org.
The Chinese Canadian Museum of British Columbia opens its first exhibit in Vancouver's Chinatown. Entitled "A Seat at the Table", the exhibition explores historical and contemporary experiences of Chinese Canadians, particularly through the lens of food and restaurants. There are stations for writing and recording videos. Co-curator Viviane Gosselin said "the whole idea is to kind of generate a new body of historical knowledge that the Chinese Canadian Museum can use for future research and programming." A sister exhibition is set to open at the Museum of Vancouver's main location in the fall. Both exhibitions are expected to travel across B.C. within a year. This exhibition is at 27 East Pender. For details, go to [email protected].
The Chinese Cultural Centre Museum at 555 Columbia St. in Vancouver B.C. has an ongoing exhibit entitled "Generation to Generation – History of Chinese Canadians in British Columbia". 604-658-8880 or go to cccvan.com.
Vancouver Art Gallery presents multi-media Chinese artist Sun Xun and his work from February 20 – August 22, 2021. 750 Hornby St. in Vancouver BC, Canada. Go to https://ww.vanartgallery.bc.ca/
The Dr. Sun Yat Sen Classical Chinese Garden presents "Luminous Garden, the third installment of artist-in-residence Lam Wong. Done in collaboration with Glenn Lewis, it's an investigation of the concept of the garden as a sanctuary for spiritual growth. 578 Carrall St. in Vancouver B.C. 604-662-3207 or  go to vancouverchinesegarden.com.
"Broken Promises" is a 7 year multi-disciplinary, multi-institutional, community engaged project that explores the dispossession of Japanese Canadians in the 1940s. It illuminates the loss of home and the struggle for justice of one racially marginalized community. Also ongoing is "TAIKEN: Japanese Canadians Since 1877". Nikkei National Museum & Cultural Centre  at 6688 Southoaks Crescent in Burnaby. 604-777-7000 or go to nikkeiplace.org.
The Jordan Schnitzer Museum on the University of Oregon campus in Eugene has the following – "Myriad Treasures: Celebrating The Reinstallation of the Soreng Gallery of Chinese Art. On view through  February 14, 2021. "Early Ceramics from Southeast Asia: Specimens from Thailand and the Museum Collection. On  view through June 13, 2021. "Rhapsody in Blue and Red: Ukiyo-e Prints of the Utagawa School." On view through  July 17, 2021. 1430 Johnson Lane in Eugene, Oregon. 541-346-3027.
 Portland Art Museum has a group show entitled "Joryu Hanga Kyokai, 1956-1865: Japan's Women Printmakers" which looks back at the careers of the founders of the Women's Print Association, Japan's first printmaking society for women artists. On view through February, 2021.  1219 SW Park Ave. 503-226-2811  or portlandartmuseum.org.
The National Portrait Gallery at the Smithsonian in Washington, D.C. will present the first major large-scale retrospective of work by Hung Liu, the internationally acclaimed Chinese-born American artist. "Hung Liu: Portraits of Promised Lands, 1968-2020" will feature more than 50 artworks spanning Liu's time in Maoist China in the 1960s, her immigration to California in the 1980s, and the height of her career today. This is the first time the museum will celebrate an Asian American woman with a solo exhibition. The exhibition's opening coincides with Asian Pacific American Heritage Month 2021. The dates of this exhibition are May 21, 2021 – January 9, 2022. 
Pakistani gay artist Salman Toor makes his debut in a show of his figurative paintings at the Whitney Museum of Art in a show entitled  "How Will I Know". On view through  April 4, 2021. 99 Gansevoort St. 212-570-3600 or go to whitney.org.
Artists using expanded experimental cinema as an art form was a popular trend in the 1960s around the world and in Japan as well. Now some pioneers of that genre are showing in New York. Shuzo Azuchi Gulliver's "Cinematic Illumination" is on view through February,2021 at the Museum of Modern Art. 11 West 53rd St. in Manhattan. Timed tickets are required. 212-708-9400 or  try moma.org. 
Sarah Sze, sculptor/installation artist and past MacArthur Fellowship winner has a new work now on view until March 7, 2020. Entitled "Night Into Day", it is at the Foundation Cartier in Paris. It consists of two parts. One room has an illuminated planet-like sculpture hanging from the ceiling. The other consists of a floor sculpture over which a pendulum swings. She has more projects lined up. An installation at the Guggenheim now pushed back to 2023 and a permanent  outdoor work for Storm King Art Centre in upstate New York.
Craft In America presents an artist talk in which Joan Takayama-Ogawa addresses the topic "Sculpting Climate Change" on February 5, 2021 at 11am (PST). The artist will talk about her environmentally engaged work. This talk is presented in conjunction with the Craft in America Center exhibition, "Making Waves: Ocean Ecology and Craft" on view through June 19, 2021. To register, go to https://zoom.us/webinar/register/WN_kvQUB482TpWG-4AnoDgOCg. For information, go to [email protected].
The Robert Klein Gallery presents an exhibition of photographs by New York and Shanghai-based artist and designer Han Feng. The exhibition entitled "The Gift" presents a series of 20 artfully and poetically conceived still life photos , created in her New York City studio during the pandemic using dishes from her collection and vegetables from local markets. On view  through March 13, 2021. The gallery is on 38 Newbury St. in Boston. Open by appointment only. Email [email protected] or call 617-267-7997.
The Cantor Arts Center at Stanford University has become a major player in the reclamation of early Asian American art history as it pertains to California artists. Marci Kwon, assistant professor at Stanford is co-head of a new exhibition and instruction partnership called the Asian American Art Initiative. Besides teaching a course on 20th century Asian American art, she was behind the acquisition of 233 ceramic face masks that once graced the front of  Bay Area sculptor/educator Ruth Asawa's house.  In addition, the university has acquired 141 paintings and works on paper from the private collection of the late Michael Donald Brown, a longtime Bay Area dealer and collector of Asian American art. A major display of the masks and the Brown collection is slated for the fall of 2022. That opening will be accompanied by a number of public programs and symposiums that will establish the Cantor as a major repository of art made  by Asian Americans. Kwon will run the academic part of the program and Aleesa Pitchamarn Alexander will curate the collection at the Cantor.
Nationally known photojournalist Corky Lee died from complications due to Covid 19 in January. He was 73 and is survived by his long time companion Karen Zhou  and  his brother, John. The self-taught freelancer covered issues important to Asian Pacific Americans whether it dealt with immigration, civil rights, history or current events. Friend Christopher Marte said of him, "Corky was a fighter, an artist, and a pillar of Chinatown activism. His passing is an unimaginable loss to our entire community, and to the Asian-American diaspora across the country. His dedication to justice lives on in all who had an opportunity to learn from him. Or as Jack Tchen, director of a 2002-2003 exhibition of Lee's work expressed, "If you want something other than the usual stereotyped images of Chinatown or 'orientals, he has them." Fellow community activist Karlan Chan said of him – "He was a staple in the Asian community documenting Asian struggles for visibility and equality. He traveled the country to document rallies, protests and even organized a few these last few years." His presence will surely be missed.
Performing Arts 
A new album "Hankyo" (Reverberation) is now available by Seattle-raised Hanz Araki who continues a shakuhachi tradition dating back generations in his family.  Go to arakikodo.com for details.
Seattle Modern Orchestra announces its 2020-2021 season. Founded in 2010, the Seattle Modern Orchestra is the only large ensemble in the Pacific Northwest solely dedicated to the music of the 20th and 21st centuries. It is led by co-artistic  directors Julia Tai and Jeremy Jolley. SMO commissions and premieres new works from an international lineup of composers and often presents important pieces from the contemporary repertoire that are rarely if ever heard by Seattle audiences. This season will include six commissions and six concert broadcasts. The lineup of composers includes Iranian composer Anahita Abbasi, Cornish faculty member Tom Baker, saxophonist/composer Darius Jones, cellist/composer Ha-Yang Kim, Brown University assistant professor Wang Lu and SMO co-artistic director, Jeremy Jolley. The decision of whether each event will take place in person or virtually will be based on evolving community health guidelines throughout the season. Concert dates are  March 14, May 1, June 6, 2021. Go to http://www.seattlemodernorchestra.org/2020/09/24/2020-2021-season-announcement-press-release/ for details.
Pacific Northwest Ballet has announced an all new virtual lineup for its 2020-2921 season. Some highlights include  a world premiere by choreographer Edwaard Liang on June 20, 2021. For complete details, go to PNB.org/DigitalSubscription or call 206-441-2424.
The Meany Center For The Performing Arts has announced fall schedule changes with the season opening postponed to January of 2021. Some fall performances have been canceled or rescheduled for late winter or spring. Virtual programming is being developed with many of the artists as an alternative to live performances. For a complete listing, go to https://meanycenter.org/tickets/season. Current ticket holders to canceled events are encouraged to contact the ArtsUW Ticket Office to request a refund, exchange into a later performance or other alternatives. 
Freehold Theatre Lab/Studio now located in the CID continues their classes in various aspects of the theatre both virtual and in-person.   For a list of current classes, go to freeholdtheatre.org for details or call 206-595-1927. 
Even though the Wayward Music Series at Chapel Performance Space is currently closed, go to nonsequiter's website to listen to free links by local musicians performing original music at wayward music.org or try gscchapel.com. Also listed are live streaming of local concerts by contemporary musicians that you can rent. Local sound artist Susie Kozawa will have a piece she did invoking the space at the Chapel in a forthcoming edition.
Mukai Farm And Garden on Vashon Island present their master classes – "The Miracle of Koji, Sake and Sake Kasu" and "How To Make Your Own Sake." Register by  January 26, 2021. Live class on Saturday, February 13 at 1pm (PST). Another class is "Boro Inspired Mending" with Rob Jones. This is the Japanese art of repairing fabric using scraps and stitching used in Japan. On Thursday February 25, 2021 from 9:30am – 12pm (PST). Try [email protected] for complete details.
Toronto-based Tapestry Opera's 2020/21 season hopes to "push the boundary of the genre". The season includes  the following –  June 17 – 20, 2021 brings "Dragon's Tale" with music by Ka Nin Chan and libretto by Mark Brownell. This new Canadian opera by the same team that did "Iron Road" explores the relationship between a young Chinese Canadian woman and her immigrant father.  Go to tapestryopera.com to learn more.
Film & Media
While it is sad that we can't see films on the big screen in theatres for now, one thing that Covid 19 has done is open access to virtual cinema. One can now view films from major film festivals around the country for rent and viewable in the privacy of your own computer screen. Japan Society presents an online film series highlighting 30 films from the last 20 years of Japanese cinema. Covering a wide range of production styles and genres from small budget independents to major studio releases and features to short films with a showcase on films by Kiyoshi Kurosawa and up and coming filmmakers as well. Virtual screening February 5 – 25, 2021. Tickets are $8 – $12 for a 3 day rental per film. All access pass is $99 for a 21 day rental of all films through February 4 only. Japan Society members get 20% off all purchases. Go to film.japansociety.org.
The owner of the Varsity on University Ave and the Admiral in West Seattle has announced that he will open both movie theatres this week with social distancing and see how it goes. And in downtown Seattle, the owner of the chain movie theatre Cinemark has announced that it will re-open with social distancing this week as well.
The 16th Annual Children's Film Festival Seattle goes virtual this year to celebrate "Love & Light." Screening February 18 – 26. 2021 with online screenings and  interactive workshops presented by Northwest Film Forum. Full schedule comes out on January 26, 2021 via childrensfilmfestival.org.
  Opening December 11, 2020 at SIFF Virtual Cinema is "Assassins", a new documentary by Ryan White. It looks at the mysterious murder of  the half-brother of Kim Jong Un in Malaysia and whether the two women who did so were ruthless assassins or political pawns. Also opening on December 11, 2020 online at SIFF and co-presented with Janus Films is the series ' "World of Wong Kar Wai" with new 4k restoration of WKW classics including "Chungking Express" and "In the Mood for Love."  Opening December 18, 2020 is the documentary film, "Finding Ying Ying" by Jiayan Shi and presented by Kartemquin Films. The film examines the sudden disappearance of a Chinese grad student in the mid-west and looks at her life's promise and potential. Now all in a virtual screening online courtesy of SIFF. SIFF also has online the documentary film, "The Reason I Jump" based on a memoir by a 13 year old author Naoki Higashida. It chronicles the rich inner lives of five non-speaking autistic people around the world. "76 Days" is a documentary film that chronicles the beginning of the Covid 19 outbreak in Wuhan, China. Go to siff.net for details.
Cornish College of the Arts offers Continuing Education courses for adult learners. Filmmaker, photographer and writer Phan Tran offers a class entitled "Editing: The Practical Art" with with spring classes starting  March 23,2021. Students will  become familiar with the equipment and technology used to craft film and  will be introduced to writing, thinking, music and surgery – skills that are all needed to make film stories. $600 for 6 sessions. Go to ContinuingEducation@Cornish for details.
"The Social Justice Film Festival" is now accepting submissions for their 2021 Festival. Visit www.socialjusticefilmfestival.org/submit for submission instructions and deadlines. 
The Rose Theatre in Port Townsend is currently streaming a number of Asian films for rent. They include "Ai WeiWei: Yours Truly", "The Reason I Jump", "The Donut King", "To the Ends of The Earth" and more.
"Finding Kukan", a documentary film by Robin Lung about a pioneer Chinese American woman filmmaker which was well received at SIFF a few years back can now be viewed for free in a virtual screening via China Fest until Feb. 14, 2021 with a director' talk on February 4, 2021. Presented by the University of Richmond, the Virginia Museum of Fine Art and Rose Chen. It is also a free movie that can be accessed via nationwide public libraries who use the Kanopy system. Just click on the FINDING KUKAN Kanopy link and search for your library. Other related films you can check out on Kanopy include "Forever Chinatown", "95 and 6 to Go" and "Alternative Facts".
"Earwig and the Witch" (HBO Max) is the latest studio Ghibli film, this time directed by Goro Miyazaki, the son of studio co-founder Hayao Miyazaki. A head strong orphan girl gets adopted by a witch and a reclusive demon writer. The story is adapted from the novel by Diana Wynne Jones ("Howl's Moving Castle"). "Earwing" is the studio's first feature entirely computer-animated foregoing the hand-drawn animation the studio was known for in the past. The younger Miyazaki has pronounced this as a move into the future.
Eddie Huang, food impresario and creator of the hit TV series "Fresh Off The Boat" has his debut feature film coming out on Focus Features in March, 2021. It is entitled "Boogie" and tells the story of an Asian American high school kid with basketball skills and dreams of making it in the NBA.
A new film "White Tiger" based on the award-winning novel by Aravind Adiga and directed by  Ramin Bahrani is available on Net Flix. It stars Adarsh Gourav, Raj Kummar and Rao Priyanka Chopra. The film tells the story of an ambitious Indian driver who uses his wit and cunning to escape poverty and rise to the top. 
MUBI presents the following – Hong Sang-soo's 2014 "Hill of Freedom" is a comedy starring Ryo Kase as a Japanese man who comes to rural Korea to propose marriage to a Korean woman he's been exchanging letters with only to find she's nowhere to be found. Also screening is a 2006 Hong Sang-Soo film "Woman on the Beach" in which two friends drive to a seaside resort. One brings along his girlfriend. As the days go by the woman in question denies she's his girlfriend and complications ensue.  "Cenote" is a 2019 documentary film by Kaori Oda. The title of the film is a word for sources of water that in ancient Mayan civilization were said to connect the real world and the afterlife. The director swims in these natural sinkholes in Northern Yucatan and films the underwater world of light and dark. "Dead Pigs", the first feature film by "Birds of Prey" director Cathy Yan is a dark comedy based on a true story when over 16,000 dead pigs were found in the Huangpu river in 2013. It won a Special Jury Prize for ensemble acting at Sundance and will be available for the first time in the U.S. beginning February 12, 2021.  Go to [email protected] to find out about this film streaming service where you can rent by the month or by the year. 
"Made in Japan" is a documentary film exploring traditional Japanese arts and crafts in Fukushima and Gifu Prefectures. Go to http://www.viewpure.com/CCOrvJYQ_4?start=O&end=O.

 Town Hall Seattle has digital programming of upcoming events on their live stream page. They also have a media library of hundreds of video and audio free to enjoy.  A new addition to that includes   Laila Lalami who talks about "What It Means Be An American" and her book, "Conditional Citizens" with fellow author Viet Thanh Nguyen.Go to townhallseattle.org for details.

  Most local theaters are doing virtual screening via the internet where you can rent new films and see them at home. Go to the websites for Northwest Film Forum, Grand Illusion Cinema, Siff Uptown, AMC theatre chains and others.
The Written & Spoken Arts
Artist Trust presents the second in their virtual "Community Conversation" series on "Racial Equity". On Thursday, February 4, 2021 at 5pm (PST). The framing question will b "How can Artist Trust and other artist-serving organizations interrupt white supremacy?" Writer, performance/visual artist and educator Anastacia-Renee will lead a discussion between Raleigh Hawthorne, Elisheba Johnson, Emma Noyes and Che Sehyun. A Q&A with  audience members to follow. Email [email protected] to make a reservation.
Third Place Books presents the following virtual events at their "Live on ZOOM!" series. Ron Chew appears in conversation with Sally Yamasaki a bout his new memoir entitled "My Unforgotten Seattle" on Sat., February 6 at 5pm (PST). Accomplished  local short story writer E. Lily Yu talks about her debut novel "On Fragile Waves" (Erewheon) with fellow writer Ted Chiang on Friday, February 12, 2021 at 7pm (PST). 
ArtsWest presents "RE:BUILD" which is a series that gives people in the community a chance to read and discuss books on race  and an opportunity to build ongoing anti-racist practices into the foundations of our work and life. In four meetings spread out over eight weeks, beginning February 22nd, participants can read and discuss Ijeoma Oluo's book entitled "So You Want To Talk About Race" in a series of conversations facilitated by Naho Shioya. Besides being a gifted actress (she starred in the well-received ArtsWest production  of "Office Hour"), she also does insightful work as a teaching artist and racial equity consultant. Meetings will be held on Mondays from 6:30 – 8pm every two week on February 22, March 8, March 22 and April 5, 2021. The book club is free of charge but participants will need to acquire their own copy of the book. Go to [email protected] for details.
The University Book Store and Microsoft Alumni Network present the first event in their new speaker series featuring "Leadership and Business Titles" written by former Microsoft staff. First up is former business executive/author Akhtar Badshah PhD who was head of Microsoft's philanthropy program. He currently serves as Chair of the Board of Global Washington and also serves on the boards of the Microsoft Alumni Network and The Indus Entrepreneurs Seattle chapter. He is an internationally recognized development and philanthropy expert.  He will talk with Erica Barnhart about his book entitled "Purpose Mindset" which tells the story behind how Microsoft built its culture of giving. On Tuesday, February 16 at 6pm. To reserve tickets and get more information, call 206-634-3400 or try [email protected].
IE contributing writer Grace Utomo has an essay published in the current issue of "Kaleidoscope: Exploring the Experience of Disability through Literature and the Fine Arts." The work was selected from more than 400 submissions. Utomo was a professional violinist before being hit by a car while crossing the street and suffered a traumatic brain injury. Utomo embraced writing as a way to process her emotions and share spiritual lessons. "I believe resilience is a choice that's available to everyone, no matter their background…I hope my work encourages readers to see and choose hope in the midst of adversity." Congratulations, Grace! To read the magazine, visit www.KaleidoscopeOnline.org.
Town Hall has the following virtual events. As part of her ongoing series "Lyric World", poet/curator talks to poet/musician Gary Copeland Lilley about the creative and intellectual influences that have shaped his world. On Monday, February 8, 2021 at 1pm.  Go to townhallseattle.org for details. 
Elliott Bay Book Company has a full slate of events in their virtual reading series. Here are a few. Looking forward to March are these events. Poet/writer/curator Kazim Ali appears on behalf of his  memoir "Northern Light: Power, Land, and the Memory of Water" (Milkweed) along with Danielle Geller and her book "Dogflowers" (One World/RH). On March 15, 2021, Viet Thanh Nguyen appears with a new novel "The Committed" (Grove).  On March 31 at 6pm, Seattle author Hannah Kirshner talks about her new book "Water, Wood, and Wild Things: Learning Craft and Cultivation in a Japanese Mountain Town (Viking) with digital artist/ author/educator John Maeda also from Seattle whose parents owned the greatly missed ID landmark,  Star Tofu. For this one, go to https://www.penguinrandomhouse.com/books/603783/water-wood-and-wild-things-by-hannah-kirshner/. Finally on April 7, Seattle author /educator Sonora Jha talks about "How to Raise a Feminist Son" (Sasquatch) via Town Hall Virtual. She will be in conversation with Ijeoma Oluo. For making reservations to the virtual events, go to elliottbaybook.com and click on the "events" page or call 206-624-6600 or toll-free at 1-800-962-5311. Although all events are virtual for the time being, the book store is open.
Third Place Books virtual reading series has the following –On February 10, 2021 at 6:30pm (PST) there is a partner event with King County Library entitled "KCLS Livestream: Nicole Tsong – 24 Ways to Move More". Go to www.thirdplacebooks.com for details. KCLS also has an author talk with Doug Palmer who will discuss his new memoir entitled "Bruce Lee – Sifu, Friend and Big Brother" on Saturday, February 13, 2021 at 2pm (PST). Pre-registration is required. Email [email protected] to secure a slot.
E.J. Koh is the 2021 Jack Straw Writers Program Curator for 2021. She is the author of the award-winning memoir, "The Mystical Language of Others" and the poetry collection entitled "A Lesser Love". The 2021 Jack Straw Writers selected this year by Koh are S. Rein Batiste, C.E. Glasgow, Patrycja Humienik, Grace Jahng Lee, Jose Luis Montero, Greg November, Tochukwu Okafor, Michael Overa, Paulette Perhach, Abi Pollokoff, Kristie Song and Daniel Tam-Claiborne. They will read in their debut on the first three Fridays in May.
Hugo House presents the following – Fall class registration at Hugo House is now open. All classes and events will take place virtually for the remainder of 2020. Samples of classes available include some of the following – "The Political Essay" by Sonora Jha, "The Personal and the Political" with Rick Barot, "The Longest Poem: Writing with the Mahabharata with Shakur Narayan, "Writing the Family Saga" with Jaimie Z. Li, "Exploring Minor Feelings: An Asian American Reckoning" with Anne Liu Kellor, "Poetry in & of Crisis by Chen Chen, "Interpretor of Maladies" on February 7, 2021 in which Seattle Professor Nalini Iyer (I.E. contributor) will look at the short stories in the major collection by Jhumpa Lahiri. Book club discount if book is purchased at Elliott Bay Book Company. You can register online but if you have questions, send an email with your name and # to lily@hugohouse.org. For more information try [email protected]. 
"Open A New Window" is the title of Seattle Arts & Lectures new 2020/21 season. Set for June 9, 2021 is poet/fiction writer Ocean Vuong. His novel, "On Earth We're Briefly Gorgeous" in which he writes letters to his immigrant mother which she will never read was an immediate and enduring bestseller. Sponsored by Elliott Bay Book Company. For more details, go to lectures.org.
Eastside raised poet/educator W. Todd Kaneko has a forthcoming collaboration with Amorak Huey entitled "Slash/Slash" which is partly a mythologized biography of heavy metal guitarist Slash and explores identity, masculinity, fame and music. It is due for release in June 2021 as part of Diode Editions collaboratively written poetry chapbook series.  Also in this series is "Bright Power, Dark Peace" by Traci Brimhall and Brynn Saito. Go to diodeeditions.com for details.
EAST WIND BOOKS in Berkeley, California remains one of the most comprehensive bookstores in the country for Asian American and Asian titles. They are sponsoring the following free virtual events. To make a reservation and get more details on these events, email [email protected].
The Manilatown Heritage Foundation presents a "Kommunity Kultura " presentation with Katuuaran Lyn Pacificar who will discuss "Atin Gamot: Traditional Filipino Plant Medicine – Preparations for Immunity Boosting and Healing." Part of a 2-part series  which will continue in March. Online via ZOOM  with registration at EventBrite. Go to [email protected].
The "Imprint: Margarett Root Brown Reading Series" has tickets on sale now. This Houston-based reading series like many events all over the country is now a virtual series. Some of the authors in this series include Chang-Rae Lee  & Lily King on Feb. 22, 2021 and Viet Thanh Nguyen on April 12, 2021. To receive a complete series brochure, email [email protected].
"When You Trap a Tiger" by Tae Keller won the 2021 John Newberry Medal, the highest honor given in children's literature.  The book also won the Asian/Pacific American Award for children's literature. The novel is the story of a girl whose family moves in with her sick grandmother. A magical tiger from Korea folklore offers the girl a deal to help her grandmother get better.
The University of Washington Press is seeking writers working on a manuscript or new book proposal. UW Press editors are eager to connect with current and prospective authors about new projects and book proposals. Contact them via email of set up a meeting by phone or Zoom. Executive Editor is Lorri Hagman at [email protected].
Below is a partial list of new books by or about Asian Americans and new titles on Asia. If you are interested in reviewing any of them, please let us know –
"Ten Little Dumplings" (Tundra) by Larissa Fan and illustrated by Cindy Wume. In a Chinese family, boys are traditionally valued but this quirky children's book looks behind the ten little boys in the family to reveal a sister who is just as important.
"The Monocle Book of Japan" (Monocle) by Tyler Brule is a culmination of years of reporting on that country by this international magazine. It delivers a unique insight into the people, places and products that define that island nation with cogent text and attractive images.
"A Place at the Table" (Clarion Books) by Saadia Faruqi is a young adult novel about sixth grade girls. One is a Pakistani American girl and the other, a white Jewish girl who meet while taking a South Asian cooking class. They bond as cooking partners then as friends as they compete with others to win a spot on a local food show.
"Foreign Bodies" (Norton) by Kimiko Hahn. Inspired by her encounter with the Jackson Collection of ingested curiosities at the Mutter Museum, this poet investigates the grip that seemingly insignificant objects have on our lives.
Two-time Newberry Medal winner Lois Lowry's new book "On The Horizon – World War II Reflections" (HMH) is a moving account of the lives lost and forever altered in the bombings of Pearl Harbor and Hiroshima.
"Monkey – New Writing From Japan" (Monkey Magazine) is the latest volume of that literary magazine that plumbs the depths of new writing from Japan translated by some of the finest translators and illustrators working today. This issue includes work by Hideo Furusawa, Haruki Murakami, Tomoka Shibasaki, Yoko Ogawa, Hiroko Oyamada, Hiromi Ito and many others.
"The Sunflower Cast A Spell To Save Us From The Void" (Nightboat Books)  by Jackie Wang. These poems emphasize the social dimensions of dreams, particularly the use of dreams to index historical trauma and social processes.
"Buddha – Photographs by Michael Kenna" (Prestel). This British photographer travels all over Asia documenting with a sensitive eye, the image of the Buddha. With essays on the history of the Buddhist image and a personal story by the photographer on his travels.
"Love Without A Storm" (Blood Axe Books) by Arundhathi Subramaniam is filled with poems that celebrate an expanding kinship: of passion and friendship, mythic quest and modern day longing, in a world animated by dialogue and dissent, delirium and silence.
"Heiress Apparently" (Abrams) by Diana Ma is the first book in an epic, romantic young adult series following the fictionalized descendants of the only officially recognized regent of China. When a young Chinese American woman from Illinois embarks on an acting career in Los Angeles having abandoned plans for college – things turn strange. When she gets a role in "M. Butterfly" shooting in Beijing, she uncovers a royal Chinese legacy in her family her parents would rather she never knew.
"Forty Two Greens – Poems of Chonggi Mah" (Forsythia) as translated by Youngshil Cho. Winner of the Korean Literary Award, this poet's search for the infinite in nature illuminates moments of beauty in the subconscious.
"The Surprising Power of a Dumpling" (Scholastic) by Wai Chin. A teenage girl balances looking after her siblings, working in her dad's restaurant and taking care of a mother suffering from a debilitating mental illness. A deep true-to-life exploration  through the complex crevices of culture, mental illness and family.
"Almond" (Scholastic) is the latest picture book by master storyteller/artist Allen Say. In it he portrays a young girl named Almond who is a victim of self-doubt and is envious of the talented new girl in school who plays the violin. Yet, through trial and error she comes to find her place in the world and a role she can play.
"Instrument" (Fonograf) is the new multi-media project by Dao Strom in which she explores hybridity and contemplates the intersection of personal and collective histories through forms of poetry, music, image, song and sound inside the spaces of a book. Born in Vietnam and growing up in northern California, her book of poems is augmented by an album of songs that cover the wide range of her artistic exploration.
"Ten – A Soccer Story" (Houghton Mifflin Harcourt) by Shamini Flint. A good half-Indian girl in  1980's Malaysia isn't supposed to play a "boys" sport but Maya is all game as she achieves her goals while placating a bossy Indian grandmother and holding together a mixed race family on the verge of drifting apart. A young adult novel that will inspire.
"The Collected Poems of Chika Sagawa" (Modern Library) won the Pen Award for "Poetry in Translation" for translator/poet Sawako Nakayasu. Now it's brought back in print in the new Modern Library Torchbearers Series that highlights women who wrote on their own terms, with  boldness,  creativity and a spirit of resistance. Sagawa was a turn-of-the-century daringly experimental voice in Tokyo's avant-garde poetry scene. Her life was cut short by cancer at the age of 24 but the words she left behind linger on.
"Ichiro" (Etch) by Ryan Inzana was a Will Eisner Award nominee, received the Asian/Pacific American Award and was a Junior Library Guild Selection. This graphic novel tells the story of a boy raised by his Japanese mother in Brooklyn who grows up idolizing his American father he never knew who was killed in combat. When he is forced to go to Japan with his mother who is on a work trip, he is left with a grandfather, a stranger to him in a country he doesn't know. When he finds himself a fugitive in a land of mythic gods, he must figure out who he is and how he can escape.
"Hot Pot Night" (Charlesbridge) by Vincent Chen. In this kid's picture book, one Taiwanese boy's enthusiasm for hot pot brings out his diverse apartment neighbors for a night of fun and a delicious communal meal.
"A Nail The Evening Hangs On" (Copper Canyon) by Monica Sok. A strong debut that illuminates the experiences of the Cambodian diaspora and reflects on America's role in escalating genocide in Cambodia. A travel to war museums around the world re-shapes the imagination of a child of refugees and from these experiences tumble out powerful poems of voice and witness.
Mindy Kim, Class President" (Aladdin) by Lyla Lee is part of a series of books on the adventures of a teenage Korean American girl. In this story, she decides to run for class president but first she must overcome her fear of public speaking.
"Sick" (Black Lawrence) by Jody Chan. Erica Dawson says of this book – "poems of history, of beauty, of violence, of grief – will surprise you at every turn of phrase and page. Chan's work is innovative, her treatment of the universal human condition meticulously unique."
"Nam June Paik" (Del Monico) edited by Sook-kyung Lee and Rudolf Frieling is the catalog for a recent retrospective on the artist's work at the Tate Modern in London. Paik was a visionary artist who foresaw the importance of mass media/new technology and its impact on visual culture. This groundbreaking book focuses on Pail's pioneering role in radical aesthetics and experimental art. Texts elaborate the artist's collaborations with other artists, musicians and choreographers. Highlights Paik's global trajectory and impact on digital culture.
"Salat" (Tupelo) marks the poetry debut of Seattle Filipino-Jordanian immigrant Dujie Tahat. As Zeina Hashem Beck notes, "Borrowing their structures from Muslim prayer…these poems remind the reader that poetry is a kind of prayer, that any prayer is a kind of searching."
"Flowering Tales – Women Exorcising History  in Heian Japan"  (Columbia University Press) by Takeshi Watanabe. This is the first extensive study of this historical Japanese tale. It unravels 150 years of happenings in Heian era society penned by female writers.
National Book Award-winning poet Arthur Sze in "The Glass Constellation" (Copper Canyon) has his poetry spanning five decades assembled into a book of new and collected poems. Fusing elements of Chinese, Japanese, Native American and various Western experimental traditions, the poems illuminate a concern for our endangered planet and troubled species.
 "Some Girls Walk Into The Country They Are From" (Wave)  is a new book by Sawako Nakayasu, an artist working with language, and translation – separately and in various combinations. She, alone is responsible for introducing a wide variety of modern Japanese poets  to English readers throughout the years with her fresh and skillful translations. This new volume is a multilingual work of both original and translated poetry.
"That Was Now, This Is Then" (Greywolf Press) is the first new collection from Paris Review Editor Vijay Seshadri since his 2014 Pulitzer Prizewinning book, "3 Sections." Rosanna Warren says of this new book, "These are poems of lacerating self-awareness and stoic compassion. It is a book we need, right now."
"The World Turned Upside Down: A History of the Chinese Cultural Revolution" (Farrar Straus & Giroux) as translated by Stacy Mosher and Guo Jian is due out January 19, 2021. It is the only complete history of this major event written by an independent scholar based in mainland China. The author witnessed much of this history firsthand, as a student and then as a journalist His previous book "Tombstone", his definitive history of the Great Famine received the Louis M. Lyons Award for Conscience and Integrity in Journalism presented by the Nieman Fellows at Harvard and Sweden's Steig Larsson prize. This new book was published in Hong Kong in Chinese in 2016 but has been banned in mainland China.
"My Name Will Grow Wide Like A Tree" (Greywolf) by Yi Lei and translated from the Chinese by Changtai Bi and Tracy K. Smith. Yiyun Li says of this book, "Yi Lei, one of China's most original and independent poets, documents not only Chinese history in the past four decades, but also more importantly a woman's private history of rebellion and residence."
"Disappear Doppelganger Disappear" (Little A) is by the author of "The Hundred-Year Flood", Matthew Salesses. Laura Van den Berg writes "How to live in a world that refuses to see you? Matt Kim's intoxicating battle with his mysterious doppelganger moves him deeper and deeper into the vast and urgent sea of this question – and towards a possible answer. Inventive and profound, mordantly hilarious and wildly moving."
 "ACE – What Asexuality Reveals  About Desire, Society, and the Meaning of Sex" (Beacon) by Angela Chen. "ACE" explores the world of asexuality and those who have found a place in it. Through reportage, cultural criticism, and memoir, this book shows what we can gain from the ACE lens.
"Like Spilled Water" (Carolrhoda LAB)  by Jennie Liu. A Chinese family sacrifices all for the son's education while the daughter is left behind in the countryside. But when the boy dies suddenly, his sister investigates the root cause. A suspenseful and poignant  exploration of family dynamic/gender roles in today's China.
"Pink Mountain on Locust Island" (Coffee House) by Jamie Marina Lau. In her debut novel, shortlisted for Australia's prestigious Stella Prize, old hazy vignettes conjure a multi-faceted world of philosophical angst and lackadaisical violence. A teenage girl drifts through a monotonous existence in a Chinatown apartment until her dad and boyfriend plot a dubious enterprise that requires her involvement.
"Sachiko" (Columbia University Press) by Endo Shusaku as translated by Van C. Gessel. This novel tells the story of two young Japanese Christians in Nagasaki trying to find love in the painful  war-time years between 1930 and 1945.
"Bestiary" (One World) by K-Ming Chang. This debut novel brings myth to life, revealing layer by layer origin stories of what becomes of women and girls who carry the spirits of beasts within.
"Other Moons – Vietnamese Short Stories of the American War and Its Aftermath" (Columbia University Press) translated and edited by Quan Manh Ha and Joseph Babcock. In this anthology, Vietnamese writers describe their experience of what they call the American war and its lasting legacy through the lens of their own vital artistic visions.
 "Dancing After Ten – A Graphic Memoir" (Fantagraphics) by Vivian Chong and Georgia Webber. After the author experiences a severe medical reaction to ibuprofen that leaves her blind, she gets a second chance with a cornea operation that restores her sight only to realize the cure is temporary. She races to complete her memoir before blindness erases it all. With the help of a collaborator, she creates a book that conveys a life lived with an inner strength that inspires.
"Everything I Thought I Knew" (Candlewick) by Shannon Takaoka. A teenage girl wonders if she's inherited more than just a heart from her donor when odd things begin to happen. As she searches for answers, what she learns will lead her to question everything she assumed she knew.
"New Deal Art In The Northwest – The WPA And Beyond" (UW) by Margaret Bullock. This book tells the story of hundreds of Northwest artists employed by the U.S. Federal government under the WPA Project and also serves as the catalog for an accompanying exhibition at Tacoma Art Museum. Includes work by Kamekichi Tokita, Kenjiro Nomura and Fay Chong.
"Last Tang Standing" (Putnam) by Lauren Ho. "Crazy Rich Asians" meets "Bridget Jones" in this funny debut novel about the pursuit of happiness, surviving one's thirties intact and opening one's self up to love.
"The Uncertainty Mind Set – Innovation Insights From the Frontiers of Food" (Columbia University Press) by Vaughn Tan. The author spent long periods observing some of the world's most famous chefs at work and tells readers what they do and how they do it.
"Some Are Always Hungry" (University of Nebraska) by Jihyun Yun. This volume won the Prairie Schooner Book Prize in Poetry. Ada Limon writes "At once a reckoning with immigration and historical trauma and rooted in the sensorial world, these poems are timeless and ongoing." It chronicles a family's wartime survival, immigration and heirloom trauma through the lens of food, or the lack of..
 "Paper Peek Animals" (Candlewick) by Chihiro Takeuchi. A die cut book that allows kids to peek through and pick out the animals in this wild search-and-find journey that will engage minds and counting skills as well.
"Sheepish (Wolf Under Cover) by Helen Yoon. This Candlewick Press picture book for children tells the story of a wolf in sheep's clothing who thinks he's fooling everyone but is he really?
"My First Book of Haiku Poems – A Picture, A Poem And A Dream – Classic Poems by Japanese Haiku Masters" (Tuttle) by Esperanza Ramirez-Christensen and illustrated by Tracy Gallup. Classic Japanese haiku imaginatively illustrated with bilingual English and Japanese text. Each poem comes with questions for the young reader to think about.
"Sacrificial Metal" (Conduit Books & Ephemera) by Esther Lee. It won the Minds on Fire Open Book Prize. Sean Dorsey writes that the book "dances with astute curiosity and deep tenderness across the shifting grounds of grief, touch, bearing witness, memory, and our obstinate human instinct for future planning. With great compassion, Lee's poems remind us that everything human eventually unravels…".
Seattle poet Don Mee Choi calls Anna Maria Hong "the genius poet of fairy tale language and conventions in "Fablesque" (Tupelo), a new book by this former Seattle resident. She goes on to say how "Hong explores the grammar of horror and hunger, survival and abuse across the contorted historical, cultural, and familial terrains of the Korean diaspora."
"Forbidden Memory – Tibet During the Cultural Revolution" (Potomac)  by Tsering Dorje. Edited by Robert Barnett and translated by Susan T. Chen. The author uses eyewitness accounts with expert analysis to tell the story of how Tibet was shaken by foreign invasion and cultural obliteration. This book is a long-overdue reckoning of China's role in Tibet's tragic past.
 "Paper Bells" (The Song Cave) by Phan Nhien Hao and translated by Hai-Dang Phan is a new volume of poems by a poet shaped by the Vietnam War, forced to re-start a life as a teenager in the U.S. His poems bear witness to a delicate balance between two countries and cultures.
 "So This Is Love: a Twisted Tale" (Disney) by Elizabeth Lim. A young  adult re-telling of the Cinderella story. In this one, Cinderella leaves the house where she works and gets a job as the palace seamstress. Here she becomes witness to a grand conspiracy to overthrow the king. Can she find a way to save the kingdom?
"From Maybe To Forever – An Adoption Story" (Creston) by M. L. Gold and N. V. Fong as illustrated by Jess Hong. Told from a big sister's point of view, this picture book makes the complicated adoption process clear for the youngest readers and the colorful art shows how many different kinds of families there can be. 
"Sonata Ink" (Ellipsis) by Karen An-Hwei Lee imagines Kafka in the city of angles seen through the eyes of a Nisei woman hired to be his interpreter and chauffeur. Los Angeles seen as the epicenter of "The Wasteland."
"Story Boat" (Tundra) by Kyo Maclear and illustrated by Rashin Kheiriyeh. A picture book that tells the story of a little girl and her brother forced to flee home and create a new one out of dreams and stories amidst migration and crisis.
"Territory of Light" (Picador) by Yuko Tsushima as translated by Geraldine Harcout. This novel finds a young woman left by her husband starting a new life in a Tokyo apartment with her two year-old daughter. As the months go by she must confront what she has lost and who she will become..
"Butterfly Sleep" (Tupelo) by Kim Kyung Ju as translated by Jake Levine is a historical drama based in the early Joson Dynasty. With a mixture of magic realism and dark humor, he tells an existentialist allegory of Korean's rapid development. This play is a modern fable of a rapidly changing country that must confront its ghosts.
"Lion Boys and Fan Girls" (Epigram) by Pauline Loh looks at teenage boys who make a pledge to ban dating and focus on lion dancing. But they must contend with unusual girls and cyberbullying. The rich culture of Singapore and the fascinating history of lion dance make this a compelling young adult read.
"Eat A Bowl of Tea" (UW) by Louis Chu is a classic influential novel that captured the tone and sensibility of everyday life in an American Chinatown. This new edition comes with a foreword by Fae Myenne Ng and an introduction by Jeffrey Paul Chan.
Set in a New England town where accusations led to the Salem witch trials, Quan Berry's novel "We Ride Upon Sticks" (Pantheon) looks at a 1980's girls field hockey team who flaunt society's notions of femininity in order to find their true selves and lasting friendship.
.
"A Bond Undone" (St. Martin's Griffin) by Jin Yong is the second volume of "Legends of The Condor Heroes", one of Asia's most popular martial arts novels. Translated by Gigi Chang.
 "Taiwan In Dynamic Transition – Nation Building And Democratization" (UW)  edited by Ryan Dunch and Ashley Esarey. This book provides an up-to-date assessment of contemporary Taiwan highlighting that country's emergent nationhood and its significance for world politics.
 "The Journey of Liu Xiabao – From Dark Horse to Nobel Laureate" (Potomac) edited by Joanne Leedom-Ackerman with Yu Zhang, Jie Li and Tienchi Martin-Liao. Liu Xiabao was more than a dissident poet and this collection of essays capture the intellectual and activist spirit of this late literary critic and democracy icon.
"Harris Bin Potter And The  Stoned Philosopher" (Epigram) by Suffian Hakim. This young Singapore-based writer's parody of Harry Potter bases the story in Malaysia and seasons it with local and pop cultural references.
"Mindy Kim and the Lunar New Year Parade" (Aladdin) by Lyla Lee and illustrated by Dung Ho. Mindy is excited to go to the annual lunar new year parade but things don't go as planned. Can she still find a way to celebrate?
"Peach Blossom Paradise" (NYRB) by Ge Fei and translated by Canaan Morse. This novel is the first volume of the award-winning "South of the Yangtze" trilogy. It is a sweeping saga of  twentieth-century China that follows a family from a tiny village through three generations of history.
"From Maybe To Forever – An Adoption Story" (Creston) by M.L. Gold and N.V. Fong and illustrated by Jess Hong. Told from the view of an eager older sister, this is an endearing story about adoption from an often-neglected point of view.
 "Grievance is Their Sword, Subterfuge Is Their Shield" (OkeyDokeySmokeyPokey Publishing) in the words of former IE staff person Thomas R. Brierly is "an intersectional persuasion to elucidate and educate on matters of race, violence, white supremacy and the United States' adherence to brutal capitalism…". Go to vvovnn.bigcartel.com to order.
 "Layla and the Bots" (Scholastic) by Vicky Fang and illustrated by Christine Nishiyama is a series meant to empower girls. It's about a rock star and her team of bots. The books pair science, engineering and math with kid-friendly themes.
"In The Footsteps Of A Thousand Griefs" (Poetry Northwest Editons) is the debut poetry publication by Seattle Young Poet Laureate Wei-Wei Lee. She is the 2019/2020 Youth Poet Laureate of Seattle as sponsored by Seattle Arts & Lectures. Born in California but raised in Taiwan, she has made Seattle her home for the past few years. Her poems have a beauty of language that pays tribute to both cultures and countries.
Art News/Opportunities
The Bainbridge Island Japanese American Exclusion Memorial Association is building a Departure Deck component as part of the Bainbridge Island Japanese American Exclusion Memorial. They are accepting artwork proposals until February 15, 2021. Award notifications will take place on March 1, 2021 and the hoped for project completion date is June, 2021. For details , questions and more information, contact Val Tollefson at [email protected] or call 206-660-6350.
The University of Washington Press issues a call for writers working on a manuscript or new book proposal. The editors at this local press want to connect with current and prospective authors about new projects and book proposals. They invite writers to contact them by email to set up a meeting by phone or zoom. If interested, contact Executive Editor Lorri Hagman at [email protected].
Artist Trust is looking for volunteers that bring vital expertise, thought partnership, and community connections to join their Board of Trustees. Also a Mental Health & Wellness Mondays bi-weekly program happens which consists of artist stories, resource sharing and workshops that center self-care and encourage rest and resilence. The goal is to provide a platform for Washington State artists to share the tools and resources they use to better treat mental health and wellness, including how self-care might be incorporated as part of their artistic practice.  The Future Ancient public art team has put together a survey and artist roster to create economic empowerment for API creative through an Artist Roster created by and for local API Creatives and cultural workers. Take some time to fill out the survey to move this crucial work ahead. A Washington State Food Bank Map was created by Artist Trust as a resource for finding alternative food sources during the COVID-19 pandemic. The Barbara Hammer Lesbian Experimental Filmmaking Grant is an annual grant that will be awarded to self-identified lesbians for making visionary moving-image art. Also check out the monthly digest of resources and opportunities for artists. Try [email protected] to find out about all of the above possibilities.
The Center For Asian American Media is accepting submissions for CAAMFEST 2021: May 13-23,2021. Early bird deadline is Jan. 29, 2021. Normal deadline is Feb. 12, 2021 and late deadline is Feb. 26. 2021. Submissions via FilmFreeway.  Please email festi[email protected] if you need more information or have questions.
HBO has announced the call for submissions for its annual Asian Pacific American Visionaries short film competition. Submissions will open on January 1, 2021 at 9am PST. The top three winners win cash prizes and the opportunity to have their projects premiere on HBO and available to stream on HBO Max following their theatrical screening at the 2021 Los Angeles Asian Pacific Film Festival. For this year's competition, HBO is seeking emerging storytellers whose works respond to the theme of "taking the lead." Serving as the ambassador and spokesperson for the 2021 HBO Vionaries program is Jamie Chung, star of the HBO Original Series "Lovecraft Country." For complete rules and guidelines, go to www.hbovisionaries.com. All submissions are due by April 1, 2021 at 11:59 PST.
The Asian Contemporary Fine Art Competition aims to discover and celebrate talented Asian, Asian Diaspora artists and artists residing in Asia. With a distinguished panel of jurors and awards valued at over $55,000 and opportunities to give selected artists immense opportunities for exposure in New York and at an art fair Entries are accepted until May 4, 2021.  For questions and clarifications, go to [email protected] or go to the website.