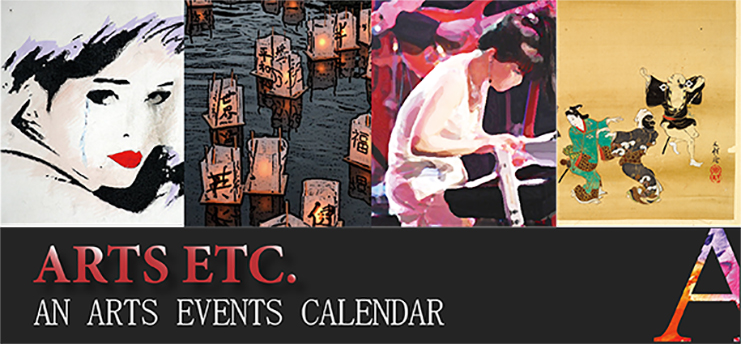 Arts Etc. for April 21, 2021
Some museums in the state are gradually re-opening. Please check with individual museum websites to see which museums and where.
Visual Arts 
The noted late Filipina artist Pacita Abad spent some fruitful years in Washington D.C. teaching and making art. On June 17, 2021, a jointly sponsored exhibition by PALM, the Rita Cacas Foundation, Philippines on the Potomac Project, the Philippine Embassy and the US/Philippine Soceity present "Pacita's Colorful Palette: Memories of Pacita's Years in DC." Go to http://www.artnews.com/feature/pacita-abad-artist-tate-walker-art-center-exhibitions-1234589919 for more information. A show of work by Pacita Abad will be presented April 15 – Sept. 3, 2023 at the Walker Art Center in Minneapolis.
Charlene Liu's show of new works entitled "Lattice" is on view from through May 29, 2021 at Elizabeth Leach Gallery. It explores her mark making and image making via watercolors and woodcut prints.  417 NW 9th in  Portland. 503-224-0521 or go to www.elizabethleach.com.
Seattle artist Romson Bustillo currently has work on view in the group show entitled "Reflections – 20 Years of the Bill and Melinda Gates Foundation" which can be seen from the street level at the Gates Discovery Center on 5th Avenue between Harrison and Thomas. 
Davidson Galleries presents a group show of international print artists entitled "Chromatic Impressions", vivid prints that revel in rich color. Includes work by Takeshi Hara, Akiko Taniguchi, Seiko Tachibana, Haru Maki and many others. On view  through May 29, 2021. View online at davidsongalleries.com or in the gallery by appointment (Tuesday – Saturday). 313 Occidental Ave. S. in Seattle. 206-624-7684 or  www.davidsongalleries.com.
Seattle Art Museum's downtown location has the following.  Ongoing and on view is the group show "Exceptionally Ordinary: Mingei 1920 – 2020" which includes wood sculpture by George Tsutakawa  from his "Obos" series. Also on view is "Pure Amusements: Wealth, Leisure, And Culture in Late Imperial China." Another show opening March 20, 2021 and ongoing will be "Northwest Modernism: Four Japanese Americans" which takes a look at the work of Kenjiro Nomura, Kamekichi Tokita, Paul Horiuchi and George Tsutakawa. Seattle Art Museum has shifted many of their educational programs online. To find out about the following programs – "The Art of Empathy: Live Virtual Tours", "Eyes on Asia", "Art Education Videos", "Collection Highlights" and "Look & Make Lessons", try this link. http://www.seattleartmuseum.org/programs-and-learning/.  Go to seattleartmuseum.org for details on all this. The Museum's Winter 2021 Saturday University Series is curated under the theme of "Sites of Memory in Asia: Remembrance and Redemption." Presented with the UW's Jackson School of International Studies and the Elliott Bay Book Company.  April 21, 2021 has "Mao's Great Leap Forward in Tian'anmen Square, 1958 – 59." If you become a SAM member, you will have access to the enormously popular "Conversations with Curators" series.  The series continues on every third Wednesday  through August. Curator of American Art Theresa Papanikoles will talk about "Abstract Expressionism: Alternative Histories and Expanding Conversation" on April 21, 2021. On July 21, 2021, Xiaojan Wu, Curator of Japanese and Korean Art will talk about "Some/One: Do Ho Suh's Dog-Tag Sculpture."  Speaking of curators, Seattle Art Museum has deepened its commitment to South Asian art by hiring Natalia Di Pietrantonio as its first ever Assistant Curator of South Asian art. The first show she will curate for Seattle Asian Art Museum is tentatively titled "Skin As Allegory" scheduled for late 2021. It will blend contemporary and historical objects and explore visual practices that contain representations and re-figurations of the human body from 3 BC to the present day in a variety of media. Objects will be culled from the museum collection and private collectors. Go to seattleartmuseum.org to see the complete schedule or try [email protected].
The Cascadia Art Museum announces the following shows. "Gifts And Promised Gifts To The Museum's Permanent Collections" is a group show that includes the late John Matsudaira's masterpiece "Quiet Motion And Blue" which was featured at the Seattle's World Fair back in 1962. On view through May 23, 2021.190 Sunset Ave. S. in Edmonds, WA. Hours are Th. – Sun. from 11am – 6pm. 425-336-4809.
The Wing Luke Asian Museum reopens on March 5, 2021. Hours are Fridays through Sundays from 10am – 5pm. Reserving tickets online prior to visit is highly encouraged as it is operating at limited capacity.  Current exhibits include the following – "Paths Intertwined" features works from diaspora Taiwanese and Chinese artists drawing on themes of identity, place and belonging. Featured artists include Agnes Lee, ZZ Wei, Larine Chung, May Kytonen, Jenny Ku, Shin Yu Pai, Ellison Shieh, and Monyee Chau  which remains on view through November 7, 2021.  Two moderated panels discussions with the artists are planned for April 24 and July 10, 2021.On-site tours are available twice a day in the Tateuchi Story Theare."Hear Us Rise" is an exhibit that highlights Asian Pacific American women and other marginalized genders that have challenged society's expectation.   "Where Beauty Lies" on view through Sept. 19, 2021.  On view through Nov. 16, 2021 is "Guilty Party" a group exhibition of multi-media work by various Asian Pacific American artists curated by Justin Hoover.  There are many virtual programs now as well.   There are virtual tours of the museum on weekday mornings. Pre-booking available for private groups. Contact the museum to sign up.  Live virtual tours of the Freeman Hotel on Thursdays at 5pm PDT. Check out what's in the gift shop with the Museum's online marketplace. The monthly storytime programs can be watched at www.digitalwingluke.org/programs.
KOBO at Higo is now open on Saturdays from 11am – 5pm.  Masks are required and you must use the provided hand sanitizer upon entering.  30 minute shopping sessions by appointment only at the KOBO on Capitol Hill will soon be made available through an online booking system. Time slots will be limited to keep everyone safe, plus more protective protocols in place to meet safety guidelines. Shipping and curbside pickup is still available by scheduling a Pickup Time at Checkout. They have a new instagram shopping account @koboseattleshop or try their website at  koboseattle.com.  The Capitol Hill store is at 814 E. Roy St.  Congratulations to KOBO which celebrates its 25th anniversary. KOBO at Higo is at 604 South Jackson St. in the CID.
 "World War Bonsai: Remembrance & Resilience" is the title of a show curated by Aarin Packard at Pacific Bonsai Museum. This show tells a history rooted in racism told through the living art of bonsai. It presents the powerful and inspiring untold history of bonsai artists working in the WWII-era and how they changed the course of bonsai art history forever.  With 32 bonsai, archival documents and photographs. The exhibition traces the cultural practice of bonsai in the U.S. and Japan immediately before, during and after WWII, amid incarceration and at peace. Artists from the Puget Sound, California, Colorado, Hawaii and Japan are featured including Ben Oki, the Domoto family, Kelly Nishitani, Kenny Hikogawa and Joe Asahara, Ted Tsukiyama, Mas Imazumi, Kyuzo Murata and Yuji Yoshimura. The exhibition also includes  a site-specific artwork by Seattle artist Erin Shigaki which includes wheat-pasted images of individuals who played a role in the incarceration of more than 120,000 Japanese Americans.  A post-event recording of the "Branch Out" event held in August will be available on Pacific Bonsai Museum's You Tube channel. On view now through Oct. 10, 2021. 2515 South 336th St. in Federal Way, WA. Admission is by donation. Hours are Tuesday through Saturday from 10am – 4pm. 253-353-7345 or email [email protected].
Tacoma Art Museum re-opens April 10th, 2021. "Painting Deconstructed: Selections from the Northwest Collection" includes work by Ed Aulerich-Sugai, Tram Bui, Donnabelle Casis, Paul Horiuchi, Fumiko Kimura, Roy Kiyooka, John Matsudaira, Mark Takamichi Miller, Kenjiro Nomura, Frank Okada, Joseph Park, Roger Shimomura, Maki Tamura, Kamekichi Tokita, George Tsutakawa, Thuy-Van Vu and many others. On view for  an extended time.  1701 Pacific Avenue. 253-272-4258 or go to [email protected].
The Outdoor Sculpture Collection on the campus of Western Washington University in Bellingham is open and accessible to everyone. This is an outdoor collection of major sculptures from the late 20th century to the present and includes work by Do Ho Suh, Sarah Sze and Isamu Noguchi among others. Get a map from the information booth and explore the campus collection for yourself. Call 360-650-3900.
The Northwest Museum of Arts & Culture in Spokane has the following – "Witness to Wartime: The Painted Diary of Takuichi Fujii". Fujii was a Seattle artist and his illustrated diary spans the years from his forced removal in 1942 through his internment in Minidoka  which ended on 1945. There are over 200 ink drawings and over 230 watercolors of all aspects of camp life. 2316 W. First Ave. in Spokane.  On view through  May 16, 2021. Hours are Tuesday – Sunday from 10am – 5pm with timed tickets purchased only online. 509-456-3931 or go to northwestmuseum.org.
The Museum of Anthropology at UBC in Vancouver BC presents "A Future for Memory: Art and Life After the Great East Japan Earthquake" on view through September 5, 2021.  March 11, 2021 marks 20 years since Japan experienced a chain reaction that began with a magnitude 9.0 earthquake, which was followed by a tsunami and then, a level 7 accident at a nuclear power plant in Fukushima. In commemoration of this "triple disaster," Fuyubi Nakamura, MOA's Asia curator, assembled the work of eight Japanese artists, groups and institutions to "consider the effects of natural disasters and reflect on how we are all connected globally." Artists include Masao Okabe and Atsunobu Katagiri. To complement the exhibition and to give it global connections, a 20-minute documentary film entitled "Tsunami Ladies" follows the daily routines of six Chilean and Japanese women who lived through 2010 and 2011 tsunamis, respectively. Go to moa.ubc.ca for details.
"Whose Chinatown? Examining Chinatown Gazes in Art, Archives, and Collections" is  now on view  through May 1, 2021 at Griffin Art Projects in North Vancouver BC Canada. Featuring 29 artists and organizations, and a range of art and artifacts that includes paintings, drawings, photographs, video, sculpture and architectural blueprints, this exhibition is less a wreath at the feet of these monuments than an overview of Canadian Chinatowns and their various representations – from both within and without. Curator Karen Tam says, "In thinking about the stories, histories and spaces of Chinatowns and their importance to their communities as centres, what are the ways that artists, art collectives and community groups are changing public discourse, planning and perceptions around Chinatowns?" There is an extensive selection of online public programs, from letterpress workshops with contributing artist Marlene Yuen to a screening of Karen Cho's NFB documentary "In the Shadow of Gold Mountain" (2004), followed by a director's talk and Q&A. For information on public programs, visit griffinartprojects.ca or call 604-985-0136.
The Chinese Canadian Museum of British Columbia opens its first exhibit in Vancouver's Chinatown. Entitled "A Seat at the Table", the exhibition explores historical and contemporary experiences of Chinese Canadians, particularly through the lens of food and restaurants. There are stations for writing and recording videos. Co-curator Viviane Gosselin said "the whole idea is to kind of generate a new body of historical knowledge that the Chinese Canadian Museum can use for future research and programming." A sister exhibition is set to open at the Museum of Vancouver's main location in the fall. Both exhibitions are expected to travel across B.C. within a year. This exhibition is at 27 East Pender. For details, go to [email protected].
The Chinese Cultural Centre Museum at 555 Columbia St. in Vancouver B.C. has an ongoing exhibit entitled "Generation to Generation – History of Chinese Canadians in British Columbia". 604-658-8880 or go to cccvan.com.
Vancouver Art Gallery presents multi-media Chinese artist Sun Xun and his work through  August 22, 2021. Also "Pictures And Promises", a group  show up until Sept. 6, 2021. Based in the VAG's extensive collection of lens-based art that alludes to the forms and conventions of mass media, fashion and advertising. Includes work by Ken Lum, Yasumasa Morimura, Andy Warhol and many others.750 Hornby St. in Vancouver BC, Canada. Go to https://ww.vanartgallery.bc.ca/
The Dr. Sun Yat Sen Classical Chinese Garden presents "Luminous Garden, the third installment of artist-in-residence Lam Wong. Done in collaboration with Glenn Lewis, it's an investigation of the concept of the garden as a sanctuary for spiritual growth. 578 Carrall St. in Vancouver B.C. 604-662-3207 or  go to vancouverchinesegarden.com.
"Broken Promises" is a 7 year multi-disciplinary, multi-institutional, community engaged project that explores the dispossession of Japanese Canadians in the 1940s. It illuminates the loss of home and the struggle for justice of one racially marginalized community. Also ongoing is "TAIKEN: Japanese Canadians Since 1877". Nikkei National Museum & Cultural Centre  at 6688 Southoaks Crescent in Burnaby. 604-777-7000 or go to nikkeiplace.org.
Launched in 2009, the 5th Okanagan Print Triennial is on view at Vernon Public Art Gallery in Vernon, B.C. Canada through May 19, 2021. Features works by international print artists including Yangbin Park of South Korea,  Fumio Yamaguchi and Nanako Yoshikawa from Japan and many others. There will be virtual artist talks scheduled throughout the exhibition. Go to vernonpublicartgallery.com.
On view through May 15, 2021 at the West Vancouver Art Museum is "The Spaces Between Us" by Jackie Wong. A series of photo-based works  which inspire us to question the factual nature of photography and explore the ways in which our perceptions of scenes shape our engagement with the natural world. 680 – 17th St. in West Vancouver. 604-925-7295 or go to westvancouverartmuseum.ca.
The Jordan Schnitzer Museum on the University of Oregon campus in Eugene has the following – "Early Ceramics from Southeast Asia: Specimens from Thailand and the Museum Collection. On view through  June 13, 2021. "Rhapsody in Blue and Red: Ukiyo-e Prints of the Utagawa School." On view through  July 17, 2021.  "Myriad Treasures: Celebrating the Reinstallation of the Soreng Gallery of Chinese Art" through July 11, 2021. "Korean Ceramic Culture – Legacy of Earth and Fire" through May 8, 2021. 1430 Johnson Lane in Eugene, Oregon. 541-346-3027.
Portland Japanese Garden has the following activities. Their exhibit is  "The Gates of Hope: Connecting Cultures"– A documentary-style exhibition commemorating the 10th anniversary of the Great East Japan Earthquake and Tsunami and the devastating nuclear disaster that followed in its wake. On view April 24 through May 31, 2021 .   611 SW Kingston Ave.  503-223-1321  or japanesegarden.org.
 Portland Art Museum has the following – "Joryu Hanga Kyokai, 1956 – 65 – Japan's Women Printmakers" on view through April 11, 2021. 1219 SW Park Ave.  503-226-2811 or portlandartmuseum.org.
Japanese American Museum of Oregon is temporarily closed in preparation for the museum's move to a new location but several online exhibits on the history of Japanese Americans in Oregon can be viewed. 503-224-1458 or email [email protected].
Portland Chinatown Museum is currently closed. Their permanent exhibit is "Beyond the Gate: A Tale of Portland's Historic Chinatowns." Opening in May, 2021 is Seattle photojournalist Dean Wong's photo essay on "The future of Chinatowns." 127 N.W. Third Ave. 503-224-0008 or email [email protected].
"Shadows From the Past – Sansei Artists And The American Concentration Camps" is a virtual group exhibition presented by Celadon Arts and San Joaquin Delta College and curated by Gail Enns. Artists in the exhibition include Lydia Nakashima Degarrod, Reiko Fujii, Lucien Kubo, Wendy Maruyama, Tom Nakashima, No Omi Judy Shintani, Masako Takasashi and Jerry Takigawa. The next venue for this touring exhibit will be at the Monterey Museum of Art from September 9, 2021 through January 9, 2022. 559 Pacific St.  831-372-5477  or montereyart.org.
Set for April, 2021 is "East/West Abstraction: Asian American Artists of Post-War California." This group exhibition features many significant California artists of the 50s and 60s that have  never gotten the recognition they deserved from the mainstream media. Includes the work of Bernice Bing, Sun-woo Chun, Tom Ide, Shiro Ikegawa, Matsumi Kanemitsu, Masatoyo Kishi, James Leong, George Miyazaki, Emiko Nakano, Masayuki Nagare, Win Ng, Arthur Okamura, Egenia Sumiya Okoshi, Masako Takahashi, Carlos Villa and Noriko Yamamoto. At Modern Art West at 521 Broadway in Sonoma, California. Go to moernartwest.com or email [email protected] for more information.
The Asian Art Museum, San Francisco has the following currently on view.  "Lost At Sea: Recovered from Shipwrecks". "Zheng Chongbin: I Look For The Sky." "After Hope: Vidoes of Resistance." Site-specific installations – "Momento: Jayashree Chakravarty and Lam Tung Pang." Outside murals by Channel Miller and Jennifer K.Wofford are visible from Hyde St. 200 Larkin St. San Francisco, CA. 415-581-3500.
San Francisco Museum of Modern Art (SFMOMA) is the West Coast venue for a traveling retrospective on the work of pioneer video artist Nam June Paik. Opening May 8, 2021. 151 – 3rd St. San Francisco, CA. 415-357-4000.
The De Young Museum in Golden Gate Park in San Francisco has the following set to open this summer. Noted Bay Area artist Hung Liu has a show entitled "Golden Gate" opening July 17, 2021 and it remains on view through Jan. 2, 2022. 50 Hagiwara Tea Garden Drive in San Francisco, CA. 415-750-3600.
The Berkeley Art Museum/PFA has the following. "Beyond Boundaries: Buddhist Art of Gandhara" on view from April 30 – Oct. 3, 2021. "Kay Sekimachi: Geometries" on view from May 26 – Oct. 24, 2021. 155 Center St. Berkeley, CA 510-642-0808 or go to [email protected].
The San Jose Museum of Art has the following. "Karma" is a 23 foot high sculpture by Do Ho  Suh on view through Jan. 30, 2022. Coming later this summer is a massive installation entitled "Factory of the Sun" by European artist Hito Steyerl which opens August 6, 2021. 110 South Market St. in San Jose, CA. 408-271-6840.
The Japanese American National Museum (JANM) has the following – Ongoing is "Common Ground – The Heart of Community" which features a WWII Japanese internment camp building. "Under a Mushroom Cloud – Hiroshima, Nagasaki, and the Atomic Bomb" on view through June 13, 2021. "Taiji Terasaki – Transcendients – Heroes at Borders – 100 Days of Covid – Memorial to Healthcare Workers" on view through May 16, 2021. 101 N. Central Ave. in Los Angeles, CA. 213-625-0414.
The Los Angeles County Museum of Art (LACMA) has the following – "Yoshitomo Nara" on view through July 5, 2021. "Do Ho Suh: 348 West 22nd St." on view through May 16, 2021. "Fiji: Art And Life in the Pacific" on view through May 2, 2021. Forthcoming will be "Sam Francis And Japan: Emptiness Overflowing". 5905 Wilshire Blvd. 323-857-6010.
The USC Pacific Asia Museum in Pasadena, CA has the following –  "We Are Here: Contemporary Art And Asian Voices in Los Angeles" now on view. This group exhibition features the work of seven contemporary female artists of diverse Asian Pacific heritages working in diverse media that live and work in the Los Angeles area. Features the work of Reanne Estrada, Phung Huynh, Ann Le, Ahree Lee, Kaoru Mansour, Mei Xianqui and Sichong Xie. Summer 2021 shows include the following – "Divine Immersion: The Experiential Art of Nick Dong" and "Crossroads" Exploring the Silk Road." In the fall of 2021, a group show entitled "Intervention: Perspectives For a New PAM" will be shown.  2680 N. Los Robles Ave.  in Pasadena, CA.  626-787-2680  or [email protected].
Architect/artist Maya Lin's renovation of Smith College's century-old Nelson Library is now complete. She was hired for the project in 2015. The building was designed  in 1893 by Frederick Law Olmstead, the lead architect of New York City's Central Park. A rooftop terrace offers sweeping views now of the mountains. Mezzanines and view-blocking areas have been replaced by recessed window-filled expansions  which restores the building's 1909 façade. The Library's Special Collections once dispersed to various locations around the campus can now all be placed in one climate-controlled area. This project had a personal resonance to Lin as well because her mother fled Shanghai as Mao Zedong's army attacked the city and her escape was made possible because of a scholarship transfer to Smith College. But celebration over this latest architectural project was tempered by the shock of the sudden death by heart attack of her husband, Daniel Wolf. Wolf was a prominent photography collector who assembled the impressive photography collection for the J. Paul Getty Museum. Lin's next project "Ghost Forest", an installation that highlights the pervasive influence of climate change will open in New York City's Madison Square Garden in May of 2021.It will feature the elongated trunks of trees damaged by climate change reaching up to the sky. Excerpted from the New York Times.
"Origami in-the-Garden – A Monumental Outdoor Sculpture Exhibition" is on view through October 10, 2021 at Missouri Botanical Garden. Created by Santa Fe artists Jennifer and Kevin Box, these sculptures tell the story of origami, the Japanese art of paper folding. These large-scale metal sculptures were created in collaboration with world-renowned origami artists such as Te Jui Fu, Beth Johnson and others. 4344 Shaw Boulevard. St. Louis, MO. 314-577-5100 or go to events.missouribotanicalgarden.org.
The National Portrait Gallery at the Smithsonian in Washington, D.C. will present the first major large-scale retrospective of work by Hung Liu, the internationally acclaimed Chinese-born American artist. "Hung Liu: Portraits of Promised Lands, 1968-2020" will feature more than 50 artworks spanning Liu's time in Maoist China in the 1960s, her immigration to California in the 1980s, and the height of her career today. This is the first time the museum will celebrate an Asian American woman with a solo exhibition. The exhibition's opening coincides with Asian Pacific American Heritage Month 2021. The dates of this exhibition are May 21, 2021 – January 9, 2022. 
The National Museum of Asian Art/Sackler Gallery on the Smithsonian Mall in Washington D.C .has the following –  "Encountering the Buddha: Art & Practice Across Asia" on view through Jan. 17. 2022. "Resound: Ancient Bells of China" on view through July 5, 2021. Upcoming is an anticipated show of brush paintings by early 20th century Japanese artist Tomioka Tessai. 1050 Independence Ave. SW.  Washington, D.C.
The Museum of Fine Arts, Boston has the following –  "Weng Family Collection of Chinese Painting: Travel & Home" on view through March 6, 2022. "Conservation in Action: Japanese Buddhist Sculpture in a New Light" on view through July 3, 2022. 465 Huntington Ave. Boston, MA. 617-267-9300 or go to mfa.org.
The Peabody Essex Museum in Salem, MA has the following – "Zarah Hussain: Breath" on view through Jan. 2, 2022. 161 Essex St. in Salem, MA 816-745-4876 or go to pem.org.
The Minneapolis Institute of Art has the following – "To Beautify And Protect: Miao Clothing and Jewelry from China" on view through May 23, 2021. "Abstract Prints" by Hagiwara Hideo through May 23, 2021. "20 Dances: Japanese Calligraphy Then And Now" through Jan. 2, 2022. "Captive Beauties: Depictions of Women in Late Imperial China" on view through May 9, 2021. 2400 Third Ave. S. Minneapolis, MN 888-642-2787.
The Walker Art Center has the following – A show on Candace Lin from August 5 – Dec. 26, 2021. A show  on Shen Xin from Nov. 18 – May 1, 2022. A show on artist  Pacita Abid from April 15 – Sept. 3, 2023. "Paul Chan: Breathers" on view from Nov. 19, 2022 – April 16, 2023. 725 Vineland Place, Minneapolis, MN. 612-375-7600 or try [email protected].
The Art Institute of Chicago has the following –  "Cosmosscapes: Ink Paintings by Tai Xiangzhou" on view through Sept. 20, 2021. "Modernity and Nostalgia: The Prints of Ito Shunsui" on view through June 13, 2021. 111 South Michigan Ave./159 E. Monroe. Chicago, ILL. 312-443-3600.
The Metropolitan Museum of Art in New York City has the following – "Japan: A History of Style" through April 24, 2022. "Chinese Painting and Calligraphy Up Close" through June 27, 2021. "Celebrating the Year of the Ox" through Jan. 17, 2022. "Masters and Masterpieces: Chinese Art from the Irving Collection" through June 5, 2022. "Bodhisattvas of Wisdom, Compassion, and Power" through Oct. 16, 2022. 1000 Fifth Ave.  212-535-7710. Go to https://www.metmuseum.org.
Asia Society Museum has the following – "Rebel Jester, Mystic, Poet: Contemporary Persians" on view  Sept. 10, 2021 through Jan. 16, 2022. "Buddha and Shiva, Lotus and Dragon – Asian Art in the U.S."  on view through May 30, 2021. "Asia Society Triennial: We Do Not Dream Alone" on view through June 27, 2021. 725 Park Ave. in New York City.212-327-9721 or try www.asiasociety.org.
 "Awaken: A Tibetan Buddhist Journey Toward Enlightenment" is a new exhibition that runs from March 12, 2021 – January 3, 2022 at the Rubin Museum of Art curated by Elena Pakhoutova. The show was organized by the Virginia Museum of Fine Arts.  The exhibit guides visitors on a journey toward enlightenment, showcasing the power of Tibetan Buddhist art to focus and refine awareness. Accompanying the exhibition is an audio guide and a catalog.  150 West 17th St. in New York City. 212-620-5000 or go to rubinmuseum.org.
The Museum of Chinese in America has the following –  "With a Single Step – Stories in the Making of America" on view through Dec. 31, 2023. "Windows for Chinatown – Five Sidewalk Exhibits" on view through May 30, 2021. "An Unlikely Photojournalist – Emile Bocian in Chinatown" on view through Dec. 31, 2021. 215 Centre St. in New York City. 855-955-MOCA  or try mocanyc.org.
The Noguchi Museum has the following – "Koho Yamamoto: Under A Dark Moon" on view through May 23, 2021. "Noguchi Body – Space Devices"  on view through May 2, 2021. "Electrifying Design: A Century of Lighting" on view through May 16, 2021. "Noguchi's Useless Architecture" is a show inspired by his visits to Indian astronomical devices. On view from May 19, 2021 through  May 8, 2022.  9-01, 33rd Rd.  Long Island, New York. 718-204-7088.
The Japan Society has the following –  "When Practice Becomes Carpentry – Tools From Japan" on view through July 11, 2021. 333 East 47th St. New York, New York. 212-263-1258
The New York Botanical Garden in the Bronx has the following –  "KUSAMA: Cosmic Nature" on view through Oct. 31, 2021. Yayoi Kusama reveals her lifelong fascination with nature with these pieces. On view are floral sculptures that transform the space's landmark landscape. Her monumental sculptures "Dancing Pumpkin" and "I Want To Fly To The Universe" are here as well. And coming this summer will be her "infinity Mirrored Room – Illusion Inside the Heart" which will reflect the outdoor light. Timed tickets will be sold in installments. 2900 Southern Blvd. Bronx, New York. 718-817-8700 or try nybg.org.
The Worcester Art Museum has "The Kimono Print: 300 Years of Japanese Design" on view through May 2, 2021. They also present a virtual exhibition of "Kimono Couture: The Beauty of Chiso Experience" which presents the world of traditional kimono design and artistry practiced by Chiso, a 465-year-old, Kyoto based kimono house. 55 Salisburg St. in Worcester, MA. 1-508-799-4406 or try [email protected]..
Asia Society Texas Center presents "Shahidul Alam: Truth to Power", the first comprehensive U.S. museum survey of this renowned Bangladeshi photographer, writer, activist, and institution builder and a Time Magazine Person of the Year in 2018. Through 60+ images and ephemera, the exhibition will show the breath of Alam's practice and impact throughout his four-decade career. This pioneering exhibition aims to provide visitors with a nuanced view of Bangladesh and South Asia, to explore systems of personal and collective agency, and to underscore the importance of self-representation, empowerment, and truth as embodied in Alam's life and work. On view through Sunday, July 11, 2021 and admission is free. 1370 Southmore Blvd. in Houston, Texas. Hours are Thursday – Friday from 11am -4pm and weekends from 10am – 4pm. For more information, go to https://asiasociety.org/texas/exhibitions/shahidul-alam-truth-power.
Here's a round-up of some interesting shows currently on view in Japan – "Tomoko Sawada: To Be Bewitched by a Fox" is an interesting show on the career of this Japanese photographer which features portraits of the artist transformed into several identities through the use of hairstyle, make-up and dress. Through May 9, 2021. Tokyo Photographic Art Museum. Tolyo, Meguro City, Mita 1 chome-13-3. +81 3-3280-0099.
The Museum of Contemporary Art in Tokyo presents "Rhizomatlks – Multiplex" a group show on this high tech art collective that looks at the relationship between human beings and technology. On view through  June 20, 2021. 4-1-1 Miyoshi, Koto-Ku,Tokyo, Japan. +81-5—5541-8600  (Hello Dial).
The Fuchu Art Museum presents "Spring Edo Painting Festival: Yosa Buson" on view through May 9, 2021. At Tokyo Metropolitan Forest 1 – 3, Sengencho, Fuchu, Tokyo. O42-336-3371 or try https://www.city.fuchu.tokyo.jp/art/.
The Tokyo National Museum trots out cultural treasures that depict the animal kingdom in "National Treasure: Frolicking Animals" on view through May 30, 2021. 13-9 Ueno Park, Taito-ku, Tokyo.  +81-(50)-5541-8600.
"Vivo Video: The Art and Life of Shigeko Kubota". Kubota made work that some called video sculpture. I once saw her refreshing ode to Duchamp   at Hara Art Museum  which consisted of bicycle wheels with video monitors attached.  This retrospective consists of drawings and documents found in her own archives along with works culled from Japanese collections. On view through June 6, 2021  at Niigata Prefectural Museum of Modern Art. 3 chome-278-14 Senshu, Nagaoka,  Niigata, Japan. +81 258-28-411/.
The National Museum of Modern Art, Kyoto has the following group show – "Ayashii: Decadent and Grotesque Images of Beauty in Modern Japanese Art" on view through May 16, 2021. And coming up a show on a noted Japanese architect, "Kuma Kengo: Five Purr-fect Points for a New Public Space" on view from June 18 – Sept. 26, 2021.  +81(0) 3-5777-8600 or try www.momak.go.jp/english/.
Warehouse Terrada is a new storage shed for art but recently they decided to open their cavernous space to display modern art as well. Called "Collectors' Museum of Contemporary Art "WHAT", their current show is entitled "Crossing Paths: A Collaborative Exploration Between Writer and Architect". It looks at the designs of houses by contemporary architects reinterpreted through the expressive vision of writers. Includes work by architects Machizo Tachihara, Kengo Sato, Toshiro Tanaka, Fuminori Nousaku,  Naoya Mishina & Atsuka Mishina and writers/poets Kei Okamoto, Yasuhiro Yotsumoto and others. On view through May 30 2021.  2-6-10 Higashi-Shinagawa, Shinagawa-ku, Tokyo. Go to https://what.warehouseofart.org.
Art4culture has announced the winners of their 3021 ARC Artist Fellowships. This year, winners received $12,000 each and applicants had to be ages 18 – 25. Diego Binuya, Monyee Chau and Saiyana Suzumura were among the winners. 
Performing Arts
Earshot Jazz and Town Hall will reboot the livestream collaborations from "Earshot Jazz Live at the Forum" concert series on every other Saturday night starting in March and going through April, 2021. Tickets start at $15.One concert to watch out for is the group of vocalist Ayesha Brooks, composer/pianist Wayne Horvitz and cellist Ha-Yang Kim set for Saturday, April 24 at 7:30pm (PST). For more information  go to earshot.org.
Emerald City Music under the artistic direction of violinist Kristin Lee announces a new spring series of virtual musical experiences with concerts streaming February 26 – May 24, 2021 featuring concerts, Zoom events and backstage insights.  All concerts will be available on Emerald City Music's website and Vimeo platform for one month; at which point the next performance premieres. Listeners have a choice of how to gain access: pay for each performance for $20 (which supports future listening experiences), or share it on social media to gain free access. Go to emeraldcitymusic.org for more information or call 206-250-5510.
A new album "Hankyo" (Reverberation) is now available by Seattle-raised Hanz Araki who continues a shakuhachi tradition dating back generations in his family.  Go to arakikodo.com for details.
Seattle Modern Orchestra announces its 2020-2021 season. Founded in 2010, the Seattle Modern Orchestra is the only large ensemble in the Pacific Northwest solely dedicated to the music of the 20th and 21st centuries. It is led by co-artistic directors  Julia Tai and Jeremy Jolley. SMO commissions and premieres new works from an international lineup of composers and often presents important pieces from the contemporary repertoire that are rarely if ever heard by Seattle audiences. This season will include six commissions and six concert broadcasts. The lineup of composers includes Iranian composer Anahita Abbasi, Cornish faculty member Tom Baker, saxophonist/composer Darius Jones, cellist/composer Ha-Yang Kim, Brown University assistant professor Wang Lu and SMO co-artistic director, Jeremy Jolley. The decision of whether each event will take place in person or virtually will be based on evolving community health guidelines throughout the season. Remaining concert dates are  May 1 and June 6, 2021. Go to http://www.seattlemodernorchestra.org/2020/09/24/2020-2021-season-announcement-press-release/ for details.
Pacific Northwest Ballet has announced an all new virtual lineup for its 2020-2921 season. Some highlights include  a world premiere by choreographer Edwaard Liang on June 20, 2021. For complete details, go to PNB.org/DigitalSubscription or call 206-441-2424.
The Meany Center For The Performing Arts has announced fall schedule changes with the season opening postponed to January of 2021. Some fall performances have been canceled or rescheduled for late winter or spring. Virtual programming is being developed with many of the artists as an alternative to live performances. For a complete listing, go to https://meanycenter.org/tickets/season. Current ticket holders to canceled events are encouraged to contact the ArtsUW Ticket Office to request a refund, exchange into a later performance or other alternatives. 
Freehold Theatre Lab/Studio now located in the CID continues their classes in various aspects of the theatre both virtual and in-person.   For a list of current classes, go to freeholdtheatre.org for details or call 206-595-1927. 
Even though the Wayward Music Series at Chapel Performance Space is currently closed, go to nonsequiter's website to listen to free links by local musicians performing original music at wayward music.org or try gscchapel.com. Also listed are live streaming of local concerts by contemporary musicians that you can rent. Classically trained pianist and designer Tiffany Lin plays a piano program of originals in this series. Local sound artist Susie Kozawa has a piece she did invoking the space at the Chapel.
Toronto-based Tapestry Opera's 2020/21 season hopes to "push the boundary of the genre". The season includes the following –  June 17 – 20, 2021 brings "Dragon's Tale" with music by Ka Nin Chan and libretto by Mark Brownell. This new Canadian opera by the same team that did "Iron Road" explores the relationship between a young Chinese Canadian woman and her immigrant father.  Go to tapestryopera.com to learn more. 
The L.A. Stage Alliance was a 46-year-old non -profit organization behind the Los Angeles area's annual Ovation Theatre Awards. It has ceased operations following the mass resignation of theatre group members. On March 20, 2021 during this year's awards ceremony, the organization misidentified an Asian American actress during the awards ceremony and mispronounced her name as well. Jully Lee was nominated for her appearance in Jiehae Park's "Hannah and the Dread Gazebo", a co-production of East West Players and the Fountain Theatre. East West Players left the organization after the ceremony and other Los Angeles theatre groups followed suit in solidarity.
The Cloud Gate Dance Theatre of Taiwan is an internationally acclaimed contemporary dance company. Their performance of "DUST" by Lin Hwai-Min portrays victims of war and persecution set to Shostakovich's String Quartet No. 8. You can watch it by logging on to https://www.youtube.com/watch?v=gSe6lx62nJg8+=3s.
Nihon Buyo presents "Poem Through Dance" on April 22, 2021 at 7pm (PDT). This online event has a Nihonbuyo performance and live panel discussion with Satsuki Ono from Tokyo. Free but you must register at www.jaclab.org.
Catch Chinese American classical pianist Eric Lu performing Schubert's "Andantino from Piano Sonata in A Major, D. 959. Go to https:calperformances.org/2021/03/24/issue-58-march-25/.
Film & Media
"Asian Americans", the groundbreaking five-part series that aired on PBS can now be viewed again through the month of May, 2021. The series traces the epic story of Asian Americans, spanning 150 years of immigration, racial politics, international relations and cultural innovation. Go to https://www.pbs.org/weta/asian-americans/. Series producer was Renee Tajima-Pena. Executive producers are Jeff Bieber for WETA, Stephen Gong and Donald Young for CAAM, Sally Jo Fifer for ITVS and Jean Tsien. The producer for Flash Cuts is eurie Chung. The episode producers are S. Leo Chiang, Geeta Gandbhir and Grace Lee. The consulting  producer was Mark Jonathan Harris.
Asian American filmmaker James Hu's "Silent No More" Project has produced a series of PSA's to counteract the ever increasing hate crimes on Asians across America. The PSA's will drop in April. In pre-production also is a documentary film entitled "Reflections" which looks at the history of racism against Asians in America. He says, "We need to send a strong message that these hate crimes are not tolerated, we are not afraid, and let the politicians know that using words like "kung flu" and "China virus" is racist, dangerous and as US Congresswoman Grace Meng puts it, "it places a huge bulls-eye on the backs of every Asian American." In related news, producer and writer Alan Yang partnered with The Ad Council to create a PSA about the surge in anti-Asian sentiment brought on by COVID-19. Titania Tran, Jamon Sin and Mimi Munoz, creatives at the award-winning ad agency, Wieden + Kennedy have also made a short film to combat COVID-19-related anti-Asian racism. And finally, Bay Area filmmaker Kerwin Berk who is Japanese American has created a PSA "Stop the Hate" in response to the rash of attacks on Asian Americans. Berk's  Ikeibi  Films features the stories of Asian Americans as portrayed by Asian American actors.
Netflix now has an influx of new films by Asian directors on their network.  Jo Sung-hee's "Space Sweepers" is a colorful space adventure film about a crew of galactic scavengers who band together to save the earth. Yoon Sung-hyun's "Time to Hunt" tells the story of four desperate individuals who decide to rob an illegal gambling operation only to create more problems for themselves. "Ride or Die" by Ryuichi Hiroki stars Kiko Mizuhara and Honami Sato as doomed lovers who flee on a road trip after one kills the other's abusive husband.
South African director Oliver Hermanus ("Moffie") is currently working on a film adaptation of Akira Kurosawa's "Ikiru" with a script written by Kazuo Ishiguro.
MUBI presents the following – Malene Choi's 2018 film, "The Return" is the story of two Danish-Korean adoptees visiting their motherland for the first time and confronting their own identity struggles. "Chinese Portrait" marked filmmaker Wang Xiaoshuai's 2018. He is part of Chinese cinema's "Sixth Generation". Shot over ten years, this first film paints a picture of China's diverse ways of life through striking vignettes.  J. P. Sniadecki's 2014  "The  Iron Ministry" appears to be a documentary on  one  train trip. But the director spent three years shooting throughout China on the massive country's railway system. The result is a richly textured work that offers implications about class and that nation's economic boom..  Go to [email protected] to find out about this film streaming service where you can rent by the month or by the year.
The Director's Guild of America gave their top prize for feature-film directing to Chloe Zhao for "Nomadland." She becomes the first woman of color to receive the award and only the second woman to ever win in this category. Prior to this, Zhao has earned top honors at the Golden Globes, the Critics Choice Awards and the Producers Guild Award. Now she looms as the heavy favorite at the Oscars. 
Farestart presents their series "Guest Chef Night at Home" with featured chefs Rachel Yang (Joule and Revel) and Melissa Miranda (Musang) on "Art of the Appetizers" on Thursday, May 20, 2021 at 5pm (PDT). Free but you must register in advance at https://us02web.zoom.us/meeting/register/+ZMpdexhpzivG9XR/7ksloNYW600uzKp/FFF.
Yoshiko Wada presents two stitchery practices in Japan. Tickets are $25 – 35.00. Go to https://longhouse.org/collections/tickets/products/the-power-of-stitchery-nui-project-and-sashiko. On Sunday, April 25, 2021 at 4:30pm (EST).
Town Hall Seattle has digital programming of upcoming events on their live stream page. They also have a media library of hundreds of video and audio free to enjoy.  A new addition to that includes   Laila Lalami who talks about "What It Means Be An American" and her book, "Conditional Citizens" with fellow author Viet Thanh Nguyen. Go to townhallseattle.org for details.

Most local theaters are doing virtual screening via the internet where you can rent new films and see them at home. Go to the websites for Northwest Film Forum, Grand Illusion Cinema, Siff Uptown, AMC theatre chains and others.
The Written & Spoken Arts
Clarence Moriwaki, president of the Bainbridge Island Japanese American community will give a talk online entitled "Let It Not Happen Again: Lessons of the Japanese American Exclusion" on April 28, 2021 at 1pm (PDT). He will talk about how Japanese Americans on Bainbridge Island were removed by force from their homes in 1942 to be placed in internment camps during the duration of World War II. Sponsored by Walla Walla Community College. For details, go to humanities.org or email [email protected].
Third Place Books presents the following virtual events at their "Live on ZOOM!" series. Poets Tamiko Beyer ("Last Days"), Ching-in Chen ("to write black paper sing") and local poet Jane Wong ("How To Not Be Afraid of Everything") appear together live on ZOOM to discuss and read from their new books on Wed., April 21, 2021 at 5pm (PDT).  On Thursday, April 29, 2021 at 4pm (PDT), join Deepak Chopra as he discusses "Karma: A Yogi's Guide to Crafting Your Destiny" with spiritual master Sadhguru in this virtual event. On Monday, May 3, 2021 at 6pm (PDT), join local writer EJ Koh as she talks to Michelle Zauner, indie rockstar of "Japanese Breakfast" fame about her memoir "Crying in H Mart" (Knopf), a powerful remembrance of growing up Korean American, losing her mother and forging her own identity. Go to the website www.thirdplacebooks.com for details.
 Elliott Bay Book Company has a full slate of events in their virtual reading series. Here are a few. Hawai'i's US Senator Mazie K. Hirono talks about her memoir "Heart of Fire: An Immigrant's Story" (Viking) with Pulitzer Prize-winning novelist/cultural historian/commentator Viet Thanh Nguyen. Presented by Town Hall Civics in partnership with EBBC on Saturday, April 24 at 6pm (PDT). Go to https://townhallseattle.org/event/senator-mazie-k-hirano-with-viet-thanh-nguyen-livestream. EBBC presents a virtual talk with Amit  Chadhuri whose new book, "Finding the Raga: An Improvisation on Indian Music" (NY Review of Books) looks at his fascination with Indian classical music. He will discuss the book with Irish poet, opera librettist, critic and translator Paul Muldoon. On Monday, April 26 at 6pm (PDT). Go to https://www.eventbrite.com/e/147183771623 for reservations. Nguyen Que Mai speaks with Karl Marlantes about her novel "The Mountains Sing" (Algonquin) on Wed., April 28 at 6pm (PDT). Virtually hosted by Seattle Public Library. This novel finally tells the story of the Vietnam War from the perspective of the Vietnamese people in a moving look at generations of one family and how they survived. Go to http://events.spl.org/151010258/NguyenPhanQueMaiwithKarlMarlantesdiscussTheMountainsSing.  On Tuesday, May 4, 2021 at 6pm (PDT), join the launch of Eric Nguyen's debut novel "Things We Lost to the Water" (Knopf). It tells the story of a Vietnamese family newly arrived to the U.S. and New Orleans torn apart by the storms of Vietnam only to be tested again by the hurricanes of New Orleans. Loan Le, author of the acclaimed YA novel "A Pho Love Story" and book editor for Atria Books will interview Eric Nguyen about his novel in this Elliott Bay virtual event. On Tuesday, May 11 at 5pm (PDT), there will be a national launch of "Facing The Mountain: A True Story of Japanese American Heroes During World War II" (Viking) by Daniel James Brown. Join Densho, Elliott Bay Book Company and others  for the official launch of this new book. Brown will be in conversation with Densho's Tom Ikeda who interviewed many of the protagonists in the book. To register, go to https://densho.org/mountain/. On Saturday, May 15, 2021 at 2pm (PDT), poet/songwriter/performer Ishle Yi Park will appear in conversation with queer South Asian poet Bushra Rehman to talk about her new book, "Angel & Hannah: A Novel in Verse" (One World), a modern take on Romeo and Juliet set in 1970's New York. On Monday, May 17 at 6pm (PDT), join Tom Ikeda, Executive Director of Densho and TV journalist Lori Matsukawa for the Seattle launch of Daniel James Brown's "Facing The Mountain." This Seattle-centric discussion will focus on the Seattle involvement of the figures in the book and events in Hawai'i. Go to https://www.eventbrite.com/e/149199635125 for reservations for this event. Mira Sethi, noted actor and writer appears in conversation with Shahina Piyarali on her new book of short stories, "Are You Enjoying?"  (Knopf) set for Wed., May 19, 2021 at 6pm (PDT). Sethi's stories open up fascinating slices of contemporary life in Pakistan. This event co-presented by Tasveer (www.tasveer.org) and EBBC.  On Thursday, May 20, 2021 at 5pm (PDT), join Spokane writer Trent Reedy and Afghan writer/teacher Jawad Arash who co-wrote the novel "Enduring Freedom." It tells the story of a friendship between a young Afghan man and an aspiring U.S. journalist who gets dispatched to Afghanistan. Virtually hosted by EBBC in audio only. Go to https://www.eventbrite.com/e/150674953843. For making reservations to the virtual events, go to elliottbaybook.com and click on the "events" page or call 206-624-6600 or toll-free at 1-800-962-5311. Although all events are virtual for the time being, the book store is open.
King County Library System presents the following author events. "Author Voices: Thrity Umrigar" takes place on May 6, 2021 at 7:30pm (PST). Umrigar discusses her many books including "The Secrets Between Us" with Seattle University English Professor Nalini Iyer, a IE contributing writer. For information, email [email protected].
E.J. Koh is the 2021 Jack Straw Writers Program Curator for 2021. She is the author of the award-winning memoir, "The Mystical Language of Others" and the poetry collection entitled "A Lesser Love". The 2021 Jack Straw Writers selected this year by Koh are S. Rein Batiste, C.E. Glasgow, Patrycja Humienik, Grace Jahng Lee, Jose Luis Montero, Greg November, Tochukwu Okafor, Michael Overa, Paulette Perhach, Abi Pollokoff, Kristie Song and Daniel Tam-Claiborne. They will read in their debut on the first three Fridays in May.
"Open A New Window" is the title of Seattle Arts & Lectures new 2020/21 season. Set for June 9, 2021 is poet/fiction writer Ocean Vuong. His novel, "On Earth We're Briefly Gorgeous" in which he writes letters to his immigrant mother which she will never read was an immediate and enduring bestseller. Sponsored by Elliott Bay Book Company. For more details, go to lectures.org.
The National Book Critics Circle has announced their 2020 award winners. Poet Cathy Park Hong won the prize in the "Autobiography" category for "Minor Feelings: An Asian American Reckoning." Her acceptance speech was dedicated to the Asian women victims of the recent Atlanta massage parlor shootings. Hong read the names of each victim out loud in her speech. The award for best in the "Biography" category went to Amy Stanley's "Stranger in the Shogun's City: A Japanese Woman And Her World" which examined the life of a 19th century Japanese woman.
EAST WIND BOOKS in Berkeley, California remains one of the most comprehensive bookstores in the country for Asian American and Asian titles. They are sponsoring the following free virtual events. Hear Chamorro activist /author Julian Aguon talk about his book "The Properties of Perpetual Light" (University of Guam) on Saturday, April 24th at 5pm (PST) On Wed., April 28th, 2021 at 2pm (PST), catch a conversation with author Chenxing Han and Professor Carolyn Chen around the topic of "Centering Asian Voices in American Buddhism – Anger, Refuge, Solidarity."  Long-time activist/singer/performer/dancer and now author Nobuko Miyamoto talks about her new memoir entitled "Not  Yo' Butterfly – My Long Song of Relocation, Race, Love And Revolution" (UC Press) in a virtual event on June 26, 2021 at 3pm (PST). This is a free online event but please RSVP.To make a reservation and get more details on these events, email [email protected] or go to asiabookcenter.com..
The University of Washington Press is seeking writers working on a manuscript or new book proposal. UW Press editors are eager to connect with current and prospective authors about new projects and book proposals. Contact them via email of set up a meeting by phone or Zoom. Executive Editor is Lorri Hagman at [email protected].
Below is a partial list of new books by or about Asian Americans and new titles on Asia. If you are interested in reviewing any of them, please let us know –
"Swimming to Freedom: My Escape from China and the Cultural Revolution" (Abrams) by local writer Kent Wong tells the harrowing tale of the author's escape from China by swimming to Hong Kong. In 1974, it is estimated that half a million "freedom swimmers" risked everything to escape hardship and oppression by swimming to that city.
The work of Su Hwang, Samiya Bashir and Monica Youn appears in a new anthology entitled "There's a Revolution Outside, My Love: Letters From a Crisis" (Vintage) as edited by Tracy K. Smith and John Freeman. It's a timely response to the Black Lives Matter movement by some of our country's best writers in the form of poems, essays, letters and reflections.
Award-winning author Padma Venkatraman returns with her companion novel to "The Bridge Home" entitled "Born Behind Bars" (set for September 2021 release). This young adult novel on Penguin follows a boy who  is unexpectedly released into the world after spending his whole life in Jail with his mother. Her previous book "The Bridge Home" received the SCBWI Golden Kite Award and was a 2019 Global Read-Aloud.
"Never Have I Ever" (Small Beer Press) by Isabel Yap is a collection of  powerful short stories of speculative fiction/fantasy that  explores themes ranging from monstrousness, shared trauma, systemic violence, friendship and the ambiguity of love.
"A Pho Love Story" (Simon & Schuster) by Loan Le is a romantic YA rom-com in which two Vietnamese American teens must navigate their new found love amid their family's age-old feud about their competing pho restaurants.
"If I Were A Tree" (Lee & Low)  by Andrea Zimmerman as imaginatively illustrated by local artist Jin Jing Tsong. This picture book traces two siblings journey into the woods and how they use the five senses to explore the natural world. Tsong's kaleidoscopic art makes the wooded world come to life and illuminates the author's poetic ode to trees.
"Shame On Me – An Anatomy on Race and Belonging" (Random House Canada) by Tessa McWatt. A mixed race woman asks tough questions about the necrotic legacies of race and affirming kinship and solidarity against the ongoing violence of silence and discrimination.
"Sato The Rabbit" (Enchanted Lion) written and illustrated by Yuki Ainoya and translated by Michael Blaskowsky. When a boy becomes a rabbit, he discovers the extraordinary can be found in the everyday, accepting and embracing the surreal in a world of endless possibilities. Charmingly illustrated with images that stretch the imagination.
"We Two Alone"(HarperVia)  by Jack Wang. From the vulnerable and disenfranchised to the educated and privileged, the characters in this  collection of stories embodies the diversity of the Chinese diaspora, past and present. An impressive fiction  debut by this Chinese Canadian writer.
"Death Fugue" (Restless) by Sheng Keyi as translated by Shelly Bryant. This novel is a dystopian allegory of the Tiananmen Square massacre and banned in China. In this book, the author questions the role of art after an act of atrocity.
"When Father Comes Home" (Orchard) is written and illustrated by Sarah Jung. June's father is like a goose: he flies away for long periods of time so when he comes home, it's a special occasion. This picture book turns the story of migrant fathers who work abroad in hopes of widening the field of opportunity for their children into a heart-warming, reflective tale.
"The Intimacies of Conflict – Cultural Memory and The Korean War" (NYU) by Daniel Y. Kim. The author delves into novels, films and photos to reconstruct memories of war and what it means to Koreans, Asian Americans and people of color
"The Tangle Root Palace" (Tachyon) by Marjorie Liu ("Monstress"} is her debut collection of dark, lush and spellbinding fantasy fiction. It's full of thorny tales of love, revenge and new beginnings.
"American Betiya" (Knopf) by Anuradha D. Rajurkar. This YA author takes an honest look at the ways cultures can clash in an interracial relationship. With themes of sexuality, artistic expression and appropriation, she gives voice to a young girl claiming ownership of her identity, one shattered stereotype at a time and going through the complex experience of her first relationship.
"Mister Jiu's in Chinatown: Recipes and Stories from the Birthplace of Chinese American Food  (Ten Speed Press) by Brandon Jew and Tienlon Ho. The acclaimed chef behind Mister Jiu's Restaurant shares the past, the present and the future of Chinese cooking with personal stories and recipes. 
"Tell Me Who You Are: Sharing Our Stories of Race, Culture, And Identity" (Penguin Random House) by Winona Guo and Priya Vulchi. Two 17 year old girls (a Chinese American and an Indian American) take a year off after high school and travel the country asking Americans how race has impacted their lives. Out of 500  stories, they edited it down to 115 for this anthology.
"Autumn Light – Season of Fire and Farewells" (Vintage) by Pico Iyer. Now, in a new paperback edition, the author returns to his second home of Japan after a father-in-law's death. He immerses himself in the steadying patterns of everyday rites and reflects as the leaves turn to color and the heat begins to soften
 "Yang Warriors" (University of Minnesota Press) by Kao Kalia Yang as illustrated by Billy Thao. In this inspiring picture book, the determined Hmong children of a refugee camp confront hardships and do what they can to provide subsistence to the younger kids and elderly. From this picture book emerges young heroes offering gifts of hope.
Inspired by the Peabody Award-winning podcast, "The Unexplainable Disappearance of Mars Patel" (Walker) by Sheila Chari is a young adult thriller. As kids are disappearing one by one from a middle school and their parents don't seem to care, Mars Patel and his crew go on a desperate search for answers.
"Mapping Abundance For  a Planetary Future- Kanaka Maoli and Critical Settler Cartographies in Hawai'i" (Duke) by Candance Fujikane. Fujikane criticizes settler colonial cartographies that diminish life and instead highlights the all encompassing voices of Hawaiian communities and their perspective of abundant healing and protection for the land.
"All You Knead Is Love" (FSG)by Tanya Guerrero. When a 12 year old girl must leave her mother to live with her grandmother in Barcelona, she feels estranged. But then she grows to love that city that her mother once called home. She connects with her Spanish roots, becomes close with her Filipino grandmother and discovers a passion and talent for baking bread. When her favorite bakery is in trouble, she learns what she can do to help.
"Afterparties – Stories" (Ecco) by Anthony Veasno So. This book marks the short story debut that offers profound insight into the intimacy of queer and Cambodian American immigrant communities. These children of refugees create a new life in California as they shoulder the inherited weight of the "killing fields" and grapple with the complexities of race, sexuality, friendship and family.
"Kiyoshi's Walk" (Lee & Low) by Mark Karlins as illustrated by Nicole Wong. When a boy watches his grandfather compose a haiku, he wonders "Where poems come from?" His grandfather's response is to take him on a walk through the city.
International bestseller "Kim Jiyong, Born 1982" (Liveright) by Cho Nam-Joo as translated by Jamie Chang is now available in a paperback edition. It follows one Korean millennial "everywoman" as she descends into a psychic deterioration in the face of a rigid misogyny. A rallying cry of feminism and gender that resonated with women all over Korea.
"I Am A Bird" (Candlewick) by Hope Lim as illustrated by Hyewon Yum. When a little girl goes on her morning bike ride with her dad, she imitates the sounds of birds. But when she sees a strange woman with a stern demeanor and a mysterious bag, she becomes frightened. A children's book that encourages readers to embrace over similarities rather then letting our differences divide us.
"Much Ado About Baseball" (Yellow Jacket/Little Bee) by Rajani LaRocca. When Trish finds herself on the same summer baseball team as Ben, her math competition rival, two people must set aside their animosity and join together to help their team win. Will solving a math puzzle help the team succeed? Trish and Ben think so.
"Good Talk: A Memoir in Conversation" (One World) by Mira Jacob. This is a graphic novel that examines what it means to be an immigrant and a first generation American. It delves into race, sex, love and family and discusses what these issues mean to her family and to the rest of the nation.
"Tokyo Before Tokyo – Power and Magic in the City of Edo" (Reaktion) by Timon Screech. A beautifully illustrated volume on how the new capitol of Japan was formed set in the broader context of Japan's cultural history and its extensive ties to China and Europe.
"Dial A for Aunties" (Berkley) by Jesse Q. Sutanto. In this rom-com/murder mystery mash-up of mistaken identity and sisterhood, a wedding photographer enlists the aid of her mother and her sisters in hiding the dead body of her blind date while attempting to pull off an opulent wedding for a billionaire client.
"Daddy's Love For Me" (Mascot) by Sarah and JoAnn Jung as illustrated by Chiara Civati. A daughter feels resentment towards her overworked dad when he has no time to spend with her and show his love. When she overhears a conversation between her parents, she realizes how wrong she was.
"Counting Down With You" (Inkyard) by Tashie Bhuiyan. A reserved Bangladeshi teenage girl looks forward to a restful break when her demanding parents go abroad. Instead, she is roped into tutoring the school's resident bad boy and then talked into a fake-dating façade. But then her life changes as the days go by and the two get to know each other.
"City of Ash And Red" (Arcade) by Hye-Young Pyun as translated by Sora Kim-Russell. This futuristic novel about a rat-killer sent by an extermination company into a foreign country swept by a plague and flooded with trash is a story of lost identity and redemption in trying times.
"Dumplings for Lili" (Norton) written and illustrated by Melissa Iwai is a delightful tale of a young girl's cooking with her grandmother and how it leads to borrowing ingredients and sharing food in a multi-cultural apartment building.
"Heart of Fire – An Immigrant Daughter's Story" (Viking) by Mazie K. Hirono – U.S. Senator. The intimate and inspiring life story of the first Asian American woman elected to the U.S. senate and her upbringing in immigrant Hawai'i.
"Bracelets For Bina's Brothers" (Charlesbridge) by Rajani LaRocca as illustrated by Chaaya Prabhat. In this ingenious picture book, a young girl uses math to determine how she goes about making colorful bracelets for her many brothers.
"Utamaro and The Spectacle of Beauty" (Reaktion)  by Julie Nelson Davis. This is the revised and expanded second edition. The author reinterprets this Japanese print artist within the context of his times. Looks at the roles of gender, sexuality and celebrity in Edo period Japan through Utamaro's work.
"Nina Soni, Sister Fixer" (Peachtree)  by Kashmira Sheth as illustrated by Jenn Kocsmiersky. This continuing series on the adventures of a young Indian American girl who looks for a new project while at the same time getting aggravated by her little sister's behavior. Maybe there is a way to solve both issues at the same time?
"Mangoes, Mischief, And Tales of Friendship – Stories from India" (Candlewick) by Chitra Soundar as illustrated by Uma Krishnaswamy. This volume includes eight original trickster tales inspired by traditional Indian folktales.
"Abundance" (Graywolf) by Jakob Guanzon is a novel that looks at a father and son living on the streets down to their last dollar. It is a condemnation of capitalism and the cycles of poverty in which so many are trapped.
"Queen of Ice" (Duckbill) by Devika Rangachari. This young adult historic novel delves into the turbulent history of tenth-century Kashmir and Didda, princess of Lohara who learns how to hold her own in a court ridden with factions and conspiracies.
"Ten Little Dumplings" (Tundra) by Larissa Fan and illustrated by Cindy Wume. In a Chinese family, boys are traditionally valued but this quirky  children's picture book looks behind the ten little boys in the family to reveal a sister who is just as important.
"All of Me" (HarperCollins) by Venita Coelho. What happens to a child locked into a basement so long that he develops a personality fracturing into many characters that become his family?
"Foreign Bodies" (Norton) by Kimiko Hahn. Inspired by her encounter with the Jackson Collection of ingested curiosities at the Mutter Museum, this poet investigates the grip that seemingly insignificant objects have on our lives.
Two-time Newberry Medal winner Lois Lowry's new book "On The Horizon – World War II Reflections" (HMH) is a moving  young adult account of the lives lost and forever altered in the bombings of Pearl Harbor and Hiroshima.
"The Henna Wars" (Page Street Kids) by Adiba Jaigirdar. This romcom about two teen girls with rival henna businesses who find despite their competition, they have to come to terms with a realization of the affection they have for each other.
 "The Sunflower Cast A Spell To Save Us From The Void" (Nightboat Books)  by Jackie Wang. These poems emphasize the social dimensions of dreams, particularly the use of dreams to index historical trauma and social processes.
"Clues to the Universe" (Quill Tree) is the Young Adult debut novel by Chrsitina Li. What do an aspiring young rocket scientist reeling from her father's death and an artistic boy who loves superheroes and comic books have in common? When the two become science class partners, they embark on an adventure and discover themselves while banding together to confront bullying, grief and their own differences.
 "Love Without A Storm" (Blood Axe Books) by Arundhathi Subramaniam is filled with poems that celebrate an expanding kinship: of passion and friendship, mythic quest and modern day longing, in a world animated by dialogue and dissent, delirium and silence.
"American as Paneer Pie" (Aladdin) by Supriya Kelkar. As the only Indian American kid in small town America, Lekha leads two lives. Her Indian cultural world at home and the one where she's trying to fit in at school as she gets bullied for looking different. Things change however when another Indian girl appears at school. When a racist incident rocks the school, decisions must be made.
"Heiress Apparently" (Abrams) by Diana Ma is the first book in an epic, romantic young adult series following the fictionalized descendants of the only officially recognized regent of China. When a young Chinese American woman from Illinois embarks on an acting career in Los Angeles having abandoned plans for college – things turn strange. When she gets a role in "M. Butterfly" shooting in Beijing, she uncovers a royal Chinese legacy in her family her parents would rather she never knew.
"Magic Ramen – The Story of Momofuku Ando" (Little Bee) by Andrea Wang as illustrated by Kana Urbanowicz. The true story of  the man who invented instant ramen through trial and error in his very own kitchen.
"Forty Two Greens – Poems of Chonggi Mah" (Forsythia) as translated by Youngshil Cho. Winner of the Korean Literary Award, this poet's search for the infinite in nature illuminates moments of beauty in the subconscious.
"Yolk" (Simon & Schuster) by Mary H. K. Choi. Two Korean sisters once thick as thieves now can't stand the sight of each other. But when one gets cancer, the other becomes the only one who can help her. Bound together by family secrets and sickness, will these sisters learn more than they're willing to confront?
"Beyond Line: The Art of Korean Writing" (LACMA/Prestel) by Stephen Little and Virginia Moon is the exhibition catalog for a major show that illuminates the restrained beauty strength and flexibility of Korean calligraphy. It is the first exhibition held outside Asia to focus on the history of writing and calligraphy in Korea.
"The Surprising Power of a Dumpling" (Scholastic) by Wai Chin. A teenage girl balances looking after her siblings, working in her dad's restaurant and taking care of a mother suffering from a debilitating mental illness. A deep true-to-life  exploration through the complex crevices of culture, mental illness and family.
"Hokusai – A Graphic Biography" (Lawrence King) by Franceso Matteuzzi and illustrated by Giuseppe Lotanza. A vivid graphic biography that tells the story of Hokusai's intriguing life and pioneering works.
"The Phone Booth at the Edge of the World" (Overlook) by Laura Imai Messina. A Japanese woman loses her mother and daughter in the tsunami. When she hears of a phone booth where people come to speak to departed loved ones, she makes a pilgrimage there only to find her grief won't allow her to pick up the phone. A novel based on a true story.
"Almond" (Scholastic) is the latest picture book by master storyteller/artist Allen Say. In it he portrays a young girl named Almond who is a victim of self-doubt and is envious of the talented new girl in school who plays the violin. Yet, through trial and error she comes to find her place in the world and a role she can play.
"NARA" (Del Monico/Prestel/LACMA) is the official catalog for one of the first major museum exhibitions on the Japanese artist on the West Coast. It surveys his large output of paintings, sculptures, drawing and installations from the past 30 years. His wide-eyed yet vaguely menacing figures are now known  world-wide but this exhibition connects the work to his inspiration taken from the early 70's punk rock scene. To this end, the exhibition also includes selections of music by Yo La Tengo on vinyl. The catalog is edited by Mika Yoshitake with texts by Michael Govan, Yoshitomo Nara and Mika Yoshitake.
"HAO – Stories" (Catapult) by Ye Chun. This collection of short stories by a three-time Pushcart winner follows Chinese women in both China and the U.S. who turn to signs and languages to navigate the alien landscapes of migration and motherhood they find themselves in.
"Ten – A Soccer Story" (Houghton Mifflin Harcourt) by Shamini Flint. A good half-Indian girl in  1980's Malaysia isn't supposed to play a "boys" sport but Maya is all game as she achieves her goals while placating a bossy Indian grandmother and holding together a mixed race family on the verge of drifting apart. A young adult novel that will inspire.
"I'm Waiting For You and Other Stories" (Harper Voyager) by Kim Bo-Young. Translated by Sophie Bowman and Song Ryu. These short stories have been hailed by Academy Award-winning director  Bong Joon-Ha as "a breathtaking piece of cinematic art itself." This marks the debut in English of one of South Korea's most treasured writers whose speculative fiction explores the driving forces of humanity and the very meaning of existence.
"The Smile Shop" (Peachtree) written and illustrated by Satoshi Kitamura. When a boy goes to market to buy something special, disaster strikes and he becomes penniless. But when he sees a smile shop, his curiosity is aroused and he goes in. Will he find anything of value or will he leave empty-handed and disappointed?
"The Secret Talker" (HarperVia), a novel by Geling Yan as translated by Jeremy Tiang. Hongmei and Glen seem to have the perfect idyll life in the Bay Area even though their marriage is falling apart. When a secret admirer contacts Hongwei on the internet, his flirting turns into an obsession. 
"The Collected Poems of Chika Sagawa" (Modern Library) won the Pen Award for "Poetry in Translation" for translator/poet Sawako Nakayasu. Now it's brought back in print in the new Modern Library Torchbearers Series that highlights women who wrote on their own terms, with  boldness,  creativity and a spirit of resistance. Sagawa was a turn-of-the-century daringly experimental voice in Tokyo's avant-garde poetry scene. Her life was cut short by cancer at the age of 24 but the words she left behind linger on.
"Amy Wu and the  Patchwork Dragon" (Simon & Schuster) by Kat Zhang as illustrated by Charlene Chua. When a classroom teacher asks her students to make their own dragon, Amy Wu is stumped until her grandmother's story gives her new inspiration.
"CURB" (Nightboat) is a new collection of poems by Divya Victor. This book documents how immigrants and Americans both, navigate the liminal sites of everyday living, ripped by violence and paved over with possibilities of belonging.
"Ichiro" (Etch) by Ryan Inzana was a Will Eisner Award nominee, received the Asian/Pacific American Award and was a Junior Library Guild Selection. This graphic novel tells the story of a boy raised by his Japanese mother in Brooklyn who grows up idolizing his American father he never knew who was killed in combat. When he is forced to go to Japan with his mother who is on a work trip, he is left with a grandfather, a stranger to him in a country he doesn't know. When he finds himself a fugitive in a land of mythic gods, he must figure out who he is and how he can escape.
"Séance Tea Party" (RH Graphic) by Reimena Yee. A lonely girl meets a ghost who haunts her home and finds a new friend. But what happens as the girl grows older and the ghost stays the same age?
"A Nail The Evening Hangs On" (Copper Canyon) by Monica Sok. A strong debut  that illuminates the experiences of the Cambodian diaspora and reflects on America's role in escalating genocide in Cambodia. A travel to war museums around the world re-shapes the imagination of a child of refugees and from these experiences tumble out powerful poems of voice and witness.
"Nina Soni, Master of The Garden" (Peachtree) by Kashmira Sheth and illustrated by Jenn Kocsmiersky. This young adult series about an Indian American fourth grader finds her working on a   garden project with her siblings supervised by their landscape architect mom. What they hadn't counted on was the unpredictability of mother  nature. Can Nina Soni help this garden survive?
"Banned Book Club" (Iron Circus) by Kim Hyun Sook, Ko Hyung-Ju and Ryan Estrada. This graphic novel is a young adult memoir that takes place in the 1980s under a repressive regime in South Korea. When she joins a reading group, a Korean girl finds more than books. This is a dramatic true story of the death of democratic institutions and the relentless rebellion of reading.
Mindy Kim, Class President" (Aladdin) by Lyla Lee is part of a series of books on the adventures of a teenage Korean American girl. In this story, she decides to run for class president but first she must overcome her fear of public speaking.
"The Truffle Eye" (Zephyr) by Vann Nguyen is the debut collection of poems by this Vietnamese-Israeli poet as translated by Adriana X. Jacobs. In it she tackles questions of identity and cultural legacy from points of emotion and shock.
"Donut Feed The Squirrels" (RH Graphic) is a graphic novel about two squirrels named Norma and Belly who conspire to steal the delicious donuts from a local food truck run by a grumpy baker.
"Flowering Tales – Women Exorcising History  in Heian Japan"  (Columbia University Press) by Takeshi Watanabe. This is the first extensive study of this historical Japanese tale. It unravels 150 years of happenings in Heian era society penned by female writers.
"Pippa Park Raises Her Game" (Fabled Films Press) by Erin Yun. This loose reimaging of "Great Expectations" follows a young Korean American girl learning to navigate her new life at an elite private school in this young adult novel.
National Book Award-winning poet Arthur Sze in "The Glass Constellation" (Copper Canyon) has his poetry spanning five decades assembled into a book of new and collected poems. Fusing elements of Chinese, Japanese, Native American and various Western experimental traditions, the poems illuminate a concern for our endangered planet and troubled species.
"Strong as Fire, Fierce as Flame" (Tu Books) by Supriya Kelkar is a historical novel of a young girl in colonial India who becomes a runaway teenage widow only to be forced to work as a servant to a British captain. When she discovers a British plot against India's citizens, what will she do?
 "Some Girls Walk Into The Country They Are From" (Wave)  is a new book by Sawako Nakayasu, an artist working with language, and translation – separately and in various combinations. She, alone is responsible for introducing a wide variety of modern Japanese poets  to English readers throughout the years with her fresh and skillful translations. This new volume is a multilingual work of both original and translated poetry.
"Hello Rain" (Chronicle) by Kyo Maclear as illustrated by Chris Turnham. This joyful romp through a rainy day combines a captivating storyline with exuberant illustrations that kids will get lost in with joy.
"A Taste for Love" (Razorbill) by Jennifer Yen. When a rebellious teenage girl agrees to help her mom's bakery stage a junior competition, she soon realizes it's a setup. All of the contestants are young Asian American men her mom has handpicked for her to date. What can she do?
"That Was Now, This Is Then" (Greywolf Press) is the first new collection from Paris Review Editor Vijay Seshadri since his 2014 Pulitzer Prizewinning book, "3 Sections." Rosanna Warren says of this new book, "These are poems of lacerating self-awareness and stoic compassion. It is a book we need, right now."
"Midsummer's Mayhem" (Yellow Jacket) by Rajani LaRocca. When her dad , a renowed food writer loses his sense of taste, it puts a damper on this eleven-year old girl's dream of becoming a baker and winning a cooking contest. When she meets a boy in the forest, he teaches her about new natural ingredients. Will the everyday magic of baking give her the courage she needs to save her father?
"The World Turned Upside Down: A History of the Chinese Cultural Revolution" (Farrar Straus & Giroux) as translated by Stacy Mosher and Guo Jian is due out January 19, 2021. It is the only complete history of this major event written by an independent scholar based in mainland China. The author witnessed much of this history firsthand, as a student and then as a journalist His previous book "Tombstone", his definitive history of the Great Famine received the Louis M. Lyons Award for Conscience and Integrity in Journalism presented by the Nieman Fellows at Harvard and Sweden's Steig Larsson prize. This new book was published in Hong Kong in Chinese in 2016 but has been banned in mainland China.
"Every Reason We Shouldn't" (Tor Teen) by Sara Fujimura. When a teenage girl's Olympic figure skater dreams fade, she meets a young man at her family's rink who's driven to get to the Olympics in speed skating. As a rivalry develops, so does a romance.
"My Name Will Grow Wide Like A Tree" (Greywolf) by Yi Lei and translated from the Chinese by Changtai Bi and Tracy K. Smith. Yiyun Li says of this book, "Yi Lei, one of China's most original and independent poets, documents not only Chinese history in the past four decades, but also more importantly a woman's private history of rebellion and residence."
"Disappear Doppelganger Disappear" (Little A) is by the author of "The Hundred-Year Flood", Matthew Salesses. Laura Van den Berg writes "How to live in a world that refuses to see you? Matt Kim's intoxicating battle with his mysterious doppelganger moves him deeper and deeper into the vast and urgent sea of this question – and towards a possible answer. Inventive and profound, mordantly hilarious and wildly moving."
"The Boys in the Back Row" (Levine Querido) by Mike Jung. When band geeks, comic nerds and best friends Eric and Matt tire of being bullied by racist comments and being called "gay", they hatch a plan to meet a famous comic book artist during regional marching competition but an enemy has other ideas.
 "ACE – What Asexuality Reveals  About Desire, Society, and the Meaning of Sex" (Beacon) by Angela Chen. "ACE" explores the world of asexuality and those who have found a place in it. Through reportage, cultural criticism, and memoir, this book shows what we can gain from the ACE lens.
"The Future History of Contemporary Chinese Art" (University of Minnesota) by Peggy Wang. In the 1980s and 90s, a group of Chinese artists rode to international fame but their work received simplistic Western interpretations that did not always go deep enough. The author gives each artist here a new appraisal, addressing fundamental questions about form, meaning and the possibilities of art.
 "The Girl Who Stole an Elephant" (Peachtree)  by Nizrana Farook. Deep adventures in the Sri Lankan jungle await young readers as a nobleman's rebellious daughter steals the queen's jewelry and makes her escape on the king's elephant. How will things turn out in the end?
"Pink Mountain on Locust Island" (Coffee House) by Jamie Marina Lau. In her debut novel, shortlisted for Australia's prestigious Stella Prize, old hazy vignettes conjure a multi-faceted world of philosophical angst and lackadaisical violence. A teenage girl drifts through a monotonous existence in a Chinatown apartment until her dad and boyfriend plot a dubious enterprise that requires her involvement.
"Sakamoto's Swim Club – How a Teacher Led an Unlikely Team to Victory" (Kids Can Press) by Julie Abery and illustrated by Chris Sasaki. This picture book tells the true story of a school teacher who can barely swim and how he turned a group of children into skilled swimmers who won Olympic gold.
"Sachiko" (Columbia University Press) by Endo Shusaku as translated by Van C. Gessel. This novel tells the story of two young Japanese Christians in Nagasaki trying to find love in the painful war-time years between 1930 and 1945.
"Kimono Culture – The Beauty of Chiso" (Worchester Art Museum) by Vivian Li and Christine D. Starkman tells the story of a Kyoto-based draper that is one of the oldest and most prestigious kimono makers in Japan today.
"Anna K – A Love Story" (Flatiron Books) by  Jenny Lee.  A re-imaging of "Anna Karenina". This time in the persona of a teenage Korean American girl in Manhattan. 
"Bestiary" (One World) by K-Ming Chang. This debut novel brings myth to life, revealing layer by layer origin stories of what becomes of women and girls who carry the spirits of beasts within.
"Land of Big Numbers" (Mariner) by Te-Ping Chen. This debut story collection depicts the diverse people of China, their government and how it has tumbled into the present. The author is a reporter for the Wall Street Journal.
"Other Moons – Vietnamese Short Stories of the American War and Its Aftermath" (Columbia University Press) translated and edited by Quan Manh Ha and Joseph Babcock. In this anthology, Vietnamese writers describe their experience of what they call the American war and its lasting legacy through the lens of their own vital artistic visions.
"Two Trees Make a Forest – In Search of My Family's Past Among Taiwan's Mountains And Coasts" (Hamish Hamilton) by Jessica J. Lee. This award-winning memoir from Canada opens as the author finds her immigrant grandfather's letters and traces his adventures in the nature of his country.
"Everything I Thought I Knew" (Candlewick) by Shannon Takaoka. A teenage girl wonders if she's inherited more than just a heart from her donor when odd things begin to happen. As she searches for answers, what she learns will lead her to question everything she assumed she knew.
"On Fragile Waves" (Erewhon) by E. Lily Yu. This debut novel by a local author traces a family's journey from Afghanistan to their eventual new home in Australia. A coming-of-age tale  and meditation on exile, belonging, fragility and hope.
"New Deal Art In The Northwest – The WPA And Beyond" (UW) by Margaret Bullock. This book tells the story of hundreds of Northwest artists employed by the U.S. Federal government under the WPA Project and also serves as the catalog for an accompanying exhibition at Tacoma Art Museum. Includes work by Kamekichi Tokita, Kenjiro Nomura and Fay Chong.
"Edge Case" (Ecco) by YZ Chin. The dilemma of a Chinese woman's life on a work visa in New York City narrows as her marriage disintegrates and her options grow sparse. The author explores the imperfect yet enduring relationship we hold to country and family.
"Last Tang Standing" (Putnam) by Lauren Ho. "Crazy Rich Asians" meets "Bridget Jones" in this funny debut novel about the pursuit of happiness, surviving one's thirties intact and opening one's self up to love.
 "Paper Peek Animals" (Candlewick) by Chihiro Takeuchi. A die cut book that allows kids to peek through and pick out the animals in this wild search-and-find journey that will engage minds and counting skills as well.
"AN I NOVEL" (Columbia) by Minae Mizumura as translated by Juliet Winters Carpenter. This novel focuses on a single day of a Japanese expatriate in America as she reflects on her life in this country and why she wants to return to Japan to become a writer and write again in Japanese.
"My First Book of Haiku Poems – A Picture, A Poem And A Dream – Classic Poems by Japanese Haiku Masters" (Tuttle) by Esperanza Ramirez-Christensen and illustrated by Tracy Gallup. Classic Japanese haiku imaginatively illustrated with bilingual English and Japanese text. Each poem comes with questions for the young reader to think about.
"Sacrificial Metal" (Conduit Books & Ephemera) by Esther Lee. It won the Minds on Fire Open Book Prize. Sean Dorsey writes that the book "dances with astute curiosity and deep tenderness across the shifting grounds of grief, touch, bearing witness, memory, and our obstinate human instinct for future planning. With great compassion, Lee's poems remind us that everything human eventually unravels…"
"SNEEZE" (VIZ) by Naoki Urasawa is a Japanese manga that collects some of the odds and ends of short pieces by this author in one collection. Urasawa's career spans over thirty years and a multitude of subjects. Urasawa has been called one of the artists who changed the history of manga. He's noted for his psychological storytelling style and detailed artwork. His stories touch upon the hopes, dreams and underlying fears of humanity.
Seattle poet Don Mee Choi calls Anna Maria Hong "the genius poet of fairy tale language and conventions in "Fablesque" (Tupelo), a new book by this former Seattle resident. She goes on to say how "Hong explores the grammar of horror and hunger, survival and abuse across the contorted historical, cultural, and familial terrains of the Korean diaspora."
"Forbidden Memory – Tibet During the Cultural Revolution" (Potomac)  by Tsering Dorje. Edited by Robert Barnett and translated by Susan T. Chen. The author uses eyewitness accounts with expert analysis to tell the story of how Tibet was shaken by foreign invasion and cultural obliteration. This book is a long-overdue reckoning of China's role in Tibet's tragic past.
 "Paper Bells" (The Song Cave) by Phan Nhien Hao and translated by Hai-Dang Phan is a new volume of poems by a poet shaped by the Vietnam War, forced to re-start a life as a teenager in the U.S. His poems bear witness to a delicate balance between two countries and cultures.
 "So This Is Love: a Twisted Tale" (Disney) by Elizabeth Lim. A young  adult re-telling of the Cinderella story. In this one, Cinderella leaves the house where she works and gets a job as the palace seamstress. Here she becomes witness to a grand conspiracy to overthrow the king. Can she find a way to save the kingdom?
"From Maybe To Forever – An Adoption Story" (Creston) by M. L. Gold and N. V. Fong as illustrated by Jess Hong. Told from a big sister's point of view, this picture book makes the complicated adoption process clear for the youngest readers and the colorful art shows how many different kinds of families there can be. 
"Sonata Ink" (Ellipsis) by Karen An-Hwei Lee imagines Kafka in the city of angles seen through the eyes of a Nisei woman hired to be his interpreter and chauffeur. Los Angeles seen as the epicenter of "The Wasteland."
"Story Boat" (Tundra) by Kyo Maclear and illustrated by Rashin Kheiriyeh. A picture book that tells the story of a little girl and her brother forced to flee home and create a new one out of dreams and stories amidst migration and crisis.
"Territory of Light" (Picador) by Yuko Tsushima as translated by Geraldine Harcout. This novel finds a young woman left by her husband starting a new life in a Tokyo apartment with her two year-old daughter. As the months go by she must confront what she has lost and who she will become.
"Butterfly Sleep" (Tupelo) by Kim Kyung Ju as translated by Jake Levine is a historical drama based in the early Joson Dynasty. With a mixture of magic realism and dark humor, he tells an existentialist allegory of Korean's rapid development. This play is a modern fable of a rapidly changing country that must confront its ghosts.
"Lion Boys and Fan Girls" (Epigram) by Pauline Loh looks at teenage boys who make a pledge to ban dating and focus on lion dancing. But they must contend with unusual girls and cyberbullying. The rich culture of Singapore and the fascinating history of lion dance make this a compelling young adult read.
"Eat A Bowl of Tea" (UW) by Louis Chu is a classic influential novel that captured the tone and sensibility of everyday life in an American Chinatown. This new edition comes with a foreword by Fae Myenne Ng and an introduction by Jeffrey Paul Chan.
Set in a New England town where accusations led to the Salem witch trials, Quan Berry's novel "We Ride Upon Sticks" (Pantheon) looks at a 1980's girls field hockey team who flaunt society's notions of femininity in order to find their true selves and lasting friendship.
"A Bond Undone" (St. Martin's Griffin) by Jin Yong is the second volume of "Legends of The Condor Heroes", one of Asia's most popular martial arts novels. Translated by Gigi Chang.
 "Taiwan In Dynamic Transition – Nation Building And Democratization" (UW)  edited by Ryan Dunch and Ashley Esarey. This book provides an up-to-date assessment of contemporary Taiwan highlighting that country's emergent nationhood and its significance for world politics.
 "The Journey of Liu Xiabao – From Dark Horse to Nobel Laureate" (Potomac) edited by Joanne Leedom-Ackerman with Yu Zhang, Jie Li and Tienchi Martin-Liao. Liu Xiabao was more than a dissident poet and this collection of essays capture the intellectual and activist spirit of this late literary critic and democracy icon.
"Harris Bin Potter And The  Stoned Philosopher" (Epigram) by Suffian Hakim. This young Singapore-based writer's parody of Harry Potter bases the story in Malaysia and seasons it with local and pop cultural references.
"Mindy Kim and the Lunar New Year Parade" (Aladdin) by Lyla Lee and illustrated by Dung Ho. Mindy is excited to go to the annual lunar new year parade but things don't go as planned. Can she still find a way to celebrate?
"Peach Blossom Paradise" (NYRB) by Ge Fei and translated by Canaan Morse. This novel is the first volume of the award-winning "South of the Yangtze" trilogy. It is a sweeping saga of  twentieth-century China that follows a family from a tiny village through three generations of history.
"From Maybe To Forever – An Adoption Story" (Creston) by M.L. Gold and N.V. Fong and illustrated by Jess Hong. Told from the view of an eager older sister, this is an endearing story about adoption from an often-neglected point of view.
 "Grievance is Their Sword, Subterfuge Is Their Shield" (OkeyDokeySmokeyPokey Publishing) in the words of former IE staff person Thomas R. Brierly is "an intersectional persuasion to elucidate and educate on matters of race, violence, white supremacy and the United States' adherence to brutal capitalism…". Go to vvovnn.bigcartel.com to order.
"In The Footsteps Of A Thousand Griefs" (Poetry Northwest Editons) is the debut poetry publication by Seattle Young Poet Laureate Wei-Wei Lee. She is the 2019/2020 Youth Poet Laureate of Seattle as sponsored by Seattle Arts & Lectures. Born in California but raised in Taiwan, she has made Seattle her home for the past few years. Her poems have a beauty of language that pays tribute to both cultures and countries.
Art News/Opportunities
The KCLS Civics Information Group sponsors an online event entitled "Stop Asian Hate Crime – Understanding Anti-Asian Hate: A Panel Discussion" set for Sat., May 8, 2021 at 3pm.  Local author and community activist Ron Chew will moderate. Understand the history of anti-Asian hate and learn how to be part of the solution. Free but registration is required.  Suitable for adults and  teens. For more information, contact Ann at [email protected] or call 425-392-5430. Go to kcls.bibliocommons.com to register.
Mukai Farm and Garden on Vashon Island has the following activities. They sponsor their Second Annual Haiku Festival, a juried competition for people of all ages to submit their haiku poems to compete in the following categories – Heritage Award, Nature, Social Justice Award, The Young Poet Awards for grades K-6 and 7-12 and People's Choice Award and whatever categories the jurors decide to make up. Deadline is April 24, 2021. Limit is three entries per person. To submit, go to the website at mukaifarmandgarden.org. Also in their ongoing classes on Japanese culture, they offer this. Kumihimo is an ancient Japanese form of braiding using multiple strands of cord and/or ribbon. Seiko Atsuta Perdue will teach a class on the art of the Japanese braid. A Kumihimo kit is included with your registration. On Saturday, April 24, 2021. A ZOOM link will be sent after registration. $25 dollar registration fee is required. Go to mukaifarmandgarden.org or email [email protected].
The University of Washington Press issues a call for writers working on a manuscript or new book proposal. The editors at this local press want to connect with current and prospective authors about new projects and book proposals. They invite writers to contact them by email to set up a meeting by phone or zoom. If interested, contact Executive Editor Lorri Hagman at [email protected].
Artist Trust is looking for volunteers that bring vital expertise, thought partnership, and community connections to join their Board of Trustees. Also a Mental Health & Wellness Mondays bi-weekly program happens which consists of artist stories, resource sharing and workshops that center self-care and encourage rest. The goal is to provide a platform for Washington State artists to share the tools and resources they use to better treat mental health and wellness, including how self-care might be incorporated as part of their artistic practice.  The Future Ancient public art team has put together a survey and artist roster to create economic empowerment for API creative through an Artist Roster created by and for local API Creatives and cultural workers. Take some time to fill out the survey to move this crucial work ahead. A Washington State Food Bank Map was created by Artist Trust as a resource for finding alternative food sources during the COVID-19 pandemic. The Barbara Hammer Lesbian Experimental Filmmaking Grant is an annual grant that will be awarded to self-identified lesbians for making visionary moving-image art. Also check out the monthly digest of resources and opportunities for artists. Try [email protected] to find out about all of the above possibilities.
The Asian Contemporary Fine Art Competition aims to discover and celebrate talented Asian, Asian Diaspora artists and artists residing in Asia. With a distinguished panel of jurors and awards valued at over $55,000 and opportunities to give selected artists immense opportunities for exposure in New York and at an art fair Entries are accepted until May 4, 2021.  For questions and clarifications, go to [email protected] or go to the website.