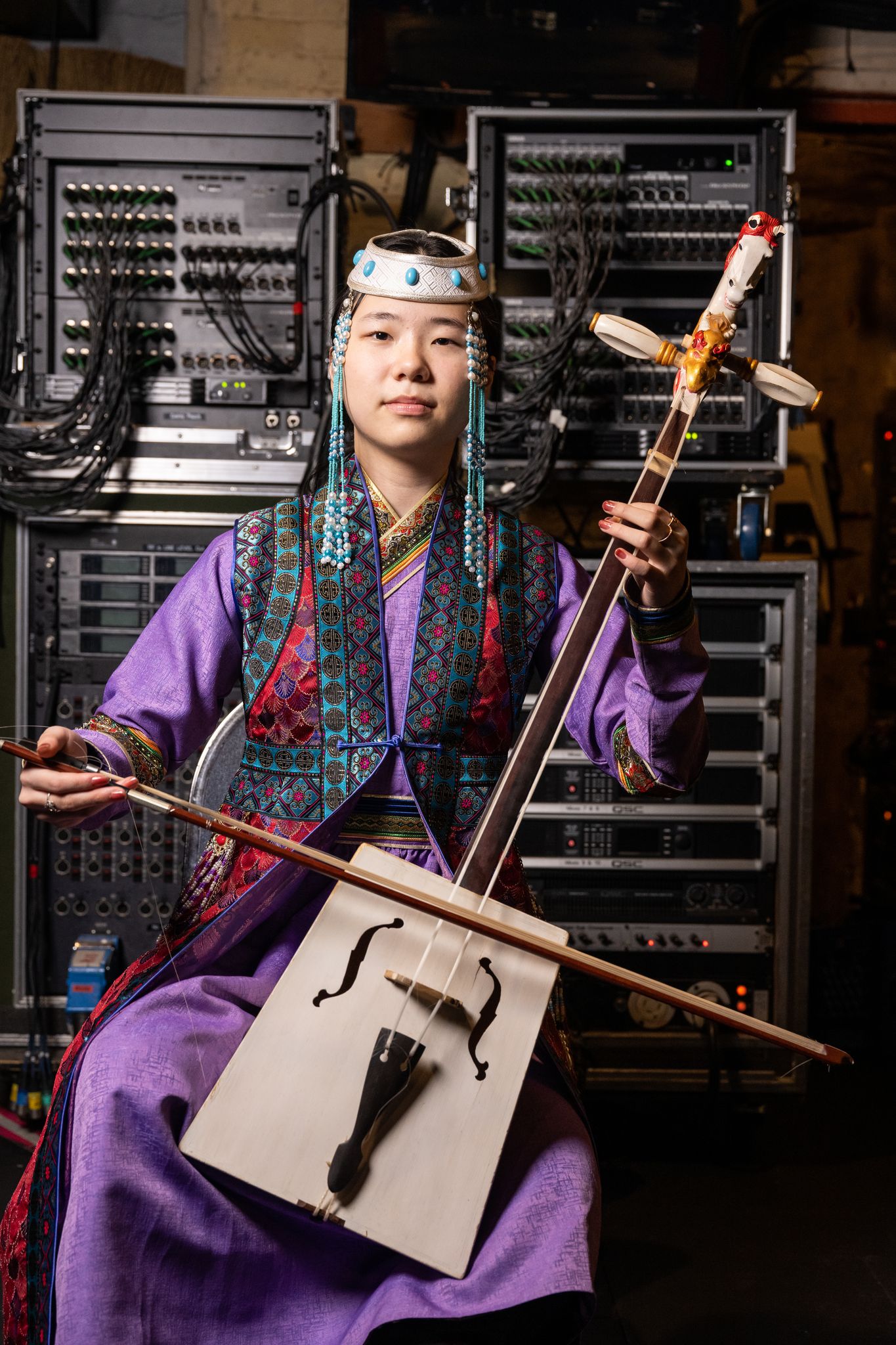 This month, STG Theatre Group continues its tradition of featuring youth musicians with its 22nd annual More Music @ The Moore.  Among the lineup of nine musicians or groups is 14-year-old instrumentalist and throat singer Anu-Ujin Batbaatar. 
Batbaatar's primary instrument is the horse head fiddle, also known as morin khuur, which originated in the 13th century.  "This instrument is a fiddle with two strings, made out of horse tail," she described. "Horses are valued a lot in Mongolia because we believe that horses are a form of wealth and important necessity."
This instrument, Batbaatar says, is considered a national symbol of Mongolia. "The morin khuur is performed during many social and public events, such as state affairs, weddings and the Naadam, the national celebration of Mongolia," Batbaatar relayed.  "The instrument's deeper string is made from a stallion's tail, and the other is made from a mare's tail."
The horse head fiddle is typically paired with throat singing. "The Mongolian name for throat singing is Khoomii, a form of singing that came from Western Mongolia, in the Altai mountains," Batbaatar said. "When throat singing, you imitate the sound of nature, including wind, mountains and water with two distinct vocal sounds simultaneously." 
The sounds created in throat singing are intended to mirror the lyrics of Mongolian songs.  "Here in America, singers sing about their feelings toward someone or something, but in Mongolia, the singers sing about our nature and its beauty," Batbaatar shared. "For example, the song In Praise of Altai Mountains praises the Altai Mountains and their beauty."
Batbaatar came to her appreciation of Mongolian music at a young age.  "My earliest memory of hearing Mongolian music was when my parents used to play Mongolian music as background songs, and we would just listen to them," she remembered. "There is this one song that is about horses, and when my parents would play that specific song, me and my brothers would grab our horse toys and pretend to be in a horse race." 
But it was her grandfather who inspired her to learn to play Mongolian instruments herself.  "He was a well-known composer in Mongolia," she said. 
Her family moved to Mongolia when she was six years old.  "We weren't living in the city, we were living in the Gobi desert, in a yurt," she said. "There were some cultural challenges I had to face, such as personal space."
In Mongolia, the opportunities for musical training and performance were vast.  "I was in a 15-kid ensemble called Ayulguu," Batbaatar reported. "We travelled to other countries to perform and compete such as Japan and Russia."
Then, her family returned to the United States in 2019 and settled in the Puget Sound area.  "When I came here, there weren't as many programs that I could participate in with my instruments," she recalled. "I tried to join the school orchestra but couldn't because of how different the horse head fiddle was."
Still, Batbaatar was determined to show how the morin khuur could fit in with other music genres. "I joined the Seattle JazzED Summer Program and played jazz music," she said. "This year and last, I was in the Wintergrass Youth Orchestra and played bluegrass music." 
She has shared her solo performance through the region. "I played Mongolian classical music in Northwest Folklife Music Festival," she said, "and even played rock music at the Samoan Festival in Issaquah."
In addition to performing solo, Batbaatar performs in the band Zje with her brothers.  "We play our grandfather's music, which is about people not caring about their mothers, but regretting it later on," she said.  "Every time we play, people are always mesmerized because of how unique and soulful Mongolian music is."
Now, by performing in More Music @ The Moore, Batbaatar wants to make Mongolian music and culture more widely known.  "When we perform, it is the majority of the people's first time listening to Mongolian music and seeing Mongolian instruments being played live," she said. "People's reactions always cheer and motivate us, which inspires us to keep going."
Anu-Ujin Batbaatar performs in More Music @ The Moore on March 24 at The Moore Theatre, 1932 Second Avenue, Seattle.