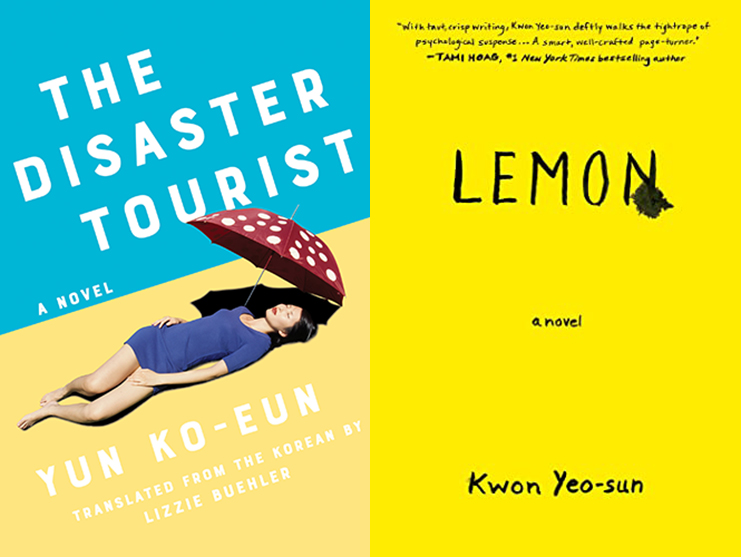 Lemon by Kwon Yeo-Sun
Memory is not something that can accurately be relied upon to bear witness to a crime, especially if it happened 16 years ago from the perspective of someone who did not even see it. But this is what Kwon Yeo-sun, recipient of several literary awards in South Korea, does with Lemon, which was originally published in 2019, and is the first of her work to be translated into English in 2021. The novella's origins come from a short story she wrote in 2016 called "You Do Not Know" and is separated into eight chapters that cover 17 years from 2002 to 2019.  
Lemon revisits "The High School Beauty Murder," an unsolved murder case where the victim Kim Hae-on, a stunningly beautiful high school girl in her senior year, is found dead in a park two days after the closing ceremony of the 2002 FIFA World Cup held in Korea and Japan. The police settle on two suspects from Ha-on's class: Han Manu, a student from a poor family who was working part-time at a fried chicken shop at the time of the murder, and Shin Jeongjun, a student from a wealthy family. Han Manu had witnessed Shin Jeongjun driving the victim in his sister's car while riding on his delivery moped. Though Han Manu is seen as the most likely suspect, both are dismissed.  
The story is told through the perspectives of three women, whose lives are all tormented in some way by the murder to the present day: Da-on, the victim's sister, and Hae-on's classmates Sanghui and Taerim. Though Da-on is three years younger than her sister, Sanghui is acquainted with Da-on through their school's afterschool literary club where they often wrote poetry. She recalls her memories of the Kim sisters and the murder when she sees Da-on a couple times on her university campus; her narrative gives an outside perspective of Da-on. Taerim is the high school girlfriend and later, wife of suspect Shin Jeongjun. Her chapters are told in the form of a monologue as she unlocks many of her emotional and mental hardships.  
It is easy for readers to delve into the story with the mindset of solving the case as most crime and detective novels are wont to do, but doing so will only disappoint readers as the story is more of a psychological analysis of the three narrators as they experience grief, trauma and hardship and its long-term effects. In fact, after reading through the first three perspectives, it might already seem clear who the murderer is.  
Da-on, who has dominance over most of the narratives, ends the first chapter with a tantalizing claim: "I know who the murderer is. That's why I did what I did, and I know I'll never be free from this crime until I die." This underlying mystery is subtle and easily missed if the finer details in the narratives are not paid attention to. As Da-on grieves and tries to solve her sister's case over the years, she makes a decision that leads to searing implications about Korean society. All in all, it is important to remember that memory is faulty as Da-on readily admits, so readers will have to make their own choice of what to believe.   
The Disaster Tourist by Yun Ko-Eun
Yun Ko-Eun takes the tourism industry by the tail and weaves an eco-thriller about Yona Ko, a mid-level programming coordinator working for Jungle, a tourism company that specializes in disaster tourism. Originally titled Travelers of the Night in Korea and published in 2013, this book is the first of her seven books to get translated to English. Since its debut in 2020, the book won a Dagger Award from the Crime Writer's Association in 2021 and was shortlisted for that year's Science Fiction and Fantasy Rosetta Awards. 
After devoting 10 years of her life to Jungle, Yona suddenly starts to get sexually harassed by her manager. Knowing that her boss makes life difficult for people who are branded as "yellow card" employees, a euphemism for people who are set to be fired, she decides to resign when her manager intervenes and suggests that she take a vacation by going on one of Jungle's disaster tour packages that are slated to be discontinued. By doing that, it could be disguised as a business trip and will be all expense paid.  
She chooses a package that takes her to Mui, a small island off the coast of Vietnam where a sinkhole interrupted a war between two tribes. Once Yona gets there, she understands why the Mui package is slated for cancellation: the disaster attraction of Mui is fading because the sinkhole has now turned into a lake. Without the tourism industry, the island is desperate for revenue and work. 
On the day she was to return to Korea, Yona gets separated from the rest of her tourmates and loses her passport and luggage. Armed with her purse and phone, she returns to Mui, and at the behest of her tour guide, searches for Paul, which, as it turns out, is a corporate faceless entity that controls everything on the island. She is reunited with one of her tourmates, a writer whom she discovers was hired by Paul to write a script to stage a disaster on Mui. When asked if she would like to be a part of this project, she agrees as a bargaining chip to help regain her status at Jungle, but as she slowly learns about the locals and the island's humanity, she becomes doubtful of the role she must play.  
The Disaster Tourist is a dystopian tale that seems realistic enough to send shivers down a reader's spine. Since it was originally published nine years ago, it seems to be prescient about the issues present life is grappling with, such as the #MeToo movement, climate change, and even the pandemic since that has thrown the whole world into a form of dystopian living, which has given people the opportunity to question their own quality of life. The story is strange enough to be interesting but real enough not to be bizarre. Readers will find themselves finishing the book in no time, as curiosity will surely drive them to find out what Yona decides to do: save herself and sacrifice the inhabitants of the island or risk sacrificing herself for the greater good.