"It's a different feeling, it's eerily quiet, without the grandchildren around… not seeing the kids around, it's really tough… in English, they call it, 'lonely' right?" said Sinourn Chi.  
Sinourn and her husband Kong Chi are Khmer refugees living in Puyallup, Washington.
April marks the new year, a change from the dry season to the rainy season, and the beginning of the harvest in some Southeast Asian nations including Cambodia. Khmer New Year is the largest and arguably one of the most important community gatherings among Khmer people. 
"Preparing food for my family to make offerings to the temple, celebrating for three days, and getting all dressed up, " said Sinourn Chi, recounting her memories of new years celebration in Phum Kdat, Pursat province in Cambodia during her youth.
"I was different," said her husband, laughing, "I liked to gamble, play Kla Klok, play cards. In those three days, the celebrations never stopped; you'd go temple hopping and there would be bands playing and dancing, there was something for everyone,"
In years past, around this time, the Chi residence was filled with more than a dozen grandchildren visiting to celebrate the new year. But, in the midst of the global COVID-19 pandemic, celebrations have gone quiet.  
Monks work to connect with community during social distancing
Washington has the third largest Khmer population in the U.S. Khmer refugees settled in the Puget Sound region in the early 1980's and established enclaves along the I-5 corridor; from Everett all the way down to Vancouver, WA. 
Alongside those communities sprang the wat or Khmer Buddhist temples, the center of traditional Khmer culture. Theravada Buddhism and Khmer culture are intrinsically linked. 
The Buddhist monks that reside at these temples dedicate themselves to studying suffering and therefore void themselves of material possessions. Since a monk cannot work or prepare their own food, among other things, they rely on the layperson and their community for support.
"I feel sad that I don't get to go to the temple, to give offerings to the monks, the grandchildren… we don't get to see each other," said Sinourn Chi.
In exchange, the monkhood blesses the layperson with good merit which the layperson accrues throughout their life. More good merit means a better outcome on the day of judgement towards the next life.
"It is hard for all of us, especially the [laypeople] who always come to the temple in the time of Khmer New Year," said Venerable Theavy Sok.
He is one of the half dozen monks who reside at Wat Khemarak Pothiram, located in Seattle's South Park neighborhood.
Traditionally, April 13th marks the beginning of a three-day celebration. Because many Khmer refugees settled into blue collar work and because Khmer New Year isn't recognized as an official U.S. holiday, communities have evolved to celebrating every weekend in April, turning it into Khmer New Year month.
"This is the biggest traditional celebration of the year. And if they cannot come directly, they feel disappointed and they think that they cannot make offerings to the monk and dedicate merit to their departed persons," said Venerable Sok.
Although temples are closed, he continues to connect with the lay people virtually, providing everything from daily chantings and blessings to funeral service ceremonies.
"We schedule online meetings where donors can arrange all their family members through live video on Facebook and hear monks chant and give Dhamma talks… that's how people can still connect [to the temple]."
Venerable Sok also posts daily on ធម្មិកជីវិត Dhammika Life, where followers can tune in to daily chantings at Wat Khemarak Pothiram and learn about the Dhamma in order to receive merit at home.
Helping the community's most vulnerable through direct services response
Seeking to fill the celebratory void of new years, some community members have also come together to organize a celebration virtually.
Beginning on April 17th, a three-day Virtual Khmer New Year will take place, streaming from Instagram and Facebook.
"We're hoping to bring in… celebration by bringing arts into the mixture, by having young and older Khmer American artists perform live to [the] community," said Prenz Sa-Nguon, one of the main organizers for the event.
Virtual Khmer New Year will feature a meditation session, poetry, a DJ set, a watercolor workshop and will also feature Khmer cultural icons Hella Chluy and Davey Tsunami.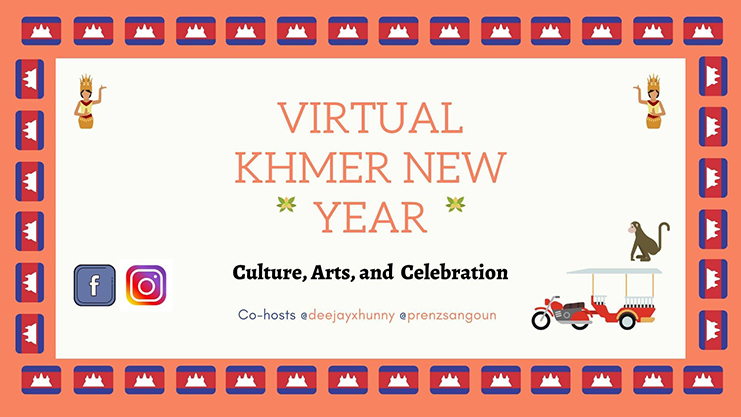 Another way community members have sought to collect good merit is by helping the community's most vulnerable.
"The biggest things are food and loss of jobs," said Tessavan Ros, an organizer for Khmer Community of Seattle-King County (KCSKC.) Ros has been leading COVID-19 direct response in partnership with the Khmer Ethnic Health Board.
They are part of the COVID-19 Community Response Alliance, a collective of community organizations and individuals that formed as a community response to the proposed quarantine site in White Center by King County.
Ros, a Khmer medical interpreter, leveraged his clients list to begin outreach. " I told them to spread out the word that KCSKC has support… I talked to my clients, probably 10 of them and the next day I get like 27 phone calls."
He admits that he is overwhelmed by the number of calls but is happy he is able to provide the help. "They're happy, they appreciate it, they enjoy hearing someone on the phone ask, 'how are you doing' and happy new year in Khmer, especially the elderly… they feel like someone is thinking about them,"
KCSKC not only saw the need to respond to some of the most vulnerable community members through direct resource response, they also saw this as an opportunity to advocate for the broader community and connect the youth to their elders.
Helping Hmong and Mien flower farmers
Among Southeast Asian communities, new years celebrations aren't the only thing being compromised due to COVID-19.
"When the coronavirus pandemic hit Washington and… Pike Place market needed to be closed, they didn't know where else they could sell their flowers," said Cynthia Yongvang, Hmong Association of Washington (HAW) Board President about her community's flower farmers.
Since 1982, Hmong and Mien flower farmers have been a staple of the Pike Place Market, literally bringing spring colors and fragrance to the market each year. 80% of flower vendors at Pike Place Market are Hmong and Mien farmers.
Mayor Durkan shut farmers markets down as part of the city's efforts to implement social distancing and comply with Gov. Inslee's "Stay Home, Stay Healthy" order.
"Due to language barrier and being illiterate, many of the Hmong and Mien producers rely heavily on farmers markets as a venue where they can sell their flowers. With the farmers market closure, their only source of income has evaporated," said Yongvang.
With Khmer New Year around the corner and celebrations on hold, Stephanie Ung, an organizer for KCSKC helped figure out a way to support a community in need and at the same time honor its elders.
"I shared our farmers' struggles at one of the meetings and how HAW was trying to help them so Stephanie contacted me and wanted to partner with us for the flower drive," said Yongvang.
"We had a Zoom call to get to know each other and then talked about ways to make this flower drive happen. And then we mobilized our resources; our volunteers, our networks, to get the orders out," said Ung.
During the first week of April, KCSKC put out a call for flower orders. A week later, 200 orders were processed and picked up or delivered.
"We couldn't be happier to partner with them knowing that they were also doing this to support their youth and elders. We love this kind of partnership with other nonprofit organizations and would like to do more in the future or continue this partnership with KCSKC," said Yongvang. 
Ung also saw an opportunity to bridge the generational divide in the Khmer community through a youth project. 
"KCSKC runs traditional Khmer music and language class and its been about a month since we've been able to get together. We thought it would be a good way to reconnect with the youth and still get them involved in what we're doing," she said.
Through the RYY SSAEI (bamboo) RISING project , KCSKC hopes to get the conversation going between generations while also leveraging family connections to help fill in COVID-19 related needs.
Still reeling from the trauma of war and displacement, those with lived experiences from the Cambodian Genocide do not often talk about their past. Language is another barrier as elders tend to speak Khmer and youth speaking English.
"Going to pick up prescriptions or grocery store runs or doing deliveries of flowers. We see that as promoting well being because it's giving youth a purpose. It's supporting our elders and making them feel like they're cared about. 
Whether in the presence or from afar, Venerable Sok Theavy reminds people that good merit comes from one's intention. "Meritorious deeds are done through our volition… no matter where we are, no matter how far we are, if we have good volition, that is good karma and merit that happens in everyone's mind," said Venerable Sok Theavy.
Want to attend Virtual Khmer New Year? Click here: https://www.facebook.com/events/530124781212735/
Want to support Hmong and Mien flower farmers? Email [email protected]