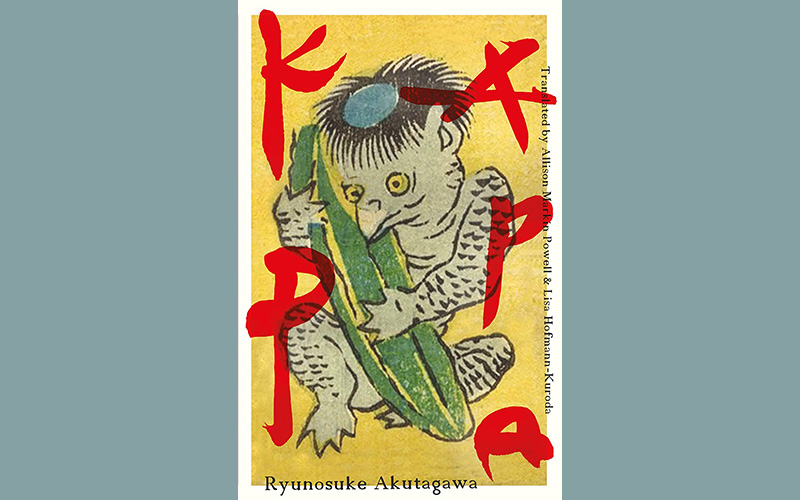 A new translation of Kappa, a novella by arguably Japan's greatest short story writer, Ryunosuke Akutagawa (1892 – 1927), has been released. It was written in 1927, just before the author committed suicide at the age of 35, during a period of growing acclaim for his more than 150 short stories, yet a mortifying worry over his developing severe mental illness (which his mother suffered from).
Akutagawa was born in Tokyo and eagerly pursued the study of literature, especially English literature, in his early years. This was a period of the reopening of Japan, and foreign literature flew into the Japanese literati's hands. Even Edgar Allen Poe's works were widely known and studied.
He entered Tokyo University and soon began developing his short story style, while gathering with fellow writers, resulting in publication of a noted literary magazine. The writer is credited for perusing ancient tales and filling their story lines with modern conditions and considerations.
Some sources of themes were ancient China, Japan's 16th century Christian community in Nagasaki, and European contacts with 19th century Japan. Only his second published short story, "Rashomon," is probably the most highly recognized of his works worldwide. Based on two of his stories set in 12th century Japan, the project was developed into the stunning film of the same name by Akira Kurosawa, who thought the film's premise too daring at the time, but it instantly was acclaimed internationally. Of course, now we recognize the film's method of depicting four points of view on the same crime as a popular storytelling trope.
Some of his other stories were developed into ballets and operas by European artists. He is considered perhaps the most widely translated of Japan's short story writers, and the most distinguished prize for short story writing in Japan is named after Akutagawa (the prize is currently $7,200 and a pocket watch).
Why is this story relevant, or just interesting, to us today?
The fanciful tale featuring a colony of Kappa, river creatures, small in stature yet wily and unusually active sexually, recounts the story told by a mental patient who claimed he fell down a deep tunnel and entered the world of Kappa, where he stayed for several years, before escaping back up the hole to return to the mental ward. Upon his return, he told tales of the fabulous world of Kappa, who were literate, inventors of machines and interest groups, and had widely varying personalities, including sexually predatory wives and their suffering husbands. He even imagined that his dear Kappa friends later came to visit him in the hospital.
What was the interest of Akutagawa in Kappa? Just one of many "yokai," or imaginary beasts of ancient literature, the small, green, and active Kappa creatures often were used to tell folk tales showing careless and bad behavior that must be corrected. Although the earliest mention of Kappa was perhaps a 15th C. dictionary, they became popular in Japanese literature in the Edo Period (1605-1868) and thus were ubiquitous in Japanese literature by the time Akutagawa was devouring books as a lonely child, sent to live with relatives when his own mother had her mental breakdown.
Kappa had begun to appear in popular block print picture books by Hokusai, and later in other forms of early manga comic books. Even today, Kappa and Akutagawa characters appear in manga and anime.
In 1921, Akutagawa spent four months as a journalist in prewar Shanghai, suffered physical illnesses, and experimented with drugs, there. NHK, a Japanese public broadcaster, recently aired a two-part television drama about this adventure called A Stranger in Shanghai. In it, the writer meets beautiful male opera stars, observes Chinese people suffering under the heel of colonialists, and meets members of the budding Communist movement.
But, despite his prolific publishing output, and by then recognition by Japan's finest writers, Akutagawa suffered severe visual hallucinations while living back home with a wife and three sons. He died by self-administered drug overdose in 1927.
So why are artists influenced by artistic compositions of earlier eras? How does searching backwards in history move one's art forward?
Recently I was fortunate to attend an Asian American jazz concert of songs composed by Josh Hou, a dazzling and inventive accordionist with a stellar band including trumpet, cello, bass and drums. Some of his compositions clearly reflect a Chinese jazz sensibility of an earlier era. One piece he pointed out was based on a popular Taiwanese 1930s composition, sung in Taiwanese Hokkien. Josh heard it as a child, sung by his aunts in Penang Hokkien, the main language of Chinese in Malaysia, where his roots lie. This back story provided depth to Hou's current thoughts on Asian American-ness.
Like Josh Hou and many other artists, Ryunosuke Akutagawa returned to, and was inspired by, his Japanese historical roots and used compositions of earlier eras to explain life in his own modern era. As a developing short story writer, he sensed that a study of the classical world could enfold his innovations in short story writing.
I find it fascinating to study Japanese writers and artists of 100 years ago, such as Soseki, Tanizaki, Kawabata, to view the early modern social/political/industrial influences they incorporated. During the Meiji (1867 – 1912) and Taisho (1912-1926) Periods, Japan's writers and artists quickly incorporated knowledge from around the world. Their new artistic creations provide us with portholes we use to peek into their lives.
Kappa, by Ryunosuke Akutagawa, translated by Allison Markin Powell and Lisa Hofman-Kuroda, New Directions Paperback Original, 2023.