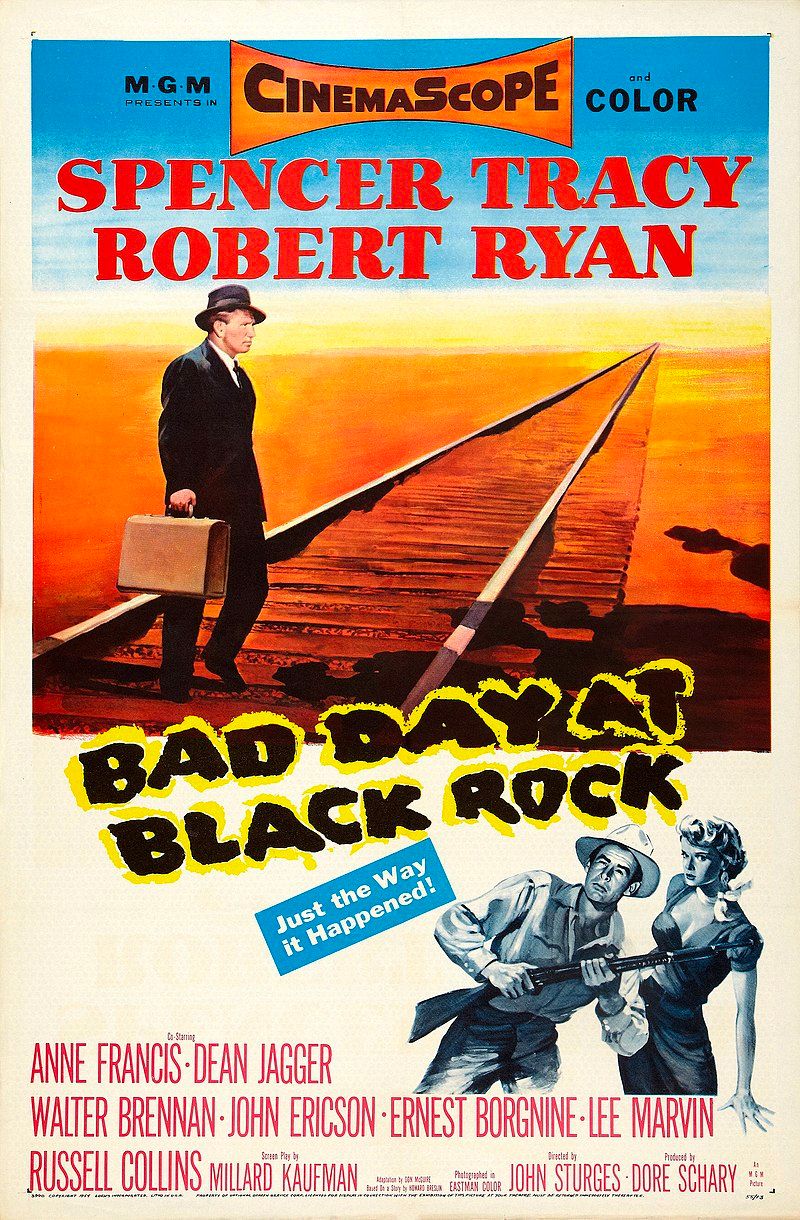 One would think that a film like Bad Day At Black Rock would be a household name. Directed by John Sturges (the same Sturges who directed The Magnificent Seven) and consisting of a star-studded cast of Spencer Tracy, Robert Ryan, Ann Francis, Ernest Borgnine, Walter Brennan, and Lee Marvin, the film garnered three Academy Award nominations and helped Tracy win the Best Actor's award at the 1955 Cannes Film Festival. The film earned resounding praise from film critics, and established Sturges's reputation as a strong director of Westerns. The film also boasted a score composed by André Previn, whose music roars in under the opening credits like a train racing across the desert.
Yet Bad Day At Black Rock remains an obscure film. Most streaming services do not offer it among their catalogues, and its name is rarely evoked in either popular or academic discussions of film.  Perhaps even more curious, though, is the lack of recognition the film receives for evoking the rise of anti-Japanese bigotry in California after Pearl Harbor, leading up to the mass incarceration of Japanese Americans. 
To summarize: the film stars Tracy as a disabled World War II veteran, John J. Macreedy, and follows his quest to find a Japanese American farmer named Kamoko. Kamoko's son, a 442nd soldier, died saving Macreedy during a battle in Italy, and was posthumously awarded a medal for bravery. Macreedy thus travels to Black Rock, Kamoko's home to give the medal to his father, and hoping in the process to find new purpose after having lost his arm. 
Macreedy arrives at Black Rock, a small town located in the California desert, and finds himself confronted by a series of hostile residents. When Macreedy inquires about the location of Kamoko's farm in nearby Adobe Flats, the citizens of Black Rock become even more menacing. The head of the town, Reno Smith (played by Ryan), pretends to show kindness to Macreedy and tells him that Kamoko was sent off to a relocation center, leaving nothing behind but his abandoned farm. Suspecting Smith's story to be false, Macreedy rents a jeep from a local garage and drives out to the farm. There he discovers the burned remains of a house and a well with water. He also discovers a patch of flowers growing next to the house – evidence of a human grave.
Macreedy deduces that Kamoko was murdered by the inhabitants of Black Rock. He tries to flee the town himself, only to find himself chased by one of Smith's henchmen (played by Borgnine) in another car. After being driven off the road, Macreedy wanders through town. There he is further antagonized by Smith, who asks him why he cares so much about Kamoko. Hoping to escape, he pleads to the sympathetic town coroner, Doc Vellie, (Brennan) and Sheriff Tim Horn (Dean Jagger) to do something, but again finds himself cornered by Smith's henchmen. He finally approaches the telegraph operator in hopes of sending a distress signal to police in the next town. When Macreedy catches the telegraph operator giving his message to Smith, Macreedy accuses him of committing a federal crime and tells the sheriff to arrest Smith. Instead, it is Smith who takes away the sheriff's badge and gun and appoints one of his flunkies as the new sheriff. 
Accepting his fate, Macreedy goes for a drink with the coroner and with Pete (John Ericson), a young hotel clerk. Determined not to wallow in guilt any further, Doc Vellie and Pete conspire to get Macreedy out of Black Rock before dark, when Smith intends to murder him. Even as they successfully subdue Smith's men, Macreedy is lured into Smith's trap by Pete's sister Liz. Smith kills Liz and attempts to shoot Macreedy, only to find himself killed by Macreedy using a makeshift Molotov cocktail. The film concludes with Macreedy giving Kamoko's son's medal to Doc Vellie, hoping that the story of Kamoko's tragic fate can help the town heal. 
Bad Day at Black Rock does not focus on the incarceration itself – nor does it feature any Japanese American actors, a particular sticking point for critics of the film. The only reference to the camps made during the film is when Robert Ryan's Smith lies to Macreedy that Kamoko was shipped off to "a relocation center." Scholars have argued that the film's lack of any Japanese American actors underscores the problematic absence of Asian American actors from Hollywood, and in the process undercuts the plot's anti-racist goals by focusing solely on the troubles of white communities. Ironically, the film was shot on location in the Alabama Hills, right across Highway 395 from the site of the Manzanar concentration camp, and while in several shots a snow-capped Mount Whitney can be seen, no mention of the location's historical relevance is made in the film.
Yet despite these absences, the film offers viewers a window into the racial hysteria and terrorism directed towards Japanese Americans that plagued California towns in the 1940s. One could argue that Bad Day At Black Rock serves as a counterpoint to the 1951 film Go For Broke, which highlighted the combat experiences of the 442nd Regimental Combat Team. In fact, Dore Schary, who produced Bad Day at Black Rock, also produced Go For Broke. Scholar John Streamas argues that the absence of Japanese Americans in Bad Day At Black Rock, while a shortcoming, also serves the purpose of highlighting the deliberate and violent erasure of Japanese Americans, people of color, and black Americans from the American West. Streamas points out that the film serves as an excellent metaphor for the internal battles then occurring within the U.S. over civil rights and McCarthyism; the film appeared a year after both the Supreme Court's ruling in Brown vs. Board of Education and the Army-McCarthy hearings.  
That said, both Schary (who replaced Louis B. Mayer as president of MGM in 1951) and screenwriter Millard Kaufman consciously promoted films like Bad Day at Black Rock as an important tool for combatting racism in postwar America. Kaufman later recounted to the San Francisco Examiner that he was inspired to take on Bad Day at Black Rock at the suggestion of his friend Arthur Laurents, who had written the 1945 play Home of the Brave, about prejudice in the marine Corps (in Laurents's play the victim is Jewish; in the 1949 film adaptation by screenwriter Carl Foreman, he is black). 
Dore Schary, similarly, was clear as to his motivations for producing Bad Day at Black Rock. On September 6, 1954, Schary gave a speech before the 13th Biennial national JACL convention in Los Angeles. In the speech, he promoted Bad Day at Black Rock's release. Schary proclaimed before the crowd that any Japanese American soldier was "as genuinely American" as any soldier in the 101st Airborne or "a rangy Texan in the 143rd Infantry," and deplored the hostile actions of hate groups as undermining American ideals. More interestingly, Schary urged Japanese Americans to embrace their heritage, arguing that the U.S. flourished from the diversity of its peoples and that Japanese Americans should "bring all that is good and bountiful of your Japanese inheritance to this, our American scene." While such multicultural ideas are nothing new today, Schary's words stand out strongly from dominant rhetoric of the wartime period, in which Japanese culture was demonized. Schary's speech was reprinted in several newspapers, including Seattle's Japanese American newspaper The Northwest Times.
 There were a few mentions of the film in the Nisei press. In January 1955, Larry Tajiri reported for the Pacific Citizen that a representative of MGM hoped to screen Bad Day At Black Rock before Denver's Japanese American community, but did not do so because no local theaters were adapted for screening in the film's Cinemascope format. Later that month, Bill Hosokawa mentioned in his regular PC column "From the Frying Pan" that he had asked his wife if she wanted to see Bad Day At Black Rock, but she responded that she refused to watch another movie "about camp." (A curious response, though Hosokawa did not mention, given that at that point there had not been any Hollywood films which dramatized the camp experience).  The Hawaii Times hailed Bad Day At Black Rock as a first class film in the Hitchcockian style, though it did not comment on the plot to avoid releasing spoilers. All the mainland same, Japanese American newspapers did not generally comment on Bad Day at Black Rock. There were no reviews of the film in the Rafu Shimpo, the Nichi Bei Weekly, or the Pacific Citizen.
As time passed, however, Japanese American community organizations screened the film on several occasions for JACL events and, occasionally, Day of Remembrance events. In January 1980, the Seattle Conference "Japanese America: Contemporary Perspectives on the Internment," jointly organized by American Friends Service Committee, the Combined Asian Resources Project, and the Seattle JACL, showed Bad Day At Black Rock as part of a film series along with Go For Broke and Farewell to Manzanar.   Documentary filmmaker Janice Tanaka suggested in her film Right of Passage it was thanks in part to President Ronald Reagan's watching Bad Day At Black Rock that, a few days later, he decided not to veto H.R. 442 (this point has been debated in the pages of the Rafu Shimpo).
So how should we view Bad Day at Black Rock? It is hard to call it a film about the incarceration, as it does not feature any Japanese Americans, nor does it address the experiences of camp. However, it is a film about forced removal and erasure, one that offered a biting critique of West Coast bigotry.  The film also carries with it a contemporary message: it shed light on the real-life threats of domestic terrorism that communities of color and black American communities faced during the 1940s and 1950s. The burning of the Kamoko farm mirrors several real-life cases of violence and persecution that occurred before and after mass removal. The War Relocation Authority's resettlement bureau recorded some 38 cases of shootings and other terrorist acts that targeted Japanese American families during the period of return, and in one case near Auburn, California, local whites dynamited the farm of the Doi family. 
In sum, Bad Day at Black Rock belongs to a series civil rights "message" films produced during the 1950s and early 1960s that examined issues of race. Both consciously and unconsciously, it speaks to the ongoing histories of white supremacy in the West and the erasure of Asian American history, a careful legacy reappearing today in the political initiatives across the country to censor U.S. history education to exclude discussion of structural racism Screenwriter Millard Kaufman told the San Francisco Examiner in 1999 that he was proud of Bad Day at Black Rock, which he considered an anti-racist film, and left the following message to readers: 
"You could send 'Bad Day at Black' and 'Home of the Brave' back into the theaters right now and they'd still be relevant…Racism exists. Nobody comes out today and makes blatant anti-Semitic or anti-black remarks, except, unconsciously, maybe Pat Buchanan. But racism is still out there. It's not over."