How else to say this? I am still returning. I don't know how the telling will ever feel complete. What no one told me about the pilgrimage, what no one could have prepared me for, is how much longer the return has been than the journey itself.
* * *
At 9:00 a.m. on July 5, it's already 86 degrees and stretching towards the day's predicted high of 92. The heat, combined with the high altitude, 6,000 feet, is daunting enough for someone who's acclimated to the Pacific Northwest. I'm on an air-conditioned bus, with comfortable seats and plenty of leg room, and even a cup holder for coffee on the seat in front of me. I know it's hot outside and it's only going to get hotter. The bus driver and the planning committee are helpfully urging all of us to please, drink more water. Over 350 participants are here for the interfaith memorial service, Buddhist and Christian, dedicated to those who died at Tule Lake as well as those who survived.
Still, I can't help but shiver as we pass a brown National Parks signpost, next to a barbed wire fence. We're here, at Tule Lake, where my dad and his family (and my uncle by marriage, Hiroshi Kashiwagi) were incarcerated for several years during World War II. It's not the same barbed wire. But it's the place I've read about in books, in encyclopedia entries, in essays. It's the place my dad wrote about in his own unpublished book manuscript, Daruma. He died when I was 10, but I still have the typewritten manuscript.
 Somewhere at the front of the makeshift "chapel" for the service there are hundreds of colorful origami cranes, made by the pilgrims. I brought my own paper and folded close to a hundred on the bus trip. There are also a few white cranes with typewritten words on them; the night before I left, I photocopied pages from my dad's manuscript and folded them into cranes for the memorial service. I have brought some of my dad's words back to camp. There are over 70 years between their first time and my first time here, but it feels like a meeting all the same.
At the service I take pictures of the ground and the dust. I don't take many pictures of people, except for me and my cousins; it feels too intrusive to take pictures of people that I don't know. I angle my camera phone up, towards the ruthless heat of the sun and the blue sky. Only a few clouds. I move a bit farther from the service, towards the road. Rearing above the valley, there are the two mountains my dad had described in his book, named Castle Rock and Abalone Mountain by the inmates, now called The Peninsula and Horse Collar Mountain by the locals. Even the landmark names have changed.
All the while I'm surprised at myself. For years I've avoided funerals, memorial services, so many things involving memory and death, anything to do with my dad. And yet here I am, with my dad's words, our extended family, paying tribute to a shared past. I'm not falling apart, not yet.
 During the whole weekend I drink as much water as I can, from my own water bottle and from the water bottles that the rangers and bus drivers distribute. I keep refilling my water bottle in the cafeteria whenever we have meals. Even so, one night in my dorm room, I wake up. My head's pounding and the damp washcloth I'd placed around my neck is almost dry. I go to the bathroom, knowing that my water bottle's empty and that I need to drink more water. Coming out of the tap, the water is bath-water warm. And this is only one night in a private and comfortable room. I try to imagine several indefinite years of conditions that are much worse.
Despite my best efforts, there's an ache that settles right between my eyes, an ache that feels like sinus pressure, like allergies, like dehydration. It's partly my own fault. I couldn't find the right medication in time to pack for the trip. And yet the ache persists off and on through the weekend, beyond ibuprofen and decongesting hot teas and so many bottles of water, beyond a good night's rest. Part of it must be medical, but I know there's more: I've been trying not to cry.
* * *
I've been reading about Tule Lake since I was a little girl, probably in fourth or fifth grade. Every year, my dad used to visit my elementary school classes to give cultural demonstrations. He would hide coins in his navy blue yukata to show how large those "pockets" were, and ask the kids to guess what the jingling sound was in his sleeves. The kids loved those presentations, sometimes even with snacks and shrimp chips.
In fourth grade we'd learned about the California missions, but we hadn't really learned about camp history. But the last year, the year before he died, he came to my fifth grade class to talk about his incarceration. I don't remember what he said, but I remember him standing at the front of the classroom. I am glad that I have even a fragmented memory of my dad speaking about his experience, the memory of his voice in my classroom, reliving some history for me and my classmates.
In some ways, then, I feel saturated with the story of camp, with stories of camp. I studied incarceration history for years after fifth grade; I read books by Yoshiko Uchida and Jeanne Wakatsuki Houston. In college I read John Okada and Michi Weglyn. I wrote my undergraduate thesis about silence in the work of Sansei writers Janice Mirikitani and Ruth Sasaki.
Camp history had given me a sense of social justice and activism, even though I was too young to work on the redress campaign in the 1980s. There are times, in fact, that I feel that camp is a known quantity for so many people, that I actually don't need to put on my Camp Educator hat. And yet. On the morning of my pilgrimage departure, my husband was chatting with one of the baristas at our favorite cafe. "What are you guys doing up so early?" she asked. He explained where I was headed. The other barista working at the cafe looked over at him. "What do you mean, we had camps in World War II?"
* * *
Back at the service. At my feet, the ground is dusty, dry. It's somewhere close to the dust where my family was. The sagebrush blowing around doesn't even seem hydrated enough to root to the ground. There are no trees in this part of the valley. (I see a few trees growing later on, during the bus tour, but those are growing in a carefully manicured orchard.)
There's even some irrational panic as I see the line of buses respectfully leaving the site. We're stuck here! We can't leave! Never mind that there are emergency services available, rangers and staff from the National Parks Service here, helpfully passing out bottles of water. Never mind that in an hour or so, the air-conditioned buses are scheduled to return and I get to climb back onto one of them and leave. I know it's not the earth's job to want or need human life, but this feels like a landscape that's downright hostile.
"There's not very much left," my auntie tells me. There used to be a cemetery with grave markers, and an obelisk like the ones at Manzanar. Vandals have destroyed much of the cemetery over the years.
Later, on a bus tour, some of us visit the concrete foundation for what was once a communal latrine. We visit the stockade, and listen to the stories of two brothers who were imprisoned there.
We visit the jail, which is the only building remaining in its original site from the site's history as a concentration camp—and it is crumbling with age. As we sit outside the jail we listen to Jimi Yamaichi, who was asked to design and lead the construction team for that very building. We go to the visitors center at the Tulelake Fairgrounds, which still has half of an original tarpaper barrack and part of an original guard tower. Visiting these artifacts, even only at a few miles' remove, is different. It's one thing to visit history in a curated museum, still another thing to walk on historical ground. But there is nothing like feeling history, knowing that here, as much as the ranches where your family sharecropped, is where part of your story begins.
* * *
It's been over a month since the 20th Tule Lake Pilgrimage, and I am still saturated with the experience. I've returned from a 10-hour bus ride there and back from my home in Tacoma, from the evergreen trees and the silver blue waters of Puget Sound to the scorching heat of the valley where my father and his family were incarcerated for several years.
 I have tried to tell the story of my pilgrimage experience to several people—my husband, my mother and sister, my friends. "So," they ask. "How was the trip?" A few days after I returned, I posted an album of pictures on Facebook, captioned for my friends and family to see. Every time I try to talk about it, the story feels completely inadequate, interrupted, fragmented. Five-piece-slivers of a thousand-piece jigsaw puzzle. I can only talk about the experience by choosing one sliver. I am still frustrated that it is not enough.
Perhaps that fragmentation is completely fitting for an essay about a pilgrimage to Tule Lake, a site laden with so much history and yet so little physical evidence left. The National Parks Service has control of part of this site; an NPS designation as a historic site, the supervisor Mike Reynolds has told us, means that we, as a nation, are learning how to preserve and tell the story of the site "in perpetuity." Forever. There are many of us who are telling the story, and I know that the story's not just mine. This is the story of my community, a dense tapestry of voices unheard for so very long.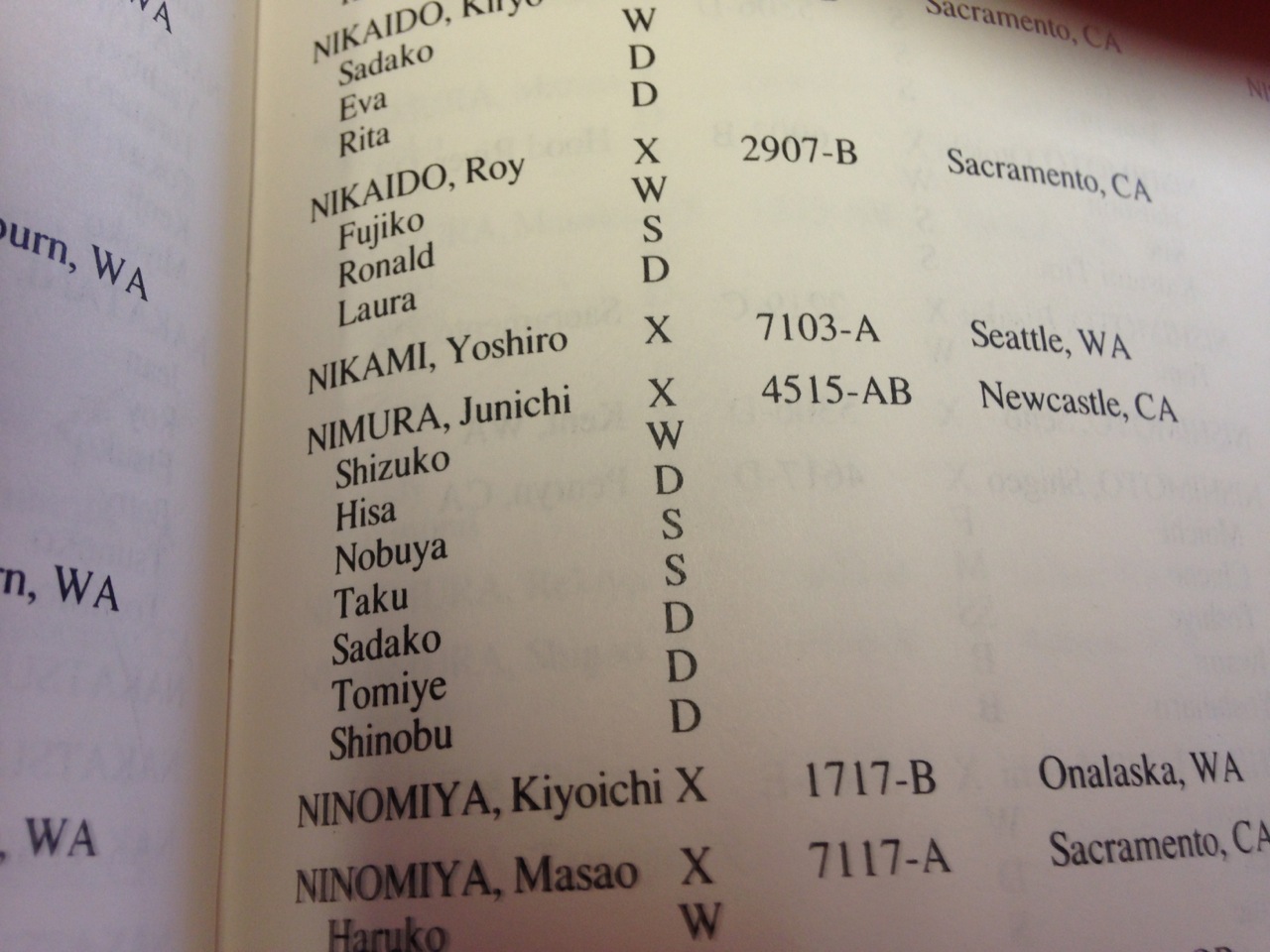 That tapestry may be why I am still overflowing with story. I could tell you about my roommate who's been working on restoration efforts for the jail, tracing the penciled Japanese graffiti on the walls next to the cots; I could tell you about the jail bars themselves, removed and sold for scrap long ago and recently returned. I could tell you about the embroidery hoop and embroidery floss and Sears Roebuck patterns that my auntie showed me on the bus; she still has them from her time in camp. I could tell you about the incredible intergenerational discussion group that I was privileged to lead for three hours one morning. The incarcerees, my seat mates on the bus trips, the parks staff, the descendants and artists and taiko players and filmmakers and photographers—everyone on the pilgrimage had a remarkable story to tell, or so it seemed. The pilgrimage gave us all a gift: the renewed space and commitment to listen to each other.
As I write, I have a new sympathy for the Ancient Mariner of Samuel Taylor Coleridge's poem, the one who cannot rest until he's told all of his story and all of its lessons to the right listener. So many incarcerees did not tell their stories for decades, if at all. As I write, I am feeling the weight of Maya Angelou's words: "There is no greater agony than bearing an untold story inside you."
It's the tension of a sentence cut short, the energy of an electrical circuit left open.
This story originally appeared at discovernikkei.org.