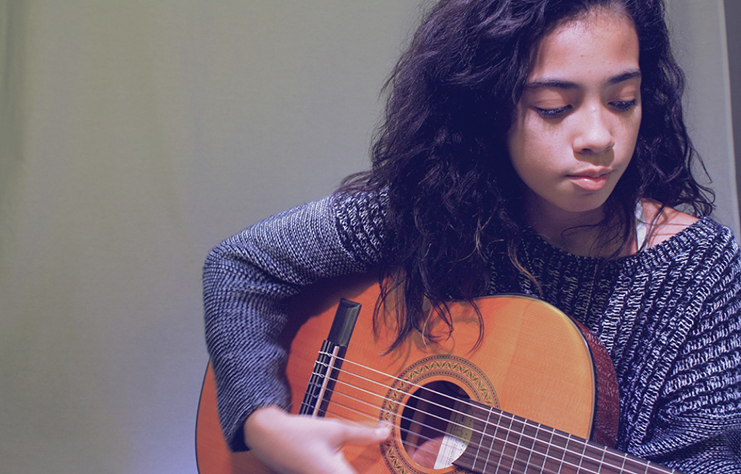 In the fall of 2018 buzz started circulating about a rising yet unlikely star from Tacoma, Washington, 11-year old actress Visesia Fakatoufifita. She made headlines being casted as the world's most famous redhead orphan, Annie, produced by 5th Avenue Theater in Seattle, and giving the character a little bit more color. As a young woman of color, Fakatoufifita's heritage is of both European and Tongan descent.
The pivotal moment for Fakatoufifita was when she watched Japanese American actress Diana Huey play Ariel in The Little Mermaid at the 5th Avenue Theater. Here was an actress of color playing a traditionally Caucasian role. That performance inspired Fakatoufifita to turn her acting from a hobby into something that she could possibly make a living at.
Fakatoufifita's dedication and focus is spectacular for her age. "Sometimes I want to go hang out with friends or have friends spend the night, and I'm like, 'Sorry I have rehearsal,'" says Fakatoufifita. Her self-discipline requires making such sacrifices. And for Fakatoufifita, choosing to hone her craft over things like family vacations and being with friends comes easy to her compared to others her age. She recognizes this, quietly saying "No one understands."
The combination of her talent, being inspired, and her relentless dedication to perfecting her art has put her in the spotlight for other women of color in the region. In the same way that Huey's performance of Ariel inspired Fakatoufifita to be on the same stage, she has paid it forward to other women of color in chasing their dreams, and, in a more direct way, especially Tongan girls.
Culture as a human construct can present us with beautiful traditions. The downside of culture is that traditional expectations can become limiting and somewhat overbearing.
Traditional Tongan culture is hierarchical, and knowing one's role is imperative. Culturally Tongan women are expected to prepare themselves for marriage and for bearing children.
Tongan-American woman Seni Lavulavu is studying for her MBA at Arizona State Univerity, and she first heard that Fakatoufifita was cast as Annie this past fall. "Right off the bat I felt a strong sense of pride," she said."It's not every day that you see a Tongan girl pursuing something like that. Especially at her age."
Fakatoufifita opened up the eyes for many Tongan women having to live with the cultural expectation. "[I]was surprised in a good way because I haven't heard of any other Tongan girl doing musicals, acting…I was inspired and I'm not even a kid," said Tukwila native and Tongan American woman Lia Huakau.
Representation is important in giving others a mirror in which to see themselves and imagine the possibilities they are capable of, so that they can break free of stereotypes and become whoever they want to be. And it takes certain pathfinders to open the door to allow such representation. Fakatoufifita and her family admit that it wasn't until the publicity of Annie that they realized that she was seen as a role model by all women of color, especially by her fellow Tongan women imposed by their cultural expectation.
Fakatoufifita's decision to pursue her dream of someday being on Broadway has opened the door for women of color and Tongans not just in the narrow sense of musical theater, but in anything that is not tethered by the expectations of their culture.
Fakatoufifita is bewildered by the support she's received. She told her mom, "I'm 11 years old, Mom. What have I done? I just have gone up and sung. I don't understand it."
Her choosing to pursue her passion gives courage to others. "[Visesia] still has a great impact on the community," said Lavulavu. "Not just for Tongans but for mixed kids and ethnic kids in general. She might not understand now, and that's okay."
Fakatoufifita is doing a solo show at the Rainer Arts Center in Seattle on April 5th at 7:30 PM. This is an autobiographical show where she tells the story of her journey, her goals and aspirations through song and dance.